In the meanders of our unconscious, everything becomes relative, the high and the low merge and ethical and aesthetic categories are blurred. The world hidden between dreams and consciousness, between shadows and light, is fluid and bereft of the security that norms provide. In the blinking of an eye what is innocent becomes monstrous, and at once endowed with a mysterious, irresistible appeal.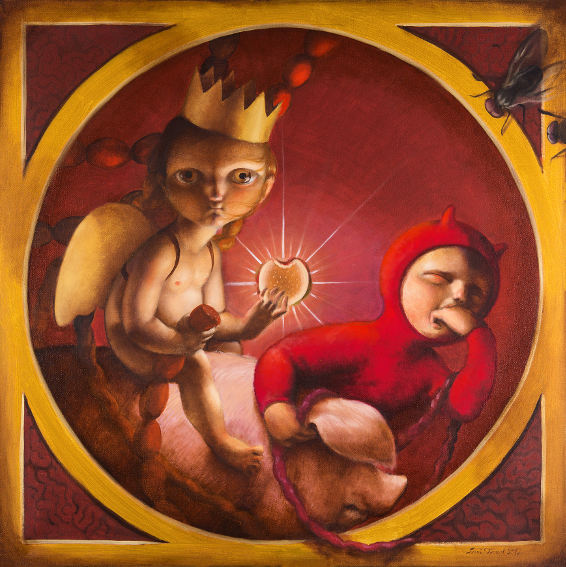 The search for mystery is the driving force in my work. Androgynous characters, nocturnal insects, power pylons create ambiguous relationships in the luminous night. The oil paintings in the show deal with the individual's relationship with the unconscious. Self-absorbed children, close to animality, maintain a tacit relationship with a modified natural environment that they seem to understand as part of themselves.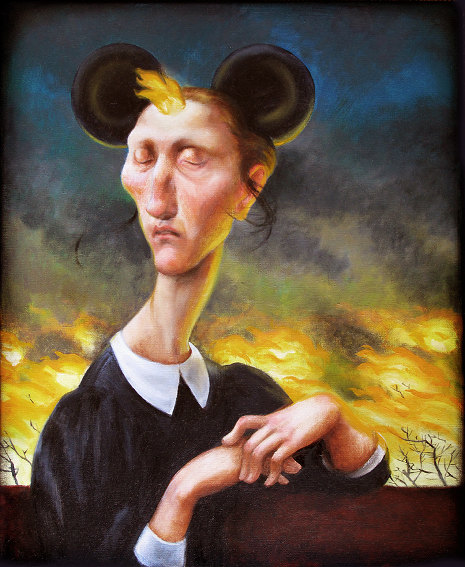 In the series, Vicious Circles, I have observed the ominous shadow of the seven cardinal sins in a new, relative and evocative light, and the answers these norms have previously given become questions. The sins are seen as forces inside each one of us, forces full of ambivalence, possessing both destructive as well as constructive potential.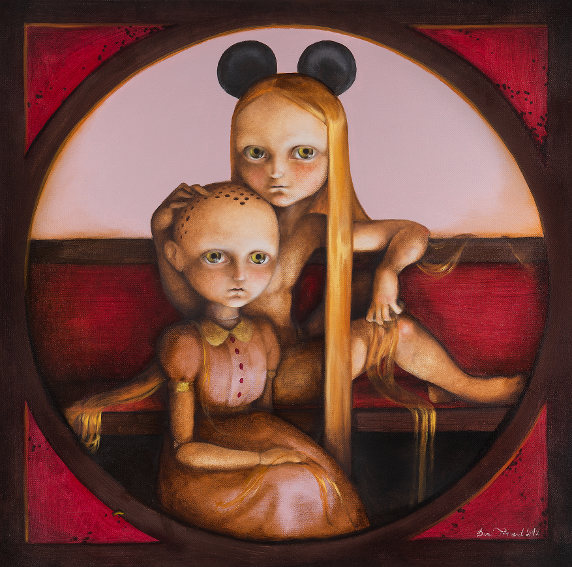 In my work, reflection and irony live side by side in unlikely harmony, just as the esthetic references mix and affect one another without discrimination: Renaissance mysticism, children's illustration, Baroque strategies, Japanese prints, pop culture, references to alchemy, Mickey Mouse, religious kitsch and anatomical deformation with a debt to Mannerism and Big Eyes Art…all this blends into an apparently coherent, accumulative contradiction where the law of mystery reigns.
– Dani Torrent
Featured image: Dani Torrent – Avaricia (detail)
All images courtesy Fousion Gallery
| Year | Exhibition Title | Museum/Gallery | Solo/Group |
| --- | --- | --- | --- |
| 2017 | Dani Torrent | OneTwentyEight gallery, New York | Solo |
| 2015 | Dani Torrent | Espai visions gallery, Barcelona | Solo |
| 2014 | Dani Torrent | Musas de Marcús, Barcelona  | Solo |
| 2013 | Dani Torrent | L'espace Points de vue, Lauzerte, France  | Solo |
| 2013 | Dani Torrent | La Farga, L'Hospitalet  | Solo |
| 2013 | Dani Torrent | Galería Cosmo, Barcelona  | Solo |
| 2012 | Pecats Capitals | Bar Association of Figueres | Solo |
| 2012 | Dani Torrent | Galeria 68, Barcelona  | Solo |
| 2012 | Arty Chokes | Galeria Tuset, Barcelona  | Solo |
| 2012 | Mons oblidats | Espai Visions Gallery, Barcelona  | Solo |
| 2010 | Angels i insectes | Galería Tuset, Barcelona  | Solo |
| 2006 | Les fonts ocultes | Fundación Fita, Girona  | Solo |
| 2006 | Tradició oral | Bar Association of Figueres | Solo |
| 2003 | La mirada torbant | Bar Association of Figueres | Solo |