Daniel Göttin is a Swiss contemporary artist. Working in a manner of minimal art, Daniel creates site-specific wall-works and paintings. In addition, Daniel Göttin is one of the directors of Hebel_121, an experimental art exhibition space located in Basel.
Daniel Göttin was born in 1959 in Basel, Switzerland. Although he was initially working as a technical draftsman for an engineering company, Göttin later enrolled into the School of Visual Art in Basel, where he got his degree in 1990.
Art of Daniel Göttin
Interaction of Material, Space and Appearance
Influenced by minimalist sculptural works, Arte Povera and the collages of Kurt Schwitters, Daniel Göttin uses common industrial materials such as paint, tape, wood, metal, polystyrene, plastic, and carpet to create his site-specific wall installations, public space art, paintings, and drawings.
I am interested in a work that makes the site visible through the artwork, and the site makes the artwork visible at the same time.
Through his wall installations constructed with tape, Göttin explores subjective nature of perception and seeks to reveal architectural and spatial nuances. Reminiscent of Op Art, Daniels's wall works are iterative, responding to changing conditions and environments, and are aimed to unite art with the surrounding environment. Each new spatial situation provides a new experience of perception. The real space becomes an integral part of the installation, in a way that the artist is always inspired and challenged by the given space. Working with clear and simple geometric forms, Daniel Göttin creates artworks that activate the interaction between space, object and viewer.
Installation View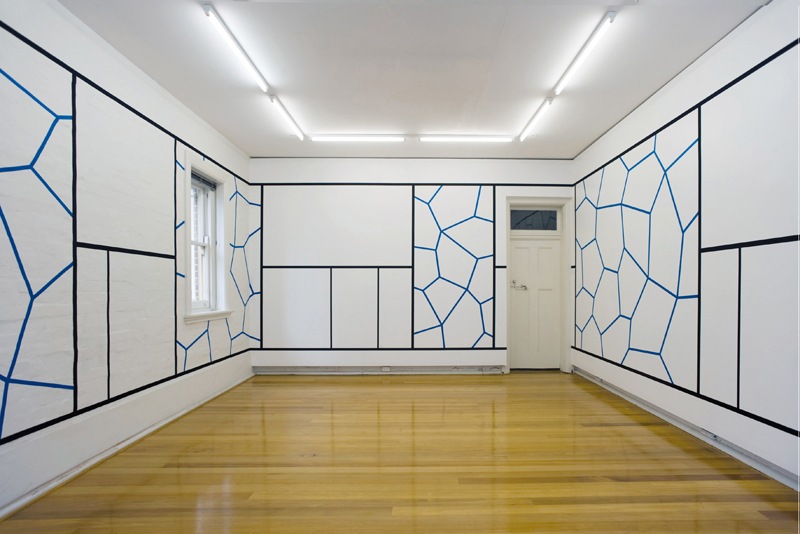 Göttin's Works – Panels and Painted Blocks
Daniel Göttin's oeuvre includes artworks that are made using many various approaches and techniques. In one series of works, Daniel created four-unit pieces consisted of acrylic painted MDF – medium density fibreboards. Same-sized and with a position that is clearly defined by the artist, units are separated by 10 cm intervals. Playing with symmetry and asymmetry, the compositions of panels are formed based on geometric patterns, unique to a singular unit.
Daniel Göttin's Artworks

Another example of Daniel's art is his compact painted block, which can rather be seen as a painted wall-object than a painting. Composed of not more than three colors separated by clear linear edges, block appear very solid and dense. The viewer's attention is directed to simple colors and space within the object, corresponding with the reflection of light and shadow.
In other works, Göttin worked with an adhesive masking tapes painted over with acrylic paint, in order to create clear edges. Although the tapes were used and considered as leftovers, the artist gathered and used them for a different artwork, in which he mounted tapes on paper as a collage, and thus created a new value to the material.
Variables series, 2000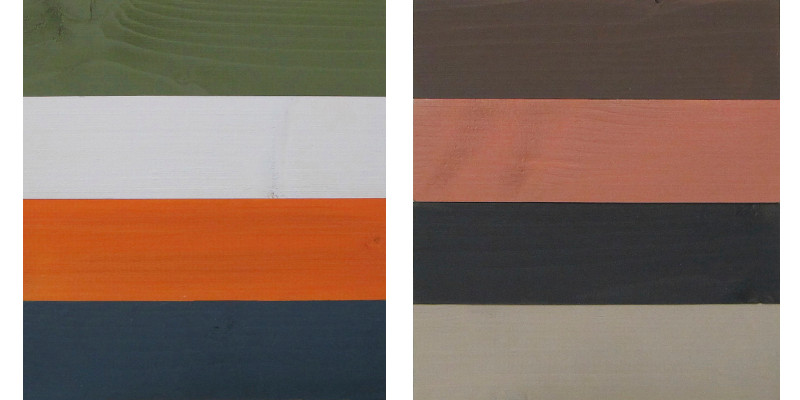 Hebel_121 Art Space
Located in Basel, in 121 Hebel Street, this art venue was founded in 1998 by Daniel Göttin and Gerda Maise, an artist whose works are focused on transitioning existing objects into new visual units. As an experimental art space, Hebel_121 venue works as a platform for many foreign artists to develop and exhibit their site-specific installations. Some of the artists exhibited by Hebel_121 include Takashi Suzuki, Atsuo Hukuda, Cécile Andrieu, Kate Shepherd, Matthew Deleget, Rossana Martinez, Jurek Wybraniec, John Nixon, Julian Dashper, Jan van der Ploeg, David Tremlett, Alan Johnston, Julia Bünnagel, and Kenzo Onoda.
Daniel Göttin's Exhibitions and Residencies
Since his career as an artist began in 1990, Daniel Göttin's works have been featured internationally in over 60 solo exhibitions throughout Europe, Japan, Australia, Netherlands, Mexico and the US, in various venues such as museums, galleries, and non-profit organizations.
Daniel Göttin was artist-in-residency at many different art foundation, such as the Fremantle Art Foundation, now named Artsource, Australia in 1990, Donald Judd's Chinati Foundation in Marfa, Texas in 1993, the Shed im Eisenwerk, Switzerland in 1994, the:artist:network in New York in 2005, and Youkobo Art Space in Tokyo, in the years 2007 and 2013.
Since March 2015, Göttin has been represented by IdeelArt.
Daniel Göttin lives and works in Basel, Switzerland.
Interview with Daniel Göttin on Ideelart

| Year | Exhibition Title | Gallery/Museum | Solo/Group |
| --- | --- | --- | --- |
| 2016 | Daniel Göttin - Hier da da dort | Galerie Wenger, Zürich | Solo |
| 2016 | Screens and Soft Stones (with Gerda Maise) | Gallery Gen, Tokyo | Duo |
| 2016 | Double View | Botao Gallery, Nagoya | Solo |
| 2016 | Hier Da Da Dort | Galerie Wenger, Zürich | Solo |
| 2015 | Double View | PS Project Space, Amsterdam, NL | Solo |
| 2015 | eingangs #4 | Galerie Kim Behm, Frankfurt | Solo |
| 2015 | Upfall | Villa Renata, Basel | Group |
| 2015 | Alle | Galerie Wenger, Zurich | Group |
| 2015 | Ange(se)hen | Basler Münster | Group |
| 2015 | Network 55 | Bureau 14c, Bern | Group |
| 2015 | KA Editions | Spendhaus Museum, Reutlingen | Group |
| 2014 | On Site | Conny Dietzschold Gallery, Sydney | Solo |
| 2014 | Diorama | Utengasse sechzig, Basel | Solo |
| 2014 | Balance | Youkobo Art Space, Tokyo | Solo |
| 2014 | form follows form follows form | Kunsthalle Basel (R15) | Group |
| 2014 | Approaching Architecture | Kunsthaus Baselland (R15) | Group |
| 2014 | Song for a pigeon | Gallery Coexist, Tokyo | Group |
| 2014 | One Place After Another - AC4CA | Perth Institute of Contemporary Art, Perth | Group |
| 2014 | 25 years CDG | Conny Dietzschold Gallery, Cologne | Group |
| 2014 | PS 1999-2014 | PS Project Space, Amsterdam | Group |
| 2014 | Van Picasso tot Sol LeWitt | Museum Meermanno, Den Haag | Group |
| 2013 | Correlation | Gallery Gen, Tokyo | Solo |
| 2013 | Constellation | Gallery Cocon, Tokyo | Solo |
| 2013 | The GREAT little Graphic Art Show | PIT, Eindhoven | Group |
| 2012 | Daniel Göttin | Oaxaca Tape, MINUS SPACE en Oaxaca, Biblioteca Henestrosa, Oaxaca, Mexico | Solo |
| 2012 | Line-up | Galerie Wenger, Zürich | Solo |
| 2012 | Structure | Imprints-Galerie, Piégros La Clastre | Solo |
| 2012 | Passage | Field Institute, Raketenstation Hombroich | Solo |
| 2012 | Juxtaposition (with Atelier Hauert-Reichmuth) | Kunst Raum Riehen | Duo |
| 2012 | Objekt und Raum | Kunstraum Oktogon, Bern | Solo |
| 2012 | Panorama de 31 artistas internacionales | MINUS SPACE en Oaxaca, Instituto de Artes Gráficas de Oaxaca, Oaxaca, Mexico | Group |
| 2012 | FutureShock OneTwo - The New Concrete International | dr. julius I ap, berlin | Group |
| 2012 | AC4CA à Fabrikculture | Fabrikculture Hégenheim | Group |
| 2011 | Merge3 (with Jeannette Mehr and Yvonne Mueller) | Ausstellungsraum Klingental, Basel | Solo |
| 2011 | Concrete Relations | Anne Mosseri-Marlio Galerie, Zürich | Solo |
| 2011 | Network 48 | Tongue and Groove, Melbourne | Solo |
| 2011 | Panorama 2 | SNO Contemporary Art Projects, Marrickville, Sydney | Solo |
| 2011 | Angles and Edges | Office Project Space, Factory 49, Sydney | Solo |
| 2011 | Objekte und Tafeln II | Galerie Florian Trampler, München | Solo |
| 2011 | Portability and Network | Spaces, Cleveland | Group |
| 2011 | Dark Light | Hermannshof, Völksen | Group |
| 2011 | Konkrete 2 | Goddard de Fiddes Gallery, Perth | Group |
| 2010 | Network 45 with Signs | MINUS SPACE, Brooklyn, NY | Solo |
| 2010 | Daniel Göttin with Lisa Jones | Conny Dietzschold Gallery, Sydney | Duo |
| 2010 | Diamond Shapes | Gallery Terashita, Tokyo | Solo |
| 2010 | Edinburgh Tape | Sleeper, Edinburgh | Solo |
| 2010 | Julian Dashper (1960-2009) - It Is Life | Minus Space Project Space, Brooklyn, NY | Group |
| 2010 | mobilmachen | Kunst im Zeughaus Gelterkinden | Group |
| 2010 | Edition 5 Erstfeld | Haus für Kunst Uri, Altdorf | Group |
| 2010 | Composite Visions | Centre d'Art Neuchâtel | Group |
| 2009 | Panorama | PIT, De Verschijning, Tilburg | Solo |
| 2009 | Transformer 3 | Hebel_121, Basel | Solo |
| 2009 | True Memory | Embassy of Switzerland, Tokyo | Solo |
| 2009 | New Works | Concept Space, Shibukawa | Solo |
| 2009 | Daniel Göttin | House of Art, Budweis | Solo |
| 2009 | Transformer 4 | Kunsthalle Palazzo, Liestal (R10) | Group |
| 2009 | fully booked | Hotel Beethoven, Bonn | Group |
| 2009 | SUMMER | Goddard de Fiddes Gallery, Perth | Group |
| 2009 | Open House for Butterflies | Minus Space Project Space, Brooklyn | Group |
| 2009 | Minimal Variety Forms | Conny Dietzschold Gallery, Sydney | Group |
| 2009 | We Go Far...And Way Back | Show Gallery, Staten Island, NY | Group |
| 2009 | Der Letzte Koffer | Turbine Giswil | Group |
| 2009 | Abstract Realities | USQ Gallery, Toowoomba | Group |
| 2009 | 30x30cm Project - A Contemporary Print Collaboration | McNay Art Museum, San Antonio, TX | Group |
| 2009 | Rashomon | Le Petit Port, Leiden | Group |
| 2009 | Factory 49 exchange exhibition | bell street project space, Wien | Group |
| 2009 | AC4CA | SNO Contemporary Art Projects, Marrickville, Sydney | Group |
| 2009 | PS Amsterdam 1999-2009 | PS Amsterdam | Group |
| 2009 | PS Amsterdam 1999-2009 | Kunstruimte K09, Groningen | Group |
| 2008 | Daniel Göttin | BFA Gallery, Liempde | Solo |
| 2008 | Network 40 | Peloton, Chippendale, Sydney | Solo |
| 2008 | New Works (with Rosa Hessling) | Conny Dietzschold Gallery, Sydney | Duo |
| 2008 | Sydney Tape | Factory 49, Marrickville, Sydney | Solo |
| 2008 | Network 43 | Kunstverein Freiburg, Regionale 9 | Group |
| 2008 | Transformer 2 | Fabrikculture Hégenheim, Regionale 9 | Group |
| 2008 | Editions and Multiples | CCNOA at The White Hotel, Brussels | Group |
| 2008 | Small Format | Gallery Terashita, Tokyo | Group |
| 2008 | Jam | Peloton, Chippendale, Sydney | Group |
| 2008 | Gegenstandslos | Gesellschaft für Kunst und Gestaltung e.V., Bonn | Group |
| 2008 | MINUS SPACE | P.S. 1, Long Island City, NY | Group |
| 2008 | Aan het licht gericht | De Vishal, Haarlem | Group |
| 2008 | The Leiden Assemblage | Le Petit Port, Leiden | Group |
| 2008 | Akio Igarashi, Daniel Göttin, Natsuo Hashimoto | Gallery Terashita, Tokyo | Group |
| 2008 | Group Show | iegallery, Toowoomba, AUS | Group |
| 2008 | Daniel Göttin, John Nixon, Helen Smith, JurekWybraniec | Goddard de Fiddes Gallery, Perth, AUS | Group |
| 2008 | Tape This | Arte Libro, Schellebelle | Group |
| 2007 | Düsseldorf Tape | Konsortium, Düsseldorf | Solo |
| 2007 | Objekte und Tafeln | Galerie Florian Trampler, Diessen am Ammersee | Solo |
| 2007 | Transformer | Youkobo Art Space, Tokyo | Solo |
| 2007 | Tokyo Tape | Gallery Gen, Tokyo | Solo |
| 2007 | End of year gallery artist exhibition | Goddard de Fiddes Gallery, Perth | Group |
| 2007 | (fast) Alles | Galerie Florian Trampler, Diessen am Ammersee | Group |
| 2007 | Lift | Kunst Raum Riehen, Regionale 8 | Group |
| 2007 | Shift | SNO 33, Sydney | Group |
| 2007 | Beauty Farm (with ststs) | Neue Kunst im Hagenbucher, Heilbronn | Group |
| 2007 | Sommeraccrochage | Galerie Florian Trampler, Diessen am Ammersee | Group |
| 2007 | Network 37 | Cargo Bar, kunstmarktbasel 3, Basel | Group |
| 2007 | Made in Europe | Gallery Terashita; Tokyo | Group |
| 2007 | Tape This | RC de Ruimte, Ijmuiden | Group |
| 2006 | Silver Diamonds | N.O.T., Toowoomba | Solo |
| 2006 | ststs Rack 1-2006 Brussels (with Steffen Schlichter und Stef Stagel) | CCNOA, Brussels | Solo |
| 2006 | New Works | Conny Dietzschold Gallery, Sydney | Solo |
| 2006 | Spotlight + Interview | Minus Space, Brooklyn | Solo |
| 2006 | Post No Bills | Hebel_121, Basel | Solo |
| 2006 | Multiple Display 2 | Musée des Beaux-Arts, Villa Steinbach, Mulhouse, Regionale 7 | Group |
| 2006 | 5 Quadrate | kunstmarktbasel 2, Billerbeck, Basel | Group |
| 2006 | Tape This | Arti et Amicitiae, Amsterdam | Group |
| 2006 | transit - abstract | Projektraum Henselmannturm, Berlin | Group |
| 2006 | AC4CA | g&A studios, Sydney | Group |
| 2006 | Ping Pong | M 54, Basel | Group |
| 2006 | TAKE OFF | Hebel_121, Basel | Group |
| 2006 | 2Step | Kunsternes Hus, Oslo | Group |
| 2006 | Nouvelles Collections | Centre PasquArt, Biel | Group |
| 2006 | Und, Amsterdam, 2006 | The Chiellerie Gallery, Amsterdam | Group |
| 2005 | Minimal Improvisation | the:artist:network, New York | Solo |
| 2005 | Network 33 + Diamonds | Kunsthaus Baselland, Muttenz, Regionale 6 | Group |
| 2005 | Choices | CMS, iaab, Basel | Group |
| 2005 | Group Show | SNO AC4CA, Sydney | Group |
| 2005 | Entrance Wallpainting | SNO 2 + 3, Sydney Factory 11 (SNO Project Group), Sydney | Group |
| 2005 | Minimal Approach – Concrete Tendencies | Tin Sheds, Sydney | Group |
| 2005 | Temperature - artists from the flat file | the:artist:network, New York | Group |
| 2005 | Minimal Pop | Gallerie les filles du calvaire, Brussels | Group |
| 2005 | Minimal Pop | Gallerie les filles du calvaire, Paris | Group |
| 2004 | Multiple Display | Städtische Galerie im Kornhaus, Kirchheim-Teck | Solo |
| 2004 | Diamonds | Hebel_121, Basel | Solo |
| 2004 | New Works | Designplanets, Maebashi | Solo |
| 2004 | New Works | Concept Space, Shibukawa | Solo |
| 2004 | Cool Mode | MOP Projects, Sydney | Solo |
| 2004 | Network 27 | Galerie Werkstatt, Reinach, Regionale 5 | Group |
| 2004 | molti multipli | CCNOA, Brussels | Group |
| 2004 | Multiples + Kultiples V | Galerie Article, Köln | Group |
| 2004 | Group Show | Galerie Turbine Giswil | Group |
| 2004 | International Concrete Constructive Art | Conny Dietzschold Gallery, Sydney | Group |
| 2004 | Constructed Colour 4 | Artspace, Sydney | Group |
| 2004 | Abstract Realities | MOP Projects, Sydney | Group |
| 2004 | 20 years | Galerie Gisèle Linder, Basel | Group |
| 2004 | konkret | Gallery Goddard de Fiddes, Perth | Group |
| 2004 | Cooler 5 | Kunstkoordinate Turbine Giswil | Group |
| 2003 | Network 23 (with Jan van der Ploeg, Philippe Van Snick) | CCNOA, Brussels | Solo |
| 2003 | Network 22 (with Gerda Maise) | Institut für bildnerisches Denken, Grenzach-Wyhlen | Duo |
| 2003 | cooler 2 | Hebel_121, Basel | Solo |
| 2003 | soft shapes | PS, Amsterdam | Solo |
| 2003 | Spiel noch 1x | Haus für Kunst Uri, Altdorf | Group |
| 2003 | 24 | Eugene Binder Gallery, Marfa, TX | Group |
| 2003 | PS Amsterdam 1999-2003 | Raid Projects, Los Angeles | Group |
| 2003 | Group Show | BFA Gallery, Liempde | Group |
| 2002 | Links (with Takashi Suzuki) | Museum Haus Kasuya, Yokosuka | Duo |
| 2002 | Correspondence (with Takashi Suzuki) | Gallery Gen, Tokyo | Duo |
| 2002 | Network 10 | Gallery Chika, Tokyo | Solo |
| 2002 | Beinahe wirklich (with Ben Hübsch) | Kunstverein Freiburg | Duo |
| 2002 | T4 - B240 (with Ben Hübsch) | Kunsthalle Basel, Regionale 3 | Duo |
| 2002 | Big is beautiful | Musée d'art et d'histoire Neuchâtel | Group |
| 2002 | Bildhauer und Bildhauerzeichnungen | Ausstellungsraum Harry Zellweger, Basel | Group |
| 2001 | Daniel Göttin | BFA Gallery, Liempde | Solo |
| 2001 | Network 4 | CNR, Melbourne | Solo |
| 2001 | lounge (with Jurek Wybraniec) | Goddard de Fiddes Gallery, Perth | Duo |
| 2001 | The Go Between | Haus für konstruktive und konkrete Kunst, Zürich | Solo |
| 2001 | Network 7 | Kunsthalle Basel, Regionale 2 | Group |
| 2001 | Vier Wandbilder | Institut für bildnerisches Denken, Grenzach-Wyhlen | Group |
| 2001 | Kunst im Park 4 (with Takashi Suzuki) | Hotel Saratz, Pontresina | Duo |
| 2000 | cooler | Das Gästezimmer, Wolhusen | Solo |
| 2000 | Onroerend Goed | De Nederlandse Bank, Amsterdam | Group |
| 2000 | Grau ist nicht grau | Galerie Gisèle Linder, Basel | Group |
| 2000 | Painting | Esso Gallery, New York | Group |
| 1999 | Daniel Göttin | Galerie Gisèle Linder, Basel | Solo |
| 1999 | Sandwich | Raum für Gegenwartskunst - d8, Linz | Solo |
| 1999 | Daniel Göttin | Kunstraum Giswil | Solo |
| 1999 | Group Show | Galerie Gisèle Linder, Basel | Group |
| 1999 | Sélection 99 | Kunsthaus Baselland, Muttenz | Group |
| 1999 | Sicherheit | Galerie 12pm, München | Group |
| 1998 | Ort | Kunsthaus Baselland, Muttenz | Solo |
| 1998 | Règle et Déviance | Musée d'art et d'histoire Neuchâtel | Group |
| 1998 | Sélection 98 | Kunsthaus Baselland, Muttenz | Group |
| 1998 | Kunst im Park | Hotel Saratz, Pontresina | Group |
| 1998 | Skulpturen und Neue Medien | Galerie Werkstatt, Reinach | Group |
| 1997 | Daniel Göttin | Gallery Gen, Tokyo | Solo |
| 1997 | Daniel Göttin | Galerie Köstring - Maier, München | Solo |
| 1997 | Regel und Abweichung, Schweiz konstruktiv 1960-1997 | Haus für konstruktive und konkrete Kunst Zürich | Group |
| 1997 | 283 KünstlerInnen - 283 Werke | Untere Fabrik, Sissach | Group |
| 1996 | Daniel Göttin | Galerie Werkstatt, Reinach | Solo |
| 1996 | Jahresausstellung | Kunsthalle Basel | Group |
| 1996 | Weihnachtsausstellung | Ausstellungsraum Klingental, Basel | Group |
| 1996 | 12 - 6 (with John Nixon) | Galerie Köstring - Maier, München | Duo |
| 1996 | Group Show | Halle Eins, München | Group |
| 1995 | WAP (with Jurek Wybraniec) | Goddard de Fiddes Gallery, Perth | Duo |
| 1995 | Daniel Göttin | Galerie Köstring - Maier, München | Solo |
| 1994 | Daniel Göttin | Shedhalle im Eisenwerk, Frauenfeld | Solo |
| 1993 | Daniel Göttin | Locker Plant, Marfa | Solo |
| 1990 | Daniel Göttin | Old Customs House, Fremantle | Solo |