Daniel Lergon is a German artist who experiments with light effects and chemical reactions.
Retro Reflective
Lergon was born in Bonn, Germany. Ever since the beginning of his studies at the Universität der Künste (UdK) in Berlin (with Professor Lothar Baumgarten), he began his inquiries into color, the interaction of light on different surfaces and optical effects. Lergon has been working with fabrics of different optical and physical qualities, to which he applies lacquers and transparent varnishes to produce a broad range of effects that vary with the position of the viewer.
In his early works, Lergon used color pigments within the range of the color spectrum, applying them to all kinds of material surfaces. In later work, while using transparent varnishes and synthetic, retro reflective fabric as painting surface (which reflects the light in the same direction from which it comes), he also includes colors at the very extremes of the spectrum into his work. His intensive study of the colors was thus always tied to the materiality of the painting's ground and the question regarding this influence this would have on the viewer's perception.
In 2007, Lergon has stopped using color pigments directly – instead, he has been painting with colorless, clear lacquer on technical grounds. These retro reflexive materials were initially grey, later white and they behave unusually concerning how they reflect the light. The images appear either dull or bright, depending on the viewing position and alternate between two-dimensionality and three-dimensionality.
And by using that technique, Lergon creates paintings that dispenses with color pigments, and which essentially come about in the special reflection of the light upon the varnish and painting's ground. Lergon's surfaces raise questions about perception, experience, and intuition, simultaneously with those of optics, cosmology, and theory.
Daniel Lergon and the Eigenraum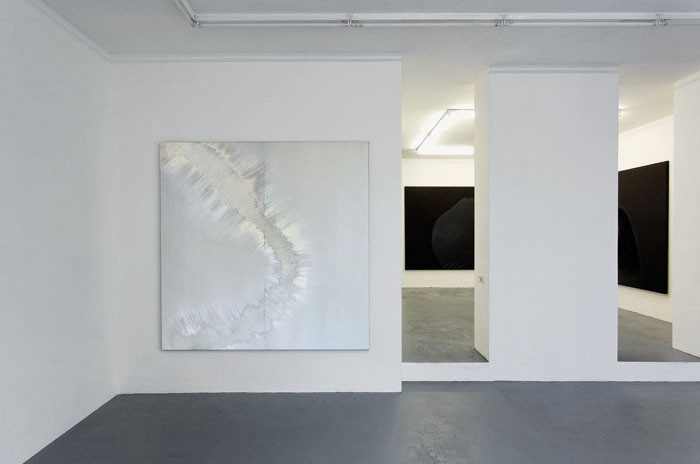 Daniel Lergon's paintings unite material, form, viewer, method, and light in a system of potentials that demands the most from both spectator and critic. They do not document what has occurred; as much as enable something to occur – while alluding to a unique form of knowledge — an irreducibly human knowledge. Even though Lergon's work might be labeled "deceptively simple," his paintings are entirely without deceit as they incline neither too rigidly toward rationalism nor metaphysics, but join these tendencies in a self-determined balance of material, light, and form.
The retro reflective paintings such as Re (2007) or Nimbi (2008) speak about that experiential dimension of Lergon's work. It is consisting of transparent lacquer applied to highly engineered retro reflective surfaces, and reflecting incoming light rays directly back to their point of origin. Heavily dependent upon prevailing lighting conditions and the location of other works in the exhibit, these retro reflective surfaces are presenting the relationship between light, surface, space, and the observer. His works require each viewer to actively construct his or her own eigenraum, the own space, where reflective consideration and non-reflective experience participate in an alchemy which establishes the spectator as primary architect of meaning.
Inspiration from the Natural World
Lergon's material selection as well as exhibition titles, are suggesting that he draws inspiration from the natural world – informed by a variety of macro- and microscopic phenomena, he loads his works with scientific subtexts both rich and otherworldly. The title of Lergon's first solo exhibit, Oktave (2006), alludes to the fact that the upper limit of the visible light spectrum, violet, has double the energy of the lower limit, red (if one has been present shortly after the Big Bang, he would see first a violet radiation, followed by every other color until red, one octave lower).
The other example is the exhibition titled Rotating Remains (2008, with Jorinde Voigt) which refers to the radio frequencies emitted by rapidly spinning neutron stars called pulsars, while Albedo (2007) is the astronomical term for a planetary body's reflectiveness. By letting in something that is not part of the visible world, he establishes a tension between distant cosmic events and his own intuition.
Antumbra Exhibition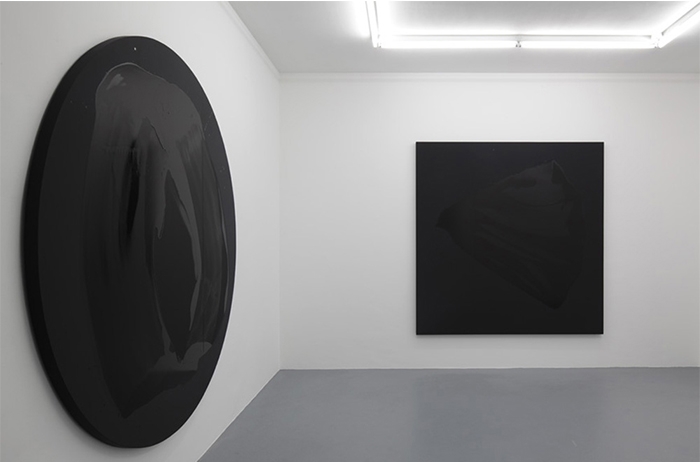 In 2011, Lergon held an exhibition at Gallerie Christian Lethart, Cologne. The title, Anatumbra, derives from the technical term coming from the astronomy and geometric optics and describes the area of a shining surface located behind the occluding shadow of an object. At this show, the theme of light has been firmly linked to the notion of shadows. Instead of using bright, light, reflecting materials Lergon paints on a black ground, which, due to its consistency, reflects the light less intensively. Like all the other work, those exhibited are characterized by a deep interest in natural scientific phenomena, which he transforms into aesthetic artworks out of unusual materials. It is a completely individual kind of paintings, one that unlocks the visual potential in the game between light and surface, and the optical effects and perceptions that result from this.
Lergon's Siderian Tides at Ivorypress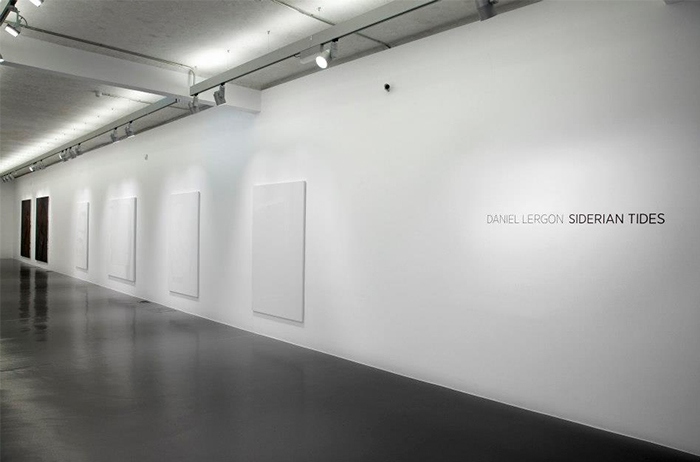 In 2013, Madrid gallery Ivorypress presented the first solo exhibition in Spain by this German artist. The show consisted from Lergon's studies on color, the interaction of light with different surfaces, and optical effects.
The exhibition's title Siderian Tides alludes to the Siderian period, a geological time that began 2,500 million years ago, when the so-called 'Great Oxidation Event' made possible the current chemical composition of oceans and the atmosphere. It was the period when Huronian glaciation was generated, one of the biggest ones in the history of the Earth.
Iron and ice were both key to the transformations of that era, and they are also essential in Lergon's paintings as they are a metaphor of the duality of light and matter. By combining such scientific subtexts and optical backgrounds with an enigmatic language of painting Daniel Lergon comes to the result of oscillation between these dualities, a trait that characterizes his artistic production.
Daniel Lergon t 2014 NADA Miami Beach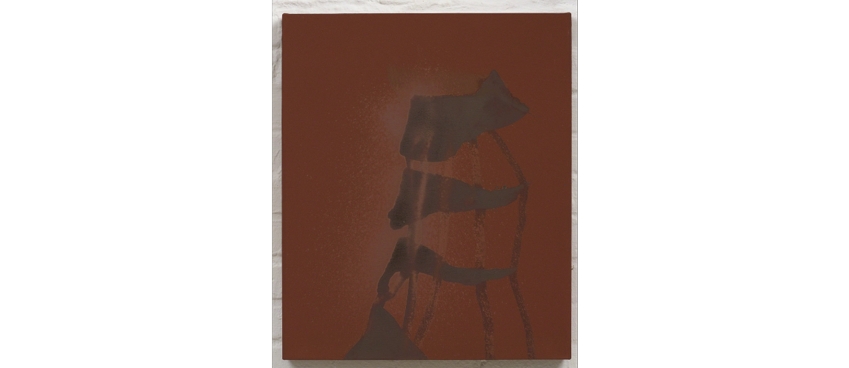 At 2014 NADA Miami Beach, Cologne's Galerie Christian Lethert presented an intriguing metallic canvases created through scientific processes of Lergon's own design. Brandishing chemical reactions and painterly gestures, Daniel Lergon created abstract water-on-metal-on-canvas paintings—is the application of acidified water to metal, which induces oxidation and results in dynamic surface patterns and color changes that range from subtle to striking.
The copper series stands out for its color contrast and composition, and for the complex layering involved. Untitled (copper) (2014), for example, presents a rich copper foundation, on which Lergon has applied a dynamic twisting series of brushstrokes which evidence the chemicals employed through the range of green and icy blue passages of color.
Even though Daniel Lergon has no formal scientific training, he manages to convey themes of inter-connectivity in the universe in his work. Considered to be a "painter who doesn't use paint," Lergon has made truly trans-formative work using a process that is entirely his own.
Daniel Lergon lives and works in Berlin, Germany.