David Cheifetz is a realist painter who loves to push the limits of realism, bringing it to the very verge of the hyperreal, with strong colors, threatening shadows and bizarre compositions. The main topics in his art are still life, cityscapes and unusual portraiture featuring female models and various insects. His work is also typical for its narrative structure, especially when it comes to portraiture. Viewers feel bound to decode Cheifetz's weird compositions and messages behind such enticing awkwardness. Cheifetz likes to think that whatever we can dream of, we can make it real in a certain way, and that is exactly what he does in his paintings.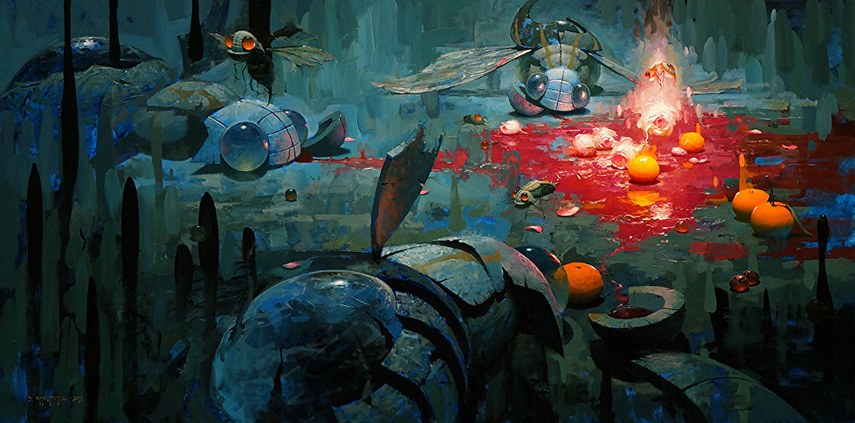 Architect Fond of Oil Colors
Cheifetz was born in the Pacific Northwest in the early 80s and showed early interest in visual arts, but he was initially more interested in architecture, which was his primary field of study until 2007 when he started to paint with oils. He was seduced by the magic of oil colors and decided to go back to school because architecture ceased to be his main interest. Cheifetz attended the Schuler School of Fine Arts in Baltimore and became a full-time artist in 2009. When he just started painting study at Schuler he wasn't completely sure if he wanted to dedicate himself only to oil painting since he was also interested in illustrating comic books and graphic novels. However, once he finished his first semester, his opinion on painting still life and landscapes changed a lot. Things he used to see as static and boring obtained a new dimension for Cheifetz and he deeply fell in love with oil painting and permanently switched his focus on it, leaving architecture and comic books behind.
Urban landscapes are one of the main topics in Cheifetz's work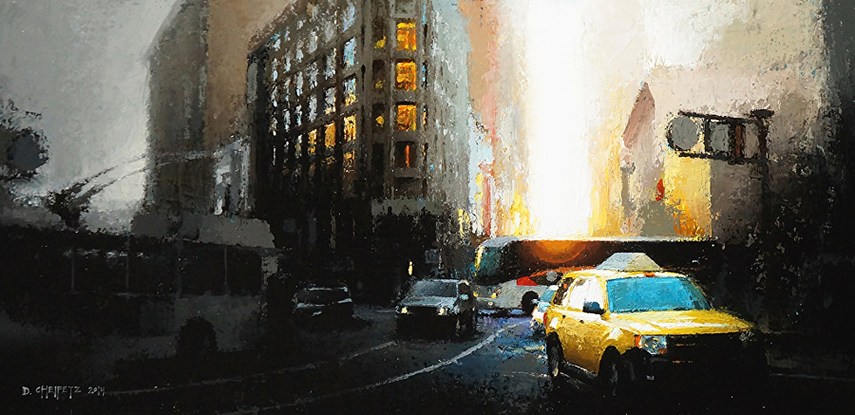 Dark Hyperrealism
Cheifetz has certain procedures when it comes to his style. For his still life paintings, he always works from life, for portraiture he relies on a mix of life and photo and for landscapes, he is using only previously taken photos. He doesn't stick to the composition already achieved in photographs, he prefers to isolate an interesting focal point (even if it wasn't the main focal point in the photograph) and build his compositions based on such points. Cheifetz wants to emphasize focus in an extreme way and force the viewer's eye to get stuck in the carefully selected focal area. Also, he has a favorite group of colors and after analyzing a lot of his paintings, we can see some typical patterns in colors, such as ivory black, phthalo blue, ultramarine blue, burnt umber, yellow ochre and cad lemon.
Cheifetz's still life and portraiture often revolve around absurd compositions—such as insects flying around a bottle of alcoholic drink, human ears functioning as lamps or women looking frightened by flies and mosquitoes. Cheifetz is intuitively using the language of dreams in his paintings and his dark, hyperrealistic narratives always carry a certain symbolism, just like the dreams itself. These symbols are often Kafkian in a way, representing the state of being forced to go through a certain transformation, followed by hints of raw fear and subdued violence. Cheifetz paints alla prima, without detailed underpaintings, which allows him to create unexpectedly turbulent atmosphere. His brushstrokes are bold and expressive and he's often relying on chiaroscuro technique. I like to have my paintings structural and precise but at the same time loose, the artist says.
Cheifetz's dynamic triptych that compositionally resembles Japanese wall triptychs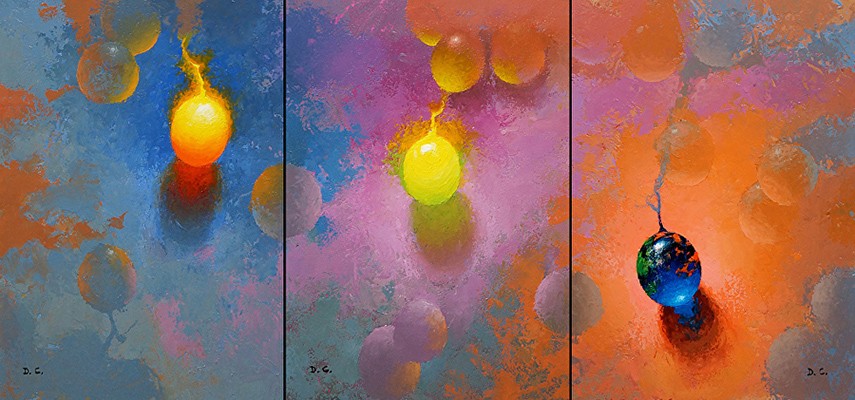 Exhibitions and Collections
Cheifetz is a widely acclaimed artist and in the last couple of years, he had solo exhibitions in many American art spaces, such as Abend in Denver CO, UNrealism in Miami or famous STUDIO in San Francisco. A lot of the artist's works have found home in public and private collections, because of their modern yet mysterious appeal that is certainly enticing to art collectors. It remains unclear from where is Cheifetz drawing such wild and unstoppable inspiration used in the dark language of his paintings, but perhaps his art is even more alluring that way, when we don't exactly know how he creates his magic.
The artist is represented by Gallery 1261.
David Cheifetz lives and works in Seattle, Washington.
Featured image: David Cheifetz – Drift, 2015
All images courtesy of the artist.