David Spiller grew up in post-war England during the establishment of Pop Art and his work consists of bright colors and expressive short sentences. The lines are taken from rock songs whose artists also played a role in the 60's – from Bob Dylan and Rolling Stones to David Bowie and Lou Reed. Spiller could be described as an urban artist who did prints, paintings, drawing, and illustrations. His art is a visual presentation of things he loves and which originated from pop culture. All these forms have one common characteristic; a combination of a child and a grown-up in mature and simple art.
Cartoons With an Important Message
Through his years, Spiller created a large number of cartoon characters drawings. There aren't variations to the visual design, but the distinctive feature is the words printed below each work. He combined song lyrics with his art, which creates a confusing and interesting effect. Suddenly, characters like Donald Duck or Mickey Mouse have a more humane impression, with which everyone can identify. All the lines are from songs most of us know and maybe even have a personal connection with. They are inserted under cartoons with which we are equally acquainted, so there's nothing unfamiliar about his art. This leaves enough space to contemplate about what was the artist's intention when he combined a song with a character. Is there a deeper meaning to joining Goofy and the Beatles line "All you need is love" or is it simply about sending a positive message through two different sources? Whatever it is, it's hard not to smile and feel relaxed when you go through his work.
Spiller created a large number of cartoon characters drawings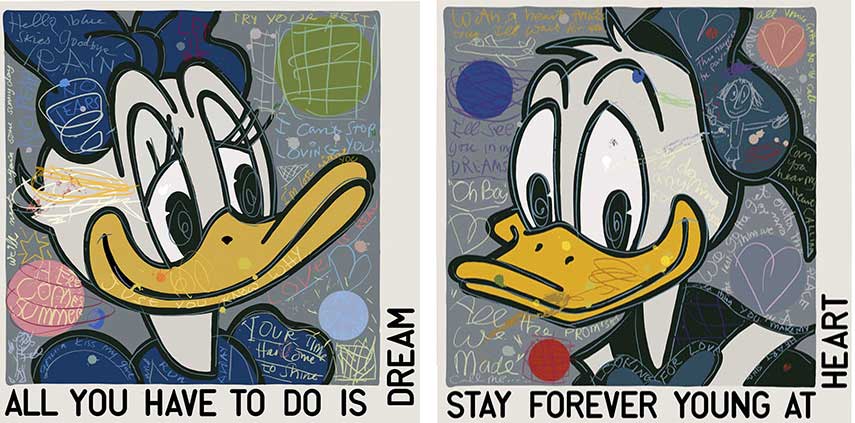 Cultural Impact
Spiller was also known to collect old objects which today serve as reminders of the past time. His studio was filled with tin telephones, plastic toys and everything else that has personal value. Being directly involved in the evolution of popular culture, it left an impact both on his persona and on his work. Although he was a visual artist, he left an impression of a person to whom words were more important than the art pieces. The idea to insert lyrics came to him while he was drawing. He would constantly have a song in his head while working as if against his will, the lines wanted to have an influence on his visual art. The pieces are beautiful and creative, but without the few words you find under them, they would be empty. Some of his works are direct, some are more complex and wild, but they all send a simple message of honest love.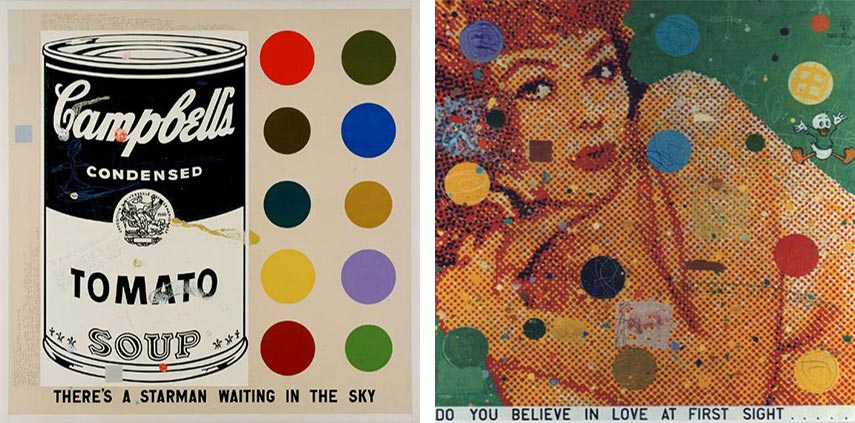 Tell Me How You Feel
The goal of his work was sending the message of love. But instead of only giving, Spiller also wanted to communicate, have a two-way conversation. Every art piece is like a little test where he tried to see if his thoughts presented through art will be the same as of the viewer. It's like watching the same shape and comparing the experience of two people. Maybe one person will see a face while the other will see an animal. The thought sharing process creates new forms, new shapes and by this enriches our lives.
Featured Image: David Spiller – Photo Credits: Artist
All images used for illustrative purposes only
| Year | Name of the Exhibition | Gallery-Museum | Solo-Group |
| --- | --- | --- | --- |
| 2015 | Spiller | Portland GallerynUK / London | Solo |
| 2014 | At the Gallery | Antwerp, Belgium | Solo |
| 2014 | A Portrait of the Artist | Guy Pieters, Knokke, Belgium | Solo |
| 2013 | Untitled | Guy Pieters Gallery, Knokke, Belgium | Group |
| 2012 | Just You Know Why | Beaux-Arts London | Solo |
| 2012 | Just You Know Why | Fischerplatz Gallery, Ulm, Germany | Solo |
| 2012 | Just You Know Why | Guy Pieters Galerie, Latem, Belgium | Solo |
| 2011 | Untitled | Harley Gallery, Wellbeck Collection, Nottinghamshire | Group |
| 2011 | Untitled | Guy Pieters Gallerie, Knokke, Belgium | Group |
| 2011 | Spiller | Guy Pieters Gallerie Knokke Belgium | Solo |
| 2011 | Spiller | Gallery Moderne Silkeborg Denmark | Solo |
| 2010 | Spiller | Galerie Tournesol, Vichy, France | Solo |
| 2010 | Spiller | Villegle Museum, Saint Gratien, France | Solo |
| 2010 | Spiller | Beaux-Arts, London | Solo |
| 2009 | Spiller | Galerie Guy Pieters, St Paul de Vence, France | Solo |
| 2009 | Untitled | Galerie Moderne, Silkeborg, Denmark | Group |
| 2009 | Trying to Get to Heaven Before They Close the Door | Beaux Arts, London Smith | Solo |
| 2008 | Spiller | Galerie Tournesol, Lyon, France | Solo |
| 2008 | Spiller | Willy Schoots Gallery, Eindhoven | Solo |
| 2008 | Spiller | Interatrium Gallery, Porto, Portugal | Solo |
| 2008 | Spiller | Beaux Arts, London | Solo |
| 2008 | Untitled | Galerie Wild, Frankfurt, Germany | Group |
| 2008 | Spiller | Galerie Moderne, Silkeborg, Denmark | Solo |
| 2007 | Spiller | Galerie Guy Pieters, St Paul de Vence, France | Solo |
| 2007 | Spiller | Mannheim Kunstverein, Mannheim, Germany | Solo |
| 2007 | Spiller | Galerie Wild, Frankfurt | Solo |
| 2007 | Spiller | Galerie Guy Pieters, Knokke, Belgium | Solo |
| 2006 | Spiller | Apart Media, Amsterdam | Solo |
| 2006 | Untitled | Galerie Moderne, Silkeborg, Denmark | Group |
| 2006 | Untitled | Summer Show, Beaux Arts, London | Group |
| 2006 | Mickey dans tous ses états | Artcurial Paris | Group |
| 2005 | Midwest kunst | Herning Museum, Denmark | Group |
| 2005 | Spiller | Galerie Wild, Frankfurt, Germany | Solo |
| 2005 | Spiller | Galerie Wild, Frankfurt, Germany | Solo |
| 2005 | Love for sale | Bankside | Group |
| 2005 | Untitled | Galerie Moderne, Silkeborg, Denmark | Group |
| 2005 | Love for sale | Bankside | Solo |
| 2004 | Spiller | Raab Galerie, Berlin, Germany | Solo |
| 2004 | Spiller | Beaux Arts, London | Solo |
| 2004 | Untitled | Galerie Moderne, Silkeborg, Denmark | Group |
| 2003 | David Inshaw - Friends and Influences | Royal West of England Academy | Group |
| 2003 | Spiller | Galerie Wild, Frankfurt, Germany | Solo |
| 2003 | Spiller | Galerie Guy Pieters, Knokke, Belgium | Solo |
| 2002 | Spiller | Beaux-Arts, London | Solo |
| 2002 | Contemporary Narrative | Gallery Camino Real, Boca Raton, Florida, USA | Group |
| 2002 | L'humour dans L'art contemporain | Museum Espace Belleville, Paris | Group |
| 2001 | Spiller | Galerie Wild, Frankfurt, Germany | Solo |
| 2001 | Spiller | Beaux-Arts, London | Solo |
| 2001 | Summer Show | Beaux-Arts, London | Group |
| 2000 | Spiller | allery Camino Real, Boca Raton, Florida, USA | Solo |
| 2000 | Untitled | Galerie Klaus Peter Goebel, Stuttgart, Germany | Group |
| 2000 | Spiller | Galerie Moderne, Silkeborg, Denmark | Solo |
| 2000 | Untitled | Galerie Guy Pieters, St Paul de Vence, France | Group |
| 2000 | Untitled | Galerie Guy Pieters, Knokke & Latem, Belgium | Group |
| 2000 | Spiller | Beaux-Arts, London | Solo |
| 1999 | Spiller | Beaux-Arts, London | Solo |
| 1999 | Cartoons and Comics | Virgin Atlantic | Group |
| 1999 | Artists of Fame & Promise | Beaux-Arts, London | Group |
| 1998 | Take 3 | Beaux-Arts, London | Group |
| 1998 | Spiller | Galerie Rokoko, Stuttgart, Germany | Solo |
| 1998 | Spiller | Cotthem Gallery, Knokke, Belgium | Solo |
| 1997 | Untitled | Galerie Ribbentrop, Germany | Group |
| 1997 | Spiller | Cotthem Gallery, Barcelona, Spain | Solo |
| 1996 | Untitled | Museum Van Bommel - Van Dam, Venlo, Holland | Group |
| 1995 | Untitled | Galerie Moderne, Silkeborg, Denmark | Group |
| 1994 | Spiller | Cotthem Gallery, Knokke, Belgium | Solo |
| 1994 | Spiller | Galerie Moderne, Silkeborg, Denmark | Solo |
| 1993 | Spiller | Galerie Rokoko, Stuttgart, Germany | Solo |
| 1993 | Spiller | Galerie Ferdinand Maier, Cologne, Germany | Solo |
| 1993 | Untitled | Galleria Naviglio, Milan & Venice, Italy | Group |
| 1992 | Spiller | Galleria Naviglio, Milan and Venice, Italy | Solo |
| 1992 | Pop & Artvertising | Museum Van Bommel, Venlo, Holland | Group |
| 1992 | Untitled | Reflex Gallery, Amsterdam | Group |
| 1991 | Spiller | Willy Schoots Gallery, Eindhoven, Holland | Solo |
| 1990 | Spiller | Alexander Roussos Gallery, London | Solo |
| 1990 | Spiller | New York; Galerie Ariadne, Vienna | Solo |
| 1989 | Spiller | Twinings Gallery, New York | Solo |
| 1988 | Spiller | Kana Contemporary Arts Gallery, Berlin | Solo |
| 1987 | Spiller | Galerie Zeitkunst, Innsbruck and Cologne | Solo |
| 1987 | Woord & Beeld | Museum Hedendaagse Kunst, Utrecht, Holland | Group |
| 1987 | Materialisation | Mannheim Kunstverein, Mannheim, Germany | Group |
| 1987 | Spiller | Galerie Eugen Lendl, Graz, Austria | Solo |
| | Summer Show | Beaux Arts, London | Group |
| | Untitled | Summer Show, Beaux Arts, London | Group |
| | Untitled | Galerie Moderne, Silkeborg, Denmark | Group |
| | Untitled | Galerie Ernst Hilger, Vienna | Group |