Deborah Sengl is an Austrian artist whose paintings, drawings and sculptures pose many questions about the role of individual identity in the modern society. Her creative processes are quite unusual and may sound a bit eerie to the traditional audience, since she is working closely with a taxidermist and using animal skins to create hybrid animal-human forms in her sculptures and installations. The artist said about her projects: I therefore use the animal as a metaphor of human behaviour, because I find that it is distracting when one portrays people – everyone starts to have a subjective view of these people and that is quite distracting.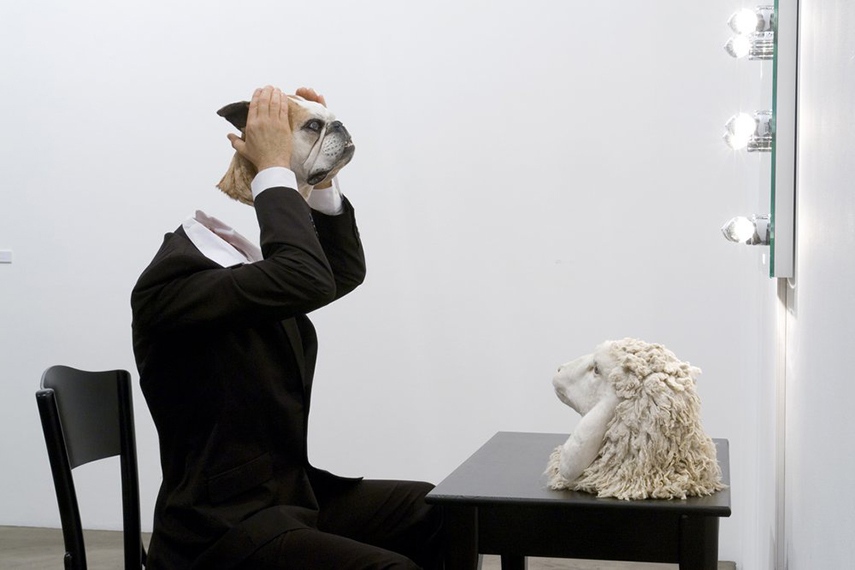 Wolf in Sheep's Clothing
Sengl is interested not only in fine arts, but also  and scene  and costume design. She studied at the University of applied Arts in Vienna and later on at the University of Arts in Berlin. After obtaining her BFA, she worked as a lecturer at Mozarteum in Salzburg, from 2011 to 2013. Her study of costume design influenced her future career as an artist because she has already gained a solid knowledge when is comes to costumography and meanings of masks and avatars in the world of theater.  However, her own art at this point doesn't have much to do with the theater – what Sengl creates is bizarre, paradoxical, but nevertheless humorous. Her portrayal of human virtues and vices through a peculiar kind of animal masquerade is having many references in literature and history, making her work multidisciplinary and dynamic.
The artist is portraying human virtues and vices through a peculiar kind of animal masquerade
Restaging the First World War
For her debut installation called The Last Days of Mankind, inspired by Karl Kraus' stage version of the satire with the same name, Sengl used around 200 stuffed rats , in 44 separate installation scenes. The exhibition is closely connected with the 100th anniversary of the First World War and Kraus's satire captured the absurdity and cruelty of the war so precisely that Viennese artist decided to use his writing as  a reference. She is representing and reinterpreting scenes in the Kraus' work, especially dialogues, by her installation with rats and additional drawings and paintings. The scenes include streets and courts, hospitals and battlefields. Her work is an artistic interpretation of Kraus' writing even though modern issues are also present in her pieces. Kraus was more of a starting point for the artist, from which her own elaborate projects continued to develop. I actually always portray only what I experience, what I see in our time, in our society. I don't invent any extras. Neither did Karl Kraus, said the artist about her debut installation.
For her debut installation called The Last Days of Mankind, Sengl used 200 stuffed rats
Meaning behind Stuffed Animals
The artist is working with a taxidermist who prepares the rat skins based on her meticulous choices. Sengl decided to use rats as a metaphor for people because she finds them similar to humans in the sense that they are quite selfish animals who think of themselves first. She didn't pay attention only to her protagonists which are rats, but she also carefully designed small objects such as flags, newspapers, furniture or jewellery, to make her main characters more lively and recognisable. In addition to The Last Days of Mankind, her other important projects were Zebralion from 2003 and Home Story from 2015. Zebralion is dealing with our obsession with brands products and our need and search for material gratification. This is also the artist's criticism of consumerism, which is bringing us a fake, deceptive sense of safety, dangerous for the overall functionality of the society. In her another series, Home Story, Sengl is telling stories about the strong contrast between luxurious lifestyle and horrible poverty, which are both equally present categories in our world. She is giving an artistic commentary about the lifestyle of those who live at the fringes of society and also about those who are addicted to material goods. She is again using animal forms, such as skulls or stuffed heads in these series – mostly cows and pigs, which again have a strong symbolic value.
Sengl's innovative works offers commentary on our society and universal issues such as consumerism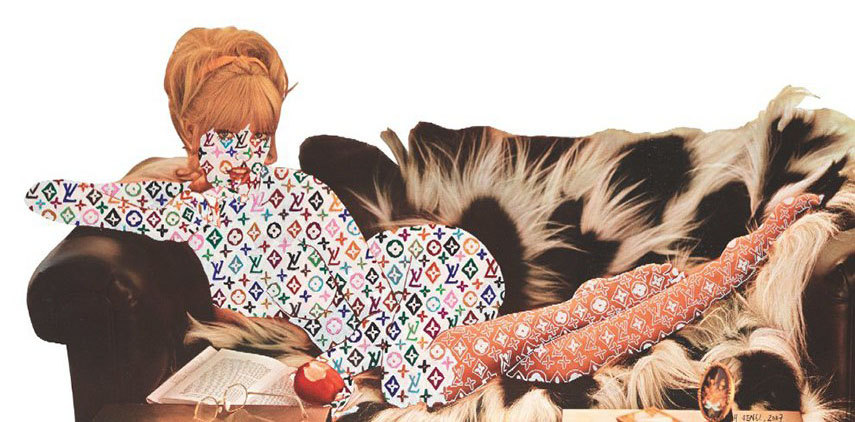 Modern Fables for Adults
The artist's innovative works offer unique, tongue-in-cheek commentary on our society and universal issues such as consumerism, poverty, identity crises and self-esteem. By her clever and audacious usage of stuffed animals, Sengl is, in a way, retelling the fables about basic human values we were told in our childhood. But now we have this special treat of being able to enjoy her dramatic fables for the adults, told by a dozen of various carefully prepared, sometimes eerie but also humorous, animal characters.
The artist is represented by Lisabird Contemporary.
Deborah Sengl lives and works in Vienna, Austria.
Featured image: Deborah Sengl portrait
All images copyright of the artist.
| Year | Exhibition Title | Gallery/Museum | Solo/Group |
| --- | --- | --- | --- |
| 2015 | Die letzten Tage der Menschheit | Österreichisches Kulturforum, Bratislava (SK) | Solo |
| 2015 | Home Story | Galerie Deschler, Berlin | Solo |
| 2014 | And cut! | Galerie Hilger, Wien | Solo |
| 2014 | Die letzten Tage der Menschheit | Sammlung Essl, Klosterneuburg | Solo |
| 2013 | Via Dolorosa | Galerie Deschler, Berlin | Solo |
| 2013 | Deborah Sengl | St. Peter an der Sperr, Wiener Neustadt | Solo |
| 2012 | Deborah Sengl | Kunstverlag Wolfrum, Wien | Solo |
| 2012 | Deborah Sengl | Galerie Hametner, Stoob | Solo |
| 2011 | Selig sind die Unwissenden | SOART, Millstättersee | Solo |
| 2011 | His Story | Galerie Walker, Klagenfurt | Solo |
| 2011 | Festival der Tiere | Sammlung Essl, Klosterneuburg | Group |
| 2011 | Art Austria 2011 | Galerie Gerersdorfer, Wien | Group |
| 2011 | Es lebe die Malerei! | Sammlung Essl, Klosterneuburg | Group |
| 2010 | Vom Tarnen und Täuschen | IFK Wien | Solo |
| 2010 | Killed to be Dressed | Galerie Rohde Contemporary, Copenhagen | Solo |
| 2010 | Hohe Tiere | Castyourart/Viennafair, Wien | Solo |
| 2010 | New Departures | Galerie Marcus Deschler, Berlin | Group |
| 2010 | Happy in Vienna | Galerie Steinek, Wien | Group |
| 2010 | Raum Situation Wirklichkeit | Galerie Steinek, Wien | Group |
| 2010 | Walking the dog | Kunsthalle Dominikanerkirche, Osnabrück | Group |
| 2010 | Ringturm | Leopold Museum, Wien | Group |
| 2009 | All you can losen | Galerie Steinek, Wien | Solo |
| 2009 | Deborah Sengl | Galerie Hametner, Stoob | Solo |
| 2009 | Get Connected | Künstlerhaus, Wien | Group |
| 2009 | Focus Nature | Benediktinerstift Admont, Admont | Group |
| 2009 | Art Austria 2009 | Galerie nGerersdorfer, Wienn | Group |
| 2008 | Nach logos trachten | Kreuzgangobergeschoß, Neuberger Münster | Solo |
| 2008 | Von Schafen und Wölfen | Burgkapelle, Museum moderner Kunst Kärnten | Solo |
| 2008 | Von Schafen und Wölfen | Galerie Marcus nDeschler, Berlinn | Solo |
| 2008 | Mars en Braconne | Mediatheque L' Deschamp, Champniers, France | Group |
| 2008 | Kopfstoss | Galerie Wolfrum, Wien | Group |
| 2008 | Weibsbilder, | Galerie Michael Schmalfuß, Marburg | Group |
| 2007 | Markenwelten | Galerie Lukas Feichtner, Wien | Solo |
| 2007 | Logo Heroes | Galerie Ranalter, Innsbruck | Solo |
| 2007 | Art Collected + Made for Admont | Benediktinerstift Admont, Admont | Group |
| 2007 | Curious | Galerie Marcus Deschler, Berlin | Group |
| 2007 | EXKLUSIV | Kunstpavillon, Innsbruck | Group |
| 2006 | Ertarnungen | Galerie Palais Porcia, Spittal | Solo |
| 2006 | Ertarnungen | , Galerie tazl, Graz | Solo |
| 2006 | Economy Class | Alliance francaise de Nairobi, Kenia | Group |
| 2006 | Art award 2006 | Bauholding, Wien | Group |
| 2006 | Wintersetting | Galerie Marcus Deschler, Berlin 2006n | Group |
| 2005 | Ertarnungen II | Galerie Karin Sachs, München | Solo |
| 2005 | Ertarnungen III | Galerie Lukas Feichtner, Wien | Solo |
| 2005 | Aus der Serie | Galerie K4, Saarbrücken | Group |
| 2005 | Koschatzky | Museumsquartier, Wien | Group |
| 2005 | Reflexionen | Art Center, Berlin | Group |
| 2005 | Choose a shoe | Galerie Steinek, Wienn | Group |
| 2005 | 219 km Berlin | Kunsthalle Rostock, Rostock | Group |
| 2004 | Ertarnungen III | Galerie Thiele, Linz | Solo |
| 2004 | Dein Schwein ist mein Schwein | Galerie Marcus Deschler, Berlin | Solo |
| 2004 | Erzüchtungen & Ertarnungen | Forum Kunst Rottweil, Rottweil | Solo |
| 2004 | Positionen | Museum moderner Kunst, Stiftung Wörlen, Passau | Group |
| 2004 | 5 x 5 Skulptur am Pfefferberg II | Pfefferberg Haus 2, Berlinn | Group |
| 2003 | Ertarnungen II | Galerie feichtner&mizrahi, Wien | Solo |
| 2003 | Ertarnungen | Oriontarnungen, Erzüchtungen, Galerie Binz & Krämer, Köln | Solo |
| 2003 | Curious | Galerie Marcus Deschler, Berlin | Group |
| 2003 | Teddybär & Co | Galerie Ernst Hilger, Wien | Group |
| 2002 | Ertarnungen | Galerie Karin Sachs, München | Solo |
| 2002 | Eva und die Schlange | Galerie feichtner&mizrahi, Salzburgn | Group |
| 2002 | Neue Räume | Galerie feichtner&mizrahi, Wienn | Group |
| 2001 | Die Schlange | Kupferstichkabinett, Wien | Solo |
| 2001 | Fallobst Witz Ironie Kunst | Sammlung Essl, Klosterneuburg | Group |
| 2001 | Geile Mütter | Heilige Huren, Kosmos | Group |
| 2000 | Der Vogel n | Galerie Arc, Wien | Solo |
| 2000 | Jagd | Trieb, Schloß Hollenburg, NÖ | Group |
| 2000 | Why Not | Galerie feichtner&mizrahi, Wien | Group |
| 1995 | Textiles | Heiligenkreuzerhof, Wien | Group |