DECYCLE is an anonymous street artist. He was interested in art since he was a child, especially Graffiti, but never had any formal art education. His beginnings in Street art were developed at home, on his apartment wall with a stencil and a spray paint. Soon his walls were filled, so he decided to try his luck on the streets.
Art as Social Benefit
DECYCLE works with templates that he prepares at his home, and then hangs them in the streets. For him, this is a good alternative to spraying, as paste-ups do not constitute property damage, but only a misdemeanor. He even uses organic glue so that the images can be quickly and easily removed. He considers his art to be a general social benefit, because he believes that he is presenting art to everybody, even to the people who never visit museums or galleries. Even though his art takes after that of Banksy's, politics is not what drives DECYCLE's artworks. "In contrast to stencils, street art or art in general, my paintings don't necessarily convey any message, neither artistically nor politically or socially. The primary purpose is to create pictures I personally like. A welcome side effect is to reach people without any interest in art, confronting them with art in places where they wouldn't expect." About his art, and his process of creation, he adds: "Sitting in front of my cutting mat and creating stencils from the pictures in my mind is my way of meditation."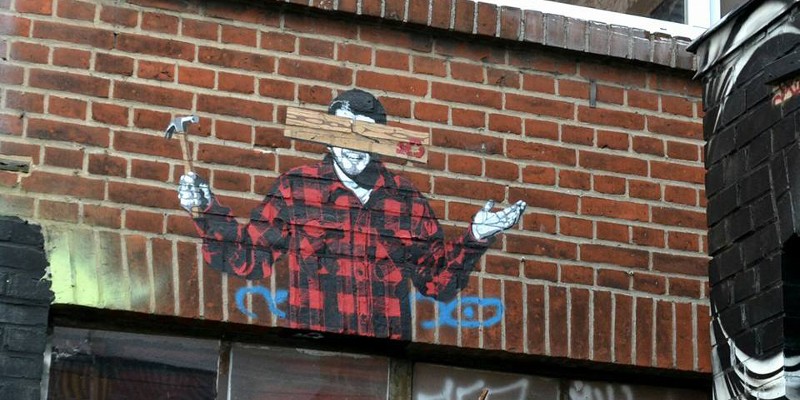 A Man with a Rope
DECYCLE has also worked on a public buildings. He has done a paste-up of a man wearing a suit and a rope binds instead of a tie around the neck (titled Down to Business), and taped it to a bank. It was removed the very next day, but he succeeded in his intention of making a statement. His art has become increasingly popular in recent years. His paste-ups that were formerly barely noticed, are now constantly photographed wherever they appear, and photographs are sold for considerable sums of money.

DECYCLE has also collaborated with other street artist's. He has worked in Berlin with Plotbot, and in other cities with the artist Kurznachzehn. He has participated in numerous shows and most prestigious art festivals in Berlin and Düsseldorf. His works have been exhibited all over Germany, but also in Norway and Indonesia, as well.
DECYCLE currently resides and works in Ruhr, Germany.
| Year | Exhibition Title | Gallery/Museum | Solo/Group | |
| --- | --- | --- | --- | --- |
| 2014 | Dirty Works V | 30works, Cologne, DE | Group | |
| 2014 | Streetart Cologne: Show & Book Release | Die Kunstagentin, Cologne, DE | Group | |
| 2014 | Urban Art Clash | Berlin, DE | Group | |
| 2014 | Street Art Meeting - Winter Edition | Urban Spree, Berlin, DE | Group | |
| 2014 | STROKE 2014 | Munich, DE | Group | |
| 2013 | Cityleaks | Cologne, DE | Group | |
| 2013 | Cityleaks | 30works, Cologne, DE | Group | |
| 2013 | 40° urban art | Düsseldorf, DE | Group | |
| 2013 | Stroke artfair | Munich, DE | Group | |
| 2013 | Urban Art Clash | Berlin, DE | Group | |
| 2013 | Stencils only | PrettyPortal, Düsseldorf, DE | Group | |
| 2013 | Dirty Works IV | 30works, Cologne, DE | Group | |
| 2013 | Pencil & Stencil | Sold Out Gallery, Bochum, DE | Group | |
| 2012 | Major Razor | Gardu House, Jakarta, ID | Group | |
| 2012 | Prints & Editions | PrettyPortal, Düsseldorf, DE | Group | |
| 2012 | Street Smart | Bergen Kjøtt, Bergen, NO | Group | |
| 2012 | N.A.T.U.R.-Festival | Urban & Ecological Festival, Bochum, DE | Group | |
| 2012 | Silence is a lie | SEZ Berlin, DE | Group | |
| 2012 | Artbase | Urban Art Festival, Berlin, DE | Group | |
| 2012 | Stencils Only | PrettyPortal, Düsseldorf, DE | Group | |
| 2012 | Urban Expo | PrettyPortal, Düsseldorf, DE | Group | |
| 2012 | Paint & Beer | Amsterdam, NL | Group | |
| 2011 | Artbase | Urban Art Festival, Berlin, DE | Group | |
| 2011 | Urban Expo | PrettyPortal, Düsseldorf, DE | Group | |