Dede is a graffiti and conceptual artist from Israel, a contemporary city wanderer who uses the public space and city streets as the ideal place for communicating through his art. He's been active on the streets of Tel Aviv since 2006 and in recent years has been leaving his artistic signature in the capitals around the world, such as New York, Berlin, London. Referring to himself as an urban tourist, he enjoys wandering through the ever-changing city streets, trying to find the perfect place where he could express his deep urge for leaving a meaningful message behind – a process through which he finds meaning himself and expresses a statement of his existence.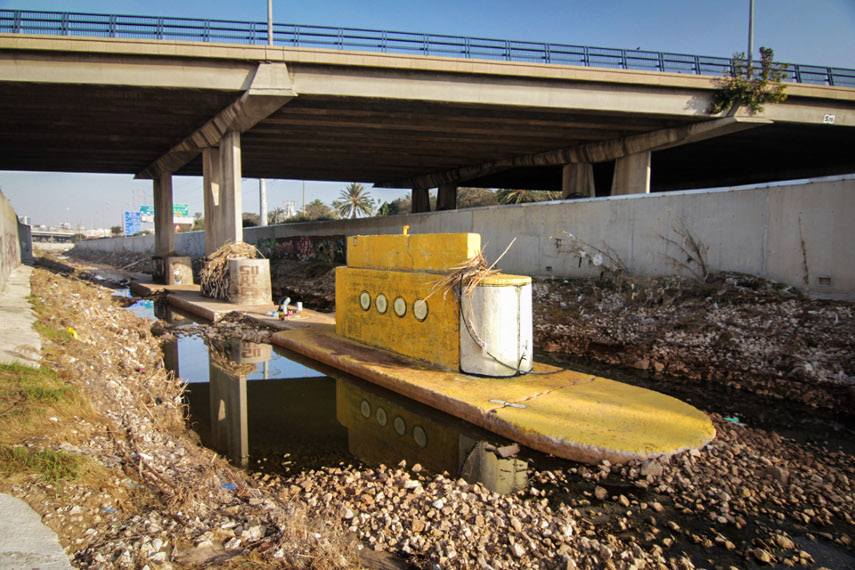 The City as an Integral Part of his Art
The street is the ultimate platform for the creation of his work. He is free from constraints and interventions of gallery curators or trends on the art scene. As well, the city itself becomes an integral part of his graffiti. As his art is almost always site-specific, both theoretically and practically, the generated concept, approach, and used materials are always in relation to the specific location. Since every theme requires a new approach he has been using different techniques and tools all the time. He lets the places dictate the direction of his inspiration, and it always ends up being unpredictable, dynamic and impulsive. Being a curious person and not very rational, I utilize a variety of techniques. I start thinking of what I want to say or do and where I want to say it and then only how to make it. I work with stencils, pastes, free hand, installations, and more. I use paint, spray paint, paper and various industrial materials.[1]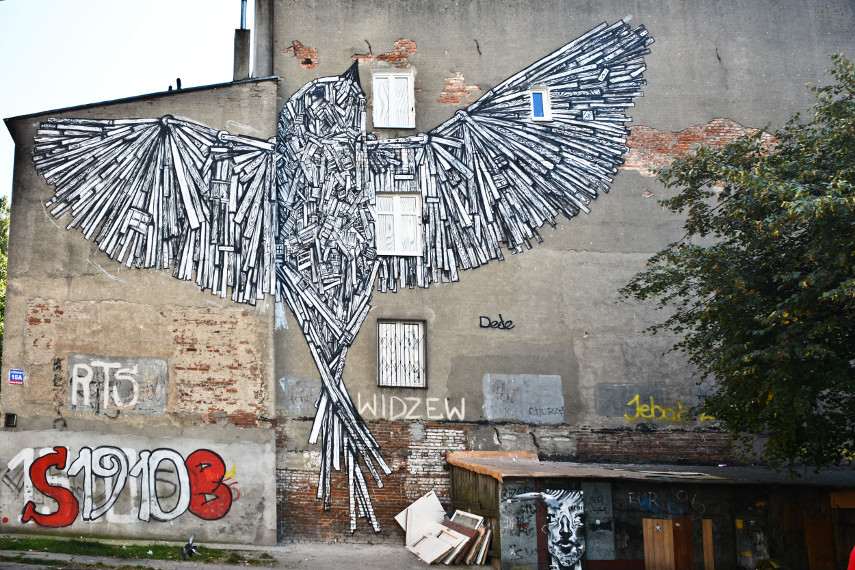 Art that Offers an Alternative
Dede's art is motivated by wanderlust and escapism that appears in a confrontation with the paradoxes and absurd of human existence, with the loneliness, alienation, inability to truly integrate into the society, as he states. But, he feels that through art he can contribute to the society. I guess what's important for me to highlight in my street art is that there is always an alternative; if there is a pressing issue, whether personal or social, you are allowed to stand up and say what you think about it and in so doing bring the issue to the awareness of the public. Laws should not be complacently accepted, but rigorously reexamined. It is important to be thoughtful, critical and form an educated opinion about them.[2]
Band-aid is his specific trademark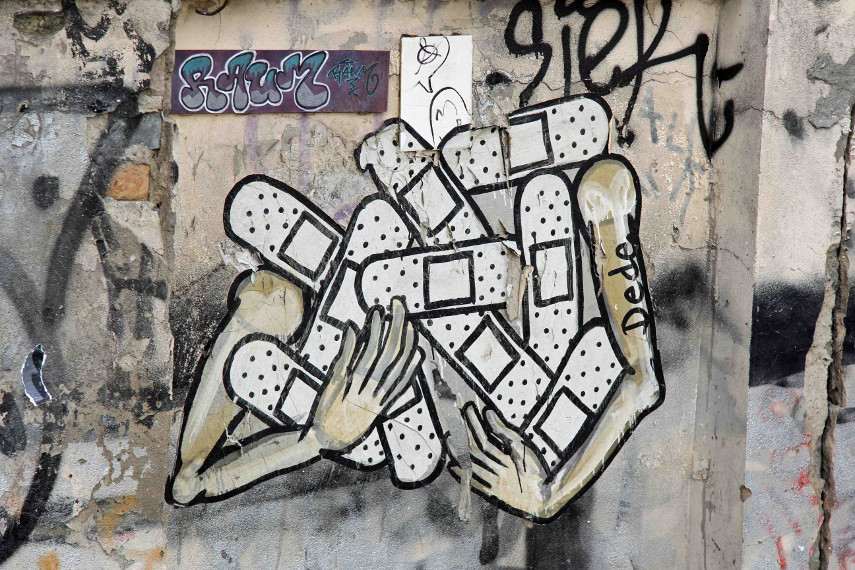 Hectic Lifestyles as Main Inspiration
Dede is using the freedom that the streets offer to deepen the exploration of contemporary human existence in urban art. For him, the main motives that drive him are entangled around the city landscape and modern hectic lifestyles; the social, individual and political questions arise from discovering new territories and from following the constant desire to mentally and physically travel. But, he manages to include in his art some important influences from the Israeli tradition and culture such as an image of a white pigeon, an important Biblical symbol for peace. As well, he created some of his own hallmarks such as the band-aid that refers to all the wounds and scars that need to be mended and cared for.
Dede lives and works in Tel Aviv, Israel.
References:
Litvin,Y, Tel Aviv Street Artist Dede Talks About His City and His Work, Brooklyn Street Art [April 7, 2017]
Ibid.
Featured image: Dede – Portrait of the artist in front of his work – Image courtesy of the artist
All images used for illustrative purposes only