Travel has long been known as one of the best sources for artists' inspiration. Moving around and experiencing new places spark the imagination and inspire one to be creative. Exploring the world has offered rich inspiration for Dominique Seiwert, a German-born artist better known under her pseudonym Déesse. Her travels and unquenchable thirst for creative expression allowed her to develop her amazing body of work composed of striking colorful sculptures that are all made by hand, painted, numbered and signed. Cheerfulness and good humor animate all the characters, bringing a sense of joy and laughter into any area.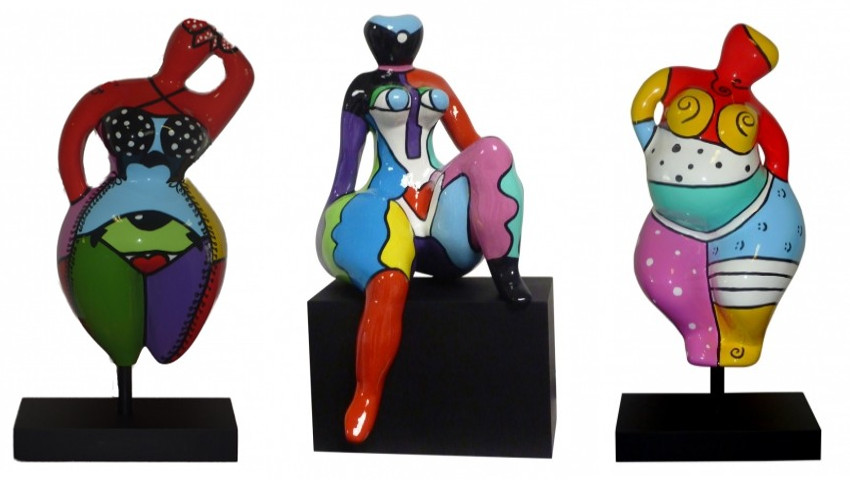 Using Travel as Inspiration
Déesse was born in 1954 in Friedrichshafen, a city on the northern shoreline of Lake Constance in Southern Germany. After various professional experiences and many journeys, in the beginning of the 2000s, she decided to devote herself to art. Inspired by graffiti she saw on many of her travels, as well as the exciting costumes and bright colors of Carnival in Rio and Brazilian art as well, she soon became famous for her sculptures lovingly made from resin, marble dust and painted by hand. Influenced by such artists as Piet Mondrian, Paul Klee, Gerhard Richter, Kazimir Malevich, and Victor Vasarely, she has developed her inimitable style that blends pop art and cubism.
Déesse has developed her inimitable style that blends pop art and cubism
Dancing Sculptures by Déesse
In her work, Déesse doesn't follow often unachievable modern standards of beauty imposed by popular culture. Instead, she creates voluptuous sculptures presenting amazing female figures full of spirit and joy. Déesse observes body language in humans around her interpreting it and effortlessly capturing it in his sculptures. His sculptures capture movement and dance of the subjects with energetic line and form. The artist works in many sizes, from smaller pieces to life size and larger creating both indoor and outdoor sculptures that can be viewed by people from all walks of life. Her work has been exhibited throughout France and beyond.
The artist is represented by Gerard Seiwert Gallery.
Déesse lives and works in Metz, France.
Featured image: Déesse – artist with one of her pieces
All images courtesy of the artist