Born in 1988, Denis Mubiru is a Ugandan visual artist who uses the grotesque to explore the complex yet practical Kampala minibus taxis, better known locally as "Kamunye." He uses playful, abstract, naïve paintings and pictures to tell the interesting and exciting dramas that unfold within the taxi – petty arguments, flirting and "wolokoso" (local gossip) – which reflect on the society of Kampala and Uganda at large.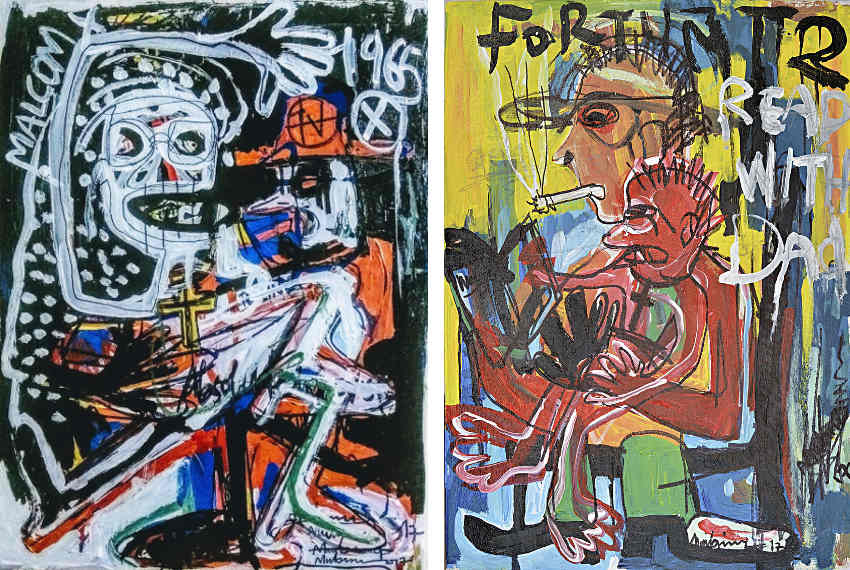 Surreal Reality in Denis Mubiru's Art
Seeking to draw the viewers' attention to what social media and press often ignore, he documents and interprets the more intricate aspects of life in the minibuses; the signage, religious symbolism, and characters.
"Conversations expresses freely ignite my work. With my father, I used to engage in social life, politics, football, leisure love, women and most of all the future and if I can not have these with him anymore I would rather have this of my environment possibly through my audience or out in the public – the private becoming public."
The artist is represented by LKB/G Gallery.
Denis Mubiru lives and works in Kampala, Uganda.
Featured image: Denis Mubiru – portrait
All images courtesy LKB/G Gallery
| Year | Exhibition Title | Museum/Gallery | Solo/Group |
| --- | --- | --- | --- |
| 2017 | Kampala Yange | 32° East-Uganda Arts Trust, Kampala, Uganda | Solo |
| 2017 | ART TRANSPOSITION: Kampala - Nairobi - Hamburg | LKB-G, Hamburg, Germany | Group |
| 2017 | Kampala Contemporary | Kassel, Germany | Group |
| 2017 | Young Guns | Circle Art Gallery, Nairobi, Kenya | Group |
| 2016 | Eroticism and Intimacy: Paths, Faces and Places | Underground, Kampala, Uganda | Group |
| 2016 | Kampala Contemporary | Circle Art Gallery, Nairobi, Kenya | Group |
| 2016 | Unseen Art | AfriArt Gallery, Kampala, Uganda | Group |
| 2016 | Johannesburg Art Fair | Johannesburg, South Africa | Group |
| 2015 | Music is a Feature of Man | German Ambassador's Residence, Kampala, Uganda | Group |
| 2015 | 4th NALA Group Art Exhibition | Nairobi, Kenya | Group |
| 2014 | KLA ART 014 | Kampala, Uganda | Group |
| 2014 | LaBa! Arts Festival | Kampala, Uganda | Group |
| 2013 | Bayimba International Festival of Arts | Kampala, Uganda | Group |