Donald Urquhart is a Scottish writer, performer and artist best known for his metamorphose from drag queen to an artist, as well as for his pen and ink drawings of screen sirens and scenes of bittersweet Hollywood glamour.
The Beautiful Bend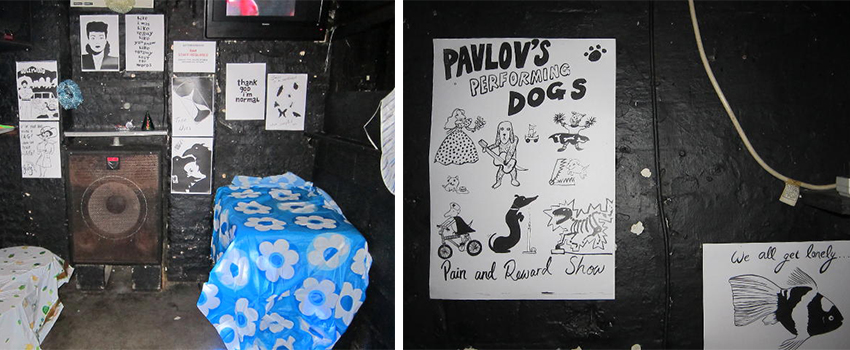 Donald Urquhart was born in Dumfries, Scotland. When he wasn't admitted into Glasgow art school he moved to London in 1984, in the middle of the performance-art and drag-club scene of the 1980s. Urquhart established friendships and collaborative role with contemporary Leigh Bowery, an Australian performance artist, club promoter, actor, pop star, model, and fashion designer. Urquhart embraced the heady drag-performance scene of which Bowery and his circle were pioneering innovators.
In the 1990s Donald launched his own night club, The Beautiful Bend, co-hosted with friends Sheila Tequila and DJ Harvey. This club was no mere disco; it spawned his short stories, poetry, drawings, performances, radio and stage plays as well as acting as catalyst for Urquhart's multifaceted art career.
At the time he has also worked as a postman, model and fashion journalist, but it was at the club that he created the drawings that would unexpectedly bring him art-world success. Urquhart's drawings originally functioned as invitations and décor for this eclectic nightclub that featured a bizarre mix of alcohol-fuelled Victoriana and drag. With these drawing, artist aimed at celebrating the effects of alcohol on the imagination – it was kind of a tribute to the glamour and drama, melancholy, spite, vitriol, humanity, and hilarity' of drinking, linking unlikely references to popular literature and film.
Donald Urquhart's Drawings
Drawn in black ink on the pages of an A3 sketchbook, his works were originally photocopied, pasted up around the club's King's Cross interior, and taken home at the night's end by anyone who wanted them. The poses of these legendary movie stars in their simple, understated portraits were lifted from single or composite frames of different films in which they appear, carefully chosen by the artist and paused to allow him time to sketch.
The drawings remixed history with droll social commentary and Gothic camp. For one theme night, gay references were paired with images of hooded medieval plague doctors.
Donald Urquhart's drawings presented glamour, dark dreams and black humor – as well as a cast of Hollywood sirens of yesteryear, broken divas, melancholy young men, drag queens and literary anti-heroes. A series titled Peroxides on Parole made in 2000 served as flyers, posters and wall decorations for The Beautiful Bend. Dors is a portrait of 1950s sex symbol Diana Dors, who was, in her time, the British equivalent to Marilyn Monroe. Urquhart's leading ladies may have seen better days, but they're defiant to the end. In one 2005 drawing, the hollow-cheeked Judy Garland delivers the killer line: "We're all over the goddamned rainbow".
Another Graveyard (2004–05)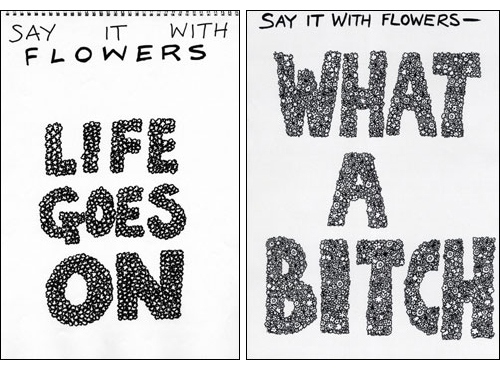 Those drawings caught the attention of Wolfgang Tillmans, Cerith Wyn Evans, Michael Clark and gallerist Gregorio Magnani, who gave Urquhart his first gallery show in 2002. Only three years later, the artist was shortlisted for the Beck's Futures Award with his exhibition, Another Graveyard (2004–05). That show was bittersweet for Donald, being inspired by the deaths of several friends that year.
Urquhart's Alphabetical Wall-charts
Urquhart also created so called alphabetical wall-charts, which featured characters such as Alfred Hitchcock as well as Joan Crawford. They vary from the Alphabet of Bad Luck, Doom and Horror (2004) to his wicked A-Zs on the pitfalls of stardom. Joan Crawford Alphabet (2007), for example, assigns each letter of the alphabet with a word or phrase associated with the actress's psychologically dark career and personal life, beginning with "A is for Axe." Taking the form of a beginner's lexicon, Donald Urquhart describes A Joan Crawford Alphabet as, "an obituary in 26 parts."
By using the folly fonts of cabaret posters, Urquhart's humorously illustrated her life, entwining Crawford's iconic film roles with her scandalous personal life to create a portrait of a legend in collective consciousness. After her death in 1977, Crawford's 'true persona' was revealed in a biography written by her daughter: a damning portrayal of egoism, alcoholism, mental illness, and child abuse.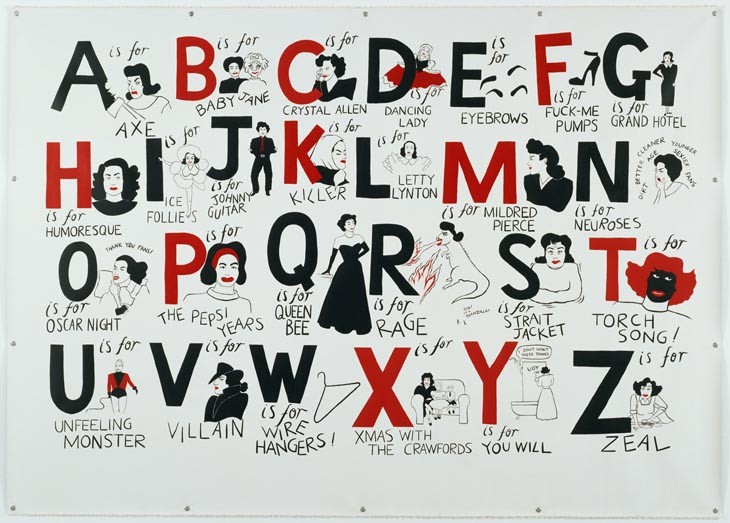 A Tribute to Leigh Bowery
After the death of Leigh Bowery in 1994, Urquhart joined both 'The Offset' when the remaining members of his band, 'Minty' had to face the prospect of carrying on without him in order for his recordings to eventually be released. The idea of a performance collective who was inspired by Leigh came about. Urquhart read poetry and prose, and sang with Poly Styrene (of punk group X-Ray Spex). In 2012, Donald Urquhart has been assisting, at long-distance, with the production of the new Leigh Bowery exhibition, 'XTRAVAGANZA: Staging Leigh Bowery' at Kunsthallewien, Vienna. Also, he has recently completed a book titled 'Leigh!' which conveys much of Leigh's spirit as well as containing anecdotal material and portraits.
1978
In 2015, Maureen Paley announced the third solo exhibition by Donald Urquhart, titled 1978. This exhibition consisted of drawings on paper and wall along with new sculptural works about the vintage year of 1978. The exhibition kind of pays a tribute to these years of flamboyant escapades and the band of characters that accompanied him. The Beautiful Bend came out that year.
"One night I think I was talking to Pearl (his mysterious friend) about reincarnation – or maybe it was one of those "which decade would you have liked to have lived in" games. He said "I'd rather be a tiny goldfish swimming inside the Perspex heel of a platform shoe on the illuminated dance floor of Studio 54 in 1978."
The exhibition consists of the evocations of rose-colored silk, black India ink and experimentation with graphic typefaces. In Urquhart's ardent desire to combine nostalgic subject matter with innovative form, part of this London contemporary art show's potency resides in its very obscurity.
London – Paris
When the Olympic Games in London were announced, that was the last straw for Donald. Even though he said that when a man is tired of London, he is tired of life – he left it for Paris.
"Rather than kill myself I moved to Paris, where my self-imposed exile has caused my creativity to flourish. In two months I have written and illustrated a book on Leigh Bowery – and I think it is only Volume One!"
Donald also said that when a man is tired of Paris he might as well become a monk.
Well, Donald Urquhart did not became monk but he came back to live in his native Dumfries, Scotland.