Known for creating psychedelic landscapes using the unique color palette he developed mostly on the streets of New York, Eelco van den Berg is a Dutch painter, muralist, and illustrator. Mesmerized by hip-hop during elementary school (it still influences him greatly), he ventured out, beginning his artistic career by writing graffiti. At one point, he realized that lettering wasn't sufficient in order to tell the complete story, so he turned to figuration. Now, his mostly hand-drawn work is standing out with its strong use of color, motifs, outlines and illustrative elements in a surrealistic pop art style. Speaking of motifs, ever since he painted a cat in Berlin back in 2013, the animal imagery has stayed with him. In June of 2016, he did a mural on the side of 41 N. Broadway in New York. It features wildlife and flora native to the Saw Mill and Hudson rivers – a nod to the recent efforts to get Yonkers declared an urban wildlife refuge. Van den Berg's mural is also part of an effort to create an urban cachet.[1]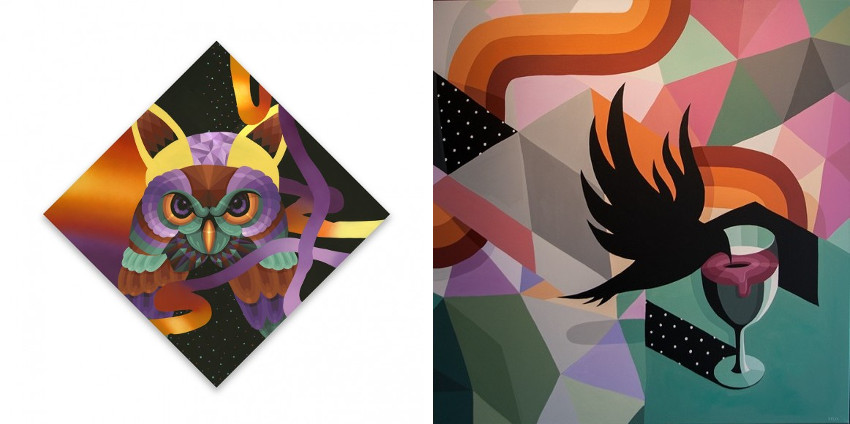 Eelco van den Berg – Beginnings and Inspirations
From an early age, he was always busy drawing animals and similar themes. In 1986, while the scene in the United States was booming, he discovered graffiti, hip-hop culture, and became immediately hooked. As a rebellious type in his youth, it really meant something for him, and it wasn't before long that he started stealing spray cans and tunnels or even put daytime illegal pieces in the park. Since 1989 he wrote under the name Virus, but since it has such a negative connotation, he let it go, and works as Eelco van den Berg.[2] Growing up in Uden, a small village in Holland, his hippie mother dragged him to a lot of parties when he was young, and he was exposed to a significant amount of psychedelic rock art on the walls. It's safe to say that simple being in this type of creative environment was his first artistic influence. When it comes to other artists, he never really focuses on a specific one. Those that do influence him come from a variety of creative fields and from a variety of different times. While he studied illustration, van den Berg became a fan of J.C. Leyendecker, Garry Kelly, and Lorenzo Matotti. Jim Phillips (a creator of big series of Santa Cruz skateboard graphics) is also a big influence. Francis Bacon and old masters, such as Rembrandt, are extremely inspirational to see.[3]
He immediately connected with the hip-hop and graffiti culture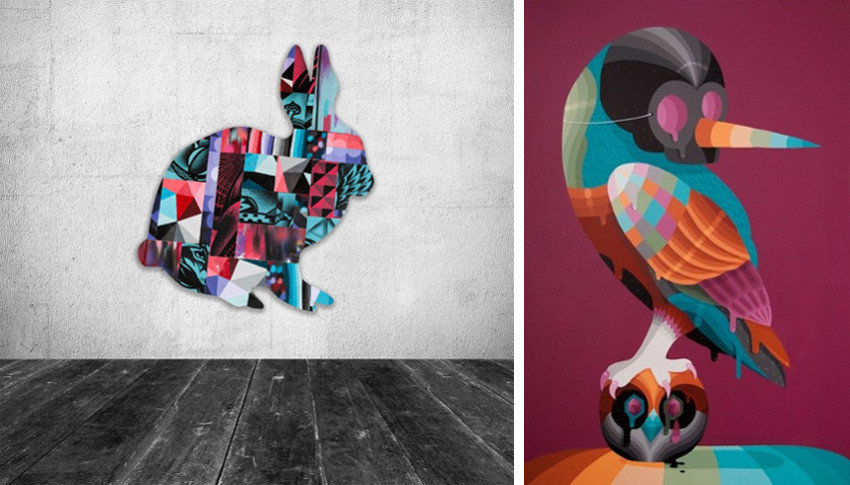 One of Top 10 New York City's Street Artists
It all changed for the artist when he came to Bushwick, Brooklyn in 2012. Noticing a lot of creative people and unique mixture of construction and landscape, and realizing that he didn't really have this type of setting back in Holland, van den Berg decided to come back to the USA for two months in 2014. Without many contacts, his contagious working energy and style he discovered a year ago in Germany quickly turned thing around, and he quickly became booked with mural requests. As mentioned, this overnight change in style happened in Berlin in 2013. Faced with disappointing results at art fair painting, he realized that the letters were blocking him. The artist made a sketch of a cat with the same fill of his graffiti fill-ins, and a few hours later he painted the cat in a huge size on an illegal spot surrounded by homeless Gypsies. It made him happy, and the Gypsies seemed to like it too. Continuing to work in this kind of manner ever since, the illustrator, painter and muralist quickly dropped the name Virus. In 2015, he was honored to be named one of Net York City's Top 10 Street Artists.[4] Van den Berg's bold award-winning graphic work has been commissioned by numerous brands including Philips, Levis, Senseo, Jack Daniels, Heineken, and Gansevoort Hotel. In addition to his creative endeavors, the artist also works a guest lecturer at the Willem de Kooning Academie.
He is represented by Magma Gallery.
Eelco van den Berg lives and works between Rotterdam and New York.
References:
Featured image: Eelco van den Berg – portrait
All images courtesy of Magma Gallery