Elena Helfrecht is young and aspiring German photographer, whose images tell stories of melancholy, beauty, emotions, and fears. Born in Bavaria in 1992, Elena Helfrecht grew up far from the big cities, charmed by the dark forests and folklore of her native land. Interested in art since an early age, Elena studied drawing at the Zoula Fürst School for two years, where she learned the basics of drawing and painting, including composition, proportions, and coloring. In 2015, Elena finished her Bachelor of History of Art and Book Sciences in Germany.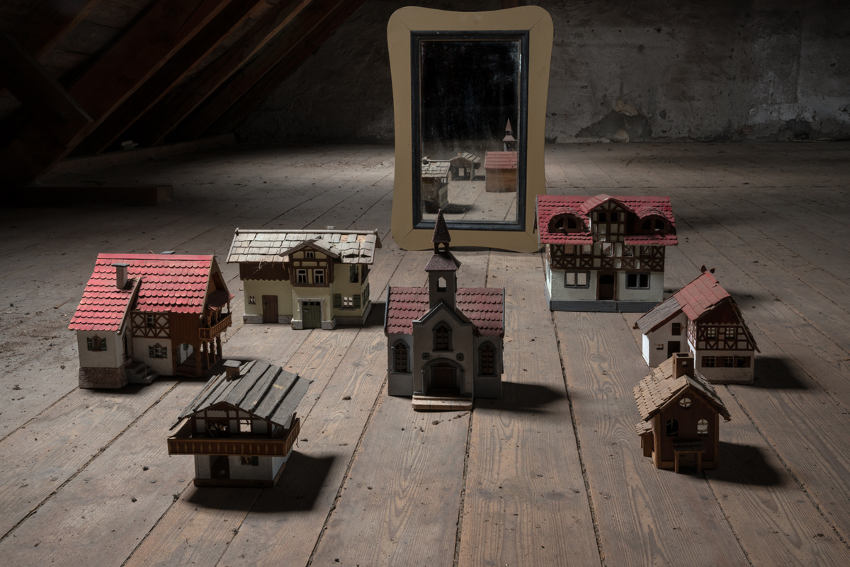 Capturing the Emotion
Her interest in photography began at the age of 13 when her father gave her an old digital camera, which enabled Elena to explore the world around her through different perspective. Drawn by nature, she photographed forest in its silent beauty. Only later she focused on photographing people, fascinated by the possibility of turning the rational reality into her own emotional reality. As a completely self-taught photographer, Helfrecht first started to reproduce the images inside her head through self-portraits, expressing her inner worlds and making it visible to everyone. Only recently, Elena began working with models.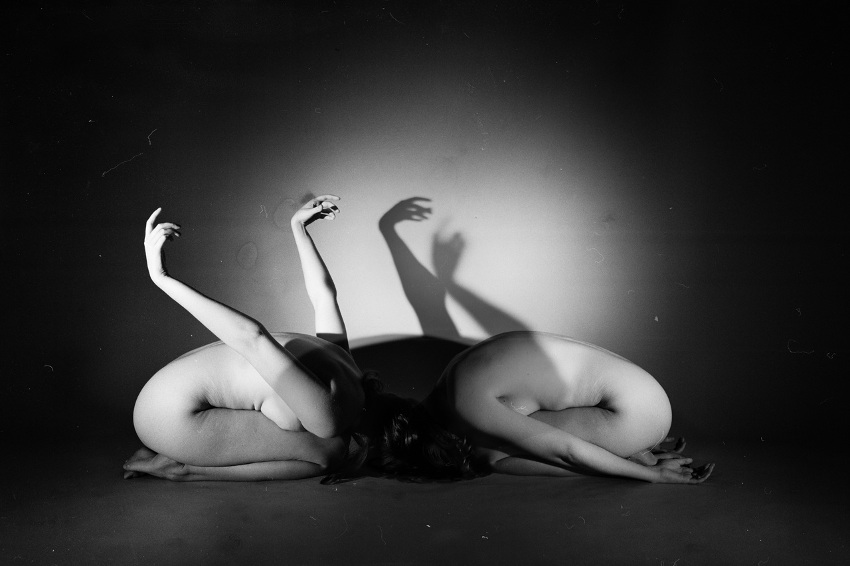 Style of Elena Helfrecht's Photography
Inspired by stories of Hermann Hesse, Franz Kafka and Gottfried Benn, and movies by David Lynch and Lars von Trier, Helfrecht creates dramatic and sensual photographs. Plain and brutal, Elena Helfrecht's images are created with one aim – understanding and visualizing human thoughts and emotions. Her works question traditional and common definitions of beauty, showing human body in a very unsparing and revealing matter. Elena is constantly confronting the viewer with an idea of finding beauty in unexpected subjects, demanding from him only one thing – to be brave enough for that. Everything in her photography is real – scars, blood, wounds, insects, with very little digital post-editing. Nothing is censored, nude bodies are shot in a minimalistic manner, with skin highlighted with raw, natural light.
Morbid and unpleasant details give the appearance of death, with pale bodies, full of scars of the wounded. Scars, either by life, teenage angst or surgeries, are not very far from the visible scarifications. Helfrecht is successful in connecting these tormented, distorted bodies with fragility and emotions. What you see on the surface, on the exterior, are the secret torments of the interior. With her hypnotic, emotional photography, Elena manages to portray the duality of our bodies – weakness and damages, and yet, the great, visible strength of it.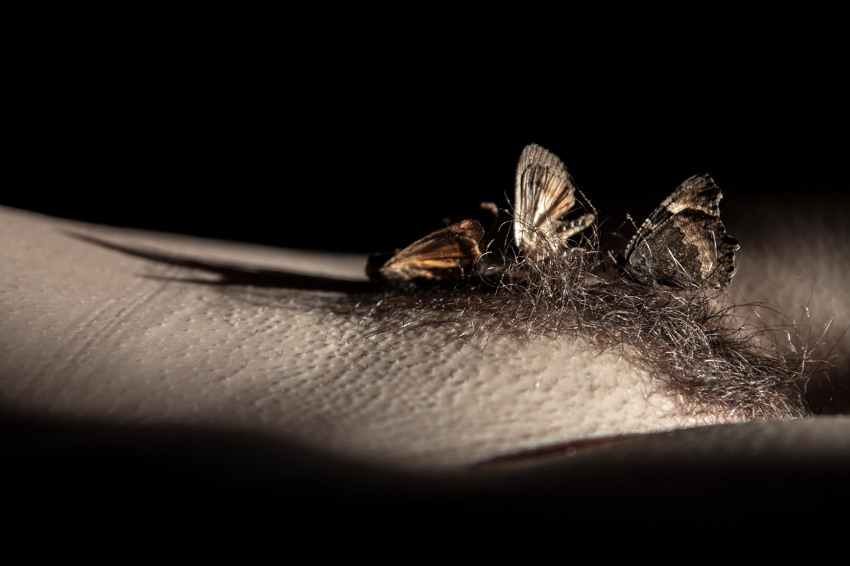 Nightmares and Heart Tales
At the beginning of her journey, in early series of photographs, Elena used her own body as a subject. These self-portraits reveal her inner fears, thoughts and emotions, dreams and nightmares she experienced growing up. Series titled Little Stories depicts close-ups of her body, like hands covered in blood, or her feet poised in front of freshly picked flowers, with corpses of dead pigeon and insects. Each of these photographs from the series tells a specific narrative, intensely personal, often associated with the artist's thoughts about death and transience, the ending of consciousness. For Helfrecht, photography represents the hope that memory will remain, long after the portrayed subjects are gone.
Through Nightmares series, Elena Helfrecht tries to overcome her fears, dark emotions and anxieties that bothered her. Terrifying and simultaneously beautiful, each image is composed after her early visions which she used to have as a child – scenes of long creepy fingers reaching out to catch her, creatures coming from the closet, tormented bodies, blood. This series is created with an idea that, once you visualize your inner demons that bother your being, you remove their power and disclose the darkness.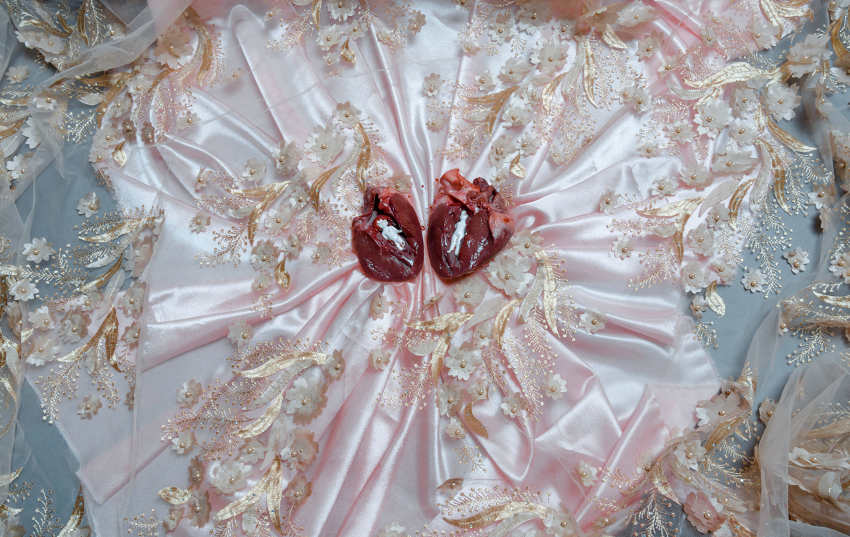 There Is Strong Shadow Where There Is Much Light
Elena Helfrecht's photography has been featured in numerous German and international magazines and publications. She participated in group and solo exhibitions in Berlin, Leipzig, Frankfurt, and Tokyo. Her most recent exhibition, titled There Is Strong Shadow Where There Is Much Light, is held both in Berlin and Tokyo. This show featured her images along with two other young photographers – Luisa Catucci and Marta Sklodowska. Their works suit well with each other – beauty, romance, melancholy, dismay and curiosity all come to mind while experiencing their art.
Elena Helfrecht is currently focused on slightly different long-term projects. In a collaboration with her befriended magician, she will illustrate a set of tarot cards in a surreal manner, with more digital manipulation. For other projects, Elena works together with an author who will write unique stories about her images, and inversely, she will visualize a variety of his stories.
Elena Helfrecht lives and works in Germany.
Featured image: Elena Helfrecht – The Soft Destroyer
All images © Elena Helfrecht, courtesy Elena Helfrecht