Viewers love to be provoked. But if you as an artist plan on doing so, you must know a few rules controversial individuals like Elena Steiner have established. The most important of those regulations is knowing how to navigate your art so that it does not go overboard. You mustn't overdose your work with too much aggressiveness, violence and raw details, for even though those things may have attracted your audiences in the first place, they can also turn them away from you in an instant. It's a fine line, but one Elena has learned to walk on. Even more impressive is the fact she does so stylishly and charmingly.
First Look At Steiner
Elena's work is odd, at the very least. She makes mixed media pieces by combining acrylic paintings and objects in front of them that give a whole new meaning to whatever is depicted on the canvases behind them. It's weird to see a perfectly painted subject beeing seemingly ridiculed by placing large toothbrushes or blow-up dolls in front of them. But that is the style in which Steiner expresses herself and it's an aggressive way of displaying. What we find most fascinating is how Elena succeeds to make her pieces as glamorous as they are despite apparently mocking them. Elena came up with this concept of presenting after realizing flat paintings are the cause of content – the audience is all well to familiar with such mediums since basically all of them have TVs and computers at home. Steiner did not want her work to have too much in common with something that can be found in literally everybody's living room. Her art needed an identity of its own. And Elena made sure to provide one, giving it a third dimension with a unique way of breaking the illusion.
It's easy to see why people consider Steiner's art to be controversial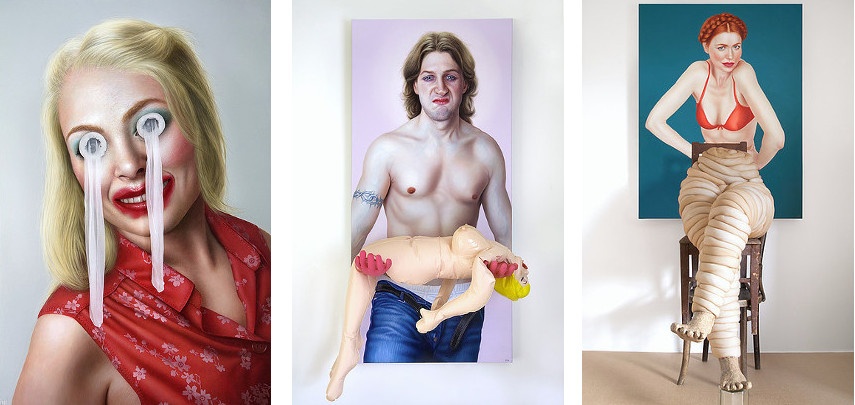 Elena's Path
Steiner doesn't like naming her pieces, so consequently her works are mostly untitled and referred to by number. There are a few exceptions, but these named pieces are a rarity and they are always extensions to unavoidable numbers in their titles. Why she does this is anyone's guess, but we suppose Elena does not wish to ruin anyone's personal interpretation of her work by giving away any leads. If she was to name some piece based upon the idea behind it, she would rob us of the opportunity to freely interpret as we wish. Titling her art with only numbers provides us with that opportunity. Steiner creates and that is where her involvement with her work seizes to exist. How we chose to read it is our business – and there are many ways to render her work. Steiner likes to tackle themes such as plastic surgery, sex, attractiveness and vanity. Sometimes, Elena likes to play games with the viewers – a good example is a piece named simply Nummer 30 (Featured Image) with an erotic yet simple pun on words. But whatever she makes, Elena makes sure it's both attractive and repulsive. The only thing that varies is the ratio between those two.
Her trinkets aside, Elena makes for a fine oil painter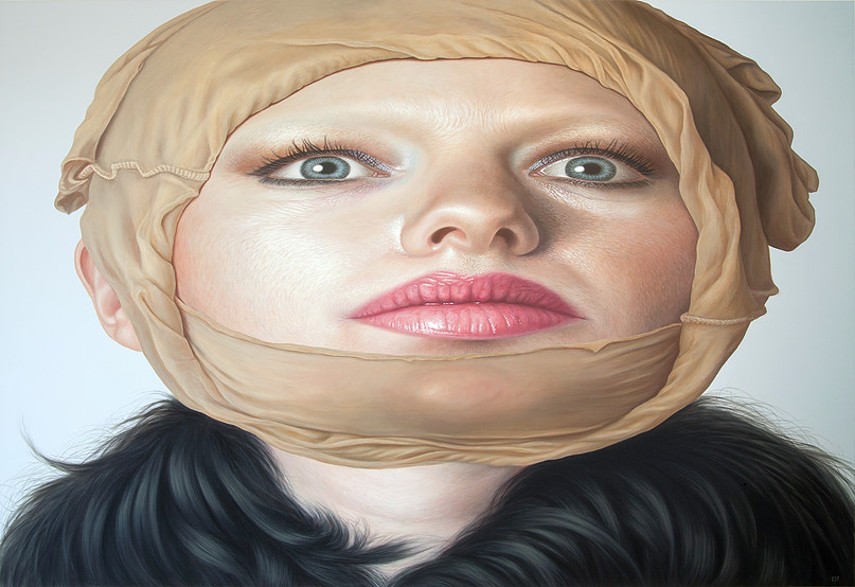 Steiner's Balance
Elena Steiner's pieces may look humorous from time to time, even juvenile. But do not be fooled as she knows exactly what she's doing. A fact that will never change is that audiences love controversies, it simply intrigues them in a way that only a few things are able to. And on that front, Steiner delivers admirably. But she does not do so in a grotesque, attention-seeking way some artists tested themselves in before her – she does it elegantly, confidently and bravely. That self-control Elena possesses does not come from fear of insecurity, but from the fact she knows who's in charge. And we don't think it's really necessary to answer that question, just look at her work and it's quite obvious.
The artist is represented by Galerie Neuheisel in Saarbrücken, Germany.
Elena Steiner lives and works in Vienna (Austria).
Featured Image: Elena Steiner – Nummer 30 (detail), 2013 – Photo Credits Elena Steiner
All Images Photo Credits Elena Steiner