Artists are passionate about their work. There is no doubt about it. So many emotions are poured into the creative process, and the results are often astonishing. Eric Foenander, also known as TheTownJeweller, Efoe and Easy E, is a Singaporean contemporary artist who has managed to develop another passion besides art – music. Known widely for his illustrations and commercial graphic designs, he is also quite known for the Good Times, the Singapore-based party venues, famous for their phenomenal music, but also for their amazing artworks.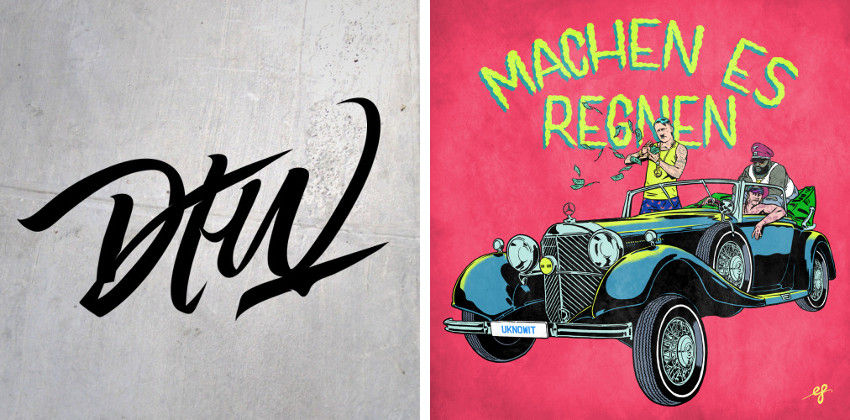 A Versatile Artist
Foenander is very versatile and original, creating sculptures, oil and acrylic paintings, digital artworks, apparel designs, and murals. Speaking of influences, James Jean is his favorite illustrator, Parra is the designer to seek out, and the artist even finds some inspiration in film-making, especially in the visually rich work of Michell Gondry and Guillermo Del Toro. He usually works on a project until something else pops up or he might just get a dream about the next piece. There is no reason to bother himself with the problems that may occur while working, as the solution will always be found – sometimes the answer will be discovered immediately, sometimes it will take some time before the results get finally materialized over numerous nights of just chatting with people and getting their opinions. Among his pieces, several stand out. One of them is Future Nostalgia (Singapore), created in 2011, which represents a probing narrative on the images we draw on when considering the themes of identity and legacy. Another one is actually a collaboration piece with Mojoko, titled No One Can Save Us (2012). Easily recognizable even from a far away, the sculpture depicts a melting Superman. Predicting not so happy ending, the sculpture addresses the issue of global warming, stating that if a God-like creature such as Superman can't deal with it, how can we, ordinary humans? The piece was part of the exhibition: The Singapore Show: Future Proof, and was exhibited in front of Singapore Art Museum.
He is extremely versatile, creating sculptures, paintings, digital artworks, designs and murals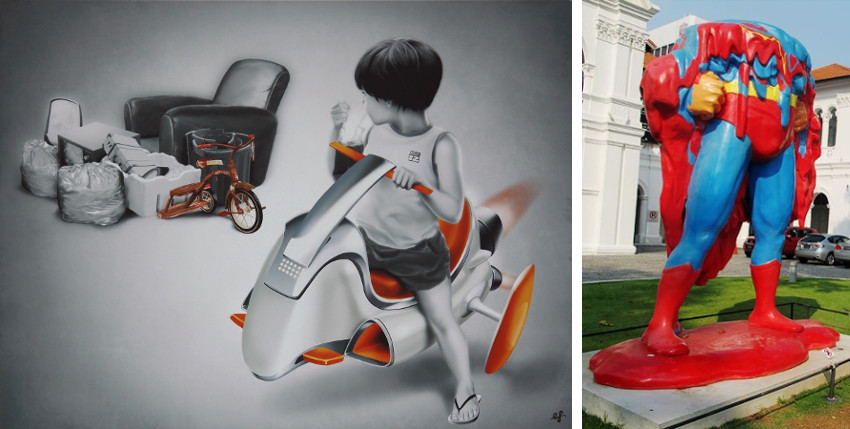 A Passion for Music
Born in Singapore, Foenander lived there until he was 14, moved to Adelaide in Australia before eventually returning home a decade later. He's a very busy man, 'trapped' between never-ending commercial and personal work. Having previously worked as an art director at Ogilvy & Mather and the leading creative for Bedsty, Foenander is now one the most wanted artists in Singapore and the entire region as well. However, besides art, he also has a passion for music, the accent being on the rap and hip-hop genres. For the past eight years, he drew an inspirational poster each month, promoting the parties organized by the Good Times.
Eric Foenander lives and works in Singapore.
Featured image: Eric Foenander – portrait, image via hensteethprints.com