Éric Lacan started to draw attention to himself at the end of the 2000's with black and white wheatpastes under the nickname Monsieur Qui. Behind his sometimes elegant, sometimes scraggy mysterious female portraits hide a subtle satire of society's diktat around women. Graphic details like hair entangled in bramble, flowers, and words scratched on the canvas surface, cannot but bewitch passer-byes and imbue his work with a powerful, dark and melancholic romanticism.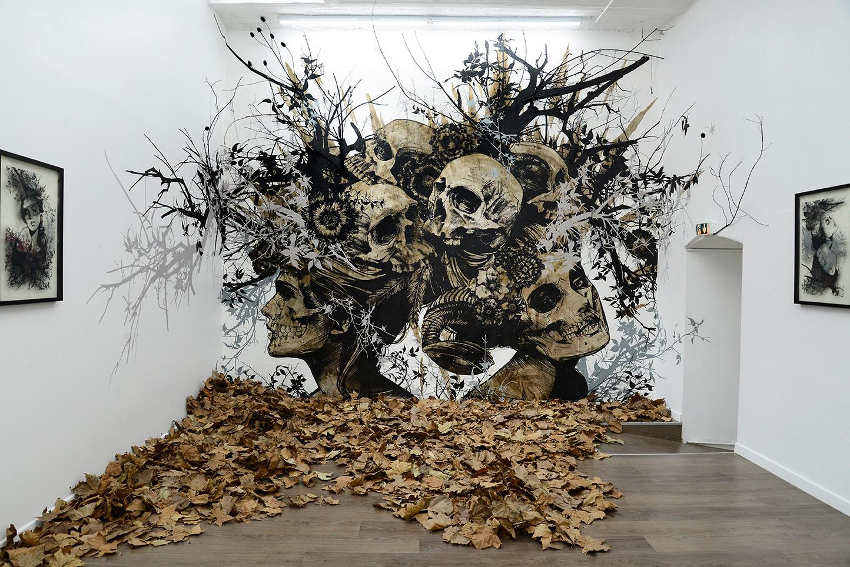 Éric Lacan Studio Work
Éric Lacan's work in the studio is in keeping with his street work. To a wide range of plastic practice, he adds an incredible technicality in the field of cut-out paper, drawing and painting. Through the minute cutting of tiny paper sheets, he creates true thickets of plants and roses like funeral wreath and gives life to deadly portraits that astonish by their sharpness. His fine play on black and white is a reference to the legacy of 15th-century engravers as well as Gustave Doré. It inevitably swallows viewers in a world of obscure clarity bathed in a heavy atmosphere.
In France, the work of Éric Lacan is exclusively represented by Galerie Openspace, where he has already enjoyed three solo shows entitled Seventeen Seconds (2013), All Monsters are Human (2014) and Beautiful Decay (2017).
Éric Lacan lives and works in Paris, France.
Featured image: Eric Lacan in his studio
All images courtesy of the artist and Galerie Openspace
| Year | Exhibition Title | Museum/Gallery | Solo/Group |
| --- | --- | --- | --- |
| 2017 | Beautiful Decay | Galerie Openspace, Paris, France | Solo |
| 2014 | All Monsters are Human | Galerie Openspace, Paris, France | Solo |
| 2013 | Seventeen Seconds | Galerie Openspace, Paris, France | Solo |