Eyes-B is a unique Belgian street artist based in Brussels who became recognized for his freestyle technique of graffiti painting, a method which involves him designing without a predefined project in mind and allowing himself to be carried along by a musical rhythm. By doing so, this artist is placed in a creative position where improvisation and spontaneity take precedent whilst other more conventional rules to approaching a street art creation are thrown out the window.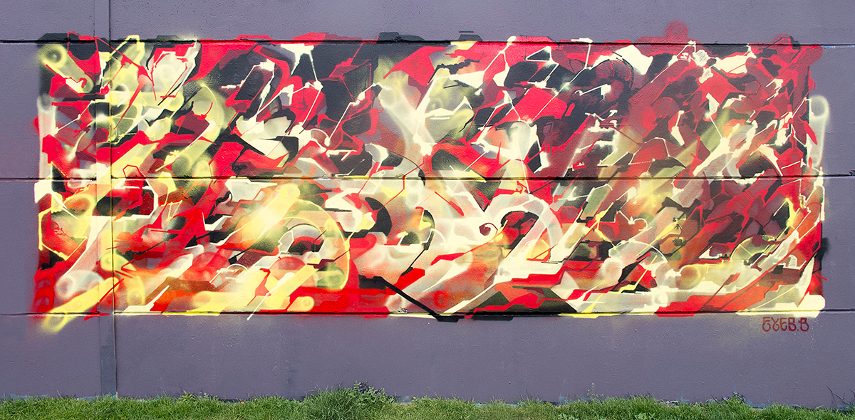 A Unique Street Art Method
Like most of his urban colleagues, Eyes-B as well started his career at an early age as he was constantly drawing or sketching something in his notebooks. Since the year of 2000, he decided to dedicate the majority of his time to creating graffiti. Over time, as he was progressing both as a painter and a person, Eyes-B started realizing what sat well with him of all the methods, techniques and manners street expression had to offer. This eventually led him to an approach to graffiti painting that made him so intriguing to the public – an idea that a street artist can work without a predefined project in mind, relying completely on improvising and impulse inspired by the musical rhythm playing in the background, constantly dictating the course and fate of the image being made.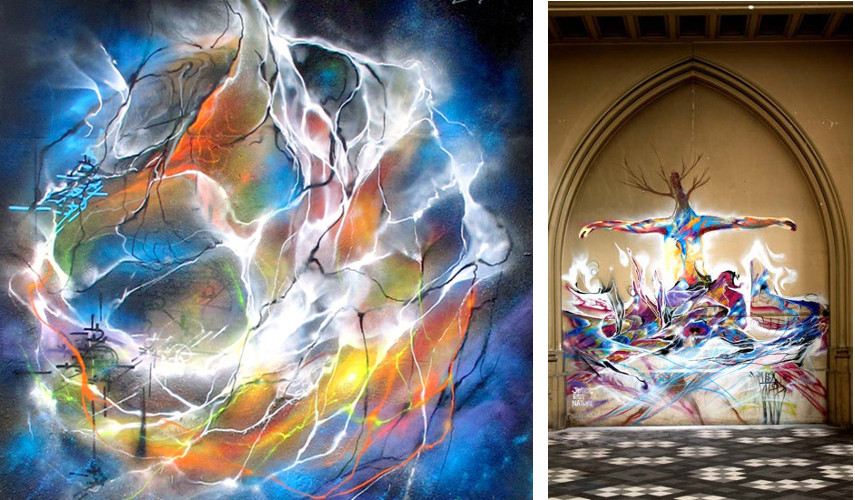 What Drives Eyes-B's Creative Motor
Besides relying on the rhythm of the music, Eyes-B is also inspired by digital arts, graphics and macro photography of organic elements. Due to the practical basis of his technique, it is quite natural that this artist's style evolves rather unpredictably and radically. In his work, the common readability of the letter has been replaced by a moving form, images that carry sound. The rhythm shapes his strokes and dictates the movement of the spray can. Rhythm, silence, repetition, break, dynamism – all of these aspects of the songs he listens to are highlighted in his paintings, often times without Eyes-B even being aware of it. Due to such an interesting concept, possible connections can be made between Eyes-B's style and some early avant-garde ideas that shaped the face of modern art – like the writings about automatization Andre Breton published in the 1920s. In fact, one would not be too far off to say that Eyes-B is the closest thing Belgian urban scene has to an authentic abstract painting that is faithful to its early conceptual cores.
Eyes-B makes graffiti in an improvisational manner that often results in creations best described as controlled chaoses of colors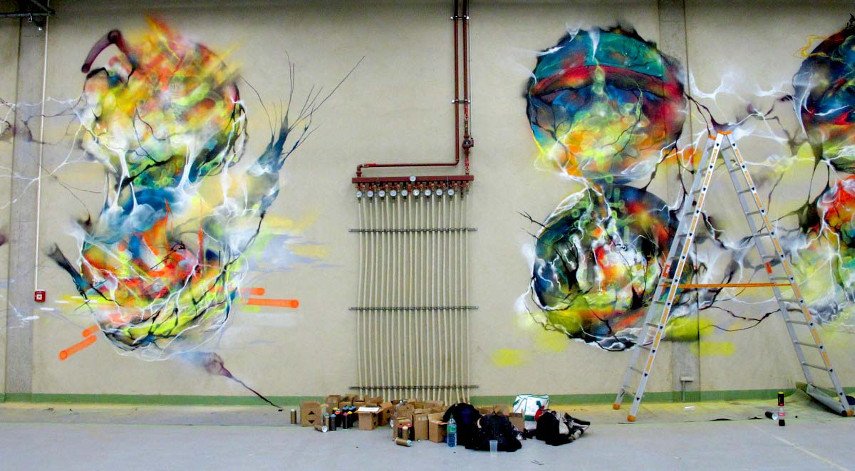 Why Eyes-B Is So Special and Important
Once again, we can not overstate just how crucial artists like Eyes-B are to the art scene on a worldwide level. For as long back as human kind can remember, artists who were not afraid to experiment were the ones giving birth to the most crucial moments of art history. Artists who were ready to step out of conventional norms and try out something new, something completely their own. Eyes-B definitely falls into that category as his style and method are so unique and so intriguing that we would not be surprised if he sparked an entire street art movement based on his innovative approach to graffiti painting.
This artist is represented by Galerie Martine Ehmer.
Eyes-B lives and works in Brussels, Belgium.
Featured image: Eyes-B – Fresque Hotel de ville de Namur – Image courtesy of Eyes-B
All images courtesy of Galerie Martine Ehmer and Eyes-B.