When was the last time you saw the periodic table of elements? Chances are, if you're not a chemist, sometimes in high school. Well, if you're a Breaking Bad fan, maybe a little bit more recently. For Fabio Petani, a young Italian street artist, the infamous periodic table that many students used to hate in high school became a main source of inspiration. He creates geometrical, clean-cut murals and paintings which bear the names of natural elements.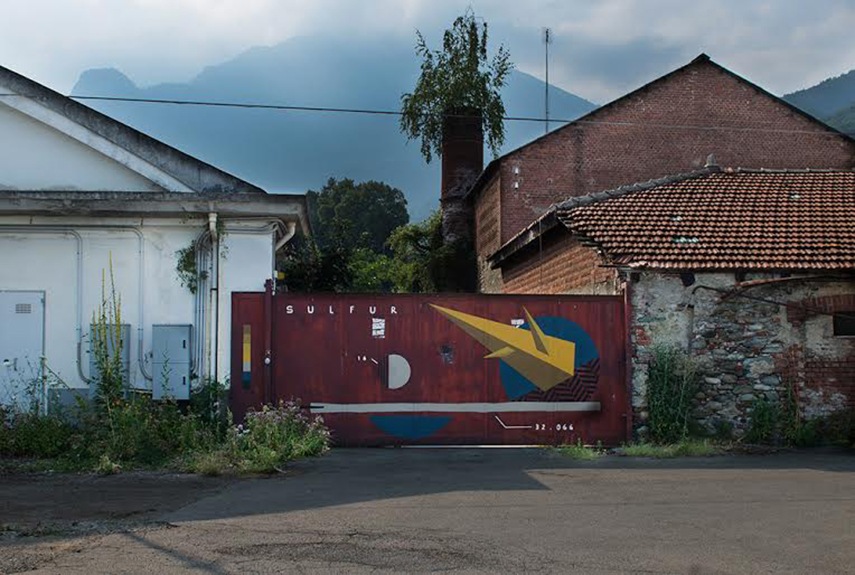 Philosophy Graduate Turned Artist
Petani's course of education was quite unusual. He went to science department in high school, then changed his mind and decided to study philosophy instead. His BA thesis was on street art and while collecting the information for his thesis Petani realized there's something about street art that deeply appeals to him. Instead of just writing essays on this art genre, he decided to challenge himself and learn more about murals and various painting techniques by becoming a street artist himself. Petani doesn't have any formal education in fine arts, but he's a quick learner and once he started to paint, he never looked back. He let the inspiration overflow his world. Petani is truly a natural-born visual artist, even though he wasn't aware of it for many years. He has an intrinsic understanding of symbolism and abstraction of geometrical forms and he also possesses a priceless quality of not being repetitive. Even though his paintings and murals do abide by the same principles of abstraction, they are still infinitely diverse. He uses a plethora of colors and shapes in his work and the viewers can sense his wonderful spontaneity and playfulness.
Petani is truly a natural-born visual artist, even though he wasn't aware of it for many years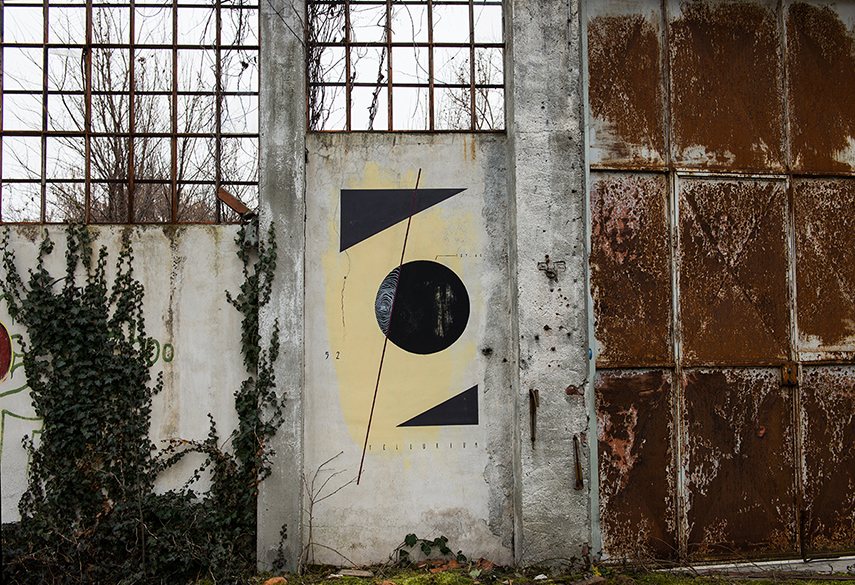 Not Just Another Brick in the Wall
Petani's suddenly discovered talent in art is not the only special thing about him. The topic of his art is quite original. Nowadays, it is not common at all to find an artist who doesn't recycle other artworks and ideas. In this respect, being a young self-taught artist is not a bad thing to start from. Admittedly, it does bring some sort of freedom. Petani came to a marvelous idea to create murals and paintings that bear the names of natural elements – such as oxygen, iodine, polonium and so on. There is usually a kind of connection between the actual element and Petani's artwork. He incorporates the number of the element in his artwork and even colors and forms if they apply. For example, surgical iodine is yellow and so is Petani's mural called Iodine. Petani's murals are spread over the city of Torino – the artist loves to paint on rustic walls, gates, warehouses and bridges and his art is bringing the life back into the most desolate and depressing quarters of his hometown. His paintings are similar to murals, but a little bit more minimalist and elegant. Petani, curious as he is, experiments with many media – he paints on both paper and canvas and uses ink, markers, oil colors and sprays. It's hard not to admire his huge enthusiasm and unquenchable thirst for learning and creating. Petani is a very active creator who often collaborates with his fellow street artists. His new show called Abstract Now! will be held in Magma Gallery in Bologna, Italy from June 11 till June 30th, 2016. Petani is showcasing his innovative geometrical pieces in Magma Gallery together with Nelio and Heiko Zahlmann.
Petani's elegant lines based on the principles of geometrical abstraction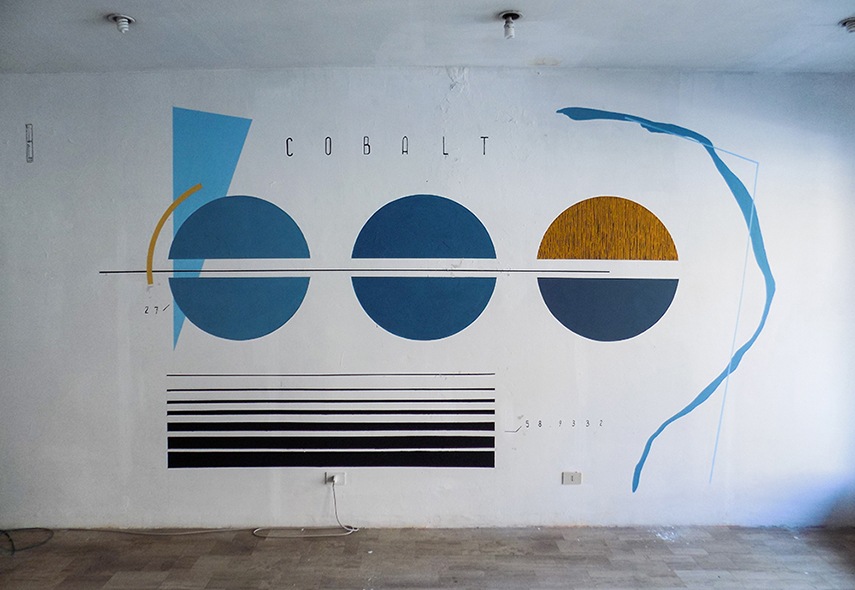 Rising Talent
Petani's talent is getting more and more public exposure every day. He already had four solo exhibitions in Torino and Pinerolo, participated in a few group exhibitions, art fairs and international street art festivals, the most notable among them being Upfest, Urban Art Festival in Bristol UK. His art is not esteemed and admired only by young people in his native Italy and abroad, but also by galleries and art curators who recognized Petani's unique and fresh approach to street art. We hope his inspiration won't stop flowing even after he finishes painting all those elements of the periodic table. As far as I know, there are 118 elements at the moment, but even them chemists add a new one every now and then.
The artist is represented by Punto618 Art Gallery and MAGMA Gallery.
Fabio Petani lives and works in Torino, Italy.
Featured image: Fabio Petani Working on a Mural
All images courtesy of the artist.