Frederik Schulz is a young German artist who has developed a practice a capturing the soul, the very essence of a location with his trusted camera and its lens. His mesmerizing photographs concentrate primarily on architectural themes, urban settings and motifs with dominant structures from all over the world. Perspective plays a major part in his compositions as Schulz is able to present us with fairly familiar objects and locations whilst also making us feel as if we are looking at something completely new and unexplored.

First Contact With City Photography
Frederik Schulz was born in the year of 1983 in Siegburg, a city in the district of Rhein-Sieg-Kreis, in North Rhine-Westphalia, Germany. Between the years of 2000 and 2003, the young artist attended classes and completed the training for a design technician, opting to focus on graphic design. However, photography soon became his focal point – after an internship in a photo studio that focused on product and advertising photography, Schulz realized this form of art making is something he would like to pursue a career in. He soon started to work as an independent freelance photo designer in Berlin. Additionally, Frederik works hard at being an active part of the local art scene, so his images are quite relevant in the world of German urban art. Of course, street art and the nature of Schulz's photography fit rather well one with the other.
Through a variety of techniques and masterful perspective, Frederik Schulz is able to charm just about any viewer that takes a look at his photos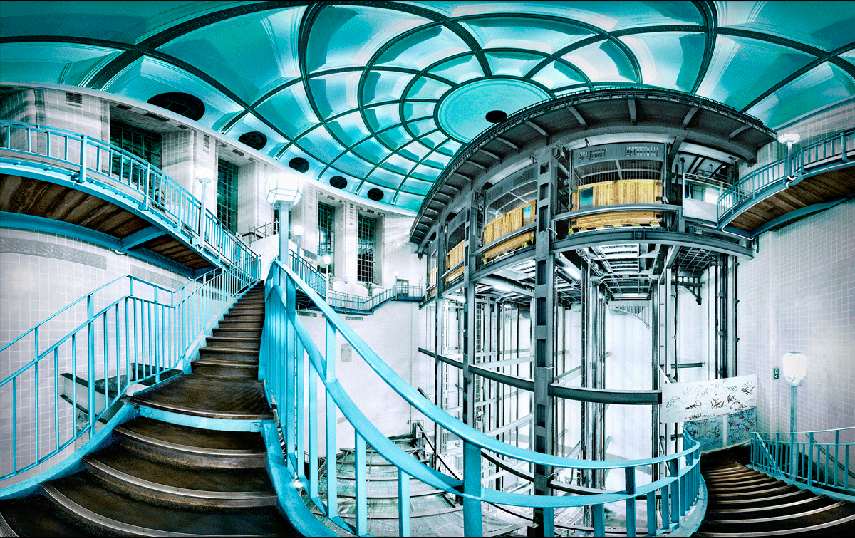 The Style of Frederik Schulz
As it was said above, Frederik concentrates on architectural subjects, urban settings and motifs with dominant structures that are underlined by a masterful use of the perspective and the post-production enhancement of colors. In order to succeed at this, Schulz uses panoramic technology that enables him to go beyond the standard view of reality and create a surreal, almost dreamlike scenery. He amplifies, boosts and minimizes details in the picture so that he is able to interpret the particular motif in question – a feature that takes away some of the sense of photographic objectivity, giving a strong intimate note to Schulz's pictures. It should also be noted that Frederik likes to use the HDR and pseudo-HDR technique as these methods are responsible for achieving the trademark dreamlike color effect that makes the viewers feel like they are looking at a surreal image that only slightly reminds them of the reality they know.
Photography of Frederik Schulz has a way of transforming familiar locations into surreal and dreamlike areas

The Magic of His Photography
Every once in a while, we have the pleasure of running into the work of some artist like Frederik Schulz that is simply able to astonish us without warning. Such occurrences are rare, but they do happen, as evidenced by the photographic work of this artist. His images are one of a kind interpretations of a place that are able to charm and seduce the viewer, making them simultaneously feel the senses of understanding and unfamiliarity.
This artist is represented by Fousion Gallery.
Frederik Schulz lives and works in Berlin, Germany.
Featured image: Frederik Schulz – Berghain Halle, 2012
All images courtesy of the Fousion Gallery.
| Year | Exhibition Title | Gallery/Museum | Solo/Group |
| --- | --- | --- | --- |
| 2016 | Art Fair | Cologne | Group |
| 2016 | A celebration process – from fresh till wasted | Fousion Gallery, Barcelona | Group |
| 2016 | Unknown | CHELONE WOLF, London | Group |
| 2016 | Unknown | ALFRED MAUVE, Barcelona | Group |
| 2016 | Unknown | JULIE MORIZE, Barcelona | Group |
| 2016 | Unknown | GREGOR LORENZ, Aachen | Group |
| 2016 | Unknown | UWE JAECKEL, Aachen | Group |
| 2016 | Unknown | TEA GUARASCIO, Barcelona | Group |
| 2015 | Art Fair | Karlsruhe | Group |
| 2015 | Blooom Art show | Fousion Gallery, Barcelona | Group |