Gary Hill is a Seattle-based American artist who dedicated his career as an author to examining the relationships and links between spoken words, sounds and computerized images. His video pieces and their conceptual frame result in intriguing multimedia structures that put into motion a complex course of re-definitions, aiming to challenge many aspects of our life. His work explores an array of issues ranging from the physicality of language, synesthesia and perceptual enigmas, often leading to ontological spaces and viewer interactivity. Gary Hill's artistic inquiries into semantics and awareness offer the viewers resounding philosophical and poetic insights into things we often take for granted or see as logical. Although this artist initially started out by making metal sculptures in the late 1960s, Hill eventually turned his attention towards video and sound-based installations during the 1970s and 1980s – the exact artworks that placed him on the map of both the video and installation art.
What Makes This Artist Tick
In the late 1960s, Gary began making metal sculptures and was soon intrigued by the sounds wires could make – this led him to explore electronic tones, video cameras and tapes, as well as video and sound synthesizers. These experimentations started to culminate in the shape of installation-like constructions[1] and interactive public interventions. As it was already clued at earlier in the text, Gary Hill's video and installation works have often been underlined by his specific incorporation of language and text – a good example of this kind of work is the Incidence of Catastrophe project (1987–88). The development of such artworks occurred in the 1970s whilst Hill lived in Barrytown, New York. Gary started to nurture a growing interest in language, enchanted by poetry and complex texts. Such explorations led the artist to test himself in the genre of performance art. Of course, it was not all about the spoken word, although what was being said held major importance to Gary Hill – the artist especially paid attention to how the spoken sounds reacted in different environments and conditions. The artist was also influenced by the intellectual orientation of conceptual art, which was quite common at the time.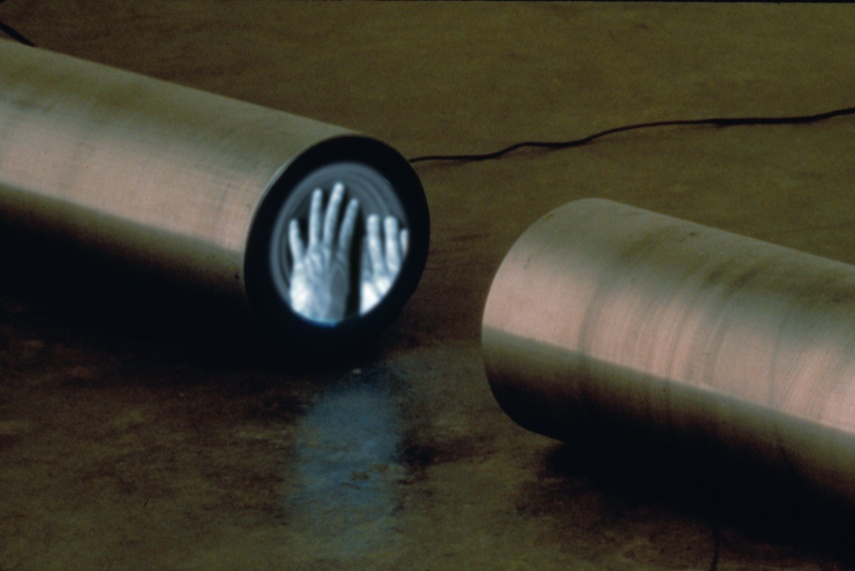 A Further View at His Selected Works
Over time, Gary intuitively evolved beyond the conceptual ideas of his time, entering the prime of his career that, quite frankly, lasts to this day. Due to the sheer richness and complexity, as well as high variability and unpredictability, the work of Hill has always been open to continual characterization and analysis for over four decades now. Based around a strong conceptual core, his work never lost its creative edge and viewers never lost interest in his art. Arguably the greatest feature in Gary's artistic arsenal is the ability to make it happen on multiple planes of a piece of art – on the physical, personal, ontological, social and political level. Furthermore, he is able to accomplish this without compromising any of the aimed aspects. This was very evident in all his installations[2] but was also obvious in Hill's later computer animations, like the Liminal Objects (1995) and Frustrum (2006) projects.
Through a skillful navigation and use of all the technological tools available to him, Gary Hill spent the last four decades working at the highlight of his biography – making video and sound installations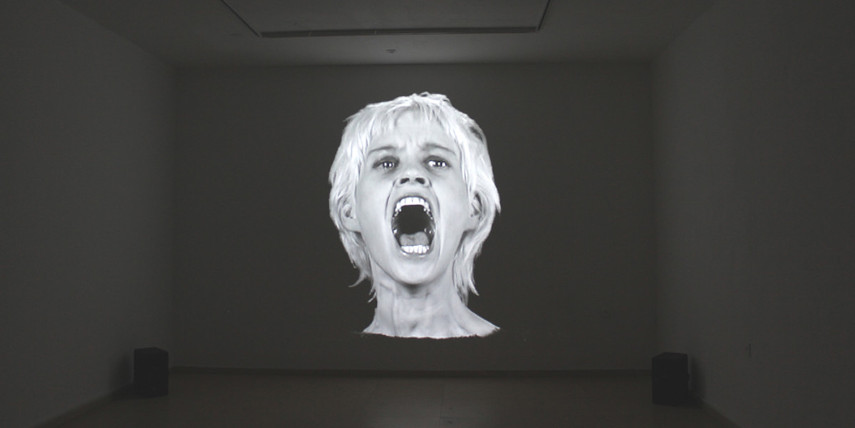 Navigation Through the Merit of Gary Hill
Gary Hill's characteristic conjunctions of electronic visual and audio elements have secured his place amongst the most foundational artists emerging from the rich video art genre. Although he started out making metal pieces of sculpture, Hill eventually found his true calling in video and sound-based installation and these kinds of artworks made it virtually impossible for anyone to discuss the 20th-century evolution of installations without mentioning this author's name. This fact is backed by the ever-growing interest in his work and the countless honors Hill was awarded for his work during the course of his long and prolific career as an artist.
Gary Hill lives and works in Seattle, Washington, USA.
References:
Morgan, R. C., Hill, G., Gary Hill, Johns Hopkins University Press; First edition, 2000
Hill, G., Gary Hill: Selected Works, Dumont, 2016
Featured image: Gary Hill – Photo of the artist – Image via postscreen.fba.ul.pt
All images used for illustrative purposes only.
| Year | Exhibition Title | Gallery/Museum | Solo/Group |
| --- | --- | --- | --- |
| 2017 | Auto Vision. Medienkunst von Nam June Paik bis Pipilotti Rist | Kunsthalle Bremen, Bremen | Group |
| 2016 | Gary Hill: Dream Stop | James Harris Gallery, Seattle, WA | Solo |
| 2015 | Gary Hill - Observaciones Sobre los Colores | Roberts & Tilton, Culver City, CA | Solo |
| 2015 | Gary Hill - Depth Charge | Galleria Giuseppe Pero, Milan | Solo |
| 2015 | Gary Hill - Depth Charge | Galleria Lia Rumma - Milan, Milan | Solo |
| 2014 | Aloidia Piorm | James Harris Galler, Seattle | Solo |
| 2013 | Retrospective Gary Hill | Videonale Fesitival, Bonn Kunstmuseum, Bonn | Solo |
| 2013 | Gary Hill | Loop Fair Barcelona, Barcelona, Spain | Solo |
| 2012 | Gary Hill | Center for Contemporary Art, Tel Aviv, Israel | Solo |
| 2012 | Up Against Down | DNA Gallery, Berlin, Germany | Solo |
| 2012 | Glossodelic Attractors | The Henry Art Gallery, Seattle, Washington | Solo |
| 2012 | Cutting Corners Creates More Sides | In Situ, Fabienne Leclerc, Paris | Solo |
| 2011 | Cutting Corners Creates More Sides | Donald Young Gallery, Chicago, IL | Solo |
| 2011 | Wall Piece | Kunstverein Ruhr, Essen, Germany | Solo |
| 2011 | Child's Play | Museumplatz Passage, Vienna, Austria | Solo |
| 2011 | Of surf, death, tropes & tableaux: The Psychedelic Gedankenexperiment | Gladstone Gallery, New York, NY | Solo |
| 2011 | Gary Hill – Patrick Tosani | Galerie Barbara Thumm, Berlin, Germany | Group |
| 2011 | Everything Changes | DNA Galerie, Berlin, Germany | Group |
| 2011 | Our Darkness | Künstlerhaus Stuttgart, Germany | Group |
| 2011 | Secret Journeys, from the EMST Collection | ART-ATHINA (International Contemporary Art Fair of Athens), Athens, Greece | Group |
| 2011 | New Contemporary Galleries – John Kaldor Family Collection | Art Gallery of New South Wales, Sydney, Australia | Group |
| 2011 | Undeniably Me | Galerie Rudolfinum, Prague, Czech Republic | Group |
| 2011 | Déjà | Musée d'art contemporain de Montréal, Québec, Canada | Group |
| 2011 | Kunstmuseum Wolfsburg at The Hunter Museum | The Hunter Museum of American Art, Chattanooga, TN | Group |
| 2011 | Expanded Cinema | MMOMA (Moscow Museum of Modern Art), Moscow, Russia | Group |
| 2011 | Aka Renga | Red Brick House, Yokohama, Japan | Group |
| 2011 | Habiter la Terre: Du Battement de Coeur à l'Emportement du Monde | La Biennale internationale d'art contemporain, Ville de Melle, France | Group |
| 2011 | The View from a Volcano: The Kitchen's Soho Years, 1971 – 1985 | The Kitchen, New York, NY | Group |
| 2011 | Tribute to the Experimental Television Center | Anthology Film Archives, New York | Group |
| 2011 | Art et Argent, Liaisons Dangereuses | Monnaie de Paris, France | Group |
| 2011 | Seoul International NewMedia Festival | Seoul, Korea | Group |
| 2011 | Synaptic Connections: Art and the Brain | Art Gallery of Nova Scotia, Halifax, Nova Scotia, Canada | Group |
| 2011 | Exchange and Evolution: Worldwide Video Long Beach 1974-1999 | Long Beach Museum of Art, Long Beach, CA | Group |
| 2011 | Living Here | KTD Monastery, Woodstock, NY | Group |
| 2011 | Moving Types | Gutenberg-Museum Mainz, Germany | Group |
| 2011 | Jacques Perconte 1 | La Cinémathèque Française, Paris, France | Group |
| 2010 | Gary Hill: Circumstances | MIS – Museu da Imagem e do Som, São Paulo, Brazil | Solo |
| 2010 | Gary Hill: Viewer | GMG Gallery, Moscow, Russia | Solo |
| 2010 | Gary Hill: Between Word and Image | Headquarters of the Superintendence for the Archaeological Heritage of the Vento, Ministry of Cultural Heritage, Verona, Italy | Solo |
| 2010 | CUE: Artists' Video | Vancouver Art Gallery, Vancouver, BC, Canada | Group |
| 2010 | The Contemporary Figure | Donald Young Gallery, Chicago, IL | Group |
| 2010 | Paying a Visit to Mary | The Aldrich Contemporary Art Museum, Aldrich, CT | Group |
| 2010 | Oslo Screen Festival 2010 | Filmens Hus, Oslo, Norway | Group |
| 2010 | Mulberry Tree Press | SE8 Gallery, London, England | Group |
| 2010 | DreamTime 2 - Fantasmagoria | La Grotte du Mas d'Azil, Le Mas-d'Azil, France | Group |
| 2010 | SWELL: Art 1950 – 2010 | Friedrich Petzel Gallery, New York, NY | Group |
| 2010 | From Picasso to Gary Hill | MAC Museu de Arte Contemporânea Centro Dragão do Mar de Arte e Cultura, Fortaleza, Ceará, Brazil | Group |
| 2010 | Short Shorts | Electronic Arts Intermix (EAI), New York, NY | Group |
| 2010 | Surface - Ground | Young Projects, West Hollywood, CA | Group |
| 2010 | TV – ARTS – TV | Arts Santa Mònica, Barcelona, Spain | Group |
| 2010 | Festival Temps d'Images | Museu do Chiado – Museu Nacional do Arte Contemporâne, Lisbon, Portugal | Group |
| 2010 | America – it's also our history | Tempora, Tours & Taxis, Brussels, Belgium | Group |
| 2010 | Les Projections du LaM | LaM – Lille Métropole musée d'art moderne, d'art contemporain et d'art brut, Villeneuve d'Ascq, France | Group |
| 2010 | The Frustration of Expression | The Center for Photography at Woodstock, New York | Group |
| 2010 | IRIS. The Invention of Color from 1600 to Today | Neuer Kunstverein Giessen, Germany | Group |
| 2010 | TONSPUR_expanded III | MuseumsQuartier, Vienna, Austria | Group |
| 2010 | 2010 Winter Salon – In Synthesis | Björn Ressle Art Projects Inc., New York, NY | Group |
| 2009 | Gary Hill: Voice Grounds | St Paul Street Gallery, Auckland University of Technology, Auckland, New Zealand | Solo |
| 2009 | Art of Limina: Gary Hill | Slought Foundation, Philadelphia, PA | Solo |
| 2009 | Gary Hill: Up Against Down | Christchurch Art Gallery, Christchurch, New Zealand | Solo |
| 2009 | Gary Hill: Taking time from place | Oi Futuro, Rio de Janeiro, Brazil | Solo |
| 2009 | Holbein to Tillmans, Prominent Guests from the Kunstmuseum Basel | Schaulager - Laurenz Foundation, Basel Switzerland | Group |
| 2009 | Talking Tongues and Other Organs | Kleinert James Arts Center, Woodstock, NY | Group |
| 2009 | Against the Grain: 15 Years of Collecting | Kunstmuseum Wolfsburg, Wolfsburg, Germany | Group |
| 2009 | Private Universes | Dallas Museum of Art, Dallas, TX | Group |
| 2009 | Art 40 Basel | Donald Young Gallery, Basel, Switzerland | Group |
| 2009 | The Estrangement of Judgement | Jensen Gallery, Auckland, New Zealand | Group |
| 2009 | 5th VentoSul Biennial | Instituto Paranaense de Arte, Curitiba, Brazil | Group |
| 2009 | Faux Jumeaux | S.M.A.K., Ghent, Belgium | Group |
| 2009 | Videnie | PERMM Museum of Contemporary Art, Perm, Russia | Group |
| 2009 | See This Sound: Promises in Sound and Vision | Lentos Art Museum, Linz, Austria | Group |
| 2009 | Vortexhibition Polyphonica | Henry Art Gallery, University of Washington, Seattle, WA | Group |
| 2009 | IMAI on Screen: Voice Windows | Art House Cinema Bambi, Dusseldorf, Germany | Group |
| 2008 | Gary Hill | James Harris Gallery, Seattle, WA | Solo |
| 2008 | Gary Hill - It's Turtles All the Way Down | in SITU, Fabienne Leclerc, Paris, France | Solo |
| 2008 | Gary Hill | Fundacion Centro Cultural Chacao, Caracas, Venezuela | Solo |
| 2008 | The Cinema Effect: Illusion, Reality, and the Moving Image, Part I: Dreams | The Hirshhorn Museum and Sculpture Garden, Washington, DC | Group |
| 2008 | Die Lucky Bush | The Museum of Contemporary Art Antwerp (MuHKA), Antwerp, Belgium | Group |
| 2008 | Art 39 Basel | Donald Young Gallery, Basel, Switzerland | Group |
| 2008 | On Time | The National Art Museum of China (NAMOC), Beijing, China | Group |
| 2008 | Sensory Overload: Light, Motion, Sound and Optical Art since 1945 | Milwaukee Art Museum, Milwaukee, WI | Group |
| 2008 | Art & Tech – Wondering | Art Taipei 2008, Taipei, Taiwan | Group |
| 2008 | Don't You F***IN' Look At Me - Surveillance in the 21st Century | 911 Media Arts, Seattle, WA | Group |
| 2008 | Flight Dreams | Art Gallery of Nova Scotia, Halifax, Nova Scotia, Canada | Group |
| 2008 | The 2008 Centre Georges Pompidou Exhibition: Heaven for Artists | Seoul Museum of Art (SeMA), Seoul, Korea | Group |
| 2008 | Art Basel Miami Beach | Donald Young Gallery, Miami Beach, FL | Group |
| 2007 | Gary Hill | Gladstone Gallery, New York, NY | Solo |
| 2007 | Gary Hill: Frustrum | Art Cologne, Cologne, Germany | Solo |
| 2007 | Gary Hill and Gerry Judah | Louise T. Blouin Foundation, London, England | Solo |
| 2007 | Gary Hill: Glass Onion | 911 Media Arts, Seattle, WA | Solo |
| 2007 | Gary Hill: Strange Trajectories | IMAI (Inter Media Art Institute), NRW-Forum, Dusseldorf, Germany | Solo |
| 2007 | On History | Fundación Santander Central Hispano, Madrid, Spain | Group |
| 2007 | Space: Places of Art | Akademie der Künste, Berlin, Germany | Group |
| 2007 | The ADAA Art Show | Donald Young Gallery, New York, NY | Group |
| 2007 | 2nd Moscow Biennale of Contemporary Art | Moscow, Russia | Group |
| 2007 | Hear With Your Eyes: Collection of Contemporary Art Fundacion la Caixa | CaixaForum, Barcelona, Spain | Group |
| 2007 | Digital Aesthetic 2 | Harris Museum and Art Gallery, Preston, England | Group |
| 2007 | The Screen Eye or the New Image: 100 Videos to rethink the world | Casino Luxembourg – Forum d'art Contemporain, Luxembourg | Group |
| 2007 | SCHMERZ (Pain) | Hamburger Bahnhof – Museum für Gegenwart, Berlin, Germany | Group |
| 2007 | Scenes and Traces – From the Collection: Design, Photography and Video | Stedelijk Museum Amsterdam, The Netherlands | Group |
| 2007 | De L'Écriture | Musée d'art contemporain de Montréal, Quebec, Canada | Group |
| 2007 | Group Show | Seattle Art Museum, Seattle, WA | Group |
| 2007 | Pourtraire | Ecole des Beaux-Arts de Rennes, Rennes, France | Group |
| 2007 | Du Sonore et du Visual, 2 | In Situ, Fabienne Leclerc, Paris, France | Group |
| 2007 | Her(his)tory | Museum of Cycladic Art, Athens, Greece | Group |
| 2007 | Mouth Open, Teeth Showing: Major Works from the True Collection | Henry Art Gallery, University of Washington, Seattle, WA | Group |
| 2007 | Surrèalités | CentrePasquArt, Kunsthaus Centre d'art, Biel, Switzerland | Group |
| 2007 | Windows - Interface | Kemper Art Museum, Washington University, St. Louis, MO | Group |
| 2007 | Out There | Art Students League of New York, New York, NY | Group |
| 2007 | Video Trajectories: Selections from the Pamela and Richard Kramlich Collection and the New Art Trust | MIT List Visual Arts Center, Cambridge, MA | Group |
| 2007 | Passage du Temps: une sélection d'oeuvres de la Francois Pinault Foundation | Tri Postal, Lille, France | Group |
| 2007 | Analogue & Digital | Fieldgate Gallery, London, England | Group |
| 2007 | Art Basel Miami Beach | Donald Young Gallery, Miami, FL | Group |
| 2006 | Gary Hill | Donald Young Gallery, Chicago, IL | Solo |
| 2006 | Gary Hill: Images of Light | Museu d'Art Espanyol Contemporani, Palma de Mallorca, Spain | Solo |
| 2006 | Gary Hill | Fondation Cartier pour l'art contemporain, Paris, France | Solo |
| 2006 | Photography, Film, Video: Reconstruction Reality. Diane Arbus, Stan Douglas, Gary Hill, Mike Kelley, and Andy Warhol | PaceWildenstein, New York, NY | Group |
| 2006 | Kairotic | The Townhouse Gallery of Contemporary Art, Cairo, Egypt | Group |
| 2006 | Des oeuvres majeures de la Collection du Musée | Musée d'art contemporain de Montréal, Quebec, Canada | Group |
| 2006 | The Armory Show | Donald Young Gallery, New York, NY | Group |
| 2006 | Sip My Ocean | Louisiana Museum of Modern Art, Humlebaek, Denmark | Group |
| 2006 | UBS Openings: Tate Modern Collection | Tate Modern, London, England | Group |
| 2006 | Continuum: Biennale d'art contemporain du Havre | Musée Malraux, Le Havre, France | Group |
| 2006 | Signal Channel | Bemis Center for Contemporary Art, Omaha, NE | Group |
| 2006 | The Expanded Eye | Kunsthaus Zurich, Zurich, Switzerland | Group |
| 2006 | Stories | Santa Fe Art Institute, Santa Fe, NM | Group |
| 2006 | The Grand Promenade | EMST – National Museum of Contemporary Art, Athens, Greece | Group |
| 2006 | Space, Time and the Viewer: Installations and New Media in the IVAM Collection | IVAM (Institut Valencia d'Art Modern), Valencia, Spain | Group |
| 2006 | Beyond Cinema: The Art of Projection | Hamburger Bahnhof – Museum für Gegenwart, Berlin, Germany | Group |
| 2006 | D'Ombra [The Shadow] | Palazzo delle Papesse Centro arte Contemporanea, Siena, Italy | Group |
| 2006 | Dieux, mode d'emploi. L'expérience religieuse aujourd'hui | Musée de l'Europe, Brussels, Belgium | Group |
| 2006 | Primera generación: Arte e imagen en movimiento (1963 – 1986) | Museo Nacional Centro de Arte Reina Sofia, Madrid, Spain | Group |
| 2006 | 18: Beckett | Blackwood Gallery, University of Toronto at Mississauga, Ontario, Canada | Group |
| 2006 | Os Anos 80s | Museu de Serralves, Porto, Portugal | Group |
| 2006 | Wrestle | Hessel Museum of Art, Center for Curatorial Studies, Bard College, Annandale-on-Hudson, NY | Group |
| 2006 | Tuttolibri | Galleria Milano, Milan, Italy | Group |
| 2005 | Image, Body, Text: Selected Works by Gary Hill | San Francisco Museum of Modern Art, San Francisco, CA | Solo |
| 2005 | Gary Hill: Resounding Arches | Coliseum and Temple of Venus and Rome, Italy | Solo |
| 2005 | S1 - salon 2005 | S1 Artspace, Sheffield, England | Group |
| 2005 | 34th International Film Festival Rotterdam | Rotterdam, The Netherlands | Group |
| 2005 | Logical Conclusions: 40 Years of Rule-Based Art | PaceWildenstein, New York, NY | Group |
| 2005 | Videoformes 2005: XXth Manifestation Internationale d'Art Vidéo et Médias | Galerie de l'art du temps, Clermont-Ferrand, France | Group |
| 2005 | L'oeil-moteur: Art optique et art cinétique, 1950 – 1975 | Musée d'art Moderne et contemporain de Strasbourg, France | Group |
| 2005 | Interventionen: Stadt-Raum-Kirche | Alte Neuendorfer Kirche, Potsdam-Babelsberg, Germany | Group |
| 2005 | River Styx | Western Bridge, Seattle, WA | Group |
| 2005 | Bilanz in zwei Akten - Collection Niedersächsischen Sparkassenstiftung | Kunstverein Hannover, Germany | Group |
| 2005 | Big Bang, Destruction and Creation in the Art of the 20th Century | Musée National d'art Moderne, Centre Pompidou, Paris, France | Group |
| 2005 | Praying for Silence | Kunstverein Ludwigsburg, Germany | Group |
| 2005 | Videographies – The Early Decades | EMST National Museum of Contemporary Art, Athens, Greece | Group |
| 2005 | Take Two. Worlds and Views: Contemporary Art from the Collection | Museum of Modern Art, New York, NY | Group |
| 2005 | Video, An Art, A History 1965 – 2005 New Media Collection, Centre Pompidiou | CaixaForum, Barcelona, Spain | Group |
| 2005 | GUARDAMI: Percezioni del video | Palazzo delle Papesse Centro Arte Contemporanea, Siena, Italy | Group |
| 2005 | Frieze Art Fair | Donald Young Gallery, London, England | Group |
| 2005 | re:currents | Fosdick Nelson Gallery, School of Art and Design, Alfred University, Alfred, NY | Group |
| 2005 | Woman of Many Faces: Isabelle Huppert | P.S. 1 Contemporary Art Center, Long Island City, NY | Group |
| 2005 | Outer Ear Festival of Sound | Experimental Sound Studio, Chicago, IL | Group |
| 2005 | Art Basel Miami Beach | Donald Young Gallery, Miami, FL | Group |
| 2004 | Gary Hill: Wall Piece | Katherine E. Nash Gallery, University of Minnesota, Minneapolis, MN | Solo |
| 2004 | Gary Hill: Remarks on Color | Philadelphia Museum of Art, Video Gallery, Philadelphia, PA | Solo |
| 2004 | Gary Hill: Around & About | In Situ, Fabienne Leclerc, Paris, France | Solo |
| 2004 | Gary Hill: Tall Ships | Art Gallery of Nova Scotia, Halifax, Canada | Solo |
| 2004 | Gary Hill: Language Willing | 911 Media Arts Center, Seattle, WA | Solo |
| 2004 | Gary Hill: A Personal Anthology | The Ossolinski National Institute, Wroclaw, Poland and FAMU, Prague, Czech Republic | Solo |
| 2004 | Gary Hill: Inasmuch As It Is Always Already Taking Place | Museum of Modern Art, New York, NY | Solo |
| 2004 | Treasure Island: 10 Years Collection Kunstmuseum Wolfsburg | Kunstmuseum Wolfsburg, Wolfsburg, Germany | Group |
| 2004 | Group Show | La Casa Encendida, Madrid, Spain | Group |
| 2004 | Text and Image: Conversations | Museum of Contemporary Photography, Columbia College, Chicago, IL | Group |
| 2004 | Point of View: An Anthology of the Moving Image | New Museum of Contemporary Art, New York, NY | Group |
| 2004 | Between Above and Below | The Center for Curatorial Studies, Bard College, Annandale-on-Hudson, NY | Group |
| 2004 | Art by MacArthur Fellows | Carl Solway Gallery, Cincinnati, OH | Group |
| 2004 | Etant donné: l'hors | festival at Théâtre Garonne, Toulouse, France | Group |
| 2004 | Behind Closed Doors | Katonah Museum of Art, Katonah, NY | Group |
| 2004 | Panorama 5: jamais vu | Le Fresnoy Studio national des arts contemporains, Tourcoing, France | Group |
| 2004 | Art Unlimited | Art 35 Basel, Basel, Switzerland | Group |
| 2004 | Works and Days: Acquisitions for the Louisiana Collection 2000 – 2004 | Louisiana Museum of Modern Art, Humlebaek, Denmark | Group |
| 2004 | Transmit + Transform | Santa Fe Art Institute, Santa FE, NM | Group |
| 2004 | Trans-Culture | National Museum of Contemporary Art (EMST), Athens, Greece | Group |
| 2004 | Tune (In))) Santa Fe | Santa Fe Art Institute, Santa Fe, NM | Group |
| 2004 | Sons et Lumières, Une Histoire du son dans l'art du XXe Siècle | Centre Georges Pompidou, Paris, France | Group |
| 2004 | W.O.W. (The Work of the Work) | Henry Art Gallery, University of Washington, and Western Bridge, Seattle, WA | Group |
| 2004 | Les enfants terribles, le langage de l'enfance dans l'art 1909 – 2004 | Museo Cantonale d'Arte, Lugano, Switzerland | Group |
| 2004 | Vidéo et Après | Musée national d'art moderne – Centre Georges Pompidou, Paris, France | Group |
| 2004 | Perspectives at 25 | Contemporary Arts Museum Houston, Houston, TX | Group |
| 2004 | Contrepoint - l'art contemporain au Louvre | Musée du Louvre, Paris, France | Group |
| 2003 | Gary Hill: Selected Works 1976 – 2003 | Museum of Contemporary Art, Taipei, Taiwan | Solo |
| 2003 | Body Matters | The National Museum of Contemporary Art, Oslo, Norway | Group |
| 2003 | Surf Culture: The Art History of Surfing | The Contemporary Museum, Honolulu, HI | Group |
| 2003 | Rodney Graham, Gary Hill, Joshua Mosley | Donald Young Gallery, Chicago, IL | Group |
| 2003 | Zero Visibility – Exhibition and Festival of Electronic and Multi-media Arts | Colonna Castle, Genazzano, Italy | Group |
| 2003 | Group Show | Butler Institute of American Art, Youngstown, OH | Group |
| 2003 | Open the Curtain | Kunsthalle zu Kiel, Germany | Group |
| 2003 | Yanomami: l'esprit de la forêt | Fondation Cartier pour l'art contemporain, Paris, France | Group |
| 2003 | Standby: No Technical Difficulties | Gramercy Theatre, New York, NY | Group |
| 2003 | OUTLOOK: International Art Exhibition | Athens, Greece | Group |
| 2003 | Skin-deep: Il Corpo come luogo del segno artistico | MART: Il Museo d'Arte Moderna e Contemporanea di Trento e Rovereto, Italy | Group |
| 2003 | Hypnose | Les Laboratoires d'Aubervilliers, France | Group |
| 2002 | Gary Hill: à Belsunce | La Compagnie, Marseille, France | Solo |
| 2002 | Gary Hill | Rose Art Museum, Brandeis University, Waltham, MA | Solo |
| 2002 | Gary Hill | Handwerker Gallery, Ithaca College, Ithaca, NY | Solo |
| 2002 | Language Willing | Barbara Gladstone Gallery, New York, NY | Solo |
| 2002 | Gary Hill: HanD HearD | Museum of Modern Art Queens, Long Island City, NY | Solo |
| 2002 | Gary Hill: Language Willing | Boise Art Museum, Boise, ID | Solo |
| 2002 | New Frontiers | Art Association, Jackson Hole, WY | Group |
| 2002 | Stepping Back, Moving Forward: Human Interaction in an Interactive Age | Pittsburgh Center for the Arts, Pittsburgh, PA | Group |
| 2002 | Group Show | Factory at the Art School of Athens, Athens, Greece | Group |
| 2002 | C'est pas due Cinema | Le Fresnoy Studio national des arts contemporains, Tourcoing, France | Group |
| 2002 | The Uncanny: Experiments in Cyborg Culture | Vancouver Art Gallery, Vancouver, British Columbia, Canada | Group |
| 2002 | Visitors | Konsthallen Bohusläns, Uddevalla, Sweden | Group |
| 2002 | Acquisitions 2001 – Part 1: Photographs, Video-Installations, Video | EMST National Museum of Contemporary Art, Athens, Greece | Group |
| 2002 | Say Hello to Peace and Tranquility | Netherlands Media Art Institute, Montevideo - Time Based Arts, Amsterdam, The Netherlands | Group |
| 2002 | Outer and Inner Space: A Video Exhibition in Three Parts | The Virginia Museum of Fine Arts, Richmond, VA | Group |
| 2002 | Faux - Real | Borusan Art Gallery, Istanbul, Turkey | Group |
| 2002 | Self-Portraits from the collection of Bill and Ruth True | The Wright Exhibition Space, Seattle, WA | Group |
| 2002 | Group Show | Donald Young Gallery, Chicago, IL | Group |
| 2002 | Regarding Landscape | The Museum of Contemporary Canadian Art, Toronto, Canada | Group |
| 2002 | …confiture demain et confiture hier. Mais jamais confiture aujourd'hui… | Association Nouvelle Vague, Centre Regional d'art Contemporain, Sete, France | Group |
| 2002 | Remarks on Color | Sean Kelly Gallery, New York, NY | Group |
| 2002 | Multiples objets de désir | Musée des Beaux-Arts de Nantes, France | Group |
| 2002 | Ommegang-Circumflexion | Brugge 2002, Roeselare, Belgium | Group |
| 2002 | The Pleasure of Language | The Netherlands Media Art Institute, Montevideo - Time Based Arts, Amsterdam, The Netherlands | Group |
| 2002 | Sans commune mesure | Centre Nationale de la Photographie (CNP), Paris | Group |
| 2002 | Les Enfants du Paradis | Galerie Yvon Lambert, Paris, France | Group |
| 2002 | Maquis | Le Plateau, Fonds Régional d'art Contemporain (FRAC) d'Ile-de-France, Paris, France | Group |
| 2002 | Body Electric: Video Art and the Human Body | Cheekwood Museum of Art, Nashville, TN | Group |
| 2002 | Aubes, rêveries au bord de Victor Hugo | La Maison de Victor Hugo, Paris, France | Group |
| 2002 | Vidéo Topiques: Tours et retours de l'art vidéo | Musée d'Art Moderne et Contemporain, Strasbourg, France | Group |
| 2002 | Video Acts: Single Channel Works from the Collections of Pamela and Richard Kramlich and the New Art Trust | P.S. 1 Contemporary Art Center, New York, NY | Group |
| 2002 | Future Cinema | ZKM, Center for Art and Media, Karlsruhe, Germany | Group |
| 2002 | Gary Hill and Bruce Nauman: Moving Images, Changing Identities | National Gallery of Australia, Canberra, Australia | Group |
| 2001 | Hill(scape) | Extra Microwave Media Art Festival, Hong Kong Cultural Centre, Hong Kong | Solo |
| 2001 | Gary Hill | The Winnipeg Art Gallery, Winnipeg, Manitoba, Canada | Solo |
| 2001 | Gary Hill: Remembering Paralinguay | in SITU Fabienne Leclerc, Paris, France | Solo |
| 2001 | L'écriture vidéophage – les bandes vidéo de Gary Hill | La Compagnie, Marseille, France | Solo |
| 2001 | Gary Hill | 13th Videobrasil Electronic Art International Festival, São Paulo, Brazil | Solo |
| 2001 | Gary Hill: Selected Works | Kunstmuseum Wolfsburg, Wolfsburg, Germany | Solo |
| 2001 | Gary Hill: Selected Works | Centro Cultural de Belém, Lisbon, Portugal | Solo |
| 2001 | Group Show | Donald Young Gallery, Chicago, IL | Group |
| 2001 | The Armory Show | Donald Young Gallery, New York, NY | Group |
| 2001 | I'll Never Let You Go | Siemens Kulturprogramm, Stockholm, Sweden | Group |
| 2001 | 2001 Annual Exhibition | American Academy in Rome, Rome, Italy | Group |
| 2001 | 49. International Art Exhibition | La Biennale di Venezia, Venice, Italy | Group |
| 2001 | Art 32 Basel | Donald Young Gallery, Basel, Switzerland | Group |
| 2001 | Black Box – The Dark Room in Art | Kunstmuseum Bern, Switzerland | Group |
| 2001 | Media Connection | Palazzo delle Esposizioni, Rome, Italy | Group |
| 2001 | Space Odysseys: Sensation and Immersion in Contemporary Art | Art Gallery of New South Wales, Sydney, Australia | Group |
| 2001 | Lateral Thinking: Art of the 1990's | Museum of Contemporary Art, San Diego, CA | Group |
| 2001 | Hands | Israel Museum, Jerusalem, Israel | Group |
| 2001 | Into the Light: The Projected Image in American Art 1964 – 1977 | Whitney Museum of American Art, New York, NY | Group |
| 2000 | Gary Hill | Donald Young Gallery, Chicago, IL | Solo |
| 2000 | Gary Hill | London Regional Art and Historical Museum, London, Ontario, Canada | Solo |
| 2000 | Gary Hill | Centro Cultural Recoleta, Buenos Aires, Argentina | Solo |
| 2000 | Gary Hill | Museo Caraffa, Córdoba, Argentina | Solo |
| 2000 | Gary Hill: The Performative Image | WATARI-UM, The Watari Museum of Contemporary Art, Tokyo, Japan, and Towers Plaza Hall, Nagoya, Japan | Solo |
| 2000 | Gary Hill | Sprengel Museum, Hannover, Germany | Solo |
| 2000 | The Cool World: Film & Video in America 1950 – 2000, Part 2: The Unfixed Image, 1970 – 2000 | Whitney Museum of American Art, New York, NY | Group |
| 2000 | The Armory Show | Donald Young Gallery, New York, NY | Group |
| 2000 | Moving Pictures | Real Art Ways (RAW), Hartford, CT | Group |
| 2000 | Making Time: Considering Time as a Material in Contemporary Video & Film | Palm Beach Institute of Contemporary Art, Lake Worth, FL | Group |
| 2000 | Re: soundings | Film Video Series at Pratt, Pratt Institute of Art and Design, Brooklyn, NY | Group |
| 2000 | The Anagrammatical Body: The Body and Its Photographic Condition | ZKM (Zentrum für Kunst und Medientechnologie), Karlsruhe, Germany | Group |
| 2000 | L'Empire du Temps | Musée du Louvre, Paris, France | Group |
| 2000 | Sound Video Film | Donald Young Gallery, Chicago, IL | Group |
| 2000 | Between Cinema and a Hard Place | Tate Modern, London, England | Group |
| 2000 | Surf Trip: Surf Culture Art and Artifacts | Yerba Buena Center for the Arts, San Francisco, CA | Group |
| 2000 | Vision Ruhr | Westfälisches Industriemuseum, Dortmund, Germany | Group |
| 2000 | 12th Biennale of Sydney | Art Gallery of New South Wales, Sydney, Australia | Group |
| 2000 | 2000 and a half: Going Forward Looking Back | Seattle Art Museum, Seattle, WA | Group |
| 2000 | Art 31 Basel | Donald Young Gallery, Basel, Switzerland | Group |
| 2000 | Language Let Loose | Seattle Art Museum, Seattle, WA | Group |
| 2000 | Media art 2000: escape | Seoul Metropolitan Museum, Seoul, Korea | Group |
| 2000 | BOOK - ENDS WIRED: Electronic Media at the Arts Center | Capital Region Arts Center, Troy, NY | Group |
| 2000 | Group Show | Galerie Jamileh Weber, Zurich, Switzerland | Group |
| 2000 | Video Time | The Museum of Modern Art, New York, NY | Group |
| 2000 | Vies Parallèles | Ecole Régionale des Beaux-Arts de Rouen, Rouen, France | Group |
| 2000 | Double Feature: Nick Crowe and Gary Hill | San Francisco Museum of Modern Art, San Francisco, CA | Group |
| 2000 | Media(tion); fragmentation and acceleration | Center for Photography at Woodstock, Woodstock, NY | Group |
| 2000 | Voici | Palais des Beaux-Arts, Brussels, Belgium | Group |
| 2000 | 46th Biennial Exhibition: Media and Metaphor | The Corcoran Gallery of Art, Washington, DC | Group |
| 1999 | Gary Hill | Aarhus Kunstmuseum, Aarhus, Denmark | Solo |
| 1999 | Gary Hill | School of the Museum of Fine Arts, Boston, MA | Solo |
| 1999 | Gary Hill: Video Works | NTT InterCommunication Center (ICC), Tokyo, Japan | Solo |
| 1999 | A name, a kind of chamber, two weapons and a still life | Barbara Gladstone Gallery, New York, NY | Solo |
| 1999 | Gary Hill | Galleria Lia Rumma and Galleria Carla Sozzani, Milan, Italy | Solo |
| 1999 | Group Show | TV Gallery, Moscow, Russia | Group |
| 1999 | Passage | WATARI-UM – The Watari Museum of Contemporary Art, Tokyo, Japan | Group |
| 1999 | The Armory Show | Donald Young Gallery, New York, NY | Group |
| 1999 | Art Chicago | Donald Young Gallery, Chicago, IL | Group |
| 1999 | Passage a l'art: des lieux et des choses | Forum Culturel du Blanc-Mesnil, Le Blanc-Mesnil, France | Group |
| 1999 | The Liquid Medium: Video Art | Queensland Art Gallery, Brisbane, Queensland, Australia | Group |
| 1999 | Umedalen Skulptur 99 | organized by Galleri Stefan Andersson, Umeå, Sweden | Group |
| 1999 | The Hand | The Power Plant, Toronto, Ontario, Canada | Group |
| 1999 | Transmute | Museum of Contemporary Art, Chicago, IL | Group |
| 1999 | Searchlight: Consciousness at the Millenium | CCAC (California College of Arts and Crafts) Institute, San Francisco, CA | Group |
| 1999 | Romancing the Brain | Pittsburgh Center for the Arts, Pittsburgh, PA | Group |
| 1999 | Re-Structure | Grinnell College Art Gallery, Grinnell, IA | Group |
| 1999 | The American Century: Art & Culture, Part II 1950-2000 | The Whitney Museum of American Art, New York, NY | Group |
| 1999 | Warten | Kunst-Werke Berlin, Berlin, Germany | Group |
| 1999 | MoMA 2000 | Museum of Modern Art, New York, NY | Group |
| 1999 | Seeing Time: Selections from the Pamela and Richard Kramlich Collection of Media Art | San Francisco Museum of Art, San Francisco, CA | Group |
| 1999 | Dreams 1900-2000: Science, Art, and the Unconscious Mind | Equitable Art Gallery, New York, NY | Group |
| 1999 | Rewind to the Future | Bonner Kunstverein, Bonn, Germany | Group |
| 1998 | Gary Hill | Musée d'art contemporain de Montréal, Montreal, Quebec, Canada | Solo |
| 1998 | Visual Utterance: The Works of Gary Hill | Pacific Film Archive, University of California, Berkeley, CA | Solo |
| 1998 | Gary Hill | Rice University Art Gallery, Houston, TX | Solo |
| 1998 | Gary Hill | Fundação de Serralves, Porto, Portugal | Solo |
| 1998 | Gary Hill | Donald Young Gallery, Seattle, WA | Solo |
| 1998 | Gary Hill | Capp Street Project, San Francisco, CA | Solo |
| 1998 | Gary Hill | St. Norbert Arts and Cultural Centre, St. Norbert, Manitoba, Canada | Solo |
| 1998 | Gary Hill | Museu d'Art Contemporani, Barcelona, Spain | Solo |
| 1998 | Gary Hill | Center for Contemporary Images, Saint-Gervais Genève, Geneva, Switzerland | Solo |
| 1998 | Gary Hill | The Kitchen, New York, NY | Solo |
| 1998 | Gary Hill | Barbara Gladstone Gallery, New York, NY | Solo |
| 1998 | Gary Hill | Whitney Museum of American Art, New York, NY | Solo |
| 1998 | Art Vidéo: catastrophe et nativité | Musée Royal de Mariemont, Mariemont, France | Group |
| 1998 | Tuning up #5 | Kunstmuseum Wolfsburg, Wolfsburg, Germany | Group |
| 1998 | Video Library | David Zwirner Gallery, New York, NY | Group |
| 1998 | Art Chicago | Donald Young Gallery, Chicago, IL | Group |
| 1998 | El Cuerpo del Delito | Museo Nacional de Bellas Artes, Buenos Aires, Argentina | Group |
| 1998 | Made in Corpus | Odyssud, Blagnac, France | Group |
| 1998 | Anos 80 | Culturgest – Gestão de Espaços Culturais, Lisbon, Portugal | Group |
| 1998 | Crossings | Kunsthalle Wien, Austria, and Galerie Rudolfinum, Prague, Czech Republic | Group |
| 1998 | Voices | Witte de With, Rotterdam, The Netherlands | Group |
| 1998 | Art 29 Basel | Donald Young Gallery, Basel, Switzerland | Group |
| 1998 | Personal Effects: The Collective Unconscious | Museum of Contemporary Art, Sydney, Australia | Group |
| 1998 | 3rd Werkleitz Biennial: Sub fiction | Werkleitz, Germany | Group |
| 1998 | Blickwechsel | ZKM, Karlsruhe, Germany | Group |
| 1998 | Surrogate: The Figure in Contemporary Sculpture and Photography | Henry Art Gallery, Seattle, WA | Group |
| 1998 | Video Arte | Palacio de Osambela, Lima, Peru | Group |
| 1998 | Send + receive festival of sound: entering vibrations in the air | University of Winnipeg, Manitoba, Canada | Group |
| 1998 | Mediated Presence | Itau Cultural, Belo Horizonte, Brazil | Group |
| 1998 | Silent Treatment | Aspen Art Museum, Aspen, CO | Group |
| 1997 | Gary Hill | Westfälischer Kunstverein, Münster, Germany | Solo |
| 1997 | Gary Hill: Where the other takes place | Centro Cultural Banco do Brasil, Rio de Janeiro, Brazil | Solo |
| 1997 | Gary Hill: Where the other takes place | Museu de Arte Moderna de São Paulo, Brazil | Solo |
| 1997 | Gary Hill | University Art Galleries, University of California, San Diego, CA | Solo |
| 1997 | Gary Hill | Center for Contemporary Art, Ujazdowski Castle, Warsaw, Poland | Solo |
| 1997 | Gary Hill: Rétrospective de ses premières oeuvres mono-bandes | Cinéma Lux, Caen, Basse-Normandie, France | Solo |
| 1997 | The Digital Video Wall | Museum of Modern Art, New York, NY | Group |
| 1997 | Inside | Henry Art Gallery, University of Washington, Seattle, WA | Group |
| 1997 | Citta' Natura: mostra internazionale di arte contemporanea | Palazzo delle Esposizioni, Rome, Italy | Group |
| 1997 | The Twentieth Century: The Age of Modern Art | Martin-Gropius-Bau, Berlin, Germany | Group |
| 1997 | Amours | Fondation Cartier pour l'art contemporain, Paris, France | Group |
| 1997 | Art 28 Basel | Donald Young Gallery, Basel, Switzerland | Group |
| 1997 | Angel, Angel | Kunsthalle Wien, Vienna, Austria | Group |
| 1997 | Unimplosive Art: Toward New Classical Trends | Venice Biennale, Venice, Italy | Group |
| 1997 | 4th biennale d'art contemporain de Lyon | Musée d'art contemporain, Lyon, France | Group |
| 1997 | '97 Kwangju Biennale: Unmapping the Earth | Kwangju, Korea | Group |
| 1997 | The Objects in Hangar 2 | Seattle Arts Commission, Building 2 at the former Sand Point Naval Base, Seattle, WA | Group |
| 1997 | Human References: Marks of the Artist: A Ten Year Retrospective Exhibition of the Seattle Artists' Program Collection | Seattle Arts Commission, Seattle Center Pavilion, Seattle, WA | Group |
| 1997 | Water: The Renewable Metaphor | Museum of Art, University of Oregon, Eugene, OR | Group |
| 1997 | Surveying the First Decade: Video Art and Alternative Media in the United States | San Francisco Museum of Modern Art, San Francisco, CA | Group |
| 1997 | Grand Opening | Montevideo - TBA, Amsterdam, The Netherlands | Group |
| 1997 | Europe – U.S.A. – A Comparison of 68 Artists | Organized by the Government of Sicily, Cefalù, Italy | Group |
| 1996 | Gary Hill: Withershins | Institute of Contemporary Art, Philadelphia, PA | Solo |
| 1996 | Gary Hill | Galerie des Archives, Paris, France | Solo |
| 1996 | Gary Hill | Kunst-und Ausstellungshalle der Bundesrepublik Deutschland, (Forum), Bonn, Germany | Solo |
| 1996 | Gary Hill | Galleria Lia Rumma, Naples, Italy | Solo |
| 1996 | Gary Hill | Donald Young Gallery, Seattle, WA | Solo |
| 1996 | Gary Hill: Installations, vidéos | Centre d'art contemporain de Castres, Castres, France | Solo |
| 1996 | Gary Hill | Barbara Gladstone Gallery, New York, NY | Solo |
| 1996 | Gary Hill | White Cube, London, England | Solo |
| 1996 | One and Others: Photography and Video by Juan Downey, Angela Grauerholz, Gary Hill, Alfredo Jaar, Annette Messager | Galerie Lelong, New York, NY | Group |
| 1996 | Of Sound Mind: Language and Disorder | New Langton Arts, San Francisco, CA | Group |
| 1996 | The World Wide Video Festival | Kijkhuis, The Hague, The Netherlands | Group |
| 1996 | Group Show | Museum Barrytown, Stained Glass Studio, Barrytown, NY | Group |
| 1996 | NowHere | Louisiana Museum of Modern Art, Humlebaek, Denmark | Group |
| 1996 | Group Show | Kunstmuseum Wolfsburg, Wolfsburg, Germany | Group |
| 1996 | Foreign Bodies | Museum für Gegenwartskunst, Basel, Switzerland | Group |
| 1996 | Le Printemps de Cahors: Photographie & Arts Visuels | Cahors, France | Group |
| 1996 | Moderna Museet Stockholm | Kunst- und Ausstellungshalle der Bundesrepublik Deutschland, Bonn, Germany | Group |
| 1996 | From Ex-Libris to Home Page | Paço das Artes, Sao Paolo, Brazil | Group |
| 1996 | Sonambiente | Akademie der Kunste, Berlin, Germany | Group |
| 1996 | The Last Supper | Donald Young Gallery, Seattle, WA | Group |
| 1996 | Being and Time: The Emergence of Video Projection | Albright-Knox Art Gallery, Buffalo, NY | Group |
| 1996 | The Red Gate | Museum Van Hedendaagse Kunst Gent, Ghent, Belgium | Group |
| 1996 | Video Collection of the Pompidou Center | Cinéma Rex, Belgrade, Yugoslavia | Group |
| 1996 | Microwave Video Festival – City Images | Videotage, Hong Kong | Group |
| 1996 | Continuity & Contradiction, A New Look at the Permanent Collection from the Museum of Contemporary Art, San Diego | Miami Art Museum, Miami, FL | Group |
| 1995 | Gary Hill | Moderna Museet, Stockholm, Sweden | Solo |
| 1995 | Gary Hill | Busch-Reisinger Museum, Harvard University Art Museums, Cambridge, MA | Solo |
| 1995 | Gary Hill | Dia Center for the Arts, New York, NY | Solo |
| 1995 | Gary Hill: Remarks on Color | Fundació la Caixa, Barcelona, Spain | Solo |
| 1995 | Private - Public: ARS '95 Helsinki | Museum of Contemporary Art, Helsinki, Finland | Group |
| 1995 | Pour un couteau | Le Creux de l'Enfer, Le Centre d'art contemporain, Thiers, France | Group |
| 1995 | Group Show | Pacific Film Archive, Berkeley, CA | Group |
| 1995 | Altered States: American Art in the 90's | Forum for Contemporary Art, St. Louis, MO | Group |
| 1995 | Immagini in Prospettive | Cinema Verdi, Serre de Rapolano, Italy | Group |
| 1995 | Art Chicago | Donald Young Gallery, Chicago, IL | Group |
| 1995 | MultiMediale 4 | ZKM (Zentrum für Kunst und Medientechnologie), Karlsruhe, Germany | Group |
| 1995 | Identità e Alterità | Venice Biennale, Venice, Italy | Group |
| 1995 | Video Spaces: Eight Installations | Museum of Modern Art, New York, NY | Group |
| 1995 | Sound Sculpture – Music for the Eye | Ludwig Museum im Deutschherrenhaus, Koblenz, Germany | Group |
| 1995 | Longing and Belonging: From the Faraway Nearby | Site Santa Fe, Santa Fe, NM | Group |
| 1995 | Feux terrestres | Centre Régional d'Art Contemporain, Montbéliard, France | Group |
| 1995 | The Decade Between: American Video Art, 1978 – 1988: Fighting Words: Works by Juan Downey, Gary Hill, and Peter Rose | Pacific Film Archive, University of California, Berkeley, CA | Group |
| 1995 | 6e Semaine Internationale de Vidéo | Saint-Gervais Genève, Geneva, Switzerland | Group |
| 1995 | Carnegie International | Carnegie Museum of Art, Pittsburgh, PA | Group |
| 1995 | 3rd Biennale d'art contemporain de Lyon | Musée d'art contemporain, Lyon, France | Group |
| 1994 | Gary Hill | Hirshhorn Museum and Sculpture Garden, Washington, DC | Solo |
| 1994 | Gary Hill | Musée d'art contemporain, Lyon, France | Solo |
| 1994 | Gary Hill: Selected Videotapes 1978-1990 | Art Gallery of Ontario, Toronto, Ontario, Canada | Solo |
| 1994 | Gary Hill | 911 Media Arts Center, Seattle, WA | Solo |
| 1994 | Imagining the Brain Closer than the Eyes | Museum für Gegenwartskunst, Öffentliche Kunstsammlung, Basel, Switzerland | Solo |
| 1994 | Beeld, Beeld | Museum van Hedendaagse Kunst, Ghent, Belgium | Group |
| 1994 | Múltiplas Dimensões | Centro Cultural de Belém, Lisbon, Portugal | Group |
| 1994 | Intelligent Ambience | Ars Electronica '94: Festival fur Kunst, Technologie und Gesellschaft | Group |
| 1994 | Video Art '94: Nature in Motion | Mánes, Prague, Czech Republic | Group |
| 1994 | Bienal Internacionale de São Paulo | São Paulo, Brazil | Group |
| 1994 | Facts and Figures: Selections from the Lannan Foundation Collection | Lannan Foundation, Los Angeles, CA | Group |
| 1994 | Dekonstruktion Video – 11. Kasseler Dokumentarfilm & Videofestivals | Kassel, Germany | Group |
| 1994 | Light Into Art: From Video to Virtual Reality | Contemporary Arts Center, Cincinnati, OH | Group |
| 1994 | Cocido y Crudo | Museo Nacionale Centro de Arte Reina Sofia, Madrid, Spain | Group |
| 1994 | Heart of Darkness | Kröller-Müller Museum, Otterlo, The Netherlands | Group |
| 1993 | Gary Hill | Donald Young Gallery, Seattle, WA | Solo |
| 1993 | London Film Festival | Museum of the Moving Image, London, England | Solo |
| 1993 | Gary Hill: In Light of the Other | Museum of Modern Art, Oxford, England; Tate Gallery Liverpool, Liverpool, England | Solo |
| 1993 | Gary Hill: Sites Recited | Long Beach Museum of Art, Long Beach, CA | Solo |
| 1993 | Whitney Biennial | Whitney Museum of American Art, New York, NY | Group |
| 1993 | Between World and Image | Museum of Modern Art, New York, NY | Group |
| 1993 | The 21st Century: Into the Future with Paracelsus | Künsthalle Basel, Basel, Switzerland | Group |
| 1993 | Passageworks | Rooseum, Malmö, Sweden | Group |
| 1993 | American Art in the 20th Century, Painting and Sculpture 1913-1993 | Martin-Gropiu-Bau, Berlin, Germany | Group |
| 1993 | Frames | Ydessa Hendeles Art Foundation, Toronto, Ontario, Canada | Group |
| 1993 | Video to Expand Your Mind | Dayton Visual Arts Center, Dayton, OH | Group |
| 1993 | Video Time Shifts | Forum for Contemporary Art, St. Louis, MO | Group |
| 1993 | 16 Dagar | Nylistasafnid, The Living Art Museum, Reykjavik, Iceland | Group |
| 1993 | Gary Hill, Between Cinema and a Hard Place, and recent works by Lewis Baltz, Jac Leirner, and Glenn Ligon | The Bohen Foundation, New York, NY | Group |
| 1993 | 1993 Whitney Biennial in Seoul | National Museum of Contemporary Art, Seoul, Korea | Group |
| 1993 | Fifth Fukui International Video Biennal | Fukui, Japan | Group |
| 1993 | Summer Sunset Theater | Hiroshima City Museum of Contemporary Art, Hiroshima, Japan | Group |
| 1993 | Anonymity and Identity | Anderson Gallery, Virginia Commonwealth University, Richmond, VA | Group |
| 1993 | Strange HOTEL | Aarhus Kuntsmuseum, Aarhus, Denmark | Group |
| 1993 | 37th London Film Festival | London, England | Group |
| 1993 | ForumBHZvideo, Festival Internacional de Video | Belo Horizonte, Minas Gerais, Brazil | Group |
| 1993 | Group Show | Centro Cultural Arte Contemporaneo, Mexico City, Mexico | Group |
| 1992 | Japan 92 Video and Television Festival: Prospectus for a TV Art Channel | Spiral, Tokyo, Japan | Solo |
| 1992 | Gary Hill: I Believe It Is an Image | WATARI-UM – The Watari Museum of Contemporary Art, Tokyo, Japan | Solo |
| 1992 | Gary Hill | Le Creux de L'Enfer, Centre d'art contemporain, Thiers, France | Solo |
| 1992 | Gary Hill | Musée national d'art moderne, Centre Georges Pompidou, Paris, France | Solo |
| 1992 | Gary Hill | Establissements Phonographiques de l'Est, Paris, France | Solo |
| 1992 | Gary Hill | Stedelijk Van Abbemuseum, Eindhoven, The Netherlands | Solo |
| 1992 | Group Show | Donald Young Gallery, Seattle, WA | Group |
| 1992 | Les Rencontres en Direct | American Center, Paris, France | Group |
| 1992 | Japan: Outside – Inside - Inbetween | Artists Space, New York, NY | Group |
| 1992 | Dance | California Museum of Photography, Riverside, CA | Group |
| 1992 | Doubletake: Collective Memory and Current Art | Hayward Gallery, London, England; Künsthalle Wien, Vienna, Austria | Group |
| 1992 | C'est pas la fin du monde – une exposition des années 80 | Galerie Art et Essai De l'Université de Rennes 2, Rennes, France | Group |
| 1992 | Documenta IX | Museum Fridericianum, Kassel, Germany | Group |
| 1992 | Night of Electricity | Nighttown, Rotterdam, The Netherlands | Group |
| 1992 | Filmladen Videokunstfest | Kassel, Germany | Group |
| 1992 | The Binary Era: New Interactions | Musée d'Ixelles, Brussels, Belgium | Group |
| 1992 | Art at the Armory: Occupied Territory | Museum of Contemporary Art, Chicago, IL | Group |
| 1992 | Métamorphoses | St. Gervais-Genève, Geneva, Switzerland | Group |
| 1992 | Day Without Art 1992 | Museum of Contemporary Art, Los Angeles, CA | Group |
| 1991 | Gary Hill | Galerie des Archives, Paris, France | Solo |
| 1991 | Gary Hill | OCO Espace d'art contemporain, Paris, France | Solo |
| 1991 | Selections from the Circulating Library | Museum of Modern Art, New York, NY | Group |
| 1991 | Currents | Institute of Contemporary Art, Boston, MA | Group |
| 1991 | The Body (2) | The Renaissance Society at the University of Chicago, Chicago, IL | Group |
| 1991 | Whitney Biennial | Whitney Museum of American Art, New York, NY | Group |
| 1991 | International Art Exhibition Berlin 1991: Metropolis | Martin-Gropius-Bau, Berlin, Germany | Group |
| 1991 | Impakt: Festival voor Experimentele Kunst | Utrecht, The Netherlands | Group |
| 1991 | In Public: 1991: Artists from Seattle | Seattle Art Museum, Seattle, WA | Group |
| 1991 | In Public: Seattle, 1991 | Security Pacific Gallery, Seattle, WA | Group |
| 1991 | Fighting Words: Language and Perception: Works by Scott Rankin, Gary Hill, and Peter Rose | Pacific Film Archive, University of California, Berkeley, CA | Group |
| 1991 | Do Video, da Arte et da Tecnologia | Centro Cultural Banco do Brasil, Rio de Janeiro, Brazil | Group |
| 1991 | Topographie 2: Untergrund | Wiener Festwochen, Vienna, Austria | Group |
| 1991 | The Body | Grazer Kunstverein, Graz, Austria | Group |
| 1991 | ARTEC '91 Second International Biennale | Nagoya, Japan | Group |
| 1991 | Glass: Material in the Service of Meaning | Tacoma Art Museum, Tacoma, WA | Group |
| 1991 | Performing Objects | Institute of Contemporary Art, Boston, MA | Group |
| 1990 | Gary Hill | Galerie des Archives, Paris, France | Solo |
| 1990 | Gary Hill: Incidence of Catastrophe | YYZ Artist's Outlet, Toronto, Ontario, Canada | Solo |
| 1990 | OTHERWORDSANDIMAGES | Video Galleriet, Huset, Denmark and Ny Carlsberg Glyptotek Museum, Copenhagen, Denmark | Solo |
| 1990 | Gary Hill | Museum of Modern Art, New York, NY | Solo |
| 1990 | Gary Hill | Moderna Museet, Stockholm, Sweden | Solo |
| 1990 | Gary Hill | Museum of Contemporary Art, Helsinki, Finland | Solo |
| 1990 | Maison des Arts et Loisirs | Thonon and Maison de la Culture, Chambéry, France | Group |
| 1990 | Feature Length Video | 911 Contemporary Arts Center, Seattle, WA | Group |
| 1990 | Tendances multiples: Vidéos des Annees 80 | Musée national d'art moderne, Centre Georges Pompidou, Paris, France | Group |
| 1990 | Scan 90 Videoart Spring Festival | Heineken Village Gallery, Tokyo, Japan | Group |
| 1990 | The Videotheque | Center for Contemporary Arts of Santa Fe, Santa Fe, NM | Group |
| 1990 | Video la nuit | Maison pour tous, Annemasse, France | Group |
| 1990 | 1990 – Energies: An Exhibition of Fifteen International Artists | Stedelijk Museum, Amsterdam, The Netherlands | Group |
| 1990 | Vidéoformes 90: Festival de la Creation Vidéo | Clermont-Ferrand, France | Group |
| 1990 | Athens International Film and Video Festival | Ohio University, Athens, OH | Group |
| 1990 | 17th Annual Northwest Film & Video Festival | Oregon Art Institute, Portland, OR | Group |
| 1990 | Video Poetics | Long Beach Museum of Art, Long Beach, CA | Group |
| 1990 | L'Amour de Berlin: Installation Video | Centre Culturel de Cavaillon, Cavaillon, France | Group |
| 1990 | A Force of Repetition | New Jersey State Museum, Trenton, NJ | Group |
| 1990 | Video Drive-In: The Alternative Voice | Central Park Summerstage, New York, NY | Group |
| 1990 | The Collectors' Cabinet | Curt Marcus Gallery, New York, NY | Group |
| 1990 | Passages de l'image | Musée national d'art moderne, Centre Georges Pompidou, Paris, France | Group |
| 1990 | God & Country | Greg Kucera Gallery, Seattle, WA | Group |
| 1990 | V.I.P. video – image – peinture | Galerie du génie, Paris, France | Group |
| 1990 | The Body Electric | Pyramid Arts Center, Rochester, NY | Group |
| 1990 | Le temps des machines | Centre de recherche et d'action culturelle (CRAC), Valence, France | Group |
| 1990 | Dallas Video Festival | Dallas, TX | Group |
| 1990 | NON%*@#&?!SENSE | Whitney Museum of American Art, New York, NY | Group |
| 1990 | Bienal de la imagen en movimento | Centro de Arte Reina Sofia, Madrid, Spain | Group |
| 1989 | Gary Hill | Musée d'art moderne, Villeneuve d'Ascq, France | Solo |
| 1989 | Gary Hill | Beursschouwburg, Brussels, Belgium | Solo |
| 1989 | Between the Silences: The Videoworks of Gary Hill | Pacific Film Archive, University of California, Berkeley, CA | Solo |
| 1989 | Video im Kunstmuseum: Gary Hill, Seattle | Städtisches Kunstmuseum, Bonn, Germany | Solo |
| 1989 | Gary Hill: La Rétrospective | Vidéoformes 89: Festival de la Création Vidéo, Clermont-Ferrand, France | Solo |
| 1989 | Gary Hill | Kijkuis, The Hague, The Netherlands | Solo |
| 1989 | Impakt: Festival voor Experimentele Kunst | Utrecht, Holland | Group |
| 1989 | Video-Skulptur Retrospektiv und Aktuell 1963-1989 | Kolnischer Künstverein, Cologne, Germany | Group |
| 1989 | Whitney Biennial | Whitney Museum of American Art, New York, NY | Group |
| 1989 | 1989 Salso Film and TV Festival | Salsomaggiore, Italy | Group |
| 1989 | Vidéoformes 89: Festival de la Creation Vidéo | Clermont-Ferrand, France | Group |
| 1989 | Machination | Saint-Gervais, Gèneve, Switzerland | Group |
| 1989 | Filmer à tout prix, no. 4 | Brussels, Belgium | Group |
| 1989 | Athens International Film and Video Retrospective | Ohio University, Athens, OH | Group |
| 1989 | Atlanta Film and Video Festival | Woodruff Arts Center, Atlanta, GA | Group |
| 1989 | Electronic Landscapes | The National Gallery of Canada, Ottawa, Ontario, Canada | Group |
| 1989 | Videokunst 10 | Stadtgalerie Saarbrücken, Saarbrüchen, Germany | Group |
| 1989 | The 4th Contemporary Art Festival: Moving Images Now | Museum of Modern Art, Toyama, Japan | Group |
| 1989 | The 3rd Fukui International Video Biennale: Expansion & Transformation | Fukui City, Japan | Group |
| 1989 | 2nd Japan Video Television Festival: Delicate Technology | Spiral, Aoyama, Tokyo, Japan | Group |
| 1989 | Les Cent jours d'art contemporain de Montreal 1989 | Centre international d'art contemporain de Montreal, Montreal, Quebec, Canada | Group |
| 1989 | Video and Language | Museum of Modern Art, New York, NY | Group |
| 1989 | The World Wide Video Festival | Kijkhuis, The Hague, The Netherlands | Group |
| 1989 | Extended Definitions: Video Experiments in Perception | Artists Space, New York, NY | Group |
| 1989 | Eye for I: Video Self-Portraits | Whitney Museum of American Art, New York, NY | Group |
| 1989 | 1989 Whitney Biennial Film & Video Exhibition | Institut d'estudis nord americans, Barcelona, Spain | Group |
| 1989 | Image World: Mediamedia | Whitney Museum of American Art, New York, NY | Group |
| 1989 | 3 Semaine Internationale de Video | St. Gervais-Genève, Geneva, Switzerland | Group |
| 1989 | Selections from the Permanent Collection: Recent Acquisitions – Video | San Francisco Museum of Modern Art, San Francisco, CA | Group |
| 1988 | Gary Hill | Western Front, Vancouver, British Columbia, Canada | Solo |
| 1988 | Gary Hill | Video Wochen, Basel, Switzerland | Solo |
| 1988 | Gary Hill | Espace lyonnais d'art contemporain (ELAC), Lyon, France | Solo |
| 1988 | Infermental VII | organized by Hallwalls Contemporary Arts Center, Buffalo, New York | Group |
| 1988 | Collected Video Essays | Long Beach Museum of Art, Long Beach, CA | Group |
| 1988 | Art Video Americain - Les Annees quatre-vingt | Le centre de recherche, d'echange et de diffusion pour l'art contemporain (CREDAC), Paris, France | Group |
| 1988 | Estetica de la Generacion Animacion por Ordenador | Instituto de Estudios Norteamericanos, Barcelona, Spain | Group |
| 1988 | Degrees of Reality | Long Beach Museum of Art, Long Beach, CA | Group |
| 1988 | Videowochen im Wenkenpark, Riehn | Basel, Switzerland | Group |
| 1988 | AS TOLD TO: structures for conversation | Walter Philips Gallery, Banff Centre, Banff, Alberta, Canada | Group |
| 1988 | 3. Videonale | Bonn, Germany | Group |
| 1988 | The World Wide Video Festival | Kijkhuis, The Hague, The Netherlands | Group |
| 1988 | Ethique & Television: 4 Manifestation Internationale de Video et TV | Montbéliard, France | Group |
| 1988 | Carte Blanche à Georges Rey | Musée d'art moderne, Villeneuve d'Ascq, France | Group |
| 1988 | Festival International du Nouveau Cinéma et de la Vidéo Montréal | Montreal, Quebec, Canada | Group |
| 1988 | Montebeliard Video | L'Entrepot, Paris, France | Group |
| 1988 | 32nd London Film Festival | London, England | Group |
| 1988 | Art - Documents: vidéo | Centre Municipal d'Activités Culturelles, Ville de Gentilly, France | Group |
| 1987 | Gary Hill | Museum of Contemporary Art, Los Angeles, CA | Solo |
| 1987 | Gary Hill | Los Angeles Contemporary Exhibitions (LACE), Los Angeles, CA | Solo |
| 1987 | Gary Hill | Cornish College of the Arts, Seattle, WA | Solo |
| 1987 | An Evening with Gary Hill | Northwest Film & Video Center, Oregon Art Institute, Portland, OR | Solo |
| 1987 | Group Show | Centre national d'art contemporain de Grenoble, Grenoble, France | Group |
| 1987 | Video Discourse: Mediated Narratives | La Jolla Museum of Contemporary Art, La Jolla, CA | Group |
| 1987 | Infermental VI | Western Front, Vancouver, British Columbia, Canada | Group |
| 1987 | Video Discourse: Mediated Narratives | Institute of Contemporary Art, Boston, MA | Group |
| 1987 | Athens International Video Festival | Ohio University, Athens, OH | Group |
| 1987 | Video as Art: Channel 3 | First Street Forum, St. Louis, MO | Group |
| 1987 | Contemporary Diptychs: Divided Visions | Whitney Museum of American Art, Fairfield County, Stamford, CT | Group |
| 1987 | Whitney Biennial | Whitney Museum of American Art, New York, NY | Group |
| 1987 | The Other New York: Regional Reflection | American Museum of the Moving Image, Astoria, NY | Group |
| 1987 | 7. Berner Poesietage | Kunstmuseum Bern, Switzerland | Group |
| 1987 | 1987 Salso Film and TV Festival | Salsomaggiore, Italy | Group |
| 1987 | Daniel Wadsworth Memorial Video Festival | Real Art Ways, Hartford, CT | Group |
| 1987 | The Situated Image | Mandeville Gallery, University of California at San Diego (UCSD), La Jolla, CA | Group |
| 1987 | Documenta VIII | Museum Fridericianum, Kassel, Germany | Group |
| 1987 | 6. Erlanger Videotage | Erlanger, Germany | Group |
| 1987 | Japan 87 – The 1st Video Television Festival: Private Visions and Media Crossover | Spiral, Aoyama, Tokyo, Japan | Group |
| 1987 | 15th Avenue Studio #2: The Mechanics of Contemplation | Henry Art Gallery, University of Washington, Seattle, WA | Group |
| 1987 | Terrorising the Code – Recent U.S. Video | Australian Centre for Photography, Sydney, Australia | Group |
| 1987 | The Arts for Television | Museum of Contemporary Art, Los Angeles, CA, and the Stedelijk Museum, Amsterdam, The Netherlands | Group |
| 1987 | Computers and Art | Everson Museum of Art, Syracuse, NY | Group |
| 1987 | 15th Annual Northwest Film & Video | Northwest Film & Video Center, Oregon Art Institute, Portland, OR | Group |
| 1987 | Cinq pièces avec vue: 2 Semaine Internationale de Video | Centre Génevois de Gravure Contemporaine, Geneva, Switzerland | Group |
| 1987 | 2e Semaine Internationale de Vidéo | Saint-Gervais Genève, Geneva, Switzerland | Group |
| 1987 | Tokyo International Video Biennale | Spiral Hall, Tokyo, Japan | Group |
| 1987 | 12th Poetry Film Festival | Fort Mason Center, San Francisco, CA | Group |
| 1986 | Gary Hill | Port Washington Public Library, Port Washington, NY | Solo |
| 1986 | Gary Hill | Whitney Museum of American Art, New York, NY | Solo |
| 1986 | Meet the Makers - Video Vectors: Gary Hill | Donnell Library, New York Public Library, New York, NY | Solo |
| 1986 | Mediaworks: Gary Hill | Nexus Gallery, Philadelphia, PA | Solo |
| 1986 | Gary Hill | 911 Contemporary Arts Center, Seattle, WA | Solo |
| 1986 | Video d'artistes: Robert Cahen, Gary Hill, Jacques Louis Nyst, Dan Reeves | Salle Patino, Geneva, Switzerland | Group |
| 1986 | Collections Videos: Acquisitions Depuis 1977 | Musée National d'art Moderne, Centre Georges Pompidou, Paris, France | Group |
| 1986 | Cryptic Languages | Washington Project for the Arts, Washington, D.C. | Group |
| 1986 | The Image of Fiction: International Videoart, Infermental V | Con Rumore, Rotterdam | Group |
| 1986 | Resolution: A Critique of Video Art | Los Angeles Contemporary Exhibitions (LACE), Los Angeles, CA | Group |
| 1986 | Computer Art, Holography, Video | Modern Visual Communication, Los Angeles, CA | Group |
| 1986 | New York City Experimental Video and Film Festival | Global Village, New York, NY | Group |
| 1986 | Poetic License | Long Beach Museum of Art, Long Beach, CA | Group |
| 1986 | A Video Primer: Electronic Art from the 80s | The Katonah Gallery, Katonah, NY | Group |
| 1986 | The World Wide Video Festival | Kijkhuis, The Hague, The Netherlands | Group |
| 1986 | International Festival of Video Art | SAW Gallery, Ottawa, Ontario, Canada | Group |
| 1986 | Video: Recent Aquisitions | Museum of Modern Art, New York, NY | Group |
| 1986 | Video and Language: Video as Language | Los Angeles Contemporary Exhibitions (LACE), Los Angeles, CA | Group |
| 1986 | National Video Festival | American Film Institute (AFI), Los Angeles, CA | Group |
| 1986 | Thomas A. Edison - Black Maria Film & Video Festival | West Orange, NJ | Group |
| 1985 | Gary Hill | Video Gallery Scan, Tokyo, Japan | Solo |
| 1985 | Gary Hill | International House of Japan, Tokyo, Japan | Solo |
| 1985 | Gary Hill | American Center, Kyoto, Japan | Solo |
| 1985 | Gary Hill | American Center, Sapporo, Japan | Solo |
| 1985 | Gary Hill | American Center, Paris, France | Solo |
| 1985 | Gary Hill | Stephen Kolpan Video Works, Byrdcliffe Barn, Woodstock, NY | Solo |
| 1985 | Gary Hill | 911 Arts Center, Seattle, WA | Solo |
| 1985 | Whitney Biennial | Whitney Museum of American Art, New York NY | Group |
| 1985 | A Video Sampler: Realities | American Museum of the Moving Image, Astoria, NY | Group |
| 1985 | First Tokyo International Video Biennial | Asahi Hall, Tokyo, Japan | Group |
| 1985 | Video Feature | International Center of Photography, New York, NY | Group |
| 1985 | 1985 National Video Festival | American Film Institute (AFI), Los Angeles, CA | Group |
| 1985 | The Artist and the Computer. Personal Visions in a New Age | Aaron Davis Hall, The Leonard Davis Center for the Arts, City College of New York, NY | Group |
| 1985 | San Francisco International Video Festival | San Francisco Art Institute, San Francisco, CA | Group |
| 1985 | Image - Word: The Art of Reading | New Langton Arts, San Francisco, CA | Group |
| 1985 | Video: Recent Acquistions | Museum of Modern Art, New York, NY | Group |
| 1985 | Video Art: Stockholm International Festival '85 | Kulturhuset, Stockholm, Sweden | Group |
| 1985 | Fukui International Video Festival '85: Video – Spirit of the Time | Fukui, Japan | Group |
| 1985 | 1985 Athens Video Festival | Ohio University, Athens, OH | Group |
| 1985 | Video Culture International Competition | Don Mills, Ontario, Canada | Group |
| 1985 | Video: Works from the 1985 Whitney Biennial | First Street Forum, St. Louis, MO | Group |
| 1985 | Whitney Biennial Exhibition | 6. Film Video Performance Tage, Kulturpanorama am Löwenplatz, Lucerne, Switzerland | Group |
| 1985 | The Electronic Image: An Exhibition Series | University Community Video, Minneapolis, MN | Group |
| 1984 | Gary Hill: Selected Videography | JISC Plaza Video and International Cultural Community Services, Tokyo, Japan | Solo |
| 1984 | Mix | The Kitchen Center for Video, Music, Dance, Performance and Film, New York, NY | Group |
| 1984 | Videographia | Escoia I Centre d'Activtats Video, Barcelona, Spain | Group |
| 1984 | Video-expo | Paleis voor Schone Kunsten Brussel, Brussels, Belgium | Group |
| 1984 | So There, Orwell 1984 | The Louisiana World Exhibition, New Orleans, LA | Group |
| 1984 | Arte, Ambiente, Scena | Biennale di Venezia, Venice, Italy | Group |
| 1984 | 1st Festival Nacional de Video | Círculo de Bellas Artes, Madrid, Spain | Group |
| 1984 | Video: A Retrospective - Long Beach Museum of Art, 1974-1984 | Long Beach Museum of Art, Long Beach, CA | Group |
| 1984 | The World Wide Video Festival | Kijkhuis, The Hague, The Netherlands | Group |
| 1984 | National Video Festival | American Film Institute (AFI), Los Angeles, CA | Group |
| 1984 | Video 84 – International Video Conferences | Montreal, Quebec, Canada | Group |
| 1984 | WNET - Thirteen TV Lab: A Survey | Museum of Modern Art, New York, NY | Group |
| 1983 | Gary Hill | Boston Film and Video Foundation, Boston, MA | Solo |
| 1983 | Gary Hill | Whitney Museum of American Art, New York, NY | Solo |
| 1983 | Gary Hill | International Cultural Center, Antwerp, Belgium | Solo |
| 1983 | Gary Hill | Center for Media Art, The American Center, Paris, France | Solo |
| 1983 | Gary Hill | MonteVideo, Amsterdam, The Netherlands | Solo |
| 1983 | Art Video Retrospectives et Perspectives | Palais des Beaux-Arts, Brussels, Belgium | Group |
| 1983 | The Electronic Gallery | University Art Gallery, State University of New York, Binghamton, NY | Group |
| 1983 | Whitney Biennial | Whitney Museum of American Art, New York, NY | Group |
| 1983 | American Video: Twenty New Works | Museum of Modern Art, New York, NY | Group |
| 1983 | Video As Attitude | University Art Museum, University of New Mexico, Albuquerque, NM | Group |
| 1983 | The Second Link: Viewpoints on Video in the Eighties | Walter Philips Gallery, Banff, Alberta, Canada | Group |
| 1983 | Art & Technology: Electronic Visions | Hudson River Museum, Yonkers, NY | Group |
| 1983 | Videoart: IV Festival International d'Art Video de Locarno | Locarno-Ascona, Switzerland | Group |
| 1983 | XXXI Festival Internacional de Cine de San Sebastian | San Sebastian, Spain | Group |
| 1983 | San Francisco International Video Festival | San Francisco, CA | Group |
| 1983 | 19th Chicago International Film Festival | Chicago, IL | Group |
| 1983 | Video Installation Exhibition | Visual Studies Workshop, Rochester, NY | Group |
| 1983 | Video Art: A History, Part Two | Museum of Modern Art, New York, NY | Group |
| 1983 | London Video Arts | London, England | Group |
| 1983 | Group Show | International Cultural Center, Antwerp, Belgium | Group |
| 1983 | Thomas A. Edison - Black Maria Film & Video Festival | West Orange, NJ | Group |
| 1982 | Gary Hill: Equal Time | Long Beach Museum of Art, Long Beach, CA | Solo |
| 1982 | Gary Hill | Galerie H at ORF, Steirischer Herbst, Graz, Austria | Solo |
| 1982 | Sydney Biennale | Sydney, Australia | Group |
| 1982 | Text - Picture Notes | Visual Studies Workshop, Rochester, NY | Group |
| 1982 | Return - Jump: A Video Retrospective, 1979 – 82 | The Kitchen, NY | Group |
| 1982 | Freie Video-Produktionen aus den USA | Steirischer Herbst '82, Funkhaus Graz, Graz, Austria | Group |
| 1981 | Glass Onion, Installation for Video, Sound & Text: A Topological Mapping | And - Or Gallery, Seattle, WA | Solo |
| 1981 | Gary Hill | Museum of Modern Art, New York, NY | Solo |
| 1981 | Gary Hill | Anthology Film Archives, New York, NY | Solo |
| 1981 | Gary Hill | The Kitchen Center for Video and Music, New York, NY | Solo |
| 1981 | Projects Video XXXV | Museum of Modern Art, New York, NY | Group |
| 1981 | Gorewitz, Hocking, Miller, Hill | Video Free America, San Francisco, CA | Group |
| 1981 | Serious Video: The Technology and its Art in the 80s | Video Night, Artists' Post Production Studio, Long Beach, CA | Group |
| 1981 | The Electronic Gallery: An exhibit of videotapes by ten artists from The Experimental Television Center | Studio A Lecture Hall, State University of New York, Binghamton, NY | Group |
| 1981 | Seventh Annual Ithaca Video Festival | Johnson Museum, Cornell University, Ithaca, NY | Group |
| 1981 | Television: Transformations and New Forms | Goethe House, New York, NY | Group |
| 1981 | National Video Festival | American Film Institute, John F. Kennedy Center for the Performing Arts, Washington, D.C. | Group |
| 1981 | 103rd Annual Daniel Wadsworth Memorial Video Festival | Montevideo, Old State House, Hartford, CT | Group |
| 1981 | New York Video | Stadtische Galerie im Lenbachhaus, Munich, Germany | Group |
| 1981 | Fast-Switch-Quick-Edit | Anthology Film Archives, New York, NY | Group |
| 1981 | The 1981 Video Awards Festival | D·Visions at Just Above Midtown Gallery, New York, NY | Group |
| 1981 | Video Europäische Videotheken | Städtische Galerie im Lenbachhaus, Munich, Germany | Group |
| 1981 | Themes in Electronic Image Processing | The Kitchen Center for Video, Music, Dance, and Performance, New York, NY | Group |
| 1980 | Video Viewpoints: Processual Video | Museum of Modern Art, New York, NY | Solo |
| 1980 | Media Study | Buffalo, Buffalo, NY | Solo |
| 1980 | Image Dissector Screening Series | University of California at Los Angeles, Los Angeles, CA | Solo |
| 1980 | American Video: New York, Seattle and Los Angeles | The Seibu Museum, Tokyo | Group |
| 1980 | Installation: Video: An Exhibition of Diagrams, Documentation and Video Installation | Hallwalls Contemporary Arts Center, Buffalo, NY | Group |
| 1980 | Video 80 - San Francisco International Video Festival | San Francisco, CA | Group |
| 1980 | 1980 Athens Video Festival | Ohio University, Athens, OH | Group |
| 1980 | Group Show | Center for Media Art, American Center, Paris, France | Group |
| 1979 | Video by Videomakers 1979: Gary Hill | Experimental Television Center, Binghamton, NY | Solo |
| 1979 | Gary Hill | Everson Museum, Syracuse, NY | Solo |
| 1979 | Meet the Makers: Gary Hill | Donnell Library, New York, NY | Solo |
| 1979 | Gary Hill | The Kitchen Center for Music, Video and Dance, New York, NY | Solo |
| 1979 | Gary Hill | Pacific Film Archive, University of California, Berkeley, CA | Solo |
| 1979 | Media Study | Buffalo, Buffalo, NY | Solo |
| 1979 | Third Annual Atlanta Independent Film & Video Festival | Atlanta, GA | Group |
| 1979 | FIVF | The Kitchen Center for Video and Music, New York, NY | Group |
| 1979 | Fifth Annual Ithaca Video Festival | Herbert F. Johnson Museum of Art, Ithaca, NY | Group |
| 1979 | CAPS Video Festival: 1978 – 79 | Buffalo, NY | Group |
| 1979 | Projects Video XXVII | Museum of Modern Art, New York, NY | Group |
| 1979 | Everson Video Revue | Everson Museum of Art, Syracuse, NY | Group |
| 1979 | Synthesized Video | Joe & Emily Lowe Art Gallery, Syracuse University, Syracuse, NY | Group |
| 1979 | Athens Video Festival | Ohio University, Athens, OH | Group |
| 1979 | Political Comment in Contemporary Art | Brainerd Art Gallery, Potsdam, NY | Group |
| 1979 | Beau Fleuve | The Center for Media Art, American Center, Paris, France | Group |
| 1979 | Image Processing: The Electronic Manipulation of Television | The Kitchen Center for Video and Music, New York, NY | Group |
| 1978 | Gary Hill | Rochester Memorial Art Gallery, Rochester, NY | Solo |
| 1978 | Gary Hill | Portable Channel, Rochester, NY | Solo |
| 1978 | Gary Hill | Arnolfini Art Center, Rhinebeck, NY | Solo |
| 1978 | 4th Annual Ithaca Video Festival | Ithaca, NY | Group |
| 1978 | Atlanta Independent Film & Video Festival | High Museum of Art, Atlanta, GA | Group |
| 1978 | Athens Video Festival | Ohio University, Athens, OH | Group |
| 1978 | Video Free American | San Francisco, CA | Group |
| 1977 | Gary Hill | Anthology Film Archives, New York, NY | Solo |
| 1977 | Open Stacks: Video Exhibition and Temporary Access Archive | Williams College Museum of Art, Williamstown, MA | Group |
| 1977 | Third Annual Ithaca Video Festival | Herbert F. Johnson Museum of Art, Ithaca, NY | Group |
| 1977 | Videotapes, performances, installations | Woodstock Artists' Association, Woodstock, NY | Group |
| 1977 | Woodstock Video Expovision | Rhinebeck, NY | Group |
| 1977 | Artists' TV Lab Invitational Video Expovision '77 | Arnolfini Arts Center, Rhinebeck, NY | Group |
| 1977 | Dance Video Music | Arnolfini Arts Center, Rhinebeck, NY | Group |
| 1976 | Videotapes: Gary Hill | Woodstock Artists' Association, Woodstock, NY | Solo |
| 1976 | Gary Hill | Anthology Film Archives, New York, NY | Solo |
| 1976 | Experimental TV Center, Binghamton, Program II | Anthology Film Archives, New York, NY | Group |
| 1976 | Woodstock Video Expovision '76 | Woodstock Community Video, Woodstock, NY | Group |
| 1976 | New Work in Abstract Video Imagery | Everson Museum of Art, Syracuse, NY | Group |
| 1976 | Athens International Film Festival | Ohio Univerisity, Athens, OH | Group |
| 1975 | Group screening | Anthology Film Archives, New York, NY | Group |
| 1975 | Group screening | Experimental TV Center, Binghamton, NY | Group |
| 1975 | Group screening | Anthology Film Archives, New York, NY | Group |
| 1975 | Woodstock Video Exposition | Artists' Cooperative Gallery, Woodstock, NY | Group |
| 1975 | Group screening | Woodstock Community Video, Woodstock, NY | Group |
| 1975 | Projects Video VI | Museum of Modern Art, New York, NY | Group |
| 1975 | An Evening of Video | Walnut Street Theatre, Philadelphia, PA | Group |
| 1975 | Annual Avant-Garde Festival of New York | New York, NY | Group |
| 1974 | Lila Marcus, Gary Hill, Donna Albright | Artists' Cooperative Gallery, Woodstock, NY | Solo |
| 1974 | Gary Hill | South Houston Gallery, New York, NY | Solo |
| 1974 | Artists from Upstate New York | 55 Mercer Gallery, New York, NY | Group |
| 1974 | Group Show | Woodstock Artists' Association, New York, NY | Group |
| 1974 | Invitational | Schenectady Museum of Fine Arts, Schenectady, NY | Group |
| 1973 | Gary Hill: Constructions | Woodstock Artists' Association, Woodstock, NY | Solo |
| 1973 | Gary Hill | Allusion Gallery, New York, NY | Solo |
| 1973 | Video Night | Woodstock Artists' Association, Woodstock, NY | Group |
| 1973 | All-media exhibition | Woodstock Artists' Association, Woodstock, NY | Group |
| 1972 | Gary Hill and Donna Albright | Polari Gallery, Woodstock, NY | Solo |
| 1972 | Group Show | Woodstock Artists' Association, Woodstock, NY | Group |
| 1971 | Gary Hill: Painted Constructions | Polari Gallery, Woodstock, NY | Solo |
| 1971 | Group Show | Woodstock Artists' Association, Woodstock, NY | Group |
| 1970 | Group Show | Parnassus Square Artists' Cooperative, Woodstock, NY | Group |
| 1970 | Group Show | Walcott-Fields Gallery, New York, NY | Group |
| 1970 | Group Show | Woodstock Artists' Association, Woodstock, NY | Group |
| 1969 | Group Show | Parnassus Square Artists' Cooperative, New York, NY | Group |
| 1968 | Gary Hill | El Jay Gallery, Los Angeles, CA | Solo |
| 1968 | Group Show | Ryder Gallery, Los Angeles, CA | Group |