Creating paintings that ooze with soothing colors that depict Irish-English subjects like Georgian country houses and those living in them, Genieve Figgis, an Irish artist, manages to find and work at the delicate intersection between abstraction and portraiture. Originally discovered via Twitter, she followed Richard Prince, but was followed back and subsequently asked by the much more famous artist about one of her works. Slowly, she began receiving attention, and as her fan base grew, the Irish painter was branded as one of the rising stars of the contemporary art scene. It's no surprise, as her visual language is quite distinctive and appalling to many who are able to comprehend and appreciate the humor behind it.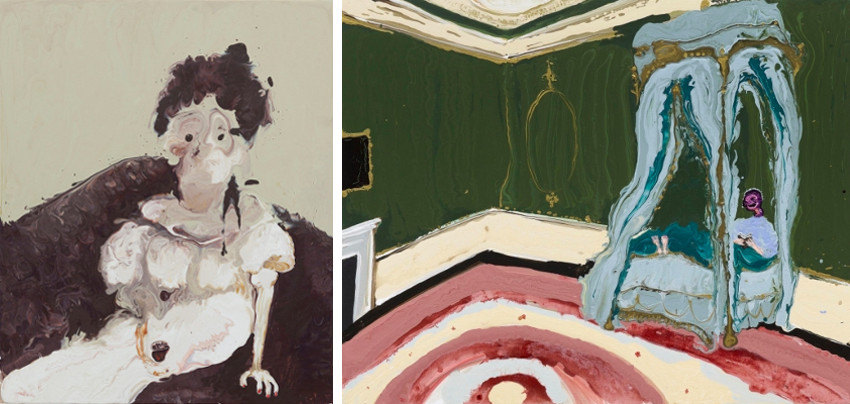 Personal Life
Figgis always knew she was an artist, or that she wanted to become one. From an early age, she enjoyed drawing and preferred and subject in school that allowed her to create. Having started her own family at 21, it took some time before she was able to receive any kind of formal training. At 30, she enrolled in college, and in 2006, she earned a B.A. from Gorey School of Art, Wexford. A year later, she received a B.A Hons from The National College of Art & Design, Dublin, and after taking some time off, she came back to the same institution in 2010 before earning an M.F.A. two years later. In her own personal pursuit of happiness, creating is an extremely important stop along the way (together with her family and dogs). "Painting is about pleasure. If it weren't pleasurable, I wouldn't do it. For a long time I've been pouring paint—the medium's unpredictability is the addiction for me. Its ability to surprise and defy logic keeps me interested. It takes on a life of its own." Even while her kids were small and she was unavailable to paint as much as she wanted, Figgis kept herself busy by being creative in a bit different fashion – she was baking cakes, decorating the children's rooms, making costumes for the school plays and Halloween. She also couldn't travel in order to see the exhibitions of the artist she admired, so she read library books and browsed the internet.[1]
Painting is about pleasure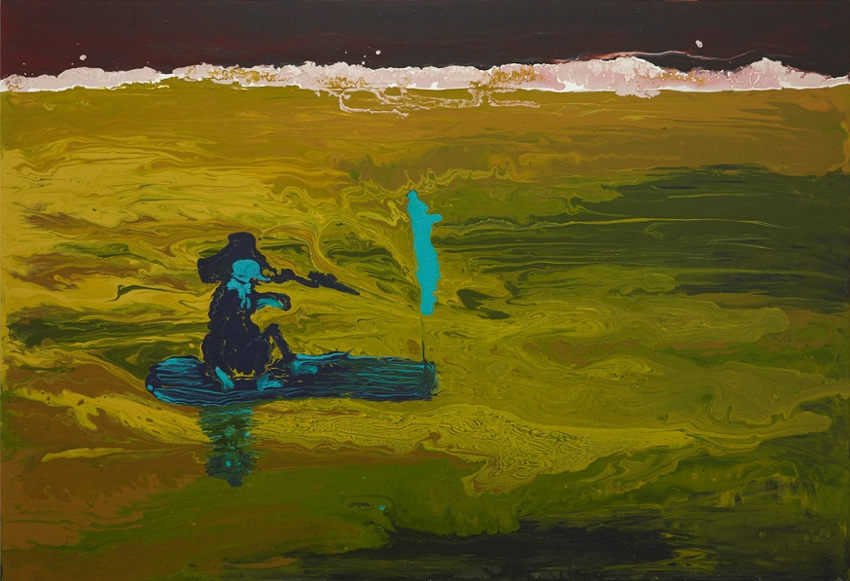 Style and Related Artists
Her work was always figurative, and she admired and looked up to female artists such as Jenny Saville, Marlene Dumas, and Lynette Yiadom-Boakye. It was almost as if they had a voice when Figgis had none. Without being traditional or boring, she enjoyed what these women were trying to do with paint, showing that women are perfectly able to just as creative as men. The list of her early influences also includes Richard Prince, Cecily Brown, Dana Schutz, and John Currin. Opposed to the crystallized picture of her early role-model and inspirations, Figgis's tastes these days change on a daily base. It's one of the features that keep her work fresh and original. Speaking of her distinctive style, it could easily be categorized as faux naïf. In short, the works in this category are created by trained creatives, who nevertheless wanted to escape the insincere sophistication created within the traditional system of the arts and imitate the unaffected, authentic experience of our world – very much like the one seen in artworks by children or people with mental disorders. As a result, their paintings and drawings are "falsely naïve" and as such are often put in the same category as Primitive and Art brut, while they could all be categorized under the realm of Outsider art.[2] Figgis, whose style can be compared to contemporaries Adrian Ghenie or George Condo, conjures a particular reliance on and subversion of classic painterly formats by pioneers Francis Bacon to Jean-Henoré Fragonard, the latter being gloriously reminisced in The Swing after Fragonard.[3]
The paintings are falsely naïve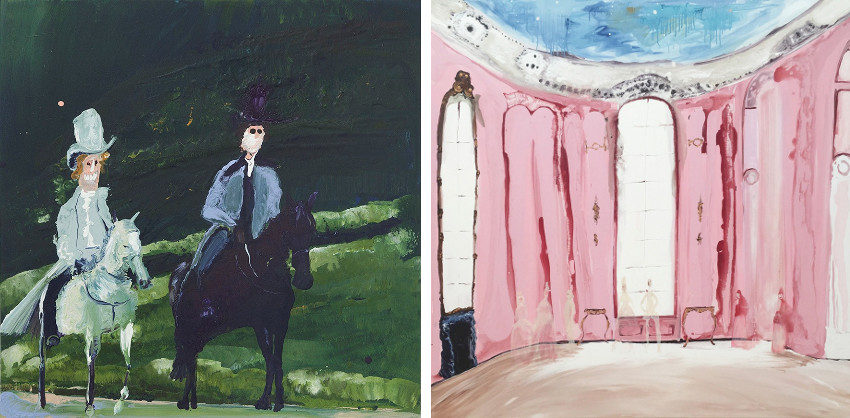 The Macabre and the Importance of Social Media
With everything said above combined, it is beyond a doubt that her works have a ghoulish note. But, as the artist states: "I never set out to make ghoulish paintings. That's how the paint looks sometimes. It has a life of its own but I like that. Its disobedience gives an impression of a separate identity almost. It has its own plans."[4] As much as Figgis's style is distinctive or her work visually attractive, it's safe to say that she owes a great deal of her success to social media. Without being followed back on Twitter by Richard Prince, who was the first to show an interest in purchasing one of her pieces, it remains a mystery if she would have been to reach the level of fame that she's currently at. Figgis is completely aware of the fact and uses social media as the most important mean of communication with her fans. She is also continuing to paint tirelessly, creating the world somewhat familiar, but filled with dark humor.
She lives and works in County Wicklow, near Dublin.
References:
Parkes O. The Irish Artist Attacking the Female Figure with Paint, Broadly. [October 25,2016]
Kordic A. WHO ARE THE CONTEMPORARY FAUX NAIF ARTISTS?, Widewalls [October 25,2016]
Yerebakan O. C. New York – Genieve Figgis: "Good Morning, Midnight" at Half Gallery Through October 25th, 2014, ArtObserved [October 25,2016]
Mucols D. Genieve Figgis, Flaunt [April 2016]
Featured image: Genieve Figgis – Goya's Commission (detail), 2015 – image courtesy of Almine Rech Gallery
All other images courtesy of the artist