Arguably one of the most underappreciated Art Deco artists, Georges Lepape was a French author whose fabulous pieces of painted portraiture represent a true milestone in the relationship of fashion and visual arts. Unlike many of his contemporary colleagues, this painter's artworks were heavily impacted by the aspects of Orientalism, Persian miniatures and the popular theater aesthetics of the Ballet Russes[1]. Lepape's life story was a true journey that saw him start with humble beginnings as an illustrator for Paul Poiret and eventually reaching heights by becoming one of the most famous fashion illustrators, primarily working for Vogue.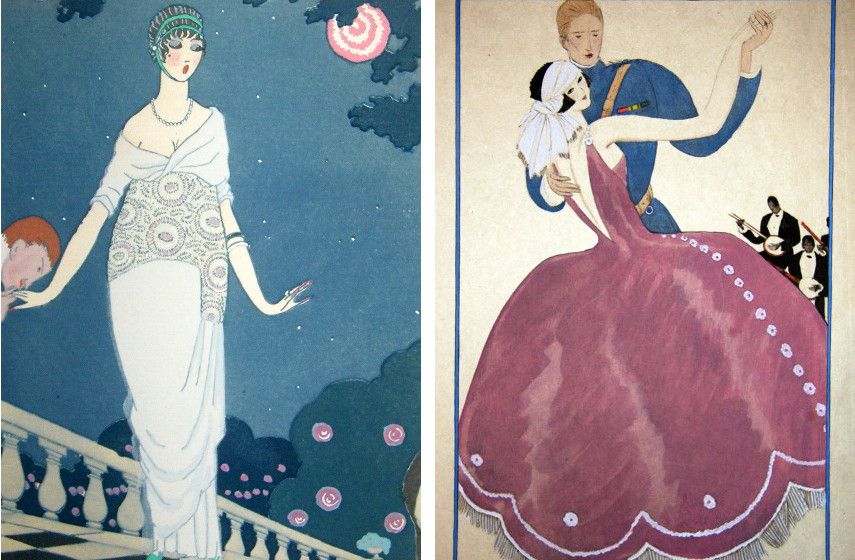 Growing up in the Avenue Montaigne
Georges Lepape was born on the 26th of May during the year of 188, on the Avenue Montaigne, a street in the 8th arrondissement of Paris. By the time he was twenty years of age, he already met and developed friendships with local artists such as Georges Braque, Marie Laurencin, Bernard Boutet de Monval, Andre Marty and Charles Martin. This, of course, provided the young author with many early influences that will prove to be quite vital in the long run, although Georges will develop a unique style of his own. He enrolled himself at the famous Ecole des Beaux-Arts where he acquired an admirable artistic education. Lepape had his first exhibition in the year of 1908 when he presented the audience with his varied work. A year later he married Gabrielle Lauzanne and then formed his historical collaboration with Paul Poiret. Over the next ten years or so, Poiret would become Paris's leading designer whilst Lepape would be recognized as one of the world's most brilliant fashion illustrators.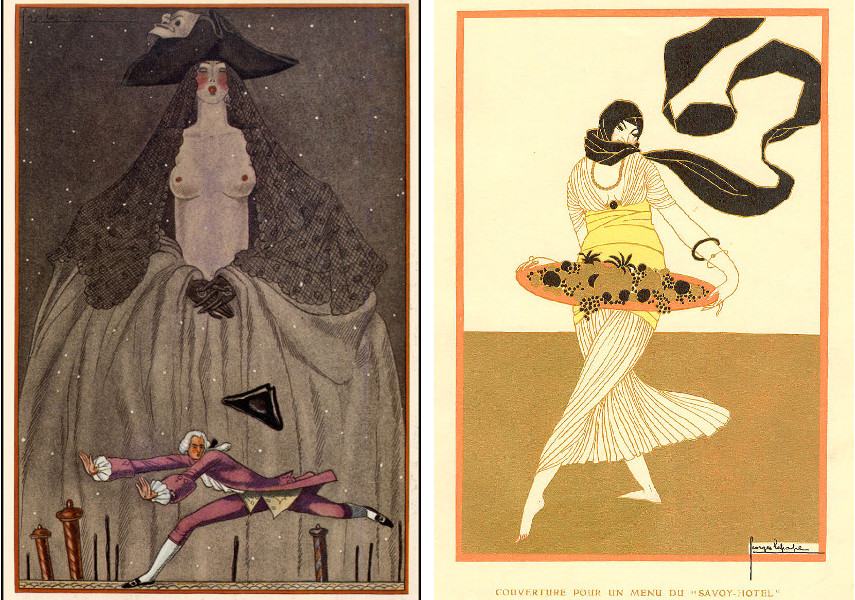 Taking the Fashion World by Storm
Right from the start of his professional career as an illustrator, Lepape introduced the unconventional ideas of motion and story to fashion illustration – he did so by showing some of his depicted models actually leaving the pictorial frame, turning their backs to the viewer. Such notions were expanded between the years of 1912 and 1925 when Georges was working at the famous Gazette du Bon Ton. By the year of 1920, Lepape was at the very top of his profession and there were only a few worthy mentions that were as influential in the world of fashion illustration as he was. Besides his work for Harpers Bazaar and the Vogue, Georges also received numerous commissions from fur, perfume and other luxury goods producers, as well as a few assignments from theater owners who required costume and set designs. From 1926, the author lived in New York City where Lepape further cemented a long and profitable relationship with Vogue. He remained a productive and sought-after illustrator right up to the time of his death on Feb 15, 1971. Georges was at the age of 84 at that point.
Besides being a crucial part of the Art Deco movement, Georges Lepape's work is also considered to be a pivotal milestone of blending fashion and artistic expression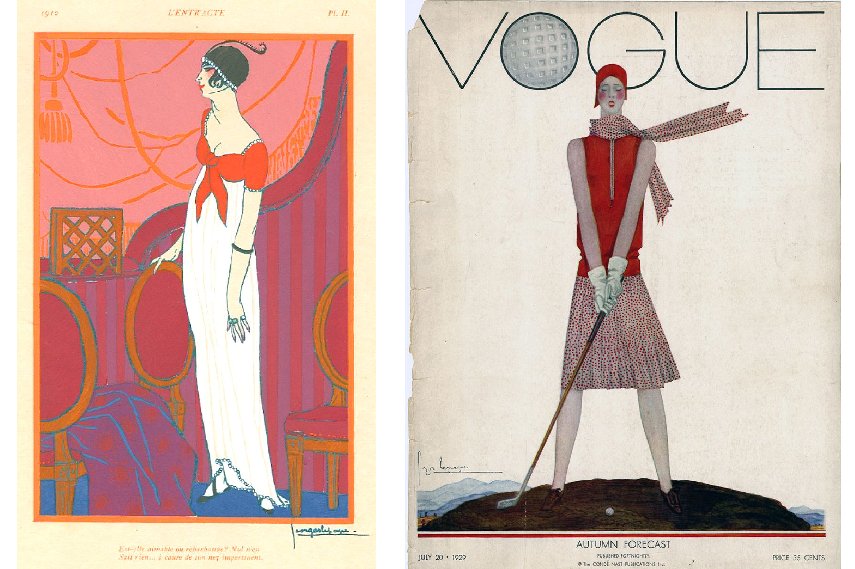 What Makes Georges Lepape So Special
When observed outside of the fashion and the Vogue context, Georges Lepape's art is mainly characterized by his witty portraits. These marvelous pieces of portraiture marked his career, defining Lepape's style of curvilinear lines, dominating elegance and catalogue-driven approach full of carefree attitude and self-confident looks. What separates Georges and his illustration from most other Art Deco painters is the fact he was heavily inspired by Orientalism and other Eastern features whilst his contemporary colleagues were much more influenced by the characteristics common for the Old Continent[2]. This makes up one of the more decisive lines that separates Lepape from other authors as his work was a large part of introducing Eastern culture to Western Europe.
This artist is represented by Sylvan Cole Gallery.
References:
Lepape, C., From the Ballets Russes to Vogue: The Art of Georges Lepape, The Vendome Press; Reprint edition, 1984
Lepape, G., French Fashion Plates in Full Color from Gazette Du Bon Ton (1912-1925: Illustrations of Styles By Paul Poiret, North, Paquin, and Others), Dover Pubns, 1979
Featured image: Georges Lepape – Les Choses de Paul Poiret II (detail), 1920 – Image via artophile.com
All images used for illustrative purposes only.