Art is very similar to music. Both fields seek expression, one through a visual stimulus, other through words and tones. When you can't decide what suits you best, why not combine the two? Giacomo Spazio is an Italian artist who has been part of the Italian underground culture for over 40 years. In 1975, he started writing poetical phrases on the walls of his native Milan and performs between Milan and London, both alone and with the group "Poesia Metropolitana". He is one of the first Italian artists to work on the street (1975-1987), being an avant-garde in years of the Italian Street Art movement.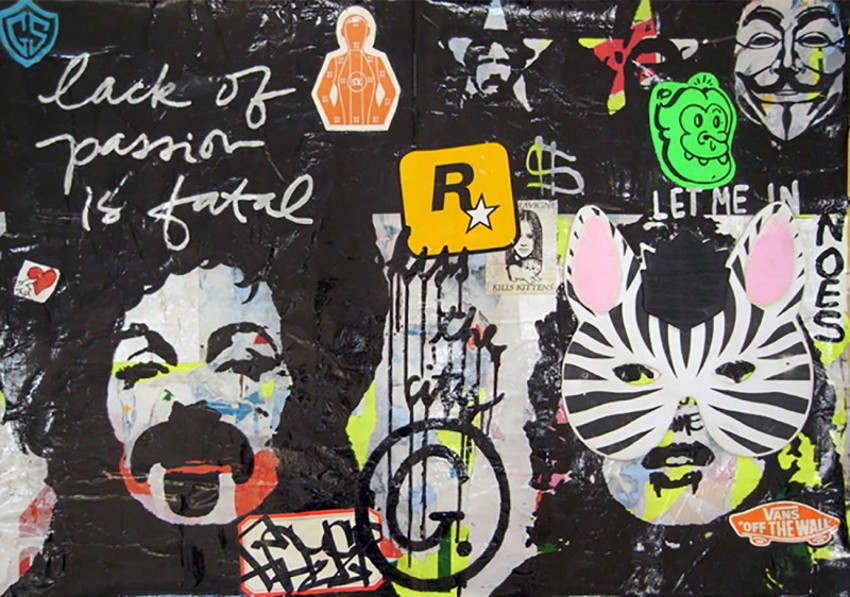 "2+2=5"
In the mid-1980s, Spazio got involved with the punk and indie-rock culture and even founded the punk(art)rock band called "2+2=5" in 1982, with whom he recorded 3 records. He also took part in several other bands before finally going solo. In 1983, with Ermanno Gomma Guarnieri, Spazio established the first Italian company that distributed counter-culture punk material – the UT distribution. Also, he was among the founders of the magazine Decoder, as well as the founder of the music magazines Vinile and Vox Pop.
He got involved with the punk and indie-rock culture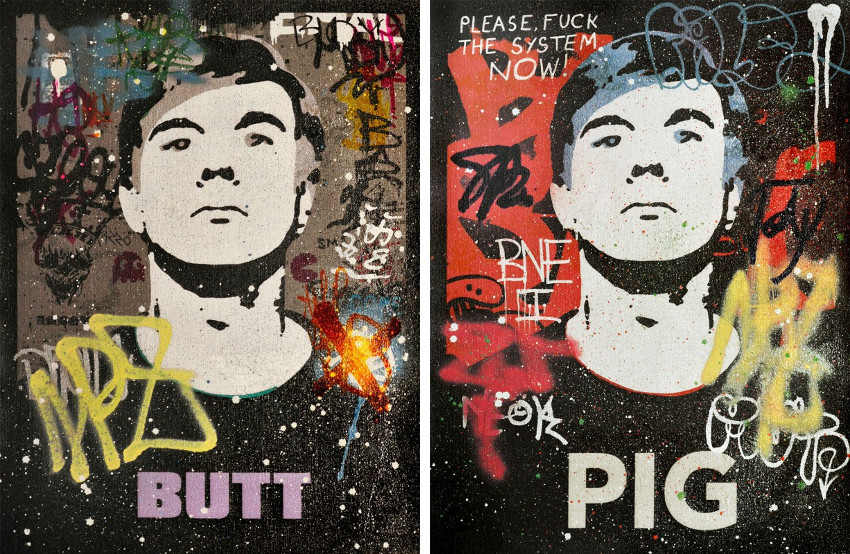 Spazio's Mixture of Cultural Codes
It was not late until the 90s that he went back to being a visual artist. Since then, his art career, swinging between music and literature, began to make a strong emotional and social impact. The hybrid mixture of cultural codes in his imagery mostly originates from fanzines of the 1970s and 1980s, from punk graphics, album covers of those years, from documents of the underground scene and artistic/musical performances, from photos taken from publications, magazines, and daily newspapers. He uses information and images from the media and proposes them with an ironic and desecrating, cynical and subversive intention.
His career is somewhere between music and literature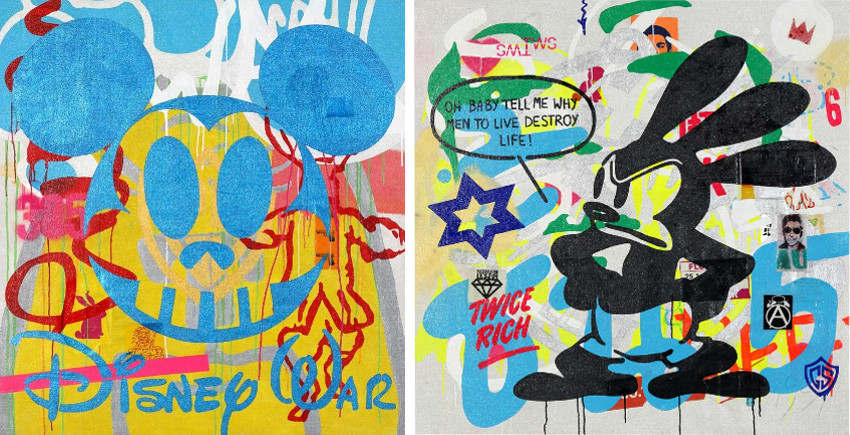 Spazio's Recent Creations
Spazio works by dislocation and shifting, creating fakes that acquire political value: by manipulating images, the artist carries out a critique on information, on the mechanism that presides over the "creation" of news, denouncing its presumed truthfulness. His recent creations seem like enlargements of fanzine and album covers and are, in a certain way, familiar to those who have crossed or shared the musical, cinema to graphic, and literary course and imaginary of underground cultures. Nowadays, Giacomo works on his art and belongs to a collective of artists that he founded called the "Limited No Art Gallery" – an independent art gallery launched in 2006 to promote art, without prejudice.
He is represented by Open Walls Gallery in Berlin.
Giacomo Spazio lives and works in Milan.
Featured image: Giacomo Spacio – I Kissed a Girl and I Liked It, photo credits the artist
All images courtesy of Open Walls Gallery
| Year | Exhibition Title | Gallery/Museum | Solo/Group |
| --- | --- | --- | --- |
| 2015 | Daily Dose | The Don Gallery, Milano, Italy | Group |
| 2015 | My Secret – Forbidden Book | Libreria Utopia, Milano, Italy | Group |
| 2014 | Out Of Tune | Melzo 42 Gallery, Milano, Italy | Group |
| 2014 | 20 x 20 | Studio D'Ars, Milano, Italy | Group |
| 2014 | Part Time Poet | Humus Dance, Mendrisio, Switzerland | Solo |
| 2013 | Second-Hand Poetry | Galleria Derbylius, Milano, Italy | Solo |
| 2013 | Oak Barrel Fumes, Hennessy 4 Street Art | The Don Gallery, Milano, Italy | Group |
| 2013 | To Be With you Is All I Need | OPEN WALLS Gallery, Berlin, Germany | Solo |
| 2013 | Dissidents | OPEN WALLS Gallery, Berlin, Germany | Group |
| 2013 | Stroke#7 Art Fair | Munich, Germany | Group |
| 2012 | Subterranean Modern | The Don Gallery, Milan, Italy | Group |
| 2011 | Contemporary Istanbul Art Fair | Istanbul, Turkey | Group |
| 2011 | Dissidents | West Berlin Gallery, Berlin, Germany | Group |
| 2011 | Blooom, Art Fair | Cologne, Germany | Group |
| 2011 | Stroke#5 Art Fair | Berlin, Germany | Group |
| 2011 | Stroke#4 Art Fair | Munich, Germany | Group |
| 2011 | Pop Life! | The Don Gallery, Milan, Italy | Solo |
| 2011 | Beyond Good & Evil | West Berlin Gallery, Berlin, Germany | Group |
| 2010 | Innestare | Officina Temporanea, Milan, Italy | Group |
| 2010 | Stroke#3 Art Fair | Berlin, Germany | Group |
| 2010 | Stroke#2 Art Fair | Munich, Germany | Group |
| 2010 | As Loud As Possible | Xlab Gallery, Berlin, Germany | Group |
| 2009 | Pop Disaster | LimitedNoArtGallery, Milan, Italy | Solo |
| 2009 | Unknown | Museum of Contemporary Art, Istanbul, Turkey | Group |
| 2009 | Stroke#1 Art Fair | Munich, Germany | Group |
| 2009 | Derbylius | Artist Book Show, Milan, Italy | Group |
| 2008 | Art Fair | Geneva, Switzerland | Group |
| 2008 | Pop Disaster | Orange Gallery, Bergamo, Italy | Solo |
| 2007 | Never Forget | Container Art, Geneva, Switzerland | Group |
| 2006 | Do it Again | Container Art, Varese, Italy | Group |
| 2006 | A New Loop | Museum of Contemporary Art, Tokyo, Japan | Group |
| 2006 | Selected Ambient Words | Galleria Comunale, Riccione, Italy | Group |
| 2005 | Selected Ambient Words | Galleria Santa croce, Cattolica, Italy | Group |
| 2005 | Selected Ambient Words | Galleria Libreria Derbyliu, Milan, Italy | Group |
| 2005 | Box 43 | Container Art, Bergamo, Italy | Group |