When one artist nurtures within as many different culture roots as Gilbert Mazout (also known by his real name Gilbert Petit) does, his artworks become an eclectic form of creativity burs and multiculturalism. Gilbert has proclaimed France, Benin, Togo, India, Vietnam and even the 'independent democratic republic' of Bagnolet, a commune in the eastern suburbs of Paris, as places of his origin. However, Gilbert was born "just" in Lomé, Togo (in the Gulf of Guinea) in 1971, and moved to France as a young boy.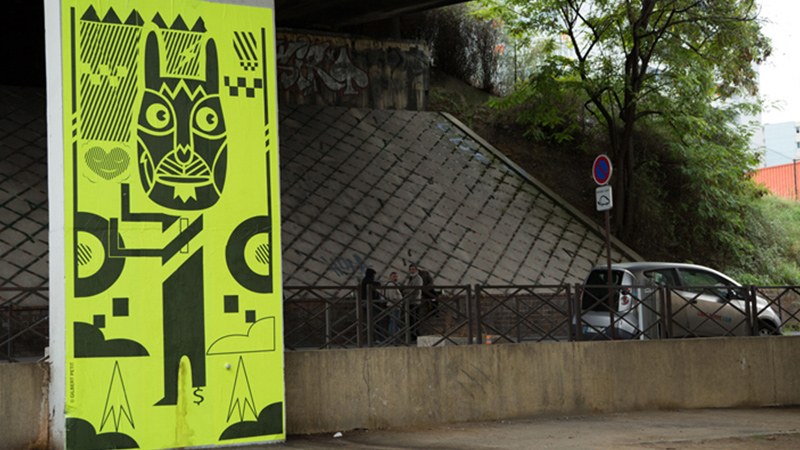 Gilbert's Different Roots Interlaced with a Street Art
This artist's African, Asian and European roots are omnipresent in his mixed media artworks. Whether he chooses pure pigments, solvents, sprays, markers, tape, or stickers – there is one medium he is especially attached to: its majesty, the chalk. As Gilbert claims, chalk is a material used by everyone in at least one period of time! Due to chalk's ephemeral features, works done in this technique are short lived if touched, and can be changed completely in just one moment, through the contact with water or humans. That all might be the source of Gilbert's fascination with this mineral mixture medium: it's interactive, almost alive.
Chalk and its ephemeral features – a source of Gilbert's Fascination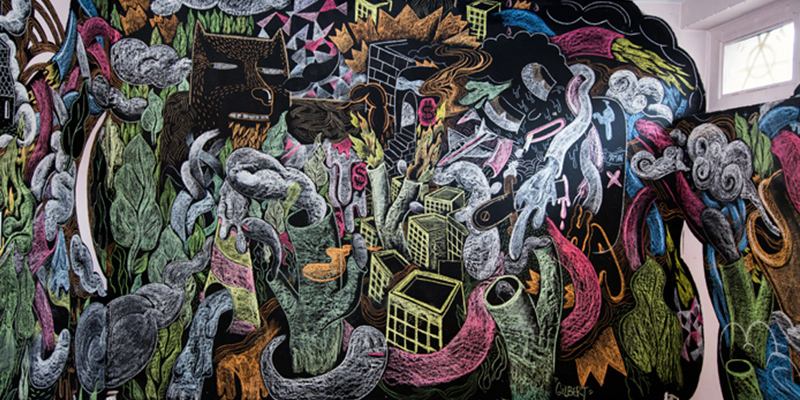 This multidisciplinary visual artist uses the idea that exists behind street art to explore and experiment with many different manifestations of creativity, across any possible and existing artistic platform. By combining urban and street art's features with pop art's flat colors and comics' visual language Petit reinvents a free public space, creating work with a clear multiracial heritage of his own miscegenation history.
Gilbert's Projects: Douze and Douze Collective and the M.A.C. Crew
This artist is a painter, illustrator, graphic designer but also an artistic director of the collective Douze Douze (1212, founded in 1995), member of the collective M.A.C (with Kongo, Lazoo, Ceet, Alex as members) and a co-creator of the very first international urban graphic festival in France named Kosmopolite (from 2002 to 2008). 1212 was initiated to bring together visual artists linked to the urban arts and multimedia technologies in a mix of reflections on society, both global and local.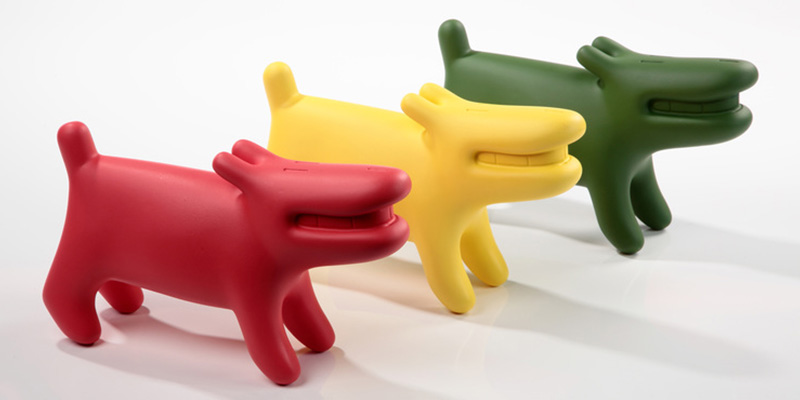 So many cultural influences made Gilbert Petit an artist with an eclectic and lovable style. His artwork connects continents and people, reminding us that any kind of division is completely senseless – as we all live on one planet, and all human belong to same animal species. And what is the better way to send this message, then through art?
This artist is represented by Galerie Brugier-Rigai from Paris.
Gilbert Petit lives and works in Paris, when not traveling the world.
Feature image copyrights © Officiel Galeries & Musees
Image copyrights © artist's website