As well as being one of the most well-known contemporary artists hailing from Salzburg, Austria, Gottfried Salzmann is a painter whose talents and creativity know no limits. A great technical virtuosity in watercolors, along with his use of dramatic motifs, are what make Salzmann's oeuvre astonishing. In a career that encompasses over four decades, the artist has become widely recognized for his eye-catching artworks depicting some of the world's most famous cities including Paris, New York, and London.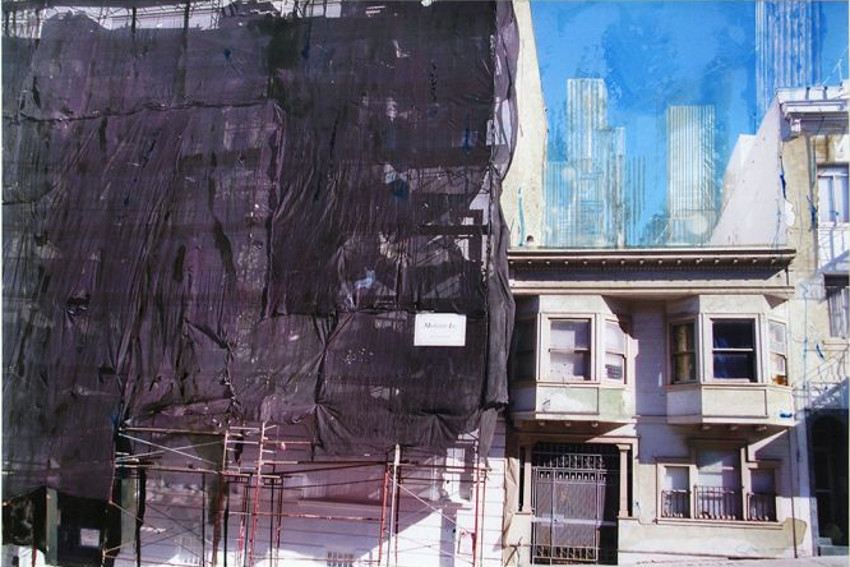 Watercolour of the Cityscapes
Widely recognized for his watercolor paintings of skyscrapers and apartment buildings inspired by his visits to the world's major capitals, Salzmann often uses a wide range of techniques simultaneously, bridging the gap between watercolour and collage, between photography and drawing. In his practice, the artist does not only paint, but treats the paper in an artistic way, scratching, scraping, drying, wetting, and drying it again, so his pieces aren't just paintings, but verge on the sculptural. Using his own unique visual language Salzmann depicts the changes in society and architecture from an original point of view. Streets, parks, architecture, and public surfaces of cities like New York or Paris are the main motifs the artist deals with expertly.
Salzmann often uses a wide range of techniques simultaneously
Background and Retrospective in the Salzburg Museum
Gottfried Salzmann was born in 1943 in Saalfelden, the Austrian state of Salzburg. He became interested in art at the age of twelve when he told his parents that he wanted a book about painting for Christmas. He obtained his degrees from the National School of Arts, Vienna in 1965 and from L'Ecole Nationale Superieure des Beaux-Arts, Paris three years later. Since that time, his work has been included in over 150 solo shows throughout the world. In 2003, for the artist's 60th birthday, the Salzburg Museum organized a retrospective exhibition of the artist's oeuvre including the key work complexes.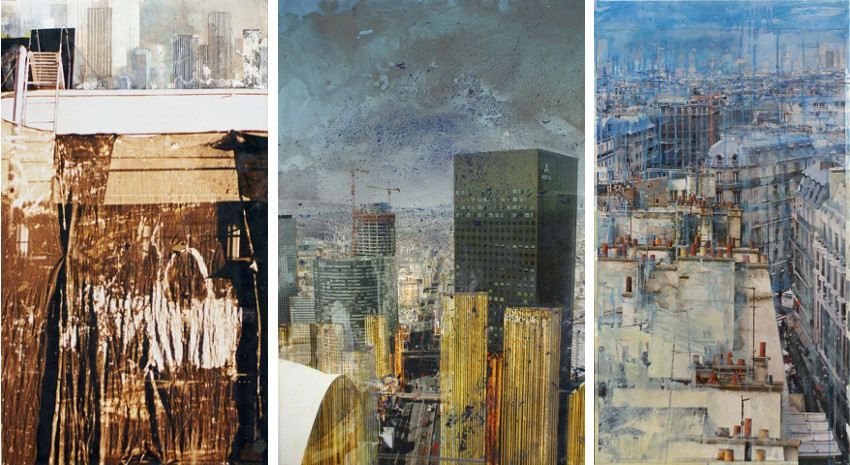 A Master of Watercolor
Inspired by the work of English landscape painter J.M.W. Turner, as well as Kokoschka, Klimt, Hradil, and Hundertwasser, Salzmann has been painting in the watercolor medium for over forty years. His work is now included in the collections of such notable museums as the Albertina Museum, Vienna, the Museum of Salzburg, Musée de la Ville de Paris, the Royal Museum of Lichtenstein, the Metropolitan Museum of Manila and the Museum of Seoul, Korea. Amongst being a master of watercolor, he also explores new artistic disciplines and mixes photography with collage, acrylics with printed material, and much more.
The artist is represented by Joël Knafo Art Gallery.
Gottfried Salzmann lives and works between Paris and Vence, France.
Featured image: Gottfried Salzmann – artist portrait, photo credits – People Check
All images © the artist and Galerie Welz
| Year | Exhibition Title | Museum/Gallery | Solo/Group |
| --- | --- | --- | --- |
| 2015 | Gottfried Salzmann in New York | Franklin Bowles Galleries, New York City, USA | Solo |
| 2015 | Gottfried Salzmann | Joel Knafo Art, Arles, France | Solo |
| 2015 | Gottfried Salzmann – Stadtlandschaften von Paris nach New York | Galerie Wolfgang Exner, Vienna, Austria | Solo |
| 2013 | Gottfried Salzmann | Galerie Welz, Salzburg, Austria | Solo |
| 2013 | Gottfried Salzmann | Franklin Bowles Galleries, New York, USA | Solo |
| 2013 | Cityscapes | Galerie 48, Lyon, France | Solo |
| 2013 | Recent works | Galerie Arcturus, Paris, France | Solo |
| 2013 | Atmospharen | Salzburg Museum, Salzburg, Austria | Solo |
| 2013 | Nicole Bottet, Gottfried Salzmann | Galerie22, Cabrieres d'Avignon, France | Group |
| 2013 | Vater_Tochter | STRABAG Art Lounge, Vienna, Austria | Group |
| 2012 | Gottfried Salzmann | Kubinhaus Zwickledt Museum, Wernstein am Inn, Austria | Solo |
| 2011 | Nicole Botter - Nieves - Gottfried Salzmann | Galerie Welz, Salzburg, Austria | Group |
| 2011 | Salzmann + Salzmann | Fischhorn Castle, Austria | Group |
| 2011 | The Schomer Haus in the Essl Museum | Essl Museum, Klosterneuburg, Austria | Group |
| 2009 | Lentos Art Museum | Best of Austria, Linz, Austria | Group |
| 2008 | The City of Salzburg - Views from Five Centuries | The Salzburg Museum Neue Residenz, Salzburg, Austria | Group |
| 2008 | Unknown | L'Espace Raymond Moretti, Paris, France | Group |
| 2007 | One Man's Tribute to September 11th | Austrian Embassy, Washington, D.C., USA | Group |
| 2006 | Gottfried Salzmann | Salzburger Museum, Carolino Augusteum, Salzburg, Austria | Solo |
| 2006 | Gottfried Salzmann. New York, New York. Print Works | Galerie Welz, Salzburg, Austria | Solo |
| 2006 | Gottfried Salzmann. Book Presentation & New Works | Galerie Wolfrum, Vienna, Austria | Solo |
| 2005 | Gottfried Salzmann | Galerie Welz, Salzburg, Austria | Solo |
| 2003 | Gottfried Salzmann | Salzburg Museum, Salzburg, Austria | Solo |
| 2001 | Gottfried Salzmann | Musee de St. Maur, La Varenne, France | Solo |
| 1999 | Gottfried Salzmann | Metropolitan Museum, Manila, Philippines | Solo |
| 1999 | Gottfried Salzmann | Museum of Modern Art, Rupertinum, Salzburg, Austria | Solo |
| 1998 | Gottfried Salzmann | Palais Benedictine, Fecamp, France | Solo |
| 1996 | Nicole Bottet Gottfried Salzmann | Centre d'Art Contemporain, Rouen, France | Group |
| 1993 | Gottfried Salzmann | Musee de la Seita, Paris, France | Solo |
| 1991 | Gottfried Salzmann | Oberosterreichisches Landesmuseum, Linz, Austria | Solo |
| 1987 | Gottfried Salzmann | Schweinfurt Municipal Collection, Schweinfurt, Germany | Solo |
| 1982 | Gottfried Salzmann | Albertina Museum, Vienna, Austria | Solo |
| 1973 | Gottfried Salzmann | Maison de la Culture, Amiens, France | Solo |