If we were forced to define him in one short sentence, we would describe Hirabayashi Takahiro as a fine painter of peaceful themes and calm lines. In a time when too many of our artists are desperately trying to make their work seem as aggressive and direct as possible – whilst preferably being very provocative as well – a man like Takahiro comes as a real breath of fresh air. One of the most promising painters emerging from Japan in recent years, Takahiro depicts themes with strong inner meaning through the medium of oil painting and centres his work around concepts of his deep spirituality. Besides creating pieces both challenging and interesting to analyze, the cherry on top comes from the fact Hirabayashi managed to develop his talent and style to a point his composition started offering stunning visual experiences too.
Takahiro And Jizo
Hirabayashi Takahiro was born during the year of 1984 in Nagano, Japan. This capital town of Nagano Prefecture is famous for its Zenkō-ji – a 7th-century Buddhist temple that overlooks the city and serves as both a religious and a touristic center that attracts over a million visitors each year. Naturally, the inhabitants of Nagano have developed a strong bond with this temple and its traditional spirituality. Growing up in this kind of atmosphere provided Takahiro with a deep understanding of every aspect Buddhism has to offer. Although this trademark temple is the focal point of Nagano, Hirabayashi was never so fond of Zenkō-ji as much as he was of the stone statues of Jizo, a Bodhisattva. This ancient deity is revered as a protector of the vulnerable and the guardian of travelers. Hirabayashi loved the stories about Jizo's teachings and this fascination never truly left the artist, even when he got a bit older and decided to move to Tokyo with intentions of seeking further education. Takahiro got his Bachelor's Degree in Tokyo Gakugei University in 2007 and completed the Master's Degree in Tokyo University of the Arts during the year of 2011. It was during these college times that the artist started to develop his expressive approach based upon the cultural motifs of his hometown. However, even though his art was relying almost completely on the topics of Buddism, Takahiro's paintings turned out to be very relatable to all the audiences of the world. This is probably down to the universal nature of Buddhism's spirituality that does not require you to be an actual member of its religion to fully understand what it desires to achieve.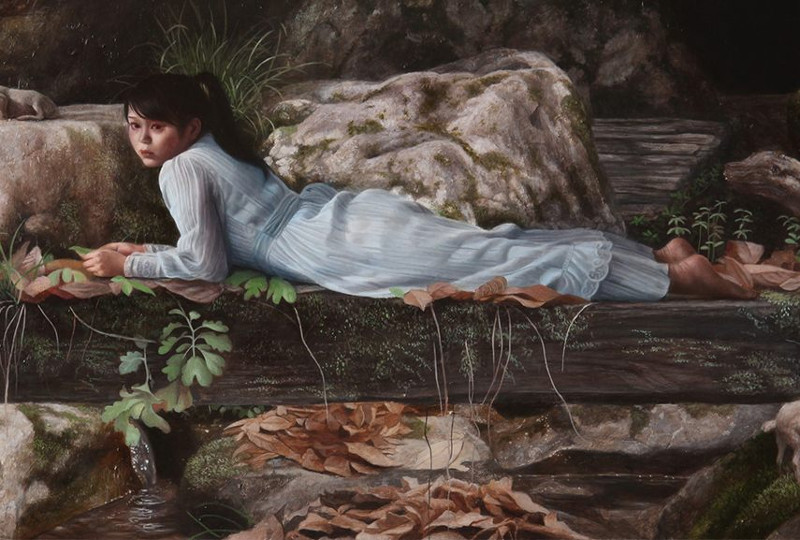 Takahiro Paintings
As was clued earlier, the most intriguing feature of Hirabayashi Takahiro's art is his skillful inclusion of Buddhism's mythology within the paintings he creates. The artist has been known to use the elements of this religion to give further clues to what his art might ultimately mean. Never revealing too many details about his pieces, the central theme in his work is something that Takahiro likes to define as boundries. His paintings examine the borders between the land and sky, man and nature, childhood and adulthood – all the while exploring our relationships with these contradictions. How we match and fit with nature, how we journey through early to late periods of our lives, how we are all somehow connected, what is the relationship life has with death – these are the questions for who Takahiro desires to give mystical answers. As metaphors used for achieving such deep meanings, Takahiro reaches for his depictions of young girls, represented as perfect examples of innocence and purity. They serve as a guide (or a guardian, if you choose to interpret them as such) to all of us caught in that between state, somewhere in the midst of our lives and nature around us. This is one of the more obvious Buddhistic elements we've mentioned before, as the general feeling of Takahiro's pieces is comparable to the state your mind is supposed to achieve while meditating. Hirabayashi's guides are emotional and gentle spirits, usually implied by the way they attract butterflies – a traditional Buddhist symbol for tenderness. The way Hirabayashi dresses his subjects can be associated with the types of clothing worn by Jizo, but that is not all they share with this eastern God. We often see girls in Takahiro paintings as they are guiding animals out of containment into freedom, looking up at the sky and below at their reflections in water, or resting on lily pads at the surface. This can all be in one way or another connected to Jizo and legends told about him.
The girls in Takahiro's compositions can be defined as mystical guides and guardians of our spiritualities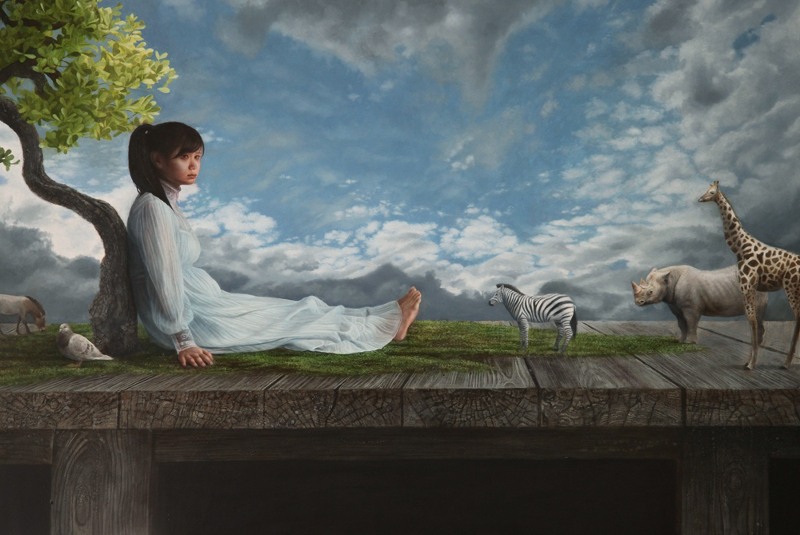 Ideally Calm And Peaceful
When asked why he chose these exact themes that he did for his work, Hirabayashi Takahiro explained: Initially, I was attracted to the special nature of my hometown's Japanese belief systems, but Buddhism is such a fundamental faith and does not only apply to Japan. It has themes that can be found in cultures worldwide and I have been heading in a direction to make works that can appeal to anyone. It's fair to say that Takahiro was successful in his endeavours as his pieces really are able to reach viewers of all nationalities and religions, completely independent from the boundaries of geography. Ultimately, this artist's work can be described as perfectly serene, full of peacefulness that characterizes Buddism as a religion and a way of life. Some thanks are definitely in order, as his painting are actually capable of transporting some of their calmness onto audiences with great effects.
The artist is represented by Corey Helford Gallery in Culver City, California.
Hirabayashi Takahiro lives and works in Tokyo, Japan.
Featured Image: Hirabayashi Takahiro – Untitled, 2015 – Photo Credits Hirabayashi Takahiro
All Images Photo Credits Hirabayashi Takahiro