Hugo Dalton's artworks are hard to fathom and even harder to categorize. There's so much subtlety and lightness in everything he creates – his wall paintings seamlessly blend with the wall itself and his light drawings resemble transparent deep sea creatures peacefully floating in the water. Even though Dalton is a young artist, there's a liberating sense of peace in his art, somewhat similar to the ancient beauty and wisdom we can find in the zen artistry of the Far East.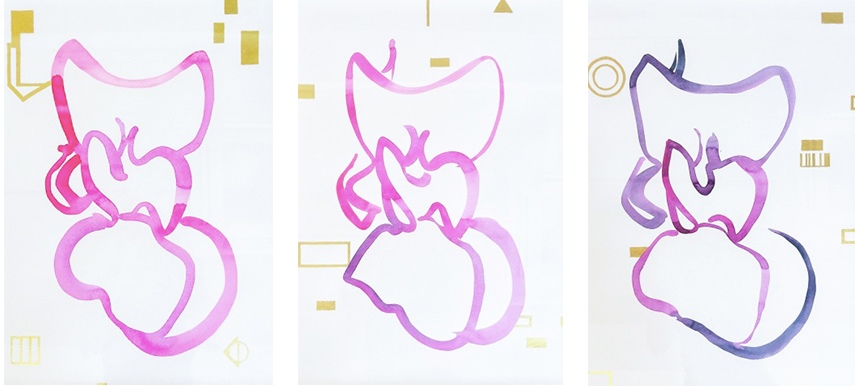 Site-specific Artworks
Hugo Dalton graduated from Goldsmith's College in 2002 and he was the best student in his class, awarded First Class honors. His teachers quickly recognized his great talent and unique approach to painting directly on the wall. This subcategory of painting is a very old and traditional genre, but Dalton breathed some freshness and light into it. He is a formally educated painter who knows the rules and because of that also possesses a freedom to break them when needed. Even though he's still following the main guidelines of drawing from life, his approach is more playful, modern and appealing to the contemporary taste in art. The fact that his art is in accordance with modern aesthetics brought him a fulfilling career. He is often hired to paint the walls of public buildings and all of his artworks are site-specific, carefully selected to fit their surroundings. Because of this, public buildings are his largest gallery space. He made many wall paintings for Barneys in New York, Gave House in Hong Kong and also Park Hyatt in Beijing.
Dalton's soft swirly wall painting releases the tension of the angular minimalist space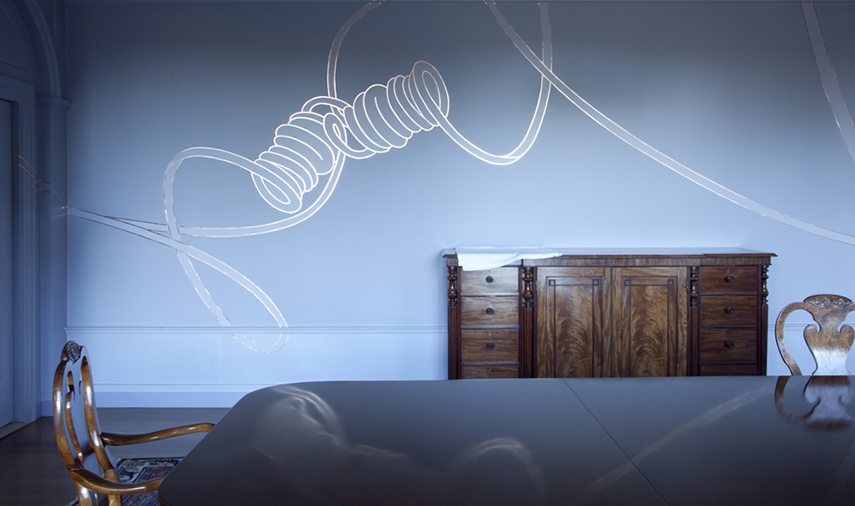 Sensing the Space
Dalton's philosophy is simple just like his artworks – he's trying to fully understand each and every space he's about to decorate. After years of practice, he became highly proficient in adapting the flow of his ideas to the particular location. Of course, every location represents a new challenge. For example, his latest series of paintings is featuring the nature of Hong Kong and the motif of bamboo is repeatedly used in his simple floral patterns. Dalton's goal is to let the local sights, smells and textures permeate his heart and mind and get permanently trapped inside his work. Hong Kong has been very inspirational for the artist and this city allowed him to take a leap in the different direction. He became interested in light drawing, a form of art that requires a light projector in order to display the work. Light drawing is a versatile form of art and it can be combined even with non-visual arts, such as music and dance. A great example of that are Live Music Drawing events, where the artists collaborate – a musician is playing some piece, while the visual artist is trying to follow the rhythm of the music with brush or pen strokes.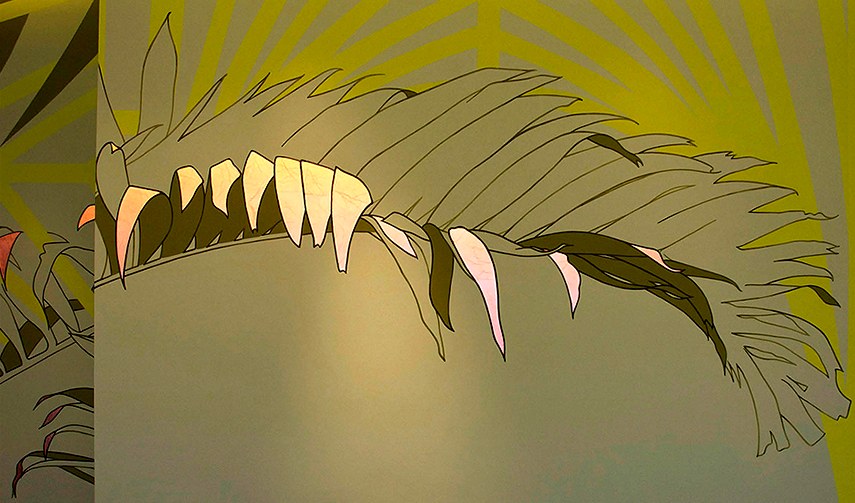 Calm and Order
Dalton's art is all about inducing the sense of harmony and balance between the architectural elements of a particular location and the lines of a certain artwork. His approach is always gentle and never invasive – almost like a well-trained doctor, he knows how to heal and improve various environments by decorating them the right way, so they open up and appear more wholesome. Dalton's paintings have a memorable elegance and it's impossible to mistake him for any other artist, which means his style is quite mature in its distinctiveness.
Hugo Dalton lives and works in London.
Featured image: Hugo Dalton  – Crown of Thorns, 2014
All images copyright of the artist
| Year | Exhibition Title | Gallery/Museum | Solo/Group |
| --- | --- | --- | --- |
| 2015 | Museum of Musical Instruments | RCM London | Solo |
| 2014 | By the Light of the Moon | Slowtrack Gallery Madrid | Solo |
| 2014 | Invasive Species | Joyce Gallery, Beijing | Solo |
| 2013 | Mother Nature | Bow Arts Trust, London | Solo |
| 2012 | Mother Nature BDSM | Bow Arts Trust, London | Solo |
| 2012 | Drawing Now | Carroussel du Louvre, Paris | Group |
| 2012 | Kalliphillia | Vegas Gallery, London | Group |
| 2012 | Echoes | Fine Art Society, London | Group |
| 2011 | Hugo Dalton | Today Art Museum, Beijing | Solo |
| 2011 | Recent Work | AM Space, Shanghai | Solo |
| 2011 | Polemically Small | Charlie Smith Gallery, London | Group |
| 2011 | The Future Can Wait | Bloomsbury Square, London | Group |
| 2011 | British Art Now | KCC, Lithuania | Group |
| 2011 | The Secret Language of Flowers | Andipa Gallery, London | Group |
| 2011 | Signal 8 | Cat Street Gallery, Hong Kong | Group |
| 2010 | Hugo Dalton | Hong Kong Art Fair, Hong Kong | Group |
| 2010 | British Art Now | Gallerie Werkstatte, Berlin | Group |
| 2010 | We Are Not Witches | Saatchi Gallery, London | Group |
| 2009 | Coexistence | Cat Street Gallery, Hong Kong | Solo |
| 2009 | Shoebox | Haunch of Venison | Group |
| 2008 | Light Drawings | Fine Art Society, London | Solo |
| 2008 | Scope Art Fair | Fine Art Society, London | Group |
| 2007 | London Art Fair | Fine Art Society, London | Group |
| 2007 | White Out | Fine Art Society, London | Group |
| 2007 | Group Show | 20 Hoxton Square, London | Group |
| 2006 | Still Life | Rossetti Studios, London | Solo |
| 2006 | Monochromed | Fine Art Society, London | Group |
| 2005 | Experimental Spaces | Museum of Hastings, Sussex | Group |
| 2004 | Opening Space | Dosa 818, Los Angeles | Group |
| 2004 | Chase | Royal College of Art, London | Group |
| 2004 | Uth | New Inn Yard Gallery, London | Group |
| | | | |
| | | | |
| | | | |