It is undeniable that there is an overflow of information occurring in contemporary life, and regardless of its format, it just keeps flooding in. Be it visual or audio data, the capabilities of modern technology provided by its exponential evolution allow for an enormous width of the transmitting channels, creating an unparalleled base of source data. Taking advantage of this fact is the Korean artist Hyo Myoung Kim, whose practice involves using the digital media to create a large variety of artistic expressions. His knowledge and skill in photography are largely shown in his artistic oeuvre which also includes sound pieces, installations, videos, as well as digitally constructed and animated images.
 Hyo Myoung Kim's practice involves using the digital media to create a large variety of artistic expressions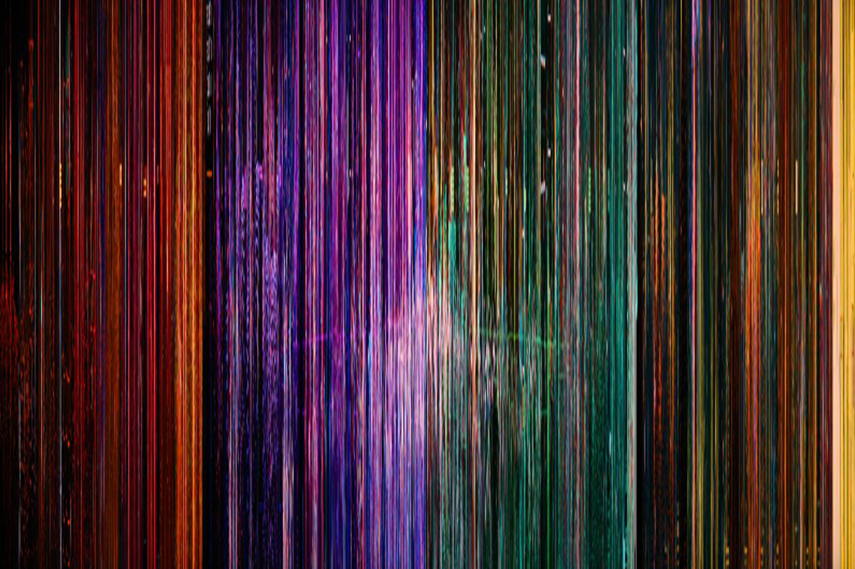 Visually Saturated Culture
Born in 1972 in Seoul, Korea, Hyo Myoung Kim grew up to see the rise of technology and its rapid progress that has occurred in the recent past, leaving an influence not just on him but on the whole contemporary culture. Marked with a tie of technological network, the current society only moves forward towards an iterative future in Hyo Myoung Kim's eyes, one built upon the internet and the basic elements of image, video, text and sound. Through his practice he seeks to explore the visually saturated culture, deconstructing its components in order to produce an audio-visual experience that represents a map of the original source material. Inspired by some of the early chrono-photographers Eadweard MuyBridge and Étienne-Jules Marey, Hyo Myoung Kim achieves his desired effect by using his photographic skills, capturing portions of time and movement in stackings of digital slit-scans.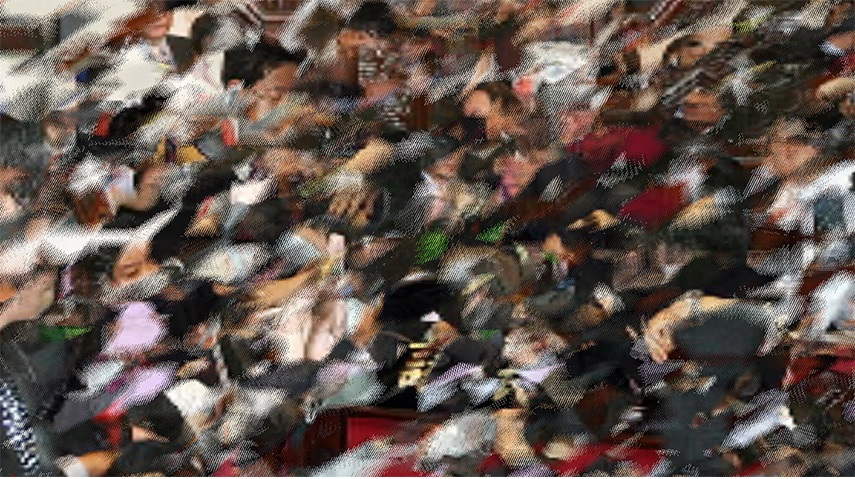 Between Virtual and Physical Reality
Receiving his MFA from Slade School of Art, Hyo Myoung Kim has been greatly motivated and focused on carrying out his artistic ideas. Inspired by the evolution of technology, and specifically the visual aspect and capabilities of video games and resolution in the past couple of decades, the artist uses both audio and video input from these sources as his primary material, changing it and building upon it. More than just the video games, his mesmerizingly detailed pieces that seem to be on the border of virtual and physical reality have a variety of origins, including Google image searches, films, and music.
Mesmerizingly detailed pieces seem to be on the border of virtual and physical reality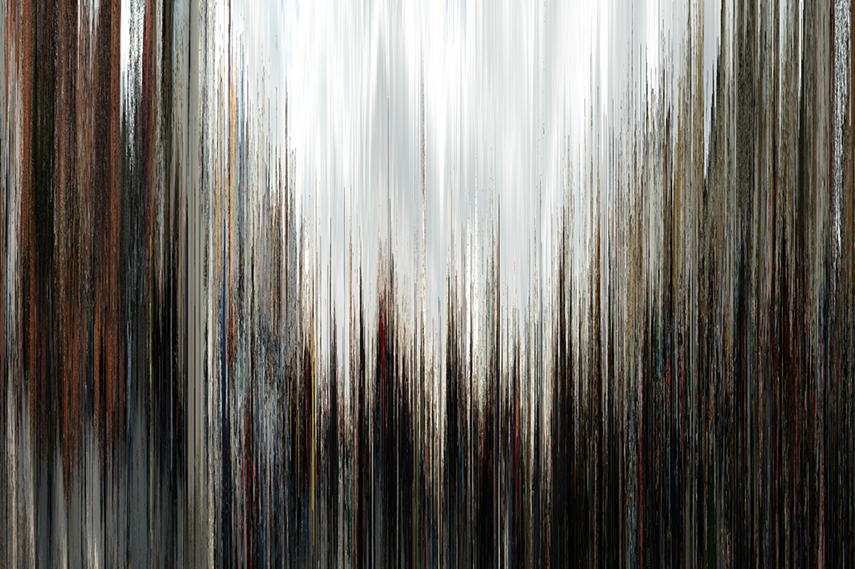 Exhibiting Innovation
The work of Hyo Myoung Kim has been exhibited internationally on multiple occasions and rightfully so. The level of detail in his works is perhaps best portrayed in his project 1001 Nights (2012), which is formed out of 1001 digital photographs stitched together. Regardless of the piece, his innovative approach is undoubtedly gripping, portraying in itself the encompassing technological environment. As does the future of such culture develop relentlessly, so does Hyo Myoung Kim's artistic practice grow internationally.
The artist is represented by Gazelli Art House.
Hyo Myoung Kim lives and works in London.
Featured image: Hyo Myoung Kim – Untitled – Shore (detail), 2006 – 2009. All photo credits hyomyoungkim.com.
All images used for illustrative purposes only.
| Year | Exhibition Title | Museum/Gallery | Solo/Group |
| --- | --- | --- | --- |
| 2015 | The Approach | Gazelli Art House, London | Group |
| 2015 | Ways of Something The Wrong (again ) | New Digital Art Biennale | Group |
| 2015 | Ways of Something | SAIC, Chicago | Group |
| 2015 | Ways of Something | Kurzor_gallery, Prague | Group |
| 2015 | Ways of Something | Vivid Projects, Birmingham | Group |
| 2015 | Ways of Something | Kino Morava, Vesení nad Moravou | Group |
| 2015 | Ways of Something | Western Front, Vancouver | Group |
| 2015 | Ways of Something | SAW VIDEO Media Art Centre, Ottawa | Group |
| 2015 | Ways of Something | Moving Image Istanbul, Istanbul | Group |
| 2015 | Ways of Something | The Photographers' Gallery, London | Group |
| 2015 | Ways of Something | Transmediale, Berlin | Group |
| 2015 | Ways of Something | The Photographers' Galley, London | Group |
| 2014 | Ways of Something | Transfer Gallery, New York | Group |
| 2014 | Ways of Something | Gray Area, San Francisco | Group |
| 2014 | Ways of Something | Galerie De, Olomouc | Group |
| 2014 | Clusterfuck Zoo | The Great Hall, Toronto | Group |
| 2014 | Red Tape | Gazelli Art House, London | Group |
| 2014 | Alone Together | 15 folds, London | Group |
| 2013 | BYOB Bring Your Own Beamer | The Laundry, London | Group |
| 2013 | Eternal Internet Otherhood, The Wrong | New Digital Art Bienale | Group |
| 2013 | Anatomize ::: Closing Reception go 'Trunks, Stems & Heads' for Rollin Leonard | Transfer Gallery, NY, US | Group |
| 2013 | David Bowie is, Opening Party | Art Gallery of Ontario, Toronto | Group |
| 2013 | Clusterfuck Zoo ::: Closing Reception for 'The Axis of Something' for Lorna Mills | Transfer Gallery, NY, US | Group |
| 2013 | Remembering Ina Coretchi: Hyo Myoung Kim and Vincenzo Albano two person show | EBRD, London, UK | Group |
| 2013 | Intervals | Gazelli Art House, London, UK | Group |
| 2013 | When Analog was Periodical | Z-bar, Berlin, Germany | Group |
| 2012 | Screening at THE TIMEKNOWLEDGE CONTINUUM | Hoxton Art Gallery, London, UK | Group |
| 2012 | This is London | Shizaru Gallery, London, UK | Group |
| 2012 | On the Move | Gazelli Art House, London, UK | Group |
| 2012 | Hyo Myoung Kim solo show | Gallery White Birch, Seoul, South Korea | Solo |
| 2011 | Boundaries | Gazelli Art House (with C99 Art Project), London, UK | Group |
| 2011 | Art London | Gazelli Art House, London, UK | Group |
| 2011 | The Great Alonso | Gallery Primo Alonso, London, UK | Group |
| 2011 | Still or Sparkling | Gazelli Art House, London, UK | Group |
| 2011 | Saturation | Lewisham Art House, London, UK | Group |
| 2011 | An Exchange with Sol Lewitt | Massachusetts Museum of Contemporary Art (Mass MOCA), Cabinet, NY, US | Group |
| 2011 | BYOB Munich - Hotel Sahara | Kunsthof Türkenstr. 78, Munich, Germany | Group |
| 2011 | BYOB London | LuckyPDF,(online) | Group |
| 2011 | BYOB London | The Woodmill, London, UK | Group |
| 2011 | Art Projects | Gazelli Art House, London Art Fair, London, UK | Group |
| 2010 | MA/MFA Degree Show | Slade School of Fine Art, London, UK | Group |
| 2010 | Lexicon | Camberwell Space, London, UK | Group |
| 2009 | Supervisions | Korean Cultural Centre UK, London, UK | Group |
| 2009 | Graduate Studies Interim Show | Slade Research Centre, London, UK | Group |
| 2009 | Work Song Works | Gallery Primo Alonso, London, UK | Group |
| 2009 | Sequel | Strang Print Room, London, UK | Group |
| 2009 | Voice and nothing more | Slade research Centre, London, UK | Group |
| 2008 | Future Film | Camden Arts Centre, London, UK (Screening) | Group |
| 2008 | SIDESHOW | Gallery Primo Alonso, London, UK | Group |
| 2007 | Arts in Process | Trinity Buoy Wharf, London, UK | Group |
| 2006 | Cut & Paste | The Old Sweet Shop, London, UK | Group |
| 2005 | (Im)material Spaces | Blue Elephant Theatre, London, UK | Group |
| 2004 | Xhibit '04 | The Arts Gallery, London, UK | Group |