A Calligraffiti artist and freelance graphic designer, INKMAN (real name Mohamed Kilani Tbib) is one of the most promising talents of Tunisia in full artistic effervescence since 2011. As he admitted in his TEDx lecture, "…calligraffiti changed my life".[1] But what is it exactly? The term was coined by a Dutch artist Niels Shoe Meulman in 2007 as a title for his exhibition, who described it as as "traditional handwriting with a metropolitan attitude" and a "way of translating the art of the street to the interior of museums, galleries, and apartments". It is a combination of calligraphy (the art of writing – it can have many forms, from Arabic pictural scripts, Japanese ancient brush characters…) and graffiti (the art of getting a name up in urban environments, perfected in New York City, and nowadays it's a worldwide phenomenon).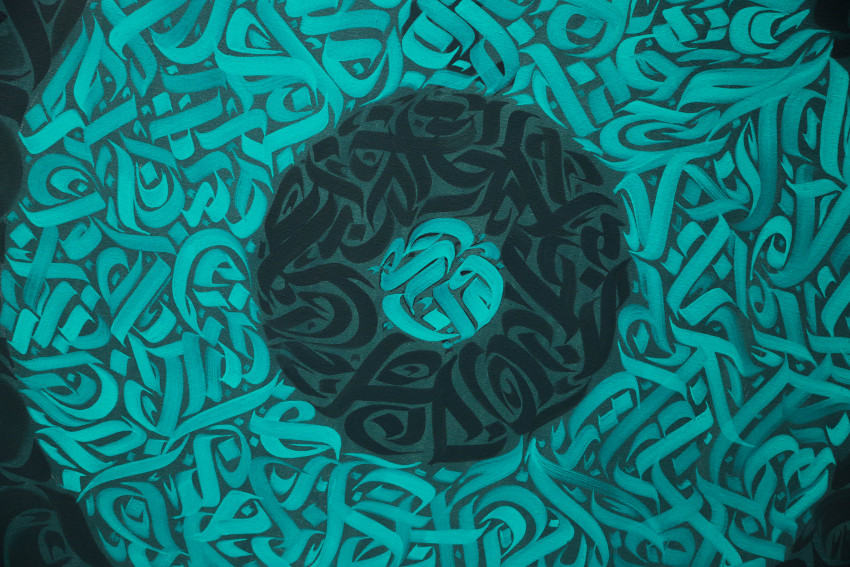 The Combination of Calligraphy and Graffiti can Change Your Reality
INKMAN faced many hard decisions in his life, starting with quitting his business studies. It was a risk he had to take since the alternative would sooner or later prove to be unbearable. Complete aware of the difficulties he was bound to face in the beginning, he decided he would rather face them head on and end up doing what he loves than spend the rest of his life as a miserable person, forever regretting not taking that risk and following his dreams. From an early age, he had a strong artistic spirit, being attracted to poetry, setting poems on paper where he expresses his love of humanity, respect and celebrates the spirit of tolerance. After quitting his business studies, INKMAN enrolled into Higher School of Sciences and Design Technology in Denden, Tunisia, where he earned his National Diploma of Graphic Design in 2015. And there, during his Graphic Design studies, he discovered the fascinating world of typography and the opportunities it provides for the creation and the visual composition of a work.
Navigation between three languages is at the core of his works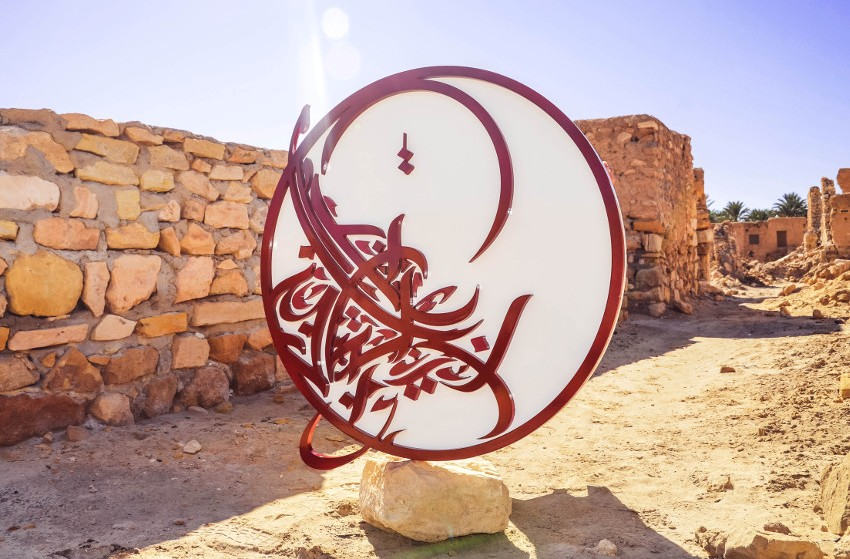 The Art of INKMAN
After experiencing excruciating emotional pain and thinking that he had lost the person he was in love with for six years, INKMAN began creating calligraffiti, combining the expression of personal feelings, calligraphy, and geometric shapes, delivering bold compositions on various media, first wall and then canvas. He was sharing his pain with everyone through his work. "The letters were expressing emotions. I was drawing this fantasy world that I've built that was now my sanctuary. Due to my hopeless love for this person, I discovered a bigger love for this art that consumed me". Inspired by so many great artists, he began reaching out to them, seeking their advice and opinion. Drawn to street art and in pursuit of a new adventure that will distance him away from the pain, he decided to forge a new style. So he took English letters and mixed them with the beauty of Arabic and Latin characters. "Whenever I'm holding a brush, start a new adventure, new canvas, and a new artwork, I disappear between those lines and I let the letters speak about what I feel."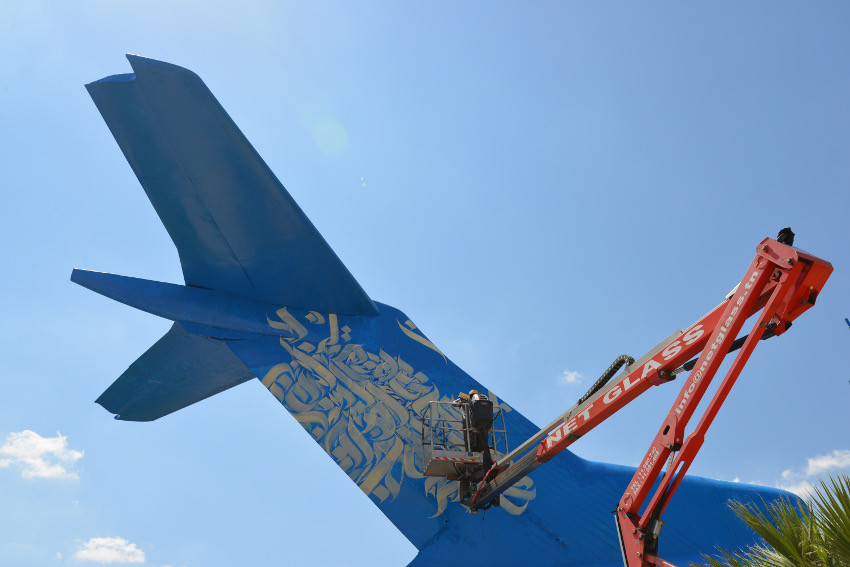 Take Risks
A restless artist perpetually in research, INKMAN used Calligraffiti, turned them into a universal language, inviting beauty and making them understandable by all – as evidenced by the success encountered at each of his interventions abroad in the Middle East and Europe. What he recommends to all who aspire to become artists: "Just believe in yourselves, keep pushing yourselves as far as you can, because you will fail and them you will succeed – failure can be the key to your success. Take risks, without risks, life is pointless and meaningless."
INKMAN lives and works in Tunisia.
References:
Tbib M. K., Failure as a Power to Start and Succeed, TEDxAPBS [December 13,2016]
Featured image: INKMAN with his artwork Happy Sculpture
All images courtesy of the artist