Brief artist statement:
How do memory and reality coalesce when it comes to painting and the portraiture of subjects? Through a convoluted imaginary, effervescent with symbolism, Ivana Flores inhabits in her work different fields of simultaneous experience: reality, dream, everyday life and imagination merge at a turning point of boundless consciousness of self-image and world. Under a singular theme – the inner reality of things, whimsical forms travel back and forth between solid representation and more primary aspects of the human experience, liberating the sensorial and the visible from opaque abstractions and locating vulnerability.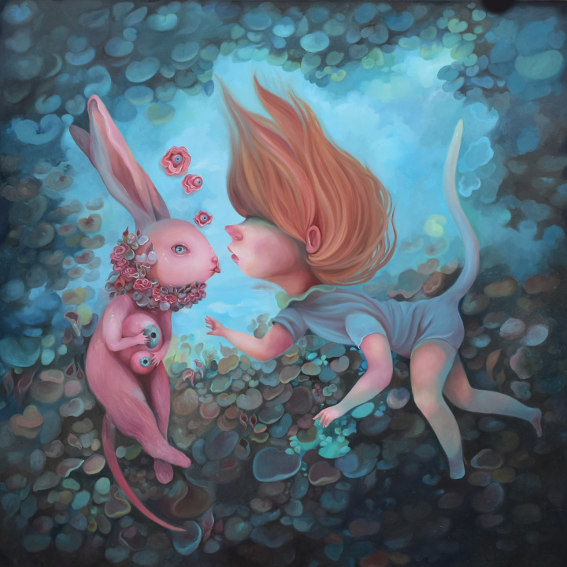 Taking cue from the epic grandeur of historical painting, Flores constructs her body of work as a timeless primeval story with archetypes – both anthropomorphic and zoomorphic, juxtaposing eras and configurations. Her critical realism, inflected with magic, blurs the thin line between the representable and the imaginable, expanding artistic practice to direct utterances directed at the viewer, by means of reducing the visual distance. Always warm and inviting, the women-centric paintings in the exhibition take on the harshness of a homeless world, by creating in it a safe yet fluid place for joy and happiness, for expectation and hope.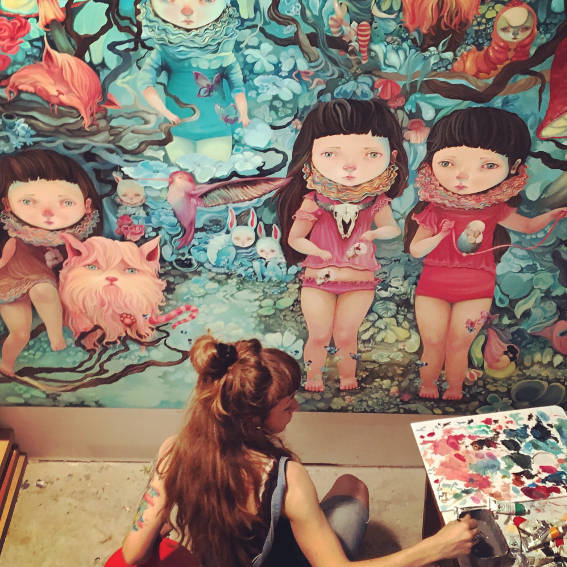 Ivana Flores blends her childhood memories with her fantasies of the future and the realities of everyday life to create paintings that are beautiful, intriguing and thought-provoking. The paintings are filled with whimsical figures living in an imaginary world that seems strange yet familiar. The playful, theatrical characters, shown in different situations and moods, reflect the various facets of our inner and outer worlds.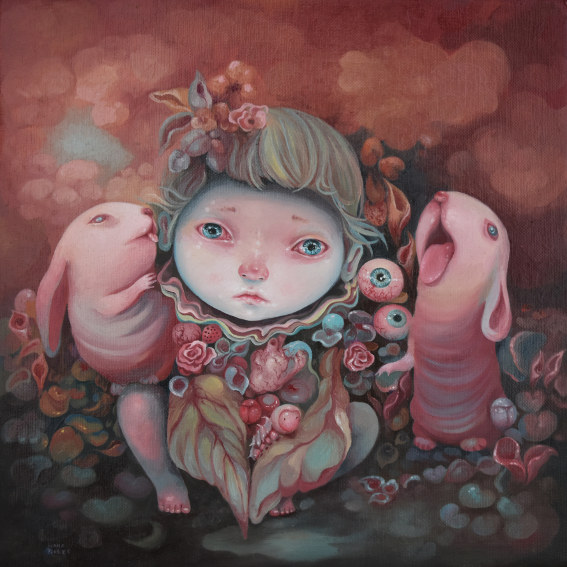 Ivana blurs the lines between different eras, histories and identities in her paintings, creating a safe yet fluid space for her mostly female characters to express their innermost feelings and thoughts. The imaginary world created by Flores depicts the dualities and contradictions that exist in our lives. Her part-human, part-animal figures convey a sense of alienation that every viewer can identify with. They stare inquisitively out of the canvases, compelling viewers to confront themselves and to explore the reality of human existence. The artist's paintings are essentially autobiographical, but the stories they tell and the questions they ask have universal resonance.
Featured image: Ivana Flores – in her studio
All images courtesy Fousion Gallery
| Year | Exhibition Title | Museum/Gallery | Solo/Group |
| --- | --- | --- | --- |
| 2017 | The Power of Nature - Flowerpeeper | Pasadena, California | Group |
| 2017 | Wild Nights & Day Dreams | Fusion Gallery, Barcelona, Spain | Group |
| 2017 | Group therapy | Base Elements, Barcelona, Spain | Group |
| 2017 | Potions | Spells and Magic, Penumbra gallery, Portugal | Group |
| 2017 | Glad to be Unhappy | Muxart Museum, Spain | Solo |
| 2016 | The Coaster Show | La Luz de Jesus, L.A. | Group |
| 2016 | Startrek show | Gristle art gallery, New York | Group |
| 2016 | The Ultimate First Experience | HS-LAB, Japan | Group |
| 2016 | Lapiz | papel o tijera, PLASTIC MURS, Spain | Group |
| 2016 | Seven Floors to Heaven | Plastic Murs, Spain | Solo |
| 2015 | Welcome Home | PLASTIC MURS, Spain | Group |
| 2015 | The Milky Way of the Mice | The Mine, Dubai | Solo |
| 2014 | ego - WEART FESTIVAL | Barcelona, Spain | Group |
| 2014 | Victor Castillo & Ivana Flores duoshow - Catching butterflies with hands | LA ATOMICA, Spain | Group |
| 2014 | Barcelona Drawing City | Wallrus, Paris, France | Group |
| 2013 | subversion - WEART FESTIVAL | Barcelona, Spain | Group |
| 2013 | E-DIVE (disseny HUB) | Barcelona, Spain | Group |
| 2013 | Princess & Queens | Bigote del senor Smith, Spain | Solo |
| 2013 | I wish you a good trip | Convent de sant Agusti, Spain | Solo |
| 2013 | Paintings & Pinturas | Pati manning, Spain | Solo |
| 2012 | BAD (barcelona art district) | Barcelona, Spain | Group |
| 2012 | SWAB (international art fair) | Barcelona, Spain | Group |
| 2011 | SWAB (international art fair) | Barcelona, Spain | Group |
| 2002-2010 | firsts group shows in Barcelona | LA SANTA, Barcelona, Spain | Group |