Jack Pearce is a British artist best known for using indian ink and a paintbrush to create distinctive sprightly, spindly-limbed male characters "full of brotherly love " while doing things such as skating, partying or hugging.
Jack Pearce and Skateboard Culture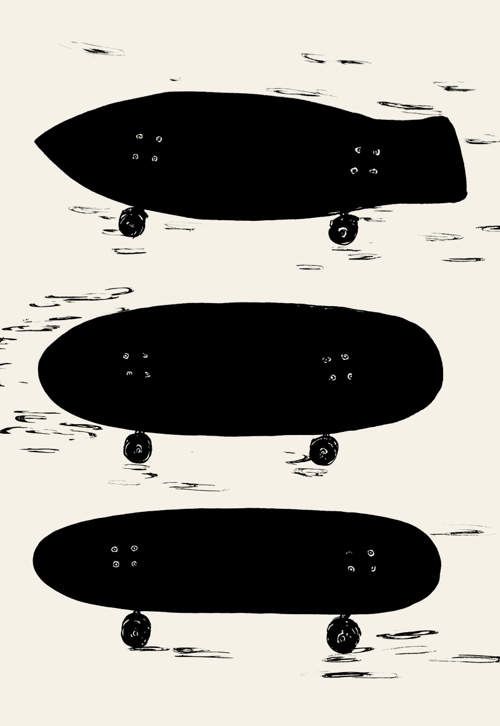 Pearce belongs to a new generation of young contemporary artists grown up influenced by skate culture – the ethics and spirit it has encouraged. It's a movement, without a doubt headed up by free-thinking artists and skateboarders, such as Ed Templeton or the anarchic enigma, Neckface.
"After I first saw Ed Templeton's graphics for Toy Machine when I was a teenager I measured everything else against them."
Jack Pearce, London based illustrator, found the way to express his art in mentality of skateboard culture:
"Nobody told me how to paint the way I do – it's just something I figured out. Skateboarding in my opinion is the same; you don't really get taught – you just go do it."
Indian Ink, Crayon, Pencil and Calligraphy Pen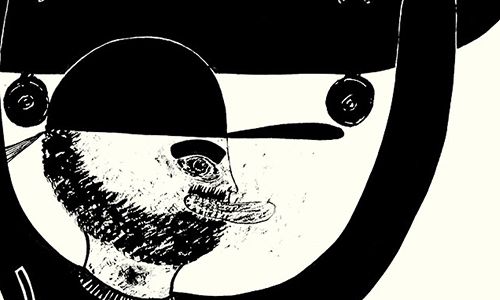 Jack Pearce's style is crossing paths with the street art culture he was brought up into. However, it also takes elements directly from skateboard graphics this artist was obsessed over through his teen years.
As for the tools and techniques Pearce is using – there is a difference between black and white illustrations and the colored ones. For b&w he uses Indian ink with two sizes of paintbrush, and the process is way simpler and quicker than for the ones he is coloring. For those characters a fair few different mediums are needed, such as crayon, pencil and calligraphy pen.
"For an Indian ink dude or dudes I just have an idea in my mind of a certain scenario for them to be acting out and get it down quick. For my more recent color works the process is much more drawn out, the bodies are filled with intense pattern and faces built up with multiple layers of crayon scratched away and then reapplied."
Tribalistic Influence and Brotherly Love
Pearce has spent a lot of time developing his skills and technique to create such captivating long limbed and loose lipped characters that demand closer contemplation. Throughout almost all of his work it is present the philosophy of so called Bromance – a close, emotionally intense, non-sexual bond between two or more men.
Very skilled and original in combining themes from both native and contemporary popular culture, Pearce interprets traditional ideas of brotherhood within a modern context while his characters appear both modern and rooted in ancient culture.
Pearce's Bromance depicts 'dudes having a good time'. His exploration of male relationships and rituals revolves around playful characters hanging out, skateboarding and drinking beers.
When he first started creating the Bromance tribe he admits that he was obsessed with pattern and created dudes and some ladies that were completely covered in pattern:
"Pattern is something that helps me define my characters' statuses within the tribe with their patterned party hats. The tribalistic influence is something that was an unconscious process but now it's become the focal point of my work. "
Another detail is very much exploited by this artist – the beard. Pearce says that he has been intrigued by beards from an early age, resulting that all the male characters in his work have one:
" I like how they cover up people's faces almost like a disguise. Few years ago when I first started painting these bearded tribesmen I wasn't man enough to have one of my own but as the characters developed so did the hair on my face."
Bromance: Pearce-s First Solo Show at Atomica Gallery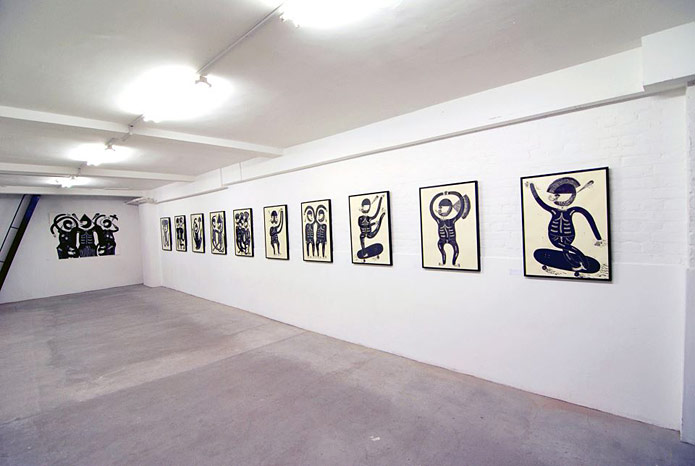 In 2013, Jack Pearce held his first solo exhibition at Atomica Gallery in London, a rad contemporary art space run by creative cats Orla Bennett and Holly Lander featuring everything from pop surrealism, low-brow, and Polynesian pop to illustration, modern folk, tattoo artistry and naïve pop. The show titled Bromance comprised of a series of Jack's signature A1 sized compositions alongside other work showcasing his unique tribal-influenced style. Pearce's goal with this show was to remind people that guys can have fun together without others passing negative judgment:
"Essentially all the work I have created for my solo show revolves around bro-ing out with your friends and having a good time; drinking beers, licking each other's faces, in an endearing way of course, not in a sick way. The ideas for my drawings often come from observing the friendships of others, male or female. Behind the idea is an opinion I have about the way male friendships are perceived."
The pieces at this exhibition fitted together like a jigsaw puzzle, as artist himself said, illustrating bearded tribesmen performing Bromance-orientated rituals. At the time he was preparing his first solo exhibition, he was also painting a series of murals at the Queen of Hoxton in East London, on the stairwell leading up to the rooftop teepee and fire pit.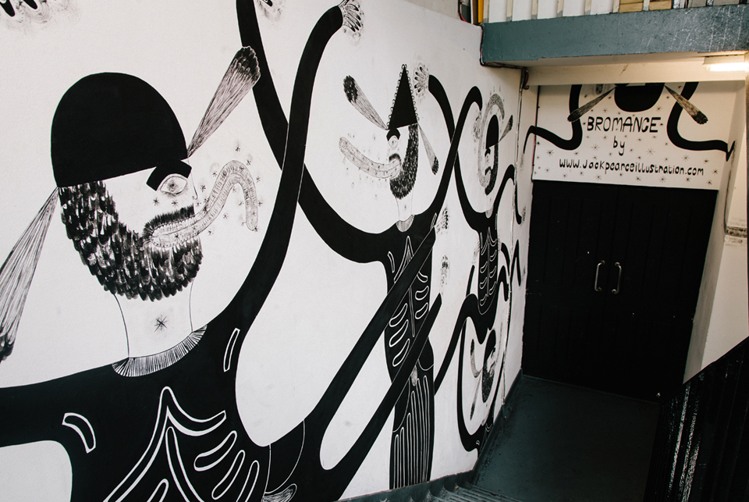 Bro – down at Notting Hill Arts Club
In 2015, Notting Hill Arts Club presented Jack Pearce's mural based exhibition, titled Bro – down. The exhibition introduced Jack's sprightly, spindly-limbed male characters covering the interior walls of the NHAC.
'Bro-Down' explored the process of bonding between each member of his bearded Tribe. Through his large based Bro characters on murals, the viewers were able to follow the rituals of good old bromance, and got an insight into how they get-down.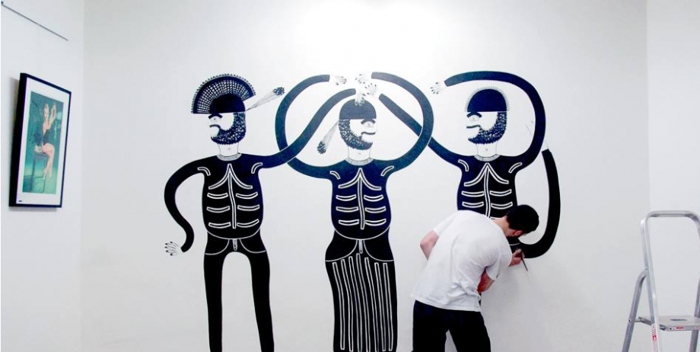 Fauxmance
The Fauxmance is the title of Jack Pearce's exhibition in 2015, at Atomica Gallery, London.
"In contrast to the feelings of 'Bromance' between close friends that I have explored previously, 'Fauxmance' illustrates the affected familiarity we act out when we're unsure of where we stand."
Fauxmance tribe members are very often connected by antiquated motifs including their armor-like costumes and hats. Physically entangled and united by a sense of joyful abandon, Pearce's Fauxmance tribe have an androgynous quality with complex and menacing dynamics at play. For this show, Pearce chose to use characters of indeterminate genders and not to allow any stereotypical assumptions, but simply to look at the way society as a whole handles unclear etiquette:
"Through the interactions between breasted, skirt-wearing individuals I aim to reveal the hidden unease that can lie beneath the surface of social situations."
Fauxmance tribe characters can seem in harmony with one another at first glance, but after a closer inspection – their body language reveals undertones of agitation. Impeccably executed Pearce's fine details are juxtaposed against the playfulness of the Fauxmance tribe's spirit.
Jack Pearce lives and works in London, UK.