James Bridle is a British artist whose work covers the intersections of literature, culture and technology. He is best known for coining the New Aesthetic term.
New Aesthetic
Bridle was born in London at the end of the 80s. He has a Master's degree from University College London in Computer Science and Cognitive Science, specializing in Linguistics and Artificial Intelligence. He is an artist, writer, journalist, and publisher who is writing on literature, culture and technology. Bridle creates artworks and installations commissioned and exhibited worldwide, but his maybe most notable contribution to contemporary art is the minutely formulation of his term New Aesthetic. This term refers to the increasing appearance of the visual language of digital technology and the Internet in the physical world – the blending of virtual and physical. Even though this phenomenon has been around for quite a time it was James Bridle that articulated the precise notion through a series of talks and observations.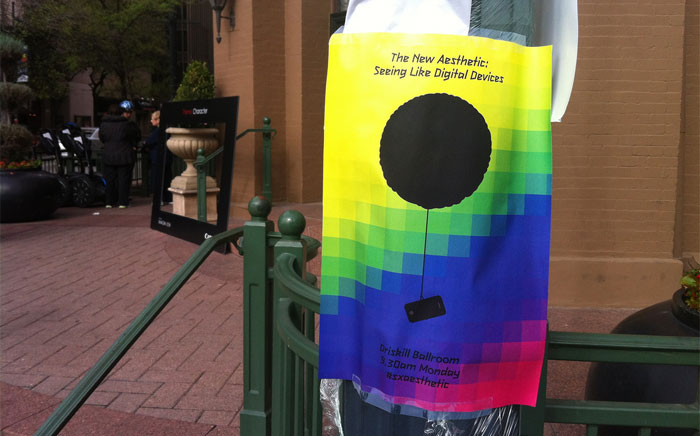 The New Aesthetic project started with this blog post:
"For a while now, I've been collecting images and things that seem to approach a new aesthetic of the future, which sounds more portentous than I mean. What I mean is that we've got frustrated with the NASA extropianism space-future, the failure of jetpacks, and we need to see the technologies we actually have with a new wonder. Consider this a mood-board for unknown products."
The New Aesthetic term gained bigger attention at the SXSW conference in 2012. South by Southwest (SXSW) is a set of film, interactive, and music festivals and conferences that take place early each year in Austin, Texas since 1987. It was there where this theory spurred lively debate and it continues to inspire critical and artistic response across many disciplines.
Drone Shadows and Dronestagram
James Bridle cherishes a long-standing investigative interest in modern network infrastructure, government transparency, and technological surveillance. In 2012 he focused his inquiry on addressing the subject of drones (Unmanned, Aerial Vehicles, or UAVs) in projects titled for example The Drone Shadow series. The project was done in collaboration with designer Einar Sneve Martinussen, and Dronestagram (a social media tool that identifies recent areas of drone strikes, awarded with an Honorary Mention from Ars Electronica 2013).
His efforts to strip the veil of secrecy from drones and to encourage his audience to ask questions about the weapon went so far that he has created a drone identification kit so that people can see what these unmanned devices look like.
Drone Shadows is a project of full-scale outline of a drone – a drawing of unmanned aerial vehicles that carry out surveillance and air strikes. One of these life-sized outlines of military drones drawn on the ground to depict their "invisible" presence topped the Graphics category at Designs of the Year 2014.
He did not spare the White House either. In 2013 his show at the Corcoran Gallery of Art in Washington DC, right across the WH put the attention on this sneaky new technology. He truly posed questions in White House's shadow!
By using all the tools available, from Google Maps to social media platforms, Bridle explores technology's effect on its users and urges his audience to have an effect on technology, and not the other way around. For he is a true artist and activist, hoping to calls into question our sometimes blind reliance on technological systems with which we come into contact every day.
"The invisibility of the drone follows the invisibility of many of our contemporary, networked technologies – the drone is shorthand for the internet, for all of our technologically-mediated experiences, as well as being a compelling image of today's endless, borderless wars."
Drone Shadows are subsequently commissioned for exhibitions, festivals and events in London, Washington DC, Istanbul, and Brighton…
Bridle's blog booktwo.org
James is also a member of the the Really Interesting Group, a design partnership based in East London that "thinks about things that connect the web and the world". They are designers, developers and strategists with expertise in the web, publishing and the internet of things that have done projects for clients like Apple, Nike, Innocent, Penguin, Umbro and the BBC.
Since 2006, Bridle is writing a blog (booktwo.org) about literature, technology and the network. He is also very active collaborator in newspapers and magazines. Bridle's work has been featured in The Guardian, The Daily Mail, New York Magazine, and The New Statesman, among others. His writings appear in publications including Wired, ICON and The Observer, where he contributes a regular column on publishing and technology. He is a member of the Really Interesting Group and gives regular lectures at conferences worldwide, including SXSW, Austin; dConstruct, Brighton; and Lift, Geneva. James Bridle was creative technologist in residence at the Lighthouse, Brighton and Eyebeam in New York.
Algorithmic Citizenship, Citizen Ex and Render Ghosts project
In 2015, his project titled Algorithmic Citizenship presented a new form of citizenship "one where your citizenship, and therefore both your allegiances and your rights, are constantly being questioned, calculated, and rewritten." Citizen Ex is an extension for web browsers which makes visible the physical infrastructure that underlies the internet, mapping the location of web sites, and visualizing the user's "algorithmic citizenship". An accompanying website included more background on the nature of citizenship, and essays on digital human rights issues.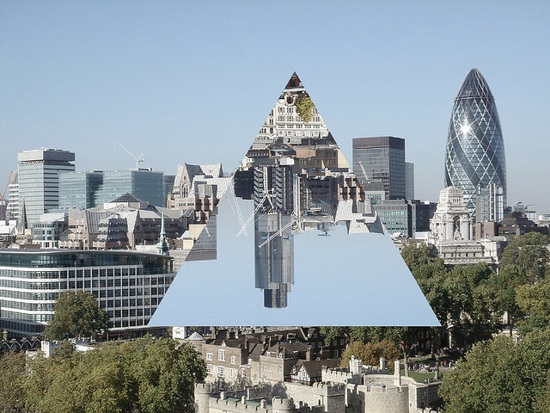 Citizen Ex was co-commissioned by The Space and created for Southbank Centre's Web We Want festival. That same year, to celebrate the launch of Citizen Ex, a series of twelve free-standing figures was installed around the Royal Festival Hall, at the Southbank's Web We Want festival. Each of those figures corresponded to one of the Citizen Ex domain stories – a short version of the relevant essay printed on the back.
The figures were originally sourced from open-source and press photographs found on the web of people from the locations of the domains in question, and connect this work to the ongoing Render Ghosts project – an ongoing project exploring architectural visualizations, and the people in them.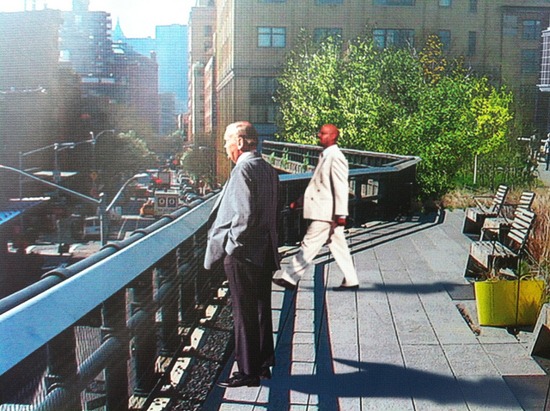 Bridle's artworks have been shown at major international institutions including the Barbican and the Victoria and Albert Museum, London; LABoral, Gijon; ZKM Karlsruhe, National Arts Center, Tokyo; Milan Design Fair; Bienal International De Curitiba; and the Istanbul Design Biennial.
Bridle has received an Honorary Mention at the Prix Ars Electronica 2013 and an Excellence Award from the Japan Media Arts Festival 2014. He has been shortlisted for the Future Generation Art Prize 2014 and won the Design Museum Graphics Design of the Year 2014.
This artist is represented by NOME.
James Bridle lives in London. Usually.
All images copyright © the artist