J.A.W. Cooper is a British artist currently based in Los Angeles who deftly assembles her compositions and narratives with a wonderfully flowing line that boastfully characterizes all her illustrations. With drawings that are simultaneously filled with both a steadfast confidence and a tangible vulnerability, J.A.W. Cooper builds up a delicate sense of duality cleverly echoed within her female protagonists and their various animal companions. Vivid, refreshing and full of life, her pieces are a true pleasure to look at and analyze.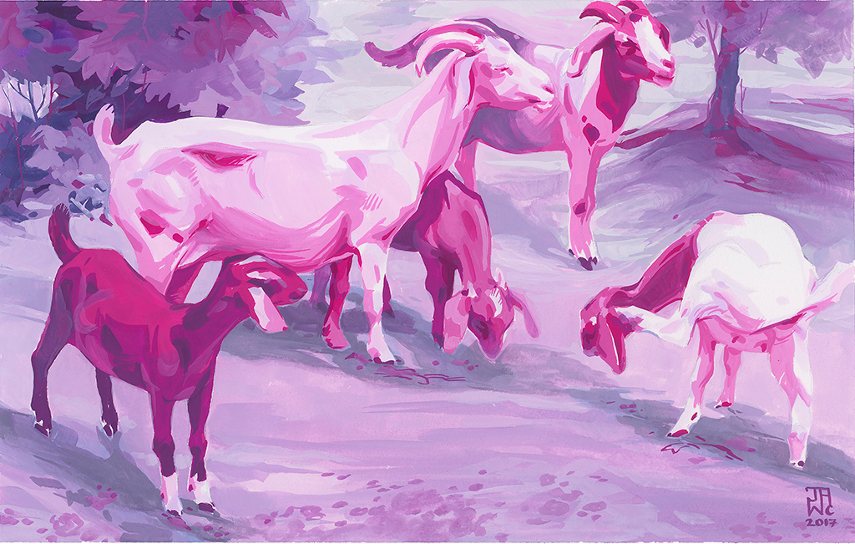 A Diverse Road Leading to a Unique Art Style
J.A.W. Cooper was born in England but, due to the nature of her parents work who were both freshwater ecologists at the time, she grew up in countries all over the world. Cooper spent time in Kenya, Sweden and Ireland, among other places, and all of them were instrumental in the forming of the young artist's style and themes. When she got a little bit older, the aspiring illustrator studied Communication Arts at Otis College of Art and Design where she received a BFA in the year of 2009. Since graduating, J.A.W. Cooper has managed to establish herself as a successful freelance illustrator and a much sought after fine artist. Furthermore, her artworks have appeared on the walls in numerous high profile galleries.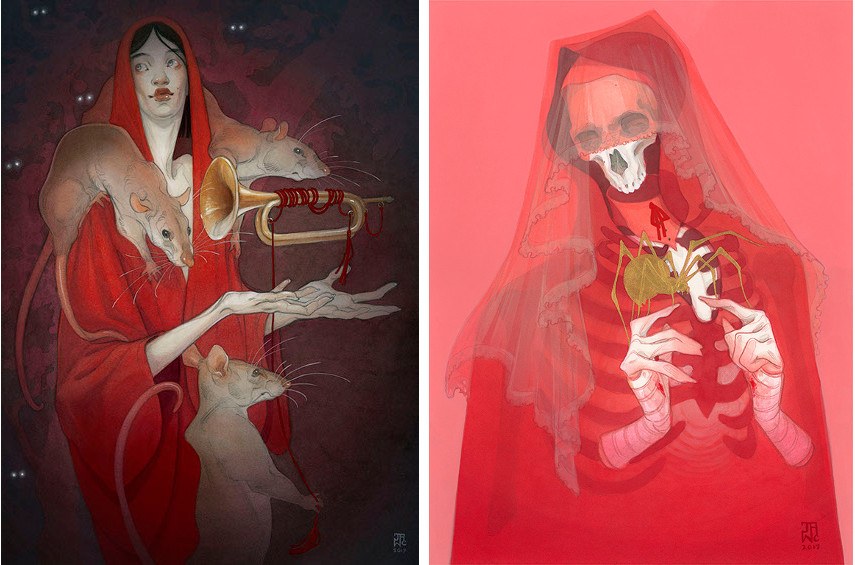 Taking a Look at Her Illustrations
Working simultaneously as a freelance illustrator, art director and fine artist out of her Los Angeles studio in recent years, J.A.W. Cooper's career has been on a upwards trajectory for quite some time now. She constantly draws inspiration from nature, curio cabinets and fashion photography, using these influences to explore the themes of life, death and the urgency of ephemerality. Her distinctive surreal visual style also advanced astonishingly as her art got more and more mature. It settled in an interesting conceptual foundation that saw Cooper create narrative based compositions which investigate the relationships between animals, nature and humans. J.A.W. Cooper's most recent works, exhibited in the halls of the Spoke NYC Gallery, show scenes and figures that oscillate between the paradoxical elements of strength and vulnerability, transformed into metaphors for life and death.
Currently based in Los Angeles, J.A.W. Cooper makes breath-taking illustrations that offer a tense survey of the complexities and paradoxes of the human spirit
Smooth Style and Captivating Concepts of J.A.W. Cooper
Looking at the world around her through a unique surrealistic lens, J.A.W. Cooper uses symbolism and metaphors so skilfully one could sware she was in the illustration business for decades. These analogies are employed with a sophistication which allows Cooper the leverage to communicate concepts sparked by the endless wealth of her inspirations. J.A.W. Cooper offers a unique exploration of the complexities and contradictions commonly associate with the human spirit, as well as revealing the equally complex relationships humans have with the animal kingdom and the natural world we all inhabit.
This artist is represented by Spoke NYC Gallery.
J.A.W. Cooper lives and works in Los Angeles, the United States.
Featured image: J.A.W. Cooper- Scissors (detail) – Image via Spoke NYC Gallery
All images courtesy of Spoke NYC Gallery.