Jayne Anita Smith is a British fine artist known for her paintings and drawings often featuring ambiguous environments populated by with eccentric and odd human figures in overt pain and suffering. Born in 1958 in London, Smith graduated from University College Falmouth gaining a BA Hons Degree in Fine Art in 2009. She is a member of Newlyn Society of Artists as well as of St. Ives Society of Artists.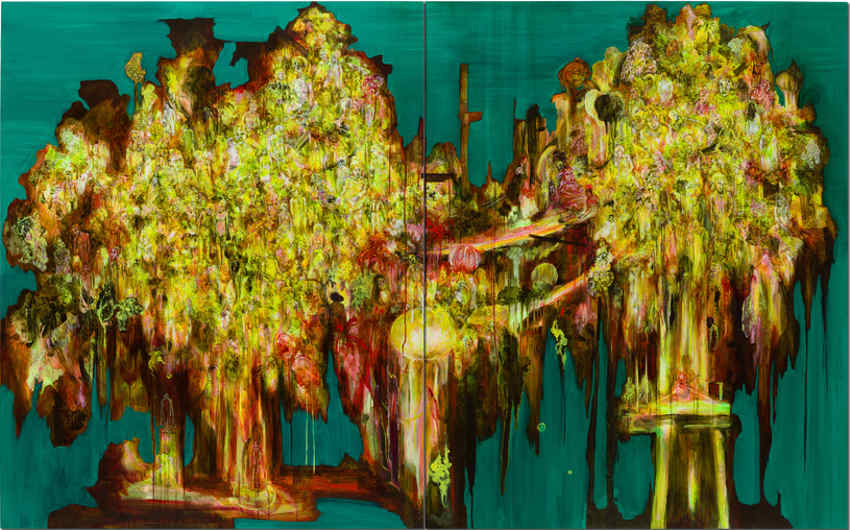 Apocalyptic Dreamscapes
Inspired by the imagery from photos, as well as old paintings and drawings, Jayne Anita Smith creates works that connect fiction with layers of reality in order to reflect a world beneath the surface of the reality known to all of us. She explores themes such as the loss of utopian ideals and the failure of modernism to connect with the human condition. Amongst others, the pieces Floating above the Watery Abyss, Heartbeats on White Ground and The Summer the Rot Set in are a reflection of that Jane's practice. Her apocalyptic dreamscapes are colonized by concrete architectural fabrications of a contemporary world. The scenes of petrified marginal spaces describe the search to reconnect to one's environment while breaking down the barriers set by the modern world.
She explores themes such as the loss of utopian ideals and the failure of modernism to connect with the human condition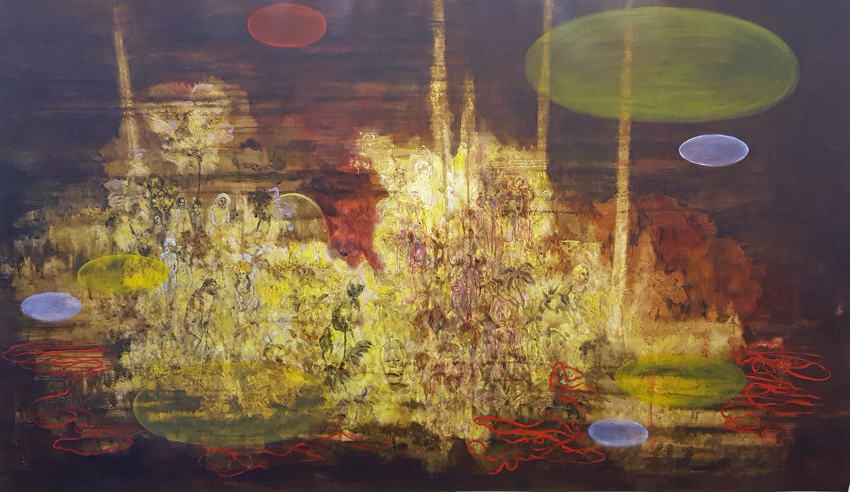 Jayne Anita Smith Art
Situated between consciousness and dream, the scenes of petrified marginal spaces in Jayne Smith's works are occupied by concrete architectural creations of a contemporary world. Sometimes these places seem to present dense forests or aspects of domestic interiors, such as fine Rococo chandeliers or wallpaper patterns formed from curls, drips, and washes of ink. The character and emotional expression of the figures in Jayne's paintings and drawings are informed by her reactions to the images of horror and suffering in news media. Wearing period clothing or no clothes at all, these strange semi-historical people are entangled within their environments, struggling to break free. In works such as Threads Re-knitting Themselves, Prop Shaft and Relapse, Jayne explores cultural and emotional displacement in a precariously complex environment.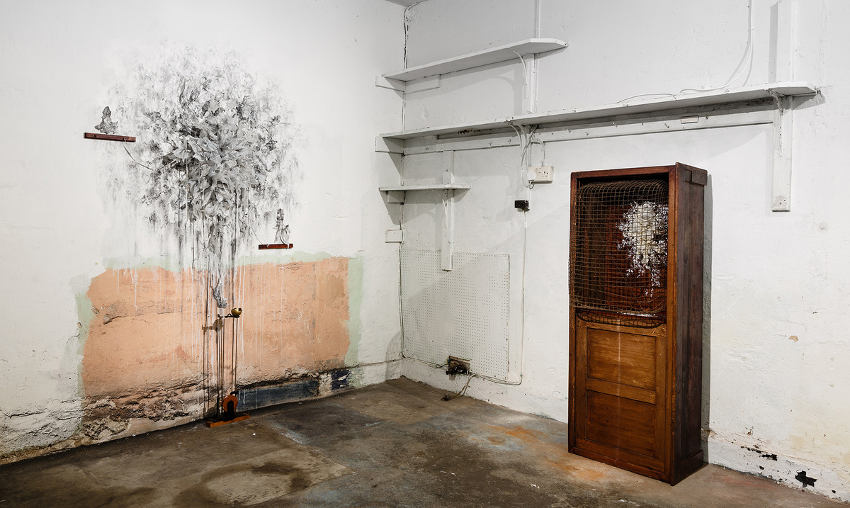 Exhibitions
Jayne Anita Smith has been included in many solo and group shows. In July 2015, she joined forces with Kate MccGwire and Juliette Losq at Gallery 8 in London for Complicit, an exhibition which offered a place for a series of unique work of these three strong female artists.
Jayne Anita Smith lives and works in Cornwall, UK.
Featured image: Jayne Anita Smith – detail of an artwork
All images copyright of the artist
| Year | Name of the exhibition | Museum/Gallery | Solo/Group |
| --- | --- | --- | --- |
| 2017 | Jayne Anita Smith | Coates and Scarry, Gallery 8, London | Solo |
| 2016 | Art Central | Hong Kong, Coates and Scarry | Group |
| 2015 | Context Art Miami | Coates and Scarry Miami | Group |
| 2015 | Complicit | Gallery 8, London | Group |
| 2015 | Black Swan Open | Frome, Somerset | Group |
| 2015 | RA Summer Exhibition | London | Group |
| 2015 | Feral Angel | Porthmeor Studios, St.Ives | Solo |
| 2015 | Badcocks Small Things Matter | Tremenherre Sculpture Gardens, Cornwall | Group |
| 2014 | Black Swan Open | Frome, Somerset | Group |
| 2014 | Wells Contemporary Open | Somerset | Group |
| 2014 | From There to here | Elysium Gallery, Swansea | Group |
| 2014 | Liminal | Limbo Residency, Southend | Group |
| 2014 | Cultivated Evolved Guest Artist | London | Group |
| 2014 | Who are CMR | CMR Gallery, Redruth | Group |
| 2014 | Feral Angel Drawing residency | Porthmeor Studios | Group |
| 2013 | Lucid | Bo lee gallery, London | Group |
| 2013 | Suspended Sentences | The Combe, Newlyn | Group |
| 2013 | Fiat Lux | Taap Painting collaboration, Truro | Group |
| 2013 | Leth | Limbo, Truro | Group |
| 2012 | Project 2012 | Mile End Pavillion, London | Group |
| 2012 | RWA Autumn Exhibition | Royal West of England Academy | Group |
| 2012 | Beep 2012 | Swansea | Group |
| 2012 | The other art fair | Marylebone, London | Group |
| 2012 | Odds against tomorrow | Bearspace gallery, London | Group |
| 2012 | The door painting prize | Bristol | Group |
| 2011 | Mostyn Open | Llandydno, Wales | Group |
| 2011 | PRINT | Exchange gallery, Penzance | Group |
| 2011 | Salon photo prize | Matt Roberts Arts, London | Group |
| 2010 | The Salon Art Prize | Matt Roberts Arts, London | Group |
| 2010 | Threadneedle Prize | Mall Gallery, London | Group |
| 2010 | After the End exhibition | Elysium Gallery, Swansea | Group |