Jennifer Caroline Campbell is a British visual artist known for her paintings and drawings in which she uses her signature palette of confectionery delights.
The Art of Jennifer Caroline Campbell
Inspired by London's diverse range of peoples and cultures, Jennifer Caroline Campbell has developed her unique body of work through the process of deconstructing, reducing and transforming what she visually perceive on a daily basis, resulting in an almost cartoonish abbreviation that tend toward abstract painting. Her works fit between three-dimensional and two-dimensional modes by avoiding their framing and allowing the exterior world to infiltrate their territory.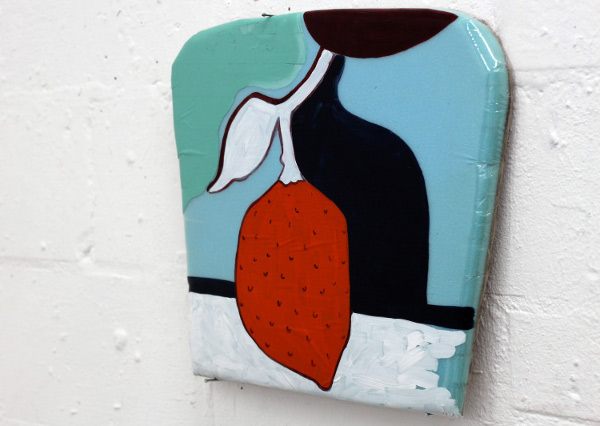 The young British painter is focused on temporary identity, with paint lending a flashy surface to the everyday material that she uses as a canvas.
Academic Background and Awards
Jennifer Caroline Campbell earned a BA in Fine Art from the Norwich School of Art and Design in 2008 and an MFA in Painting from the Slade School of Fine Art in 2014.
She was the winner of the Jeremy Cubitt Prize in 2013 which promote excellence in painting. The same year Campbell was the winner of the Barbican Arts Group Trust Prize which culminated in an exhibition in the same year at Artworks Project Space in London. In 2014, she was shortlisted for the Griffin Art Prize, as well as for the Land Securities studio residency.
Power Puff Princess
Power Puff Princess was Jennifer's first solo show in the United Kingdom since she completed her Masters studies in 2014. It was held at Marcelle Joseph Projects in London, in March 2015. For this two-day show, Jennifer Caroline Campbell created an entirely new body of work, melding the sculptural object with the painted surface.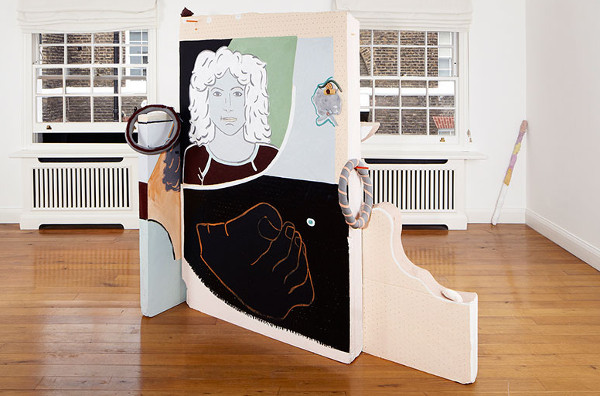 Grounded – Jennifer Caroline Campbell at Transition Gallery
Jennifer Caroline Campbell also has participated at many exhibitions, at Griffin Gallery, London (2014); Karst Gallery, Plymouth (2014); Artworks Project Space, London (2013); TAP Gallery, Southend on Sea (2013); The gallery in Redchurch Street, London (2011); Hello Everything Gallery, Bristol (2010); Departure Gallery, London (2010); The Marlborough, London (2010); Spike Island gallery, Bristol (2010); and The Passinger Fabrik Museum, Munich, among others.
Campbell's latest works are currently on view at Transition Gallery in London. Entitled Grounded, the show also features works of Chloë Manasseh and will be on view until August 16th.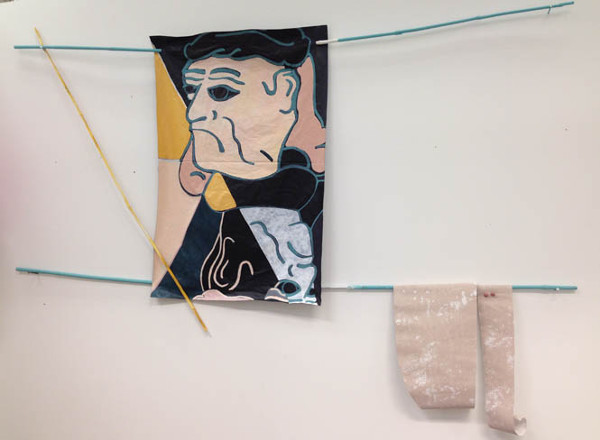 Jennifer Caroline Campbell lives and works in London, UK.
Portrait photography credits – Karl Dmitri Bishop.
| Year | Exhibition Title | Museum/Gallery | Solo/Group |
| --- | --- | --- | --- |
| 2015 | Grounded, with Chloe Manasseh | Transition Gallery, London | Group |
| 2015 | The Viriconium Palace | Bristol | Solo |
| 2015 | Power Puff Princess | Marcelle Joseph Projects, London | Solo |
| 2015 | Rosy Fingers | The Centre for Recent Drawing, London | Group |
| 2014 | Griffin Art Prize Exhibition | Griffin Gallery, London | Group |
| 2014 | Cocktail III | Karst Gallery, Plymouth | Group |
| 2014 | Gazpacho, the summer School Residents show | The Slade School of Fine Art, London | Group |
| 2014 | Slade MFA Show | The Slade School of Fine Art, London | Group |
| 2014 | 14/55 | Gemspace Gallery, Dalston Lane, London | Group |
| 2013 | The Windshow | The Camden People Theatre, London | Group |
| 2013 | Slade MFA/MA Interim Show | Slade Research Centre, London | Group |
| 2013 | Jamaica | Glasgow | Group |
| 2013 | Barbican Arts Group Trust Artworks Open | Artworks Project Space, London | Group |
| 2013 | Premonitions | TAP Gallery, Southend on Sea | Group |
| 2012 | The Thing In-Between | Changing Spaces, Cambridge | Group |
| 2012 | Ininland | Inland studios, Camberwell, London | Group |
| 2011 | Eastern Pavilions | Bethnal Green Library, London | Group |
| 2011 | The Late Shift, An off site project from The Sainsbury Centre for Visual Arts | The Forum, Norwich | Group |
| 2011 | Versailles | The gallery in Redchurch Street, London | Group |
| 2011 | The Impossibly Conjured World | Glove Box, Bristol | Group |
| 2010 | Hurry On Down | Hello Everything Gallery, Bristol | Solo |
| 2010 | Silent Night | Centre for Recent Drawing, London | Group |
| 2010 | Rhizomatic | Departure Gallery, London | Group |
| 2010 | The Stranger at the Party | Bristol | Group |
| 2010 | Hand Joy | Centre for Recent Drawing, London | Group |
| 2010 | Show and Tell | The Marlborough, London | Group |
| 2010 | Site specific performance at Spike Open | Spike Island gallery, Bristol | Group |
| 2009 | Alternating Between the Two | Pebbledash Gallery, London | Group |
| 2009 | Kunstwerk Bazaar | Outpost gallery | Group |
| 2008 | Invasion 8 | The Passinger Fabrik Museum, Munich | Group |