Jesse Reno is a self-taught American painter and muralist, whose art is based on his interest in native and primitive societies. Reno himself terms his art as neo-primitivism. Jesse Reno was born in Teaneck, New Jersey in 1974. He was born with an extreme fever, which caused severe damage to his optic nerve. Because of this, Reno spent almost his entire first year in a hospital, where doctors were trying to examine and evaluate all of the damages caused by the high temperature. As it turns out, fever affected blindspots in over half the visual field of his right eye and left him with a lazy eye and bad vision. All of these damages, as well as the chronic pain caused by the problems, affected his perception as a painter and an artist but hasn't stopped him from drawing since he could hold a pencil. His damaged vision causes strange distortions in depth perception, forcing him to always stay close to his works while painting. In addition, artist's vision is sensitive to both light and color, caused by a high level of contrast. Jesse Reno's different vision greatly shaped his art, both in a color pallet and in terms of depth within his paintings, murals and commissioned works.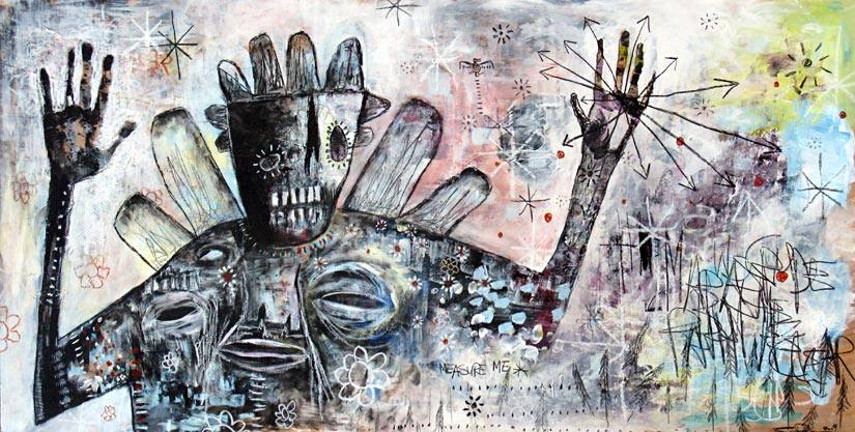 Complexity, Chaos, and Creativity
While creating art, Jesse Reno attempts to separate himself from thoughts and conscious ideas, in order to follow them only through his actions and movement. He typically works on 5 to 10 canvases at once, jumping between them, and in that way keeps himself from getting attached to one idea and allowing a thematic appearance to occur. Only in the final stages, he tends to make sense of the given imagery, by adding final touches which will contribute to an understanding of its meaning. The main intention of Reno's art is, for him, to give a sense of natural order while approaching painting with a random idea. His art conveys an inner struggle for expression, introspection, and visualization. As in primitive cultures, Jesse's creations remain pure as if they are his visual diaries open for interpretation, devoid of any predetermined ideas, technical process or pre-established art forms. The materials Reno uses include acrylic paint, oil pastels, and colored pencils, which he applies on surfaces like wood panel and canvas. With each new layer of paint, he comes closer to his personal purpose and truth.
The main intention of Reno's art is, for him, to give a sense of natural order while approaching painting with a random idea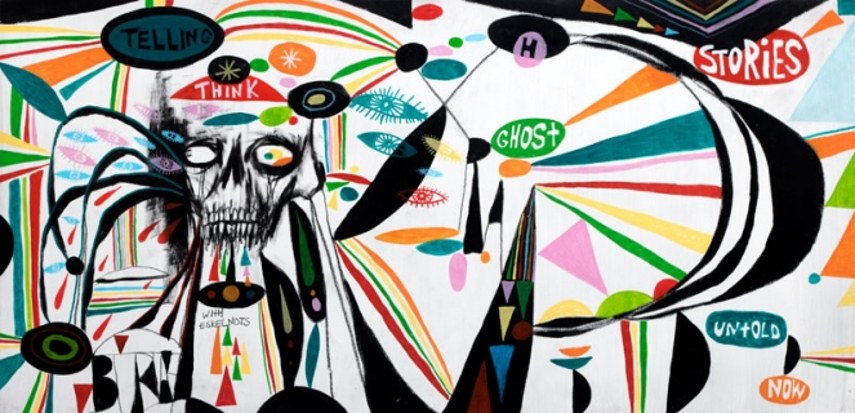 Symbols and Beings
Jesse Reno's art is characterized by symbolism, seeping with elements of mythology and archetypes. Through seemingly random shapes, colors, and markings, Jesse features anthropomorphic figures with human features and physiques. These shamanic beings, Totem animals, and Native American figures struggle to find their place in a world simultaneously on the verge of expanding and collapsing. Combined with features of animals such as snakes, birds, and deer, author's creatures are created to depict and explore the increasing disconnection between humanity and nature. The artist created his own symbology, with elements that carry meaning and interpretation, just like a legend of a map. His visual language incorporates symbols such as circle, square, line, X, crown, and stars. Understanding of Jesse Reno's visual symbols opens a dialogue where images truly are worth a thousand words.
Author's creatures are created to depict and explore the increasing disconnection between humanity and nature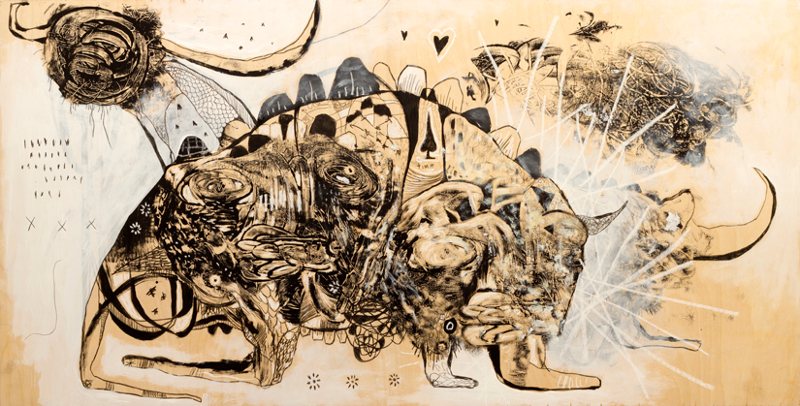 Jesse Reno's Public Studio, Exhibitions and Commissioned Works
Highly creative, Jesse Reno has created over 3000 paintings and drawings over a period of 15 years. He has been exhibiting his works since 2000, in various venues across the United States, Canada, France, Mexico, and many others. Reno's work has been featured in numerous publications such as Juxtapoz, Artnews, Artension, among others. In addition to painting, Jesse Reno also produces murals and commissioned works – such as paintings on guitars, surfboards, skis. As one of Portland's resident artists, Jesse's painted walls can be found around the town, as well as in other cities. One of his largest works can be seen in Winnipeg, Canada. Commissioned by the Province of Manitoba, Jesse Reno created a large-scale mural as a reminder of the cultural importance of the Native American people in the region. In 2014, Jesse Reno has moved into a public studio. The studio is open every day for the public to stop in and see over 300 paintings and works that are still in progress. It allows the viewers to truly experience Jesse Reno's art and his creative process. Under the name True Measure Gallery, the studio is located on Burnside Street, in Portland, Oregon.
Jesse Reno lives and works in his studio in Portland, Oregon.
Featured image: Jesse Reno – Portrait – Photo via yellowdoorartmarket.com
All other images copyright of the artist; All images used for illustrative purposes only
| Year | Exhibition Title | Gallery/Museum | Solo/Group |
| --- | --- | --- | --- |
| 2014 | Jesse Reno | Nebraska Gallery, Portland, OR | Solo |
| 2014 | Jesse Reno | Kate Alkarni Gallery, Seattle, WA | Solo |
| 2013 | Jesse Reno | Galleria Dante, Puerto Vallarta, Mexico | Solo |
| 2013 | Jesse Reno | The Hollow Gallery, Portland, OR | Solo |
| 2013 | Jesse Reno | RiverSea Gallery, Astoria, OR | Solo |
| 2013 | 10th Anniversary | Rotofugi Gallery, Chicago, IL | Group |
| 2013 | Group Show | AFK Gallery, Lisbon, Portugal | Group |
| 2013 | Group Show | Peoples Art Gallery, Portland, OR | Group |
| 2013 | Lake Oswego Festival Of The Arts | Lake Oswego, OR | Group |
| 2013 | Group Show | Kate Alkarni Gallery, Seattle, WA | Group |
| 2012 | Wolves Tails Crossed Arrows and Canoes | Rotofugi Gallery, Chicago, IL | Solo |
| 2012 | Jesse Reno | Contemporary Fine Arts Gallery, La Jolla, CA | Solo |
| 2012 | Jesse Reno | 5 Piece Gallery, Switzerland | Solo |
| 2012 | Jesse Reno | Artisans On Taylor, Port Townsend, WA | Solo |
| 2012 | Group Show | Galeria Exodo, San Juan, Puerto Rico | Group |
| 2012 | Group Show | Artisti Galerie, France | Group |
| 2012 | Lille Art Fair | Lillie, France | Group |
| 2012 | Group Show | Portland Art Museum, Portland, OR | Group |
| 2011 | Jesse Reno | Rougette Gallery, Rockland, Maine | Solo |
| 2011 | Jesse Reno | In3Arts Gallery, Metz, France | Solo |
| 2011 | Jesse Reno | Galeria Dante, Puerto Vallarta, Mexico | Solo |
| 2011 | Jesse Reno | Graeter Art Gallery, Portland, OR | Solo |
| 2011 | LAX – PDX | Together Gallery, Portland, OR | Group |
| 2011 | New York | Artisti Galerie, France | Group |
| 2011 | Group Show | Illiterate Gallery, Denver, Colorado | Group |
| 2010 | Reborn | Local 35, Portland, OR | Solo |
| 2010 | Jesse Reno | 19TEN, Portland, OR | Solo |
| 2010 | Objects of Desire | Artisans on Taylor Gallery, Port Townsend, WA | Solo |
| 2010 | Jesse Reno | Galeria Dante, Puerto Vallarta, Mexico | Solo |
| 2010 | Self Taught Artist Festival | L'Art Partage, Rives, France | Group |
| 2010 | Exposition Au-dessous des Volcans | Art contemporain, Muriac, France | Group |
| 2010 | Measuring and Collecting | Montonaro Gallery, Plymouth, RI | Group |
| 2010 | Outsider Art International Festival | Grand Baz'Art à Bézu, Bézu St Eloi, France | Group |
| 2010 | Edge of Love | Strychnin Gallery, Berlin,Germany | Group |
| 2010 | Measuring and Collecting | Select Design, Burlington, VT | Group |
| 2010 | Elements | Art Asylum, Boston, MA | Group |
| 2009 | Rooted in Stars and Magic | Nemo Design, Portland, OR | Solo |
| 2009 | When Free Will Becomes Destiny | Ayden Gallery, Vancouver, B.C. | Solo |
| 2009 | Jesse Reno | Lunar Boy Gallery, Astoria, OR | Solo |
| 2009 | Jesse Reno | Pi Art Gallery, Kansas City, MO | Solo |
| 2009 | Jesse Reno | Adidas Store, Portland, OR | Solo |
| 2009 | Jesse Reno | Local35, Portland, OR | Solo |
| 2009 | Jesse Reno | 19TEN, Portland, OR | Solo |
| 2009 | Jesse Reno | Nemo Design, Portland, OR | Solo |
| 2009 | Group Show | Gallery Roth, San Diego, CA | Group |
| 2009 | One Hundred Beasts | Giant Robot Gallery, San Francisco, CA | Group |
| 2009 | Happy Hour for the Apocolypse | The Goodfoot, Portland, OR | Group |
| 2009 | Outsider Art International Festival | Grand Baz'Art à Bézu, Bézu St Eloi, France | Group |
| 2009 | Delicieusement Singuliers | Chateau Corbin, Salle Gallilée, Liverdun, France | Group |
| 2009 | Group Show | Esvelt Gallery at Columbia Basin College, Pasco, WA | Group |
| 2009 | The Pioneers | Upperplayground, Portland, OR | Group |
| 2009 | The Harrington Collection | Courtenay BC, Canada | Group |
| 2009 | Juxtapoz 15th Anniversary Benefit Art Show | Los Angeles, CA | Group |
| 2009 | Group Show | Galleria Artevistas, Barcelona, Spain | Group |
| 2009 | Group Show | Backspace, Portland, OR | Group |
| 2009 | Group Show | Basil Hallward Art Gallery, Portland, OR | Group |
| 2009 | Group Show | Planet Rooth, San Diego, CA | Group |
| 2009 | Group Show | The Goodfoot, Portland, OR | Group |
| 2009 | Group Show | Ayden Gallery, Vancouver, BC Canada | Group |
| 2008 | Jesse Reno | Crude Things Gallery, Portland, OR | Solo |
| 2008 | Jesse Reno | Destroy Store, Portland, OR | Solo |
| 2008 | Secret Code | Screen Arts Gallery, Saint Augustine, FL | Group |
| 2008 | Collaboration Show with Lana Guerra | Goodfoot, Portland, OR | Group |
| 2008 | Other Worlds | Foundation One Gallery, Atlanta, GA | Group |
| 2008 | Brave Art | Telus Ski & Snowboard Festival, BC, Canada | Group |
| 2008 | Brave Art | Ayden Gallery, Vancouver, BC, Canada | Group |
| 2008 | Group Show | Montanaro Gallery, Newport, RI | Group |
| 2008 | Group Show | Fifty24SF Gallery, San Francisco, CA | Group |
| 2007 | Jesse Reno | BLK - MRKT Gallery, Culver City, CA | Solo |
| 2007 | Jesse Reno | The Life, Portland, OR | Solo |
| 2007 | Jesse Reno | Local 35, Portland, OR | Solo |
| 2007 | Jesse Reno | Pi Art Gallery, Kansas City, MO | Solo |
| 2007 | BMG Artists Annual | BLK - MRKT Gallery, Culver City, CA | Group |
| 2007 | These Bagels are Gnarly | Cinders Gallery in Brooklyn, NY | Group |
| 2007 | Fresh Produce | Anno Domini, San Jose, CA | Group |
| 2007 | Beast Show | Bell & Wissell, Seattle, WA | Group |
| 2007 | Brave Art | Telus Ski & Snowboard Festival, BC, Canada | Group |
| 2007 | Group Show | Wind Up Gallery, Pheonix, AZ | Group |
| 2007 | Brave Art | Encinitas, CA | Group |
| 2006 | Jesse Reno | Local 35, Portland, OR | Solo |
| 2006 | 100 paintings 500sq ft | Zeitgeist Gallery, Portland, OR | Solo |
| 2006 | Personal History | Pi Art Gallery, Kansas City, MO | Solo |
| 2006 | BMG Artists Annual | BLK - MRKT Gallery, Culver City, CA | Group |
| 2006 | Visual AIDS Benefit - Postcards From the Edge | Sikkema Jenkins & Co., Chelsea, NY | Group |
| 2006 | New Scenery | Upper Playground PDX and FIFTY 24PDX Gallery, Portland, OR | Group |
| 2006 | Brave Art | Ayden Gallery, Vancouver, BC | Group |
| 2006 | Said and Done | Alberta College of Art and Design, Alberta, Canada | Group |
| 2006 | Push | The Works, Edmonton, Alberta | Group |
| 2006 | Fresh Produce | Anno Domini, San Jose, CA | Group |
| 2006 | Nowdays Shuffle | Backspace, Portland, OR | Group |
| 2006 | Brave Art | Telus Ski & Snowboard Festival, Whistler, BC | Group |
| 2006 | Group Show | Jack Fischer Gallery, San Francisco, CA | Group |
| 2006 | Integrate | Ayden Gallery, Vancouver, BC | Group |
| 2006 | The Board Show | UNK Gallery, Salt Lake City, UT | Group |
| 2006 | Said and Done, Collaborative Project number two | Anti Social Gallery, Vancouver, BC | Group |
| 2006 | Feral Art Tour | Feral Gallery, Santa Fe, NM | Group |
| 2005 | Jesse Reno | Fix Gallery, Portland, OR | Solo |
| 2005 | Jesse Reno | Milk Studio, Portland, OR | Solo |
| 2005 | Feral Visions | Corridor Gallery, Seattle, WA | Solo |
| 2005 | Jesse Reno | Local 35, Portland, OR | Solo |
| 2005 | Jesse Reno | Backspace, Portland, OR | Solo |
| 2005 | Fresh Produce | A.D. Gallery, San Jose, CA | Group |
| 2005 | Vans Custom Shoe Show | Local 35, Portland, OR | Group |
| 2005 | Group Show | Popmart, Bethlehem, PA | Group |
| 2005 | Vinyl Killers 3 | The Goodfoot, Portland, OR | Group |
| 2005 | Solomon Custom Snowboard Show | Adidas Store, Portland, OR | Group |
| 2004 | Jesse Reno | New American Casuals, Portland, OR | Solo |
| 2004 | Jesse Reno | Milk Studio, Portland, OR | Solo |
| 2004 | Jesse Reno | The ID Gallery, Easton, PA | Solo |
| 2004 | Politically Motivated | Blah Blah Gallery, Plano, TX | Solo |
| 2004 | Group Show | Zeitgeist Gallery, Portland, OR | Group |
| 2004 | Group Show | Ahlum Gallery, Easton, PA | Group |
| 2004 | Sneaker Pimps | NAC, Portland, OR | Group |
| 2004 | Group Show | Hoodoo MO Gallery, Hannibal, MI | Group |
| 2004 | Group Show | Outsider Gallery, Rockland, ME | Group |
| 2004 | Group Show | Eye Candy Studio, Kutztown, PA | Group |
| 2003 | Group Show | Xender Arts, Sarasota, FL | Group |
| 2003 | Perfect 8 | The ID Gallery, Easton, PA | Group |
| 2003 | The Gun Show | The Shooting Gallery, San Francisco, CA | Group |
| 2002 | Jesse Reno | Hoopla Gallery, Bethlehem, PA | Solo |
| 2002 | Group Show | Open Space Gallery, Allentown, PA | Group |
| 2002 | Group Show | Steel City, Bethlehem, PA | Group |