Jessica Rohrer is an American fine artist best known for her meticulous, stylized portraits of her home's interiors.
Jessica Rohrer's Windows and Building Facades
Jessica Rohrer was born in Wisconsin. She graduated from Northwestern University (1996) and the Art Institute of Chicago (1999). In 2001 she received her M.F.A. in painting from the Yale University School of Art. As long as Rohrer can remember, she liked making things as a kid; she would spend hours constructing miniature hospitals and grocery stores for her dolls, making small pieces of clothing and furniture. In another words, she was interested in anything that would allow her to produce something tangible.
In the past, Rohrer has painted the facades of buildings along her street in Brooklyn, as well as windows and reflections – simply because she liked the way they divide and break up the space.
"My work often has included a reflective surface such as a window or mirror. I like the way they break up the space in a picture. Also, there has often been an autobiographical element to my work… the facades of places I've lived, cars along my block, often presented in a very precise and somewhat idealized way."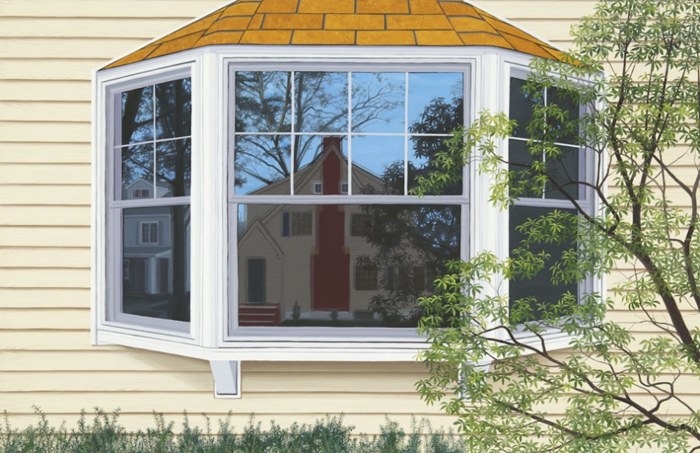 Cabinets and Cupboards
Slowly, Rohrer shifted her focus and started including other areas, like cabinets and cupboards that are not so different from windows, as she points out. To her, they are like small landscapes, with its content made out of different boxes, products and colors.
The objects and scenes in Rohrer's artworks are also interesting for what they both can and can't reveal about her life and experiences. Her small, meticulous panel paintings of suburban homes, interiors and domestic commodities have the visual lure of advertising. In this vacuum-sealed artificial paradise, utopia turns to dystopia, the American Dream to consumerist nightmare. Jessica's work is kind of Pop-style update of Charles Sheeler's Precisionism, where each element, from a half-squeezed tube of toothpaste in a crammed medicine cabinet to leaves on trees outside bay windows is defined cleanly and exactly.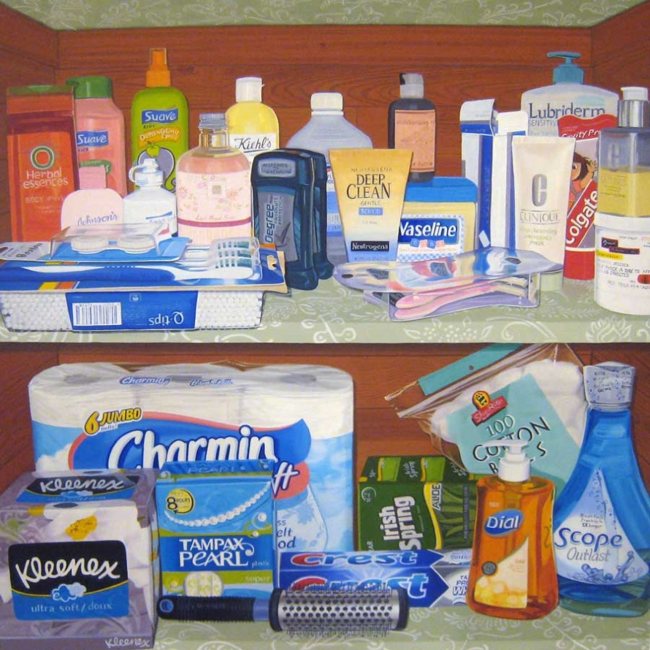 "I like the home though; there is an inherent intimacy. I like this warmth of subject matter (also emphasized by the smaller size of the paintings) contrasted with a cool almost mechanical technique."
Jessica Rohrer perceives her work as very personal as it is sort of a portrait of herself and her family, through their home. She actually wants for a viewer to feel familiar to her and she likes the fact that a pieces of her private life could belong to anyone.
"There are clues to my own personal life in these, in some more than others. But even scenes that are more specific to my home, such as the painting of my dining room, I tried to use a format taken from design magazines that would be familiar. Also taking this format adds to the staged aspect. In this way I think they lay somewhere between the individual and broader issues of identity."
Jessica Rohrer's Book Shelf
Rohrer's painting Book Shelf is a good representation of how this artist approaches her work. The first step is to take photos of a series of objects she founds potentially interesting (in this case books on her shelf). From these photos Rohrer experiments with rearranging the objects physically, and then she does a detailed sketch. The whole process is repeated numerous times – stage, sketch, stage, sketch – until she gets the result she is looking for.
"With Book Shelf, I wanted to speak to how a person's bookshelf is good way to represent their personal space and identity. And I also wanted it to speak in some way to some of my own artistic influences, but not be solely about that. The technique with which these are done also becomes part of the conceptual framework – approaching these seemingly mundane objects with obsessive detail and attention I think makes a viewer think about them differently."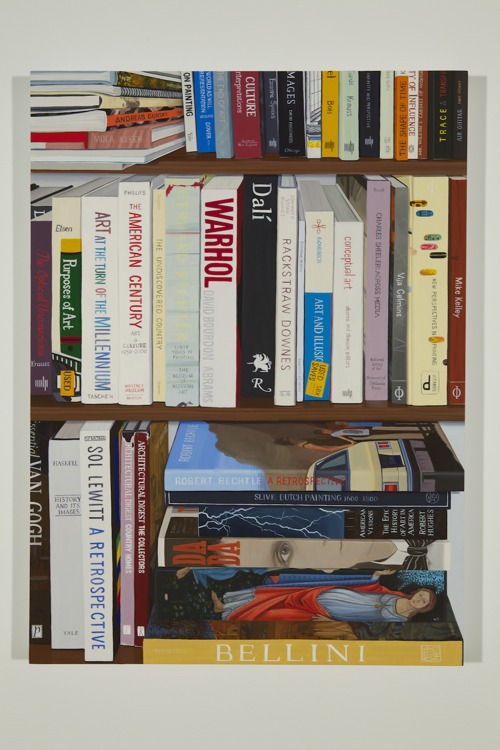 Oakridge Road at PPOW
In 2011, PPOW Gallery presented Oakridge Road, a third solo exhibition with Jessica Rohrer. The show was composed of 24 artworks depicting interior settings, cropped details, and window views of domestic suburban life derived from Rohrer's immediate surroundings. Complementing the paintings were series of works on paper featuring portrait-like renderings of everyday household products isolated on stark white grounds.
Rohrer applied elements of hyper-realism and she combined it with carefully manipulated scenes, emptying the works of the detritus of actual living to create sanitized, idealized depictions. About her work shown at the exhibition, the artist said:
"They are intimate in nature, but also have a cool, staged, sanitized quality. They touch on ideas of identity, domesticity, memory, as well as formal aspects of painting."
The Armory Show 2015
In 2015, the same gallery presented works of various artists for the third consecutive year at The Armory Show, at Pier 94 on the Hudson River. Among them was Jessica Rohrer, together with Ann Agee, Elizabeth Glaessner, Katharine Kuharic, Carolee Schneemann, Timothy Wehrle, Martha Wilson and David Wojnarowicz. Rohrer created an installation of biographical paintings in her recognizable, realistic style. Her cheerful illustrations of plants, weeds and garden center packaging, drew a full attention of The Armory Show visitors.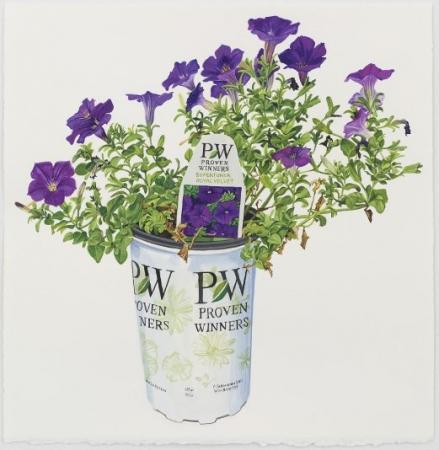 Rohrer's PPOW Exhibition: Bloomfield
Bloomfield is the title of Rohrer's 2015 solo exhibition held at Rohrer's favorite gallery PPOW. This show is in fact a continuation of Rohrer's decade long project of depicting the homes and neighborhoods in which she has lived; from Wisconsin to Brooklyn to New Jersey. Each exhibition symbolized a chapter of her life, reflected her journey as she traveled a road familiar to many.
In 2008, Jessica Rohrer moved to Bloomfield from Brooklyn. Her current neighborhood Bloomfield is depicted in twenty three new paintings and eighteen works on paper of interior settings, street scenes and garden views of her domestic suburban life derived from her immediate surroundings. All the works were done in Rohrer's stylistic approach that combines elements of traditional miniature paintings with photorealism.
Jessica Rohrer's awards include Ely Harwood Schless Memorial Prize for Excellence in Painting (2001), Gloucester Summer Fellowship of Yale School of Art (2000), Chicago Union League Merit Scholarship (1999), Oriental Theater Merit Scholarship (1998) and Nippon Steel Merit Scholarship (1998).
Her work has been reviewed in Art in America, The New York Times, The New Yorker and Time Out New York. She is represented by P.P.O.W Gallery in New York City.
Jessica Rohrer lives in Bloomfield, New York, US.