Joanne Freeman liked art since an early age, had painted and took courses at the Museum of Fine Arts in Boston, but when time for college came, she chose to major in writing and sociology. Definitive transition came around her Junior year in college, when she had her first 'wow' moments inspired by art. Influences like architecture, design and symbols which she found in New York led to very reductive formality of her artworks, rooted in modern aesthetics and ideology. This reductive formality is the core, as the artworks are austere in their means, but yet manage to successfully communicate with the viewers. Boundaries and limitations of choice that Freeman decided to apply to her paintings give her the opportunity to emphasize the represented quality.
Reductive formal language of the artworks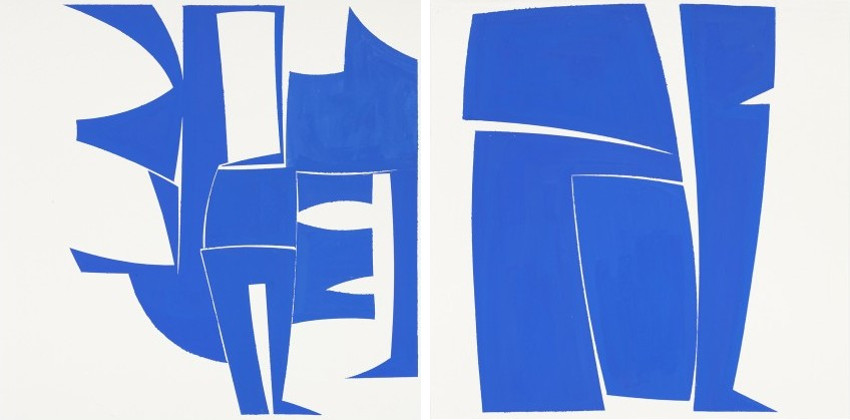 Formal Education is an Entrance into the World of Art
She received her BS in Fine Arts from University of Wisconsin in 1976 and her MA in Studio Art from New York University in 1981. Generations of student had the privilege of learning from her while she taught Painting and Drawing at The New School for Social Research, and during her time as a visiting lecturer at The New York Studio School and the Massachusetts College of Art.
Freeman thinks that formal education in art is important as it provides an entry point to a world of art, galleries, and other artists' work. It also gives students a specific vocabulary, which allows them to better express themselves. Creating artworks is a solitary act, and that presence in the artistic courses gives young people the first taste of belonging in the artistic community.
Young artists can better express themselves if they are educated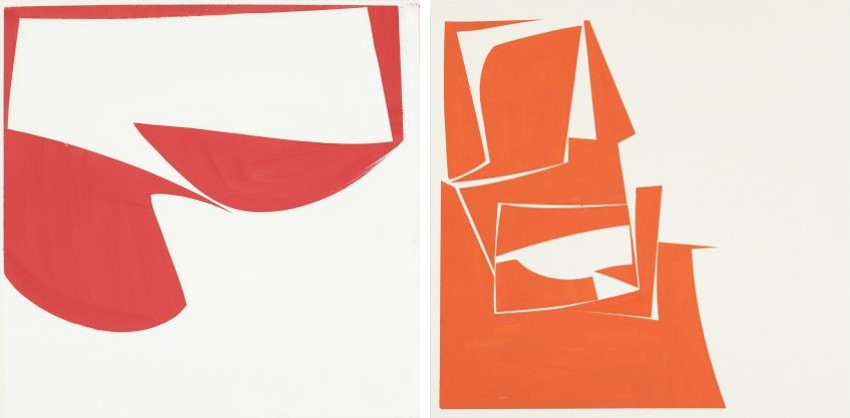 Adriatic Light and Calligraphy
Recent line of work is largely influenced by the artist's trip to Otranto in Italy. The shadows and light on the white facades of the buildings were mesmerizing. Adriatic light which makes darkness of shadows turn into color can be seen in the work. The artwork titled Otranto is a beautiful example of creativity Freeman possesses. Depth of the ultramarine gave it almost a transparent look. Then cobalt and turquoise emerged. Calligraphic shapes painted with a flat brush were put together and they eventually formed a beautiful piece.
Ultramarine, cobalt and turquoise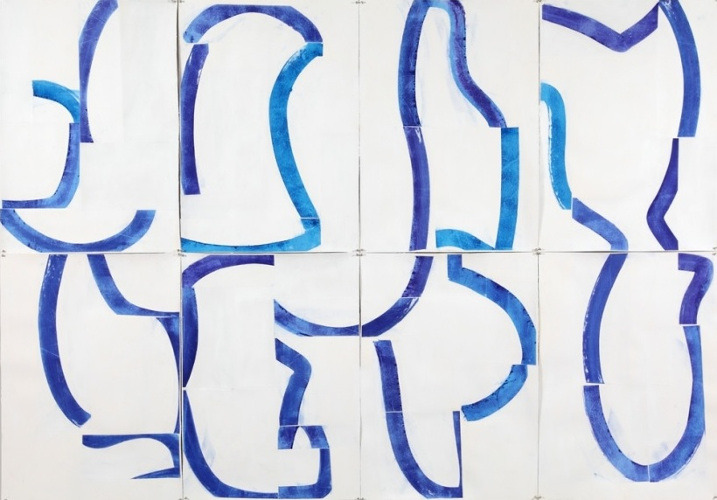 Jumping Right In Without Preparation
There is no sketching, the artist just jumps right in. Painting is a very physical process which involves making a lot of mistakes. Sketch can't be transposed into painting, at least that's how the artist feels. Working is a spontaneous act for Freeman, and any kind of preparation takes away that feeling. She wants the lines, colors and forms to coalesce, and for her painting to be read as a whole. Circular lines in her pieces are made from the sweep of her arm, and there the physicality of her work really stands out, as the proportions of these lines are dependent on the proportions of the artist.
Working is a spontaneous act for Freeman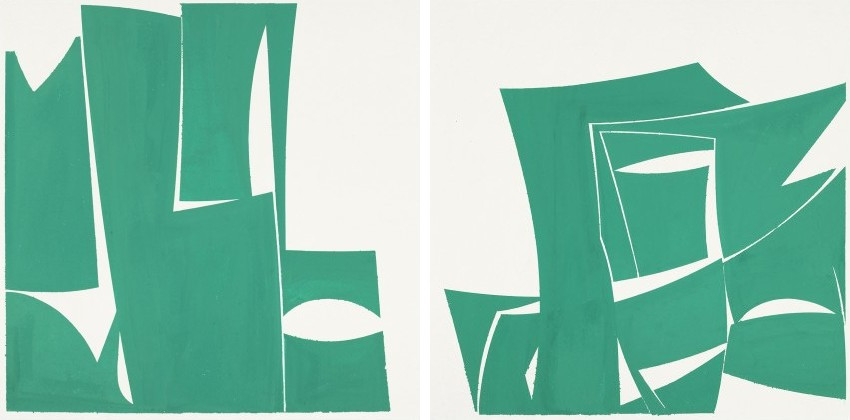 Always Working
Freeman works in series and on several pieces at once. So, every painting is inspired by the once previously painted, but also by the ones which are in the process of creation. Of course she sometimes hits a blockade, and admits she is able to paint bad paintings in series. The artist knows that taking a break may be a good solution, but she just keeps working until she finds the right path. Gouache on Khadi, a handmade Indian paper and oil on canvas are the mediums Freeman works in. Shapes and the hard edges that make her artworks recognizable come from the idea that the painting is read as the 2-dimensional surface but also the 3-diminsional object. The circular ones are the good example of that.
Gouache on Kadi and oil on canvas are mediums of choice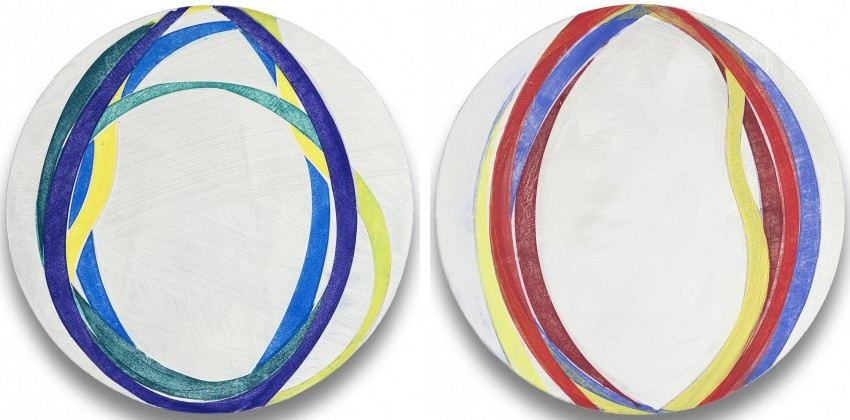 Find Your Identity
A perfectionist in a way, Freeman considers a painting finished when it' not bothering her anymore, when everything is in its place and the message is clear. As someone whose identity was formed through art-making, Joanne Freeman knows how important is to do something you enjoy in life. Like listening to music when you're a kid, it just forms your early identity, and everything else is building on top of that. It gave the artist inspiration and energy (especially rock n' roll). The painting also had a huge part of her identity, and still is. Her paintings are her memories, her experience and her spirit. They speak for her in a way words never could.
She is represented by IdeelArt gallery in London, UK.
Joanne Freeman lives and works in New York City.
Featured image courtesy of IdeelArt.
Images copyright © Joanne Freeman and IdeelArt.
| Year | Exhibition Title | Gallery/Museum | Solo/Group |
| --- | --- | --- | --- |
| 2016 | Joanne Freeman | Kathryn Markel Fine Arts, NY, NY | Solo |
| 2016 | Color, Shape and Form III | Gallery Gris, Hudson, NY | Group |
| 2016 | 50 Shades of Red | Herter Gallery, University of Massachusetts, Amherst, Mass | Group |
| 2015 | Joanne Freeman | 490 Gallery, Brooklyn NY | Solo |
| 2015 | Formal Aspects, Visual Dialogue in Structure | Cape Cod Museum of Art, Dennis, Mass | Group |
| 2015 | A few Conversations About Color | dm contemporary NYC, NY | Group |
| 2015 | Paperazzi | Janet Kurnatowski Gallery, Brooklyn, NY | Group |
| 2015 | Sideshow Nation | Sideshow Gallery, Brooklyn, NY | Group |
| 2014 | Familiar LIne | Key Projects, Queens, NY | Group |
| 2014 | Color, Shape and Form | Galerie Gris, Hudson, NY | Group |
| 2013 | Joanne Freeman | University of Maine Museum of Art, Bangor, Maine | Solo |
| 2013 | Wit | The Painting Center, NY, NY | Group |
| 2012 | Joanne Freeman | Gallery Ehva, Provincetown, Mass | Solo |
| 2012 | Maine | Bogart Salon, Bushwick, NY | Group |
| 2012 | Instructors Show | The School House Gallery, Provincetown, Mass | Group |
| 2012 | Paperazzi | Janet Kurnatowski Gallery, Brooklyn NY | Group |
| 2011 | Paper | Janet Kurnatowski Gallery, Brooklyn, NY | Group |
| 2010 | Color-Time-Space | Rosenberg Gallery, Calkins Hall, Hofstra University, Hempstead, NY | Group |
| 2009 | Color-Time-Space | Janet Kurnatowski Gallery, Brooklyn NY | Group |
| 2009 | Color-Time-Space | Lohin Geduld Gallery, NY, NY | Group |
| 2009 | Drawing Atlas | Pennsylvania College of Art and Design, Lancaster, PA | Group |
| 2008 | Joanne Freeman | Lohin Geduld Gallery NY, NY | Solo |
| 2008 | Drawing Atlas | Lohin Geduld Gallery, NY, NY | Group |
| 2008 | Unknown | Masur Museum of Art, Monroe, LA | Group |
| 2008 | Selections | Lohin Geduld Gallery NY, NY | Group |
| 2007 | Summer Group Show | Lohin Geduld Gallery, NY, NY | Group |
| 2006 | Neo Plastic Redux | Elizabeth Harris Gallery, NY, NY | Group |
| 2006 | Contemporary Art Month | San Antonio, TX | Group |
| 2006 | Contemporary Art Month | Jack the Pelican, Brooklyn, NY | Group |
| 2005 | Joanne Freeman | Lohin Geduld Gallery NY, NY | Solo |
| 2005 | Joanne Freeman | Au 9 Galerie D'art, Casablanca, Morocco | Solo |
| 2005 | Mod | Broadway Gallery, NY, NY | Group |
| 2005 | Made in the USA | Pickled Art Gallery, Beijing, China | Group |
| 2004 | Repetition & Change with Gerri Rachins | Brant Gallery, Mass.College of Art, Boston, Mass | Group |
| 2001 | History Lessons | Aramona Studio, NY, NY | Group |
| 2000 | One on One | Massachusetts College of Art, Boston, Mass | Group |
| 1992 | Joanne Freeman | Bess Cutler Gallery, Santa Monica, California | Solo |
| 1992 | Persistence of Painting, Varieties of Vision | Kohn Pederson, Fox Gallery, NY, NY | Group |
| 1991 | Joanne Freeman | Bess Cutler Gallery, NY, NY | Solo |
| 1990 | Joanne Freeman | Marc Jancou Gallery, Zurich, Switzerland | Solo |
| 1990 | Auction for Action Act Up New York | Paula Cooper Gallery, NY, NY | Group |
| 1990 | Benefit Auction | The New Museum of Contemporary Art, NY, NY | Group |
| 1989 | Joanne Freeman | Bess Cutler Gallery, NY, NY | Solo |
| 1989 | Gallery Artists | Bess Cutler Gallery, NY, NY | Group |
| 1989 | American Pie | Bess Cutler Gallery, NY, NY | Group |
| 1989 | Unknown | Seibu Department Store, Tokyo, Japan | Group |
| 1988 | Joanne Freeman | The Queens Museum, Flushing, NY | Solo |
| 1988 | Gold Show | Minor Injury, Brooklyn, NY | Group |
| 1986 | Joanne Freeman | Hudson Gallery, NY, NY | Solo |
| 1986 | Unknown | Hudson Gallery, NY, NY | Group |
| 1985 | Nite Show | Public Image Gallery, NY | Group |
| 1985 | Shifting Views | B.A.C.A. Downtown, Brooklyn, NY | Group |
| 1985 | Update 84-85 | White Columns, NY, NY | Group |
| 1984 | Joanne Freeman | White Columns, NY, NY | Solo |
| 1984 | Art Against Apartheid | ABC No Rio, NY, NY | Group |
| 1984 | Four Artists | Soho Center for the Visual Arts, NY NY | Group |
| 1983 | Unknown | Christminster Fine Art, NY, NY | Group |
| 1982 | Hot | Gracie Mansion Gallery, NY, NY | Group |
| 1981 | Joanne Freeman | Just Above Midtown/Downtown, NY, NY | Solo |