Developing a strong connection and deep bonds of confidence with his subjects, Jock Struge's photographs represents a unique story about family and maturing through the lens of Perceptual Psychologist. His photographs emit the outstanding sensitivity for composition and light which makes him one of the most important fine art photographers of our time. His open nature and quest for truth and serenity made him a convenient target for American conservatives. Focusing primarily on young girls and their families, capturing the moments of their leisure in naturist resorts in California and France, his oeuvre became a subject of numerous controversies. This highly acclaimed photographer, that collaborates with 25 galleries in 9 countries all around the world, have had his house raided in 1990, by no one else but the FBI. On many occasions, American photographer Jock Sturges was accused of misusing the children in his works, especially girls. However, he was never officially accused of anything and has continued to create his images of nude adolescents and their families.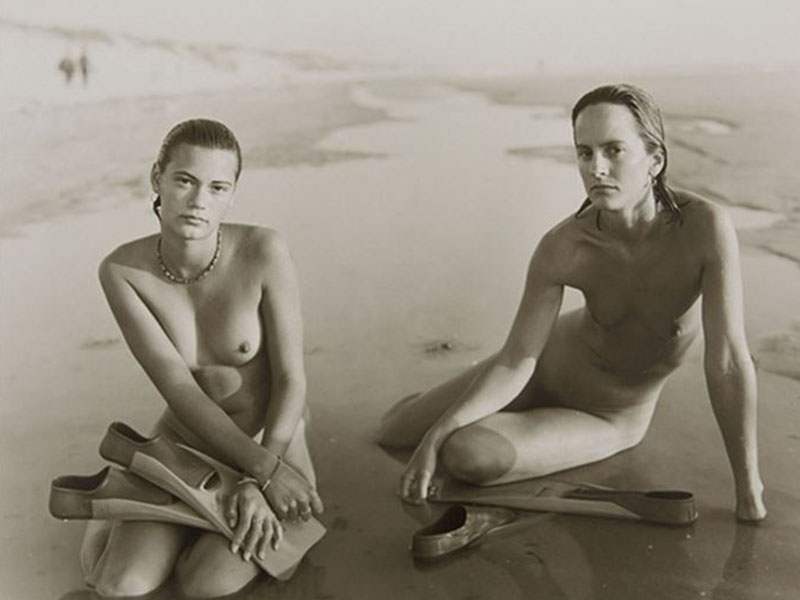 Mastering the Perceptual Psychology and the Art of Photography
Jock Sturges was born in 1947, in New York City. He received a BFA in Perceptual Psychology and photography from the Marlboro College in Vermont and attended the San Francisco Art Institute, where he obtained his MFA in photography. After graduating in 1985, he stayed and worked in San Francisco for many years. In the artistic world, Jock has been known for his intimate images depicting nude adolescent girls, often posing in nature or with their families. Beaches and naturist resorts of Northern California and France are favorite locations for this artist.
As the subject of his images was usually a young girl at the very beginning of her sexuality, Jock felt obligated to help in developing an adult identity and self-awareness, by creating a bond of trust and friendship between himself, the subject, and the subject's family. As the artist said himself, New York-born artist has photographed so many of these subjects anthropologically, from their childhood to adulthood that the history simply bears out the art. He is working for a long time with the same families, and his favorite shots are exactly with the people he knows well. All the art in his works retains in the subjects.
Misty Dawn grew up in front of Jock's lens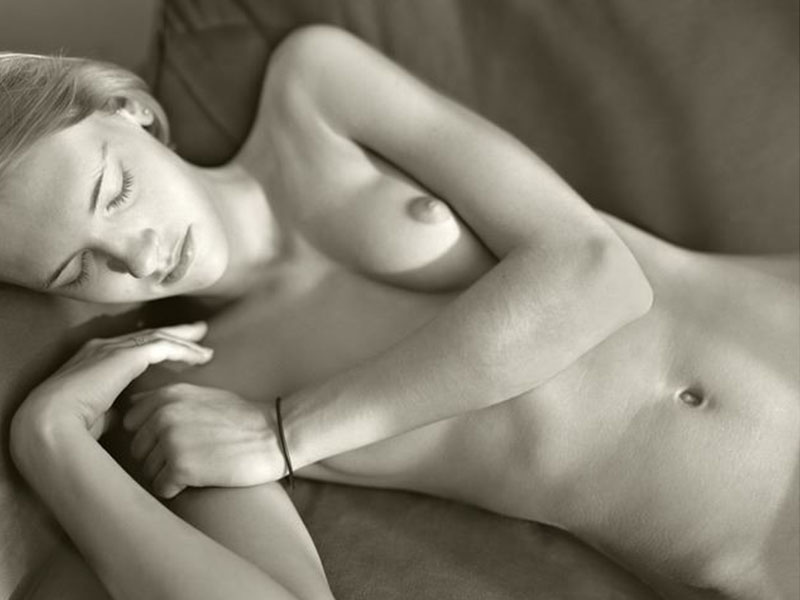 Beauty of Misty Dawn: Portrait of a Muse
Jock even followed and immortalized a growing up of his favorite Muse, Misty Dawn whom he shot since she was just a child until she reached her twenties. On his luminous photographs, Sturges left a trace of her growth into the adult, depicting her life in a period of 25 years. In 2008, Jock published a book of photographs titled Misty Dawn: Portrait of a Muse where the 100 photographs are arranged in a chronological order – the first one dates from when Misty was only 4 years old. The majority of photos was taken in Northern California or Montalivet in France, and all of them range from completely clothed to the ones where she wears absolutely nothing! Some of Misty's photos were published in Jock's Radiant Identities photo book.
The majority of the photos by the NY-born artist was taken in Northern California or France
Personal and Professional attack: The FBI Raid in 1990
Even though Sturge's photographs radiate a certain erotic quality, raising more than few controversies, his oeuvre could be interpreted as a detailed exploration of the human body and its female form. It was his detail exploration that brought on a significant amount of controversy that surrounded his oeuvre during the time. The right-wing Christian political factions were furious over the nudity in his images – they claimed that he certainly crossed the boundary in using children in the erotic context. In 1990, Jock Sturges was visited by the FBI who raided his house, seizing his entire equipment! However, no indictment was made against him and Jock received a great amount of support, by the public and his colleagues. A few more attempts of sabotaging his work were made, like the case when his opponents demanded that his books are classed as a child pornography in the Alabama and Tennessee.
A significant amount of controversy surrounded his art during the time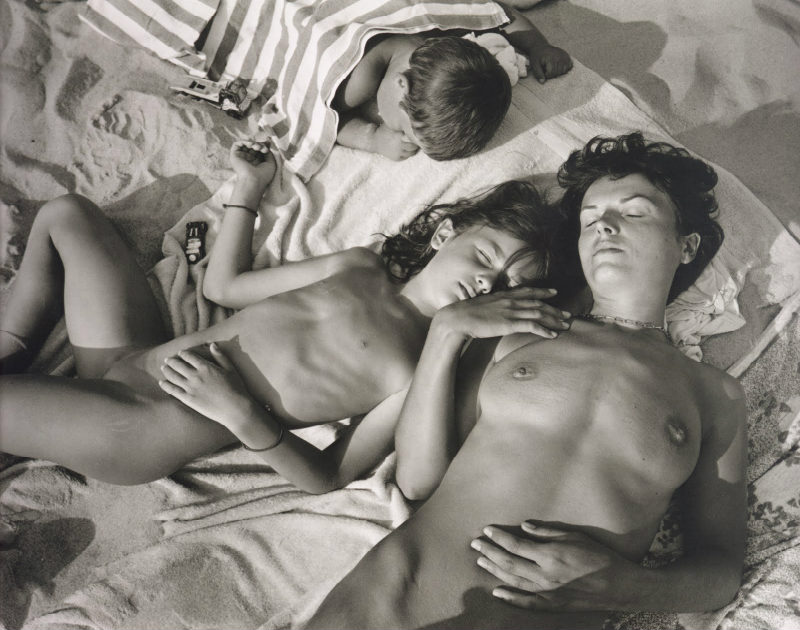 Sturge's Photo Books
Despite their endeavor, Sturges continued to work and publish several books on his works like The Last Day of Summer (1991, Aperture, NY), Radiant Identities (1994, Aperture, NY), Evolution of Grace (1994, Gakken, Tokyo), Jock Sturges (1996, Scalo, Zürich), Jock Sturges: New Work, 1996-2000(2000, Scalo, Zürich), Jock Sturges: Notes (2004, Aperture, NY), Misty Dawn: Portrait of a Muse (2008, Aperture, NY) and Jock Sturges Life Time (2008 Steidl). Some of Jock's images can be found in many public and private collections, such as Philadelphia Museum of Art, the International Center of Photography, the Metropolitan Museum of Art in New York, the Musée de l'Elysée in Lausanne, Switzerland, the Museum Ludwig in Berlin, and the Musée de la Louvière in Brussels, among others. His rich body of work has been exhibited in numerous solo and group shows throughout the world. One of the peculiarities of this artist is his consistency in using a large 8×10-inch-format view camera, even though he has taken some digital photographs Jock still prefers to work with prints.
Jock Sturges currently lives and works in Seattle, Washington.
Featured image: portrait of the artist, via vimeo.com
All images copyright of the artist
Year
Name of the exhibition
Museum/Gallery
Solo/Group
2015
Celebrating 20 Years
Stephen Bulger Gallery
Group
2015
Photographs
Louis K. Meisel Gallery
Solo
2015
Fanny; 1990 - 2012
photographs from his new book published by Steidl
Bernarducci Meisel Gallery
Solo
2015
Fanny
Photo-Eye, Santa Fe
Solo
2014
LE CORPS MASCULIN
Galerie David Guiraud
Group
2014
Jock Sturges
1839, Taiwan
Solo
2013
Jock Sturges
Kahmann Gallery, Amsterdam, The Netherlands
Solo
2013
Naturally: Karel Novák - Jock Sturges
Moravian Gallery in Brno, Czech Republic
Group
2013
The Nude Classical, Cultural, Contemporary
Photo-Eye Gallery, Santa Fe, USA
Group
2011
The Lucid Evidence
Museum für Moderne Kunst, Frankfurt am Main
Group
2010
Jock Sturges
Butters Gallery, Portland, USA
Solo
2010
Jock Sturges
Stephen Bulger Gallery, Toronto, Canada
Solo
2009
Jock Sturges
Photo LA, Los Angeles
Solo
2008
Jock Sturges
Bernarducci.Meisel.Gallery, New York
Solo
2006
Jock Sturges
Bernarducci.Meisel.Gallery and Louis K. Meisel Gallery, New York
Solo
2001
Jock Sturges
Bernarducci.Meisel.Gallery, New York
Solo
2001
Jock Sturges
Van Cel Gallery, Miami, Fl
Solo
2001
Jock Sturges
Photo Eye Gallery, New Mexico
Solo
2001
Jock Sturges
Il Tempo Gallery, Tokyo
Solo
2001
Jock Sturges
Stepping Stone Gallery, Long Island, NY
Solo
2001
Jock Sturges
Butters Gallery, Portland, OR
Solo
2001
Jock Sturges
Stephen Bulger Gallery, Toronto
Solo
2001
Jock Sturges
Photographs Do Not Bend Gallery, Dallas, TX
Solo
2001
Jock Sturges
Scalo Gallery, NY
Solo
2001
Jock Sturges
Scalo Gallery, Zürich, Switzerland
Solo
2000
Jock Sturges
Robert Klein Gallery, Boston, MA
Solo
2000
Jock Sturges
Camera Obscura Gallery, Denver, CO
Solo
2000
Jock Sturges
A Gallery for Fine Photography, New Orleans, LA
Solo
2000
Jock Sturges
Dorothy DePauw Gallery, Brussels, Belgium
Solo
2000
Jock Sturges
Robert Koch Gallery, SF, CA
Solo
2000
Jock Sturges
Il Tempo Gallery, Tokyo, Japan
Solo
2000
Jock Sturges
Paul Kopeikin Gallery, LA, CA
Solo
2000
Jock Sturges
Butters Gallery, Portland, OR
Solo
1999
Jock Sturges
Benham Gallery, Seattle, WA
Solo
1999
Jock Sturges
Mauritz Gallery, Columbus, OH
Solo
1999
Jock Sturges
Butters Gallery, Portland, OR
Solo
1999
Jock Sturges
Photo Eye Gallery, Santa Fe, New Mexico
Solo
1999
Jock Sturges
Gallerie Bodo Niemann, Berlin Germany
Solo
1999
Jock Sturges
David Klein Gallery, Birmingham, MI
Solo
1999
Jock Sturges
Camera Obscura Gallery, Denver, CO
Solo
1998
Jock Sturges
Galerie DePauw, Brussels, Belgium
Solo
1998
Jock Sturges
Galerie Farbre, Vienna, Austria
Solo
1998
Jock Sturges
Yancey Richardson Gallery, New York, NY
Solo
1998
Jock Sturges
Il Tempo Gallery, Tokyo, Japan,
Solo
1998
Jock Sturges
Butters Gallery, Portland, OR
Solo
1998
Jock Sturges
Galerie Almine Rech, Paris, France,
Solo
1998
Jock Sturges
Photo Eye Gallery, Santa Fe, NM
Solo
1998
Jock Sturges
Robert Koch Gallery, San Francisco, CA
Solo
1998
Jock Sturges
Lallak & Tom, Chicago, IL
Solo
1998
Jock Sturges
Paul Kopeikin Gallery, Los Angeles, CA
Solo
1998
Jock Sturges
J. Magdison Gallery, Aspen, CO
Solo
1998
Jock Sturges
Stephen Bulger Gallery, Toronto, Canada
Solo
1998
Jock Sturges
Robert Klein Gallery, Boston
Solo
1997
Jock Sturges
Yancey Richardson Gallery, New York, NY
Solo
1997
Jock Sturges
Photo Center Gallery, Seattle, WA
Solo
1997
Jock Sturges
Benham Gallery, Seattle, WA
Solo
1997
Jock Sturges
Ogilvy and Mather, New York, NY
Solo
1997
Jock Sturges
A Gallery for Fine Photography, New Orleans, LA
Solo
1997
Jock Sturges
Butters Gallery, Portland, OR
Solo
1997
Jock Sturges
Scalo Gallery, Zurich, Switzerland
Solo
1996
Jock Sturges
Bodo Niemann Gallery, Berlin, Germany
Solo
1996
Jock Sturges
Il Tempo Gallery, Tokyo, Japan
Solo
1996
Jock Sturges
Photo Eye Gallery, Santa Fe, NM
Solo
1996
Jock Sturges
Kasseler Kunstverein, Kassel, Germany
Solo
1996
Jock Sturges
Frankfurt Museum of Modern Art, Frankfurt, Germany
Solo
1996
Jock Sturges
Butters Gallery, Portland, OR
Solo
1996
Jock Sturges
Camera Obscura Gallery, Denver, CO
Solo
1996
Jock Sturges
Vision Gallery, San Francisco, CA
Solo
1996
Jock Sturges
Camera Obscura Gallery, Denver, CO
Solo
1996
Jock Sturges
Vision Gallery, San Francisco, CA
Solo
1995
Jock Sturges
Kunsthaus Fischinger, Stuttgart, Germany
Solo
1995
Jock Sturges
Vision Gallery, San Francisco, CA
Solo
1995
Jock Sturges
Robert Klein Gallery, Miami, FL
Solo
1995
Jock Sturges
Kunsthaus Fischinger, Stuttgart, Germany
Solo
1995
Jock Sturges
Vision Gallery, San Francisco, CA
Solo
1995
Jock Sturges
Robert Klein Gallery, Miami, FL
Solo
1995
Jock Sturges
Photo Eye Gallery, Santa Fe, NM
Solo
1995
Jock Sturges
Catherine Edelman Gallery, Chicago, IL
Solo
1995
Jock Sturges
Jackson Fine Art, Atlanta, GA
Solo
1994
Jock Sturges
Studio Parade Gallery, Tokyo, Japan
Solo
1994
Jock Sturges
Steltman Gallery, Amsterdam, The Netherlands
Solo
1994
Jock Sturges
Butters Gallery, Portland, OR
Solo
1994
Jock Sturges
Vision North, San Francisco, CA
Solo
1994
Jock Sturges
Bodo Niemann Gallery,
Solo
1994
Jock Sturges
The Prinz Gallery, Kyoto, Japan
Solo
1994
Jock Sturges
Vision Gallery, San Francisco, CA Berlin, Germany
Solo
1994
Jock Sturges
Laurence Miller Gallery, New York, NY
Solo
1994
Jock Sturges
Jan Kesner Gallery, Los Angeles, CA
Solo
1994
Jock Sturges
A Gallery for Fine Photography, New Orleans, LA
Solo
1994
Jock Sturges
Il Tempo Gallery, Tokyo, Japan
Solo
1993
Jock Sturges
Butters Gallery, Portland, OR
Solo
1993
Jock Sturges
Photo Eye Gallery, Santa Fe, NM
Solo
1993
Jock Sturges
Zeit Foto Salon, Tokyo, Japan
Solo
1993
Jock Sturges
Klein-OK Harris Gallery, Birmingham, MI
Solo
1993
Jock Sturges
Camera Obscura Gallery, Denver, CO
Solo
1993
Jock Sturges
Silver Image Gallery, Seattle, WA
Solo
1993
Jock Sturges
Roger Ramsay Gallery, Chicago, IL
Solo
1993
Jock Sturges
Jane Corkin Gallery, Toronto, Canada
Solo
1992
Jock Sturges
Steltman Gallery, Amsterdam, The Netherlands
Solo
1992
Jock Sturges
Vision Gallery, San Francisco, CA
Solo
1992
Jock Sturges
G. Ray Hawkins Gallery, Los Angeles, CA
Solo
1992
Jock Sturges
Alpha Cubic Gallery, Tokyo, Japan
Solo
1992
Jock Sturges
Robert Klein Gallery, Boston, MA
Solo
1992
Jock Sturges
Paul Cava Gallery, Philadelphia, PA
Solo
1992
Jock Sturges
Fay Gold Gallery, Atlanta, GA
Solo
1992
Jock Sturges
Zeit Foto Salon, Tokyo, Japan
Solo
1992
Jock Sturges
Il Tempo Gallery, Tokyo, Japan
Solo
1992
Jock Sturges
Butters Gallery, Portland, OR
Solo
1992
Jock Sturges
Charles Cowles Gallery, New York, NY
Solo
1991
Jock Sturges
Camera Obscura Gallery, Denver, CO
Solo
1991
Jock Sturges
Butters Gallery, Portland, OR
Solo
1991
Jock Sturges
Robert Klein Gallery, Boston, MA
Solo
1991
Jock Sturges
Paul Cava Gallery, Philadelphia, PA
Solo
1990
Jock Sturges
Vision Gallery, San Francisco, CA
Solo
1990
Jock Sturges
Roger Ramsay Gallery, Chicago, IL
Solo
1990
Jock Sturges
Paul Cava Gallery, Philadelphia, PA
Solo
1990
Jock Sturges
Robert Klein Gallery, Boston, MA
Solo
1989
Jock Sturges
Gallery Artotheque, Montpellier, France
Solo
1989
Jock Sturges
Paul Cava Gallery, Philadelphia, PA
Solo
1987
Jock Sturges
Stephen Johnides Gallery, San Francisco, CA
Solo
1983
Jock Sturges
Maelstrom Gallery, San Francisco, CA
Solo
1982
Jock Sturges
MOMING Gallery, Chicago, IL
Solo
1981
Jock Sturges
Hera Women's Gallery, Wakefield, RI
Solo
1981
Jock Sturges
Capricorn Asunder Gallery (San Francisco Art Commission)
Solo
1978
Jock Sturges
Anyart Gallery, Providence, RI
Solo
1976
Jock Sturges
Nikon Gallery, Shinjuku, Tokyo, Japan
Solo