John Monteith is a Canadian artist best known for his paintings and drawings which focus on his observation of architectural space and scale. His distinctive style of painting and drawing consists of layers of smaller shapes that, when merged, give a larger unit.
Education and Inspiration
John Monteith was born in Newmarket, Ontario in 1973. In 1997, he graduated from the Ontario College of Art and Design. He received his MFA degree from Parsons the New School for Design, graduating in 2008 in New York. In 2011, he was a resident artist at CAT Cologne in Germany, and he also partook in the Kunsthalle Roveredo residency program in Switzerland three years later. Monteith's inspiration stems from Andreas Huyssen's ideas of a palimpsestic approach to the urban sphere. He also cites Guy Debord, Constant Nieuwenhuys and Asger Jorn, and their concepts of "urban relativity" as his source of inspiration.
Style and Technique
Monteith uses a variety of media including oil paint and wax and pigment pencil. He works on numerous shapes and layers, puts them together, out of which emerges a whole entity. There is a note of an energetic, vibrant tension in his works. When it comes to photography, Monteith employs a different kind of layering, with the same results of vibrancy. He takes multiple shots of a same subject over a certain time period and mixes them, thus capturing any physical shifts and movements, forcing the viewer to make a connection in communication with the subject.The newly formed image emerges as the single shots are layered together, producing the effect of time and inter-relation.
Movements in Photographs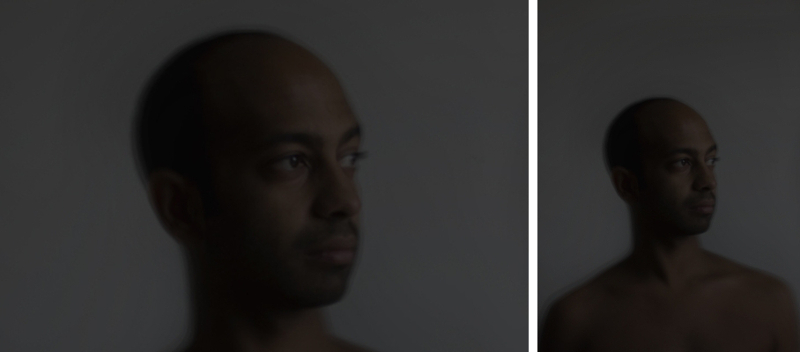 Memorial Day Exhibition
Memorial Day exhibition took place at O'Born Contemporary Gallery, Toronto, in 2012. It featured two concurrent and conceptually inter related bodies of John Monteith's work: his paintings and photographs. The first consisted of eight neo-formalist abstract paintings from Monteith's 2012 (de)Construction, (re)Construction works – oil paintings that are layered on drafting film.This series presented works in different hues of grey, olive, blue, pink and brown colors. Radiant, these paintings emit a certain kind of glow from within.
(de)Construction, (re)Construction Series

The second part of the exhibition was comprised of nine photographs taken in four cities: Pyongyang, Berlin, Hanoi, and Ho Chi Minh – all depicting empty spaces. They were all made in Monteith's distinctive style, combining one hundred shots in composite taken over a period of time, showing subtle movement, changes and the play of light and shadow, while emitting a particular vibrancy.
At Night All Cats Are Grey Exhibition
2014 At Night All Cats Are Grey was Monteith's third exhibition at O'born Contemporary gallery. Here, Monteith created drawings that collapsed three-dimensional space. Even though the drawings appear simple at first glance, they are meticulously drawn and incredibly complex.
Exhibition View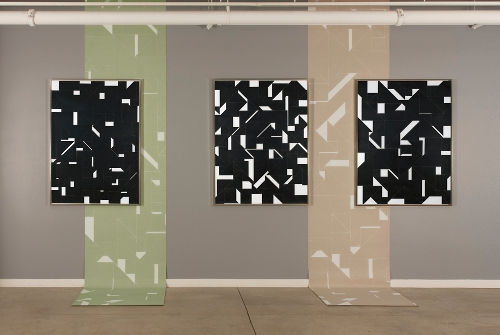 Other Exhibitions and Shows
John Monteith has exhibited in a number of exhibitions, both solo and group. Some of his more notable solo exhibitions include Lost Highway (2010) and Grace (2011). Group shows and collaborations Monteith participated include the 2010 No Soul For Sale exhibition at the Tate Modern, London with K-48 Kontinuum, Alpina Huus, House of Deep Transformation in 11 Acts and the Schinkel Pavilion, Berlin and 10×10 in 2012 (the exhibition celebrates LGBT artists who have contributed to the community in Canada).
Memorial Day Exhibition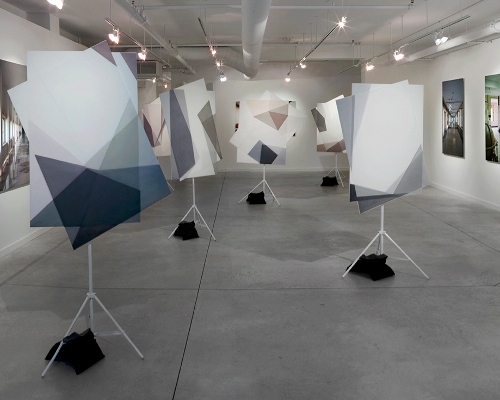 He is represented by O'Born Contemporary Gallery in Toronto, Wenger in Zurich and as of 2015, IdeelArt. His works are also displayed in numerous collections, both private and corporate. Monteith has been awarded many grants, including the Canada Council for the Artist grant in 2003, the Toronto Arts Council grant in 2005, and a Ontario Arts Council grant in 2014.
Find here an interview with John Monteith on Ideelart
John Monteith currently resides and works between Halifax, Canada and Berlin, Germany
All images are copyright of the artist, courtesy of the IdeelArt Gallery