Jonathan Edward Guthmann is an Australian fine art artist and illustrator with academic qualifications in theology, mythology and associated ancient languages.
Drawing Dicks on the Herald Sun
Born in 1980 in Sydney, Jonathan Guthmann became known for his drawings of penises portrayed on top of newspaper pages and documented in the infamous phenomenon of Drawing Dicks on the Herald Sun, a facebook page with thousands of followers. However, Melbourne-based artist's amusing, cock drawings and countless fans are only a small part of the picture. Guthmann is a successful artist and illustrator who began to his artistic career at the age of seven. He started out with graphite drawing and continued until his later teenage years when he began to branch out into the use of other mediums. Today these include oil paints, oil pastels, pigmented inks, graphite, and pen.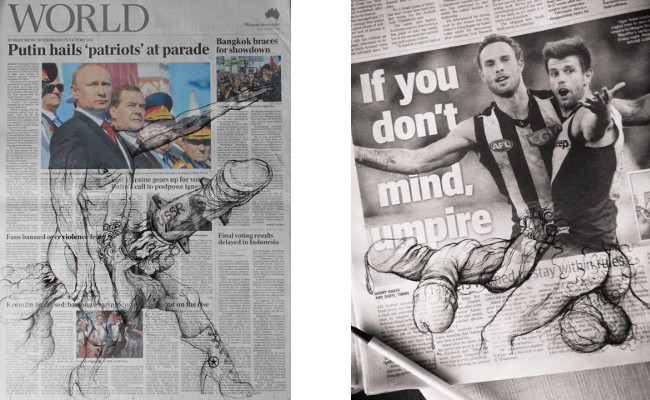 The Existential Vacuum
Guthmann's works created within the last several years, including his finely crafted gothic paintings and illustrations, often feature a contemporary take on ancient esoteric, metaphysical, mythical and religious Judo-Christian iconography. The artist examines and conveys through his art some of the perennial questions behind conventional religion.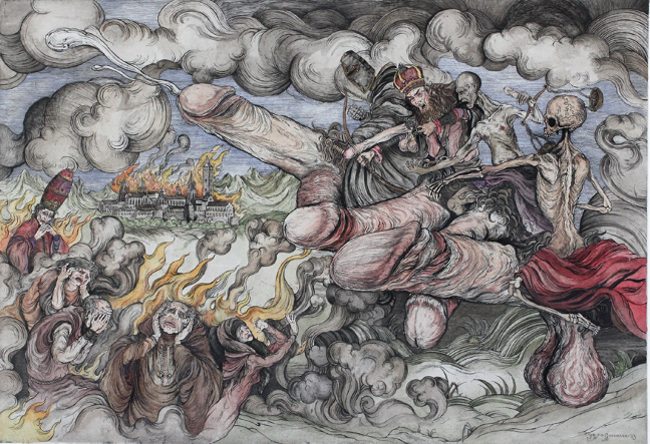 Jonathan Guthmann's first solo show entitled The Existential Vacuum, held at Backwoods Gallery in Collingwood, Australia, in January 2014 was a great success.
The exhibition featured a collection of original work in pigment ink, pencil, pen and aerosol, as well as a collection of lithographs and etchings. All Guthmann's work was based on sacred and religious iconography, with a focus on near eastern ancient civilization. The artist presented the worlds of the esoteric and mythical in a new context exploring the philosophical commonality between ancient and modern man.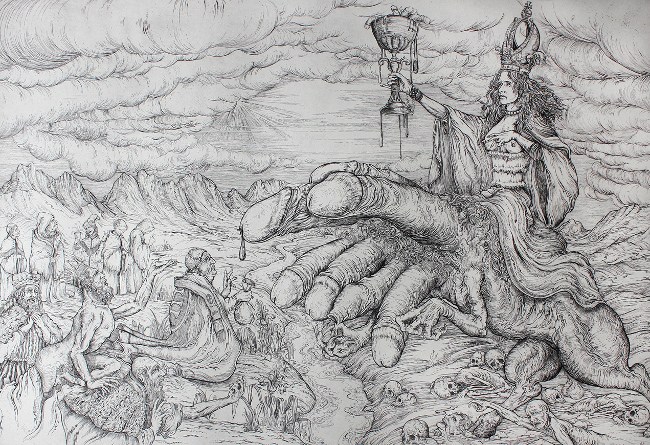 Apocalypse
A book of the New Testament that occupies a central place in Christian eschatology – The Book of Revelation, often known simply as Revelation or The Apocalypse, has inspired Jonathan Guthmann's work for the past several years. By portraying some of the most majestic, intense and often upsetting images of human literary heritage the artist gives the Bible a modern interpretation.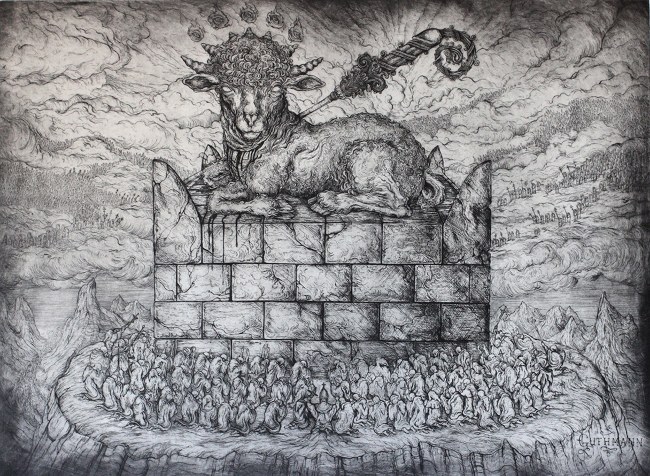 Jonathan Guthmann will present his Apocalypse-inspired pieces at his second individual exhibition, entitled Apocalypse, at Backwoods Gallery, Collingwood, opening on the 14th August 2015.
Jonathan Guthmann currently lives and works in Melbourne, Australia.
Portrait photography credits – David Russell Photography.