The expression of artistic skills and talent has been used to portray the world around us through the eyes of the artist ever since the conception of art as we know it. As much as the external world is palpable and affects the senses, the inner struggles and character nuances are as influential, if not more so, forcing many to turn inwards when expressing through art. Rarely, though, do artists use the opportunity to mock their own profession as well as the impurity of their character as someone who represents it, leaving such a mark for the world to see and participate in. Such is the art of Joshua Abelow, an American artist versed in painting, drawing, photography, and poetry, expressing his concern with the relation between text and image in his work while exploring the self-examination that consumes him as a man of art.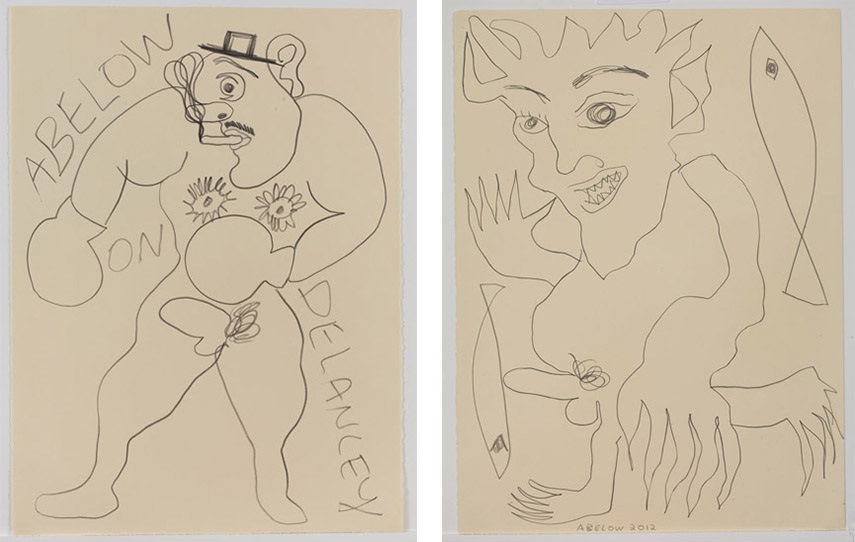 Realization of Color
Born in the United States in 1976, Joshua Abelow grew up in Frederick, Maryland, looking at the abstract paintings that his grandmother, who is also an artist, used to make. Expressing his own talent and artistic tendencies, Abelow received his BFA from the Rhode Island School of Design and his MFA from the Cranbrook Academy of Art. It was during the college years that one of his professors had noticed his skill with color and while Abelow thought of it more as an insult of a sort at that point, he truly was – and still is – a master of the element. His work during this time was in the realm of intuition and natural reaction to the colors themselves and it took a different direction once he started to work for Ross Bleckner.
Having been introduced to the work of Bleckner within the library of School of Design, his move to New York in 1999 was followed by a big change in how he sees the painting creation process. Applying a more thought-out, systematic approach to painting, Abelow started seeing it as a scientific procedure in a way, and though it may not be as fun and spontaneous, it produces a more striking result. Marking the color codes on the back of the work, Joshua Abelow would sometimes even note the steps that he took in order to reach the final moment of the painting, giving the viewers yet another artwork within the same piece.
Often painting on burlap, Abelow received comments in the past regarding the look of his works compared between seeing them within gallery walls and as images on the screen. The material offers a certain roughness, even a dimensionality as the painting can be felt when viewed in person rather than being seen on screen which flattens the look and makes it lose that feeling of space. Although Abelow likes that these two differentiate, Joshua Abelow is fully aware of the necessity for "existing online" as a means of participating in the contemporary art scene.
Abelow's move to New York was followed by a big change in how he sees the painting creation process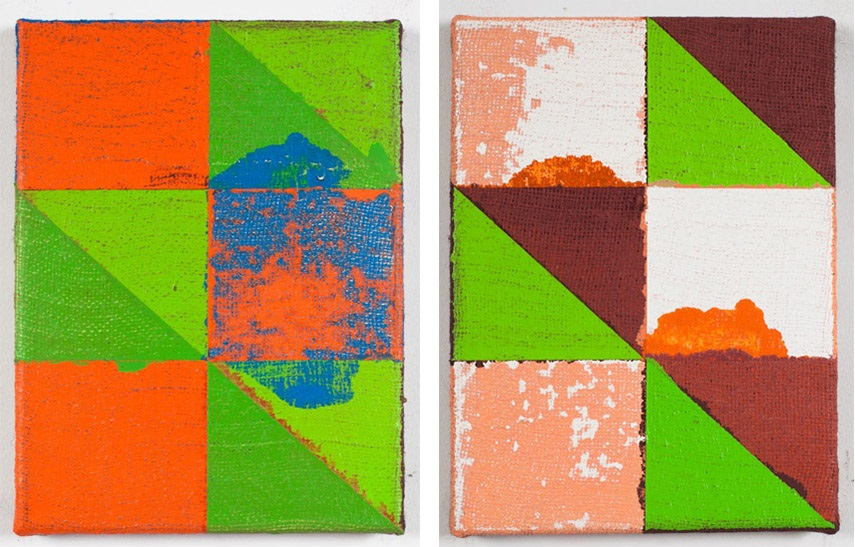 Relationship of the Internet and Art
Yet another area of art that has been influenced by Bleckner, relationship between art and computers, in general, wasn't a "love at first sight" scenario for Abelow. Not having a computer during his college education, Joshua Abelow first conjunction of technology and art happened during his employment for Ross Bleckner that started in 1999. Abelow quickly realized how the two practices can enrich one another, and, in his own words, it's hard to "imagine an artist who doesn't have images of their work as JPEGs. It would be unheard of. You wouldn't be able to participate in the contemporary art world." Joshua Abelow himself has embraced this merge and uses the internet to stay active among his fans and colleagues alike.
Perhaps one of the defining elements of Abelow's practice is communication, and it lies not only in the connection to the people following his work but in the work itself. Expressing himself in his paintings quite literally by using words in some of his pieces, he couldn't help but reference the realm of art on the internet that is practically a necessity in contemporary times. BLOG ME. made in 2013 directly tackles such state of things, as most of the photos taken do end up being tagged on one blog or the other. However, it doesn't represent a slow walk towards the end of practical art that existed for so long; in Joshua Abelow's opinion, there always will be people willing to make art with their own hands, never giving technology the dominion over the craft.
Abelow realized how art and technology can enrich one another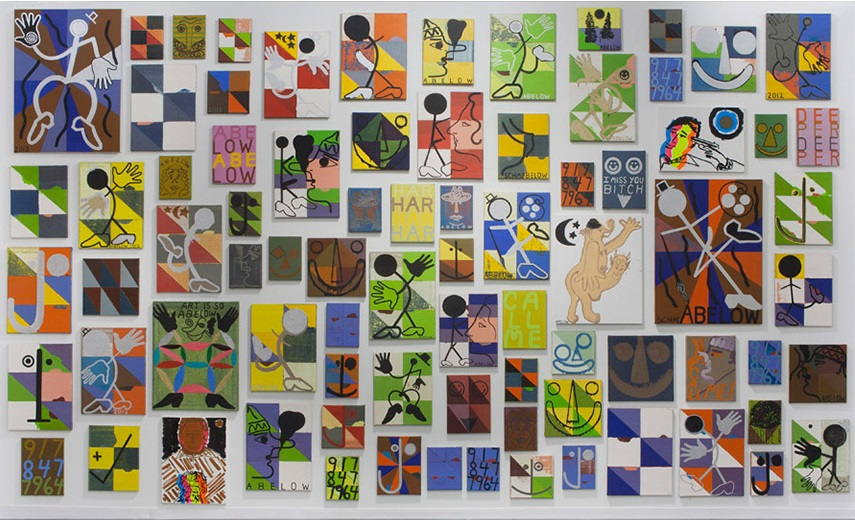 Art Blog Art Blog Had Stopped Being Updated on March 30, 2015
Believing more in a balance of things, at least when it comes to the internet and art, Abelow's mixture of the two is largely represented by his dedicated involvement in his blog titled ART BLOG ART BLOG. Although its content had stopped being updated on March 30, 2015, its entirety can be viewed even today, making it an "online art piece" in its own right. Filled with exhibition logs, installation views, poems, and a myriad of other logs and items, the blog was a way for Abelow to combine, in yet another way, communication, art, and the internet, updating the archive almost daily.
Joshua Abelow's blog was a way for Abelow to combine communication, art, and the internet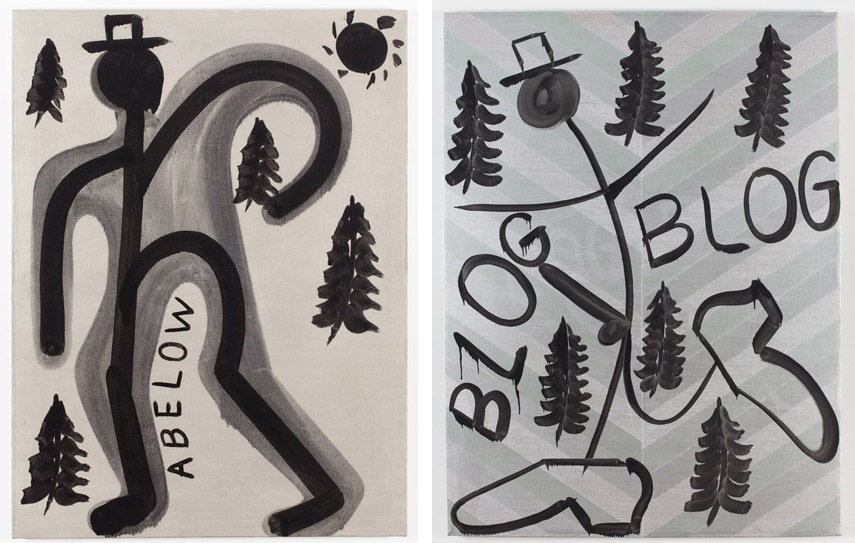 Style of a Stick Man
An unmistakable and unavoidable part of Abelow's practice are his "self-portraits" depicting a stick man. Sporting a top hat and often an erection, his stick man portrayals stand not only for himself as an artist, but for the whole art scene filled with personas looking for attention and recognition. Known to be quite candid in his work, the stick man, never quite upright and often with a cocked elbow, reflects upon the personality of the artist. The figure is sometimes followed up by repeated words or numbers, and Abelow likes to draw a parallel between the frustrations of life and the frustrations of being an artist, which is where the inspiration is coming from. Relieving himself of the stress that painting for weeks imposes, Joshua Abelow's drawings are, in fact, undermining his own painting practice.
Abelow's stick man figure reflects upon the personality of the artist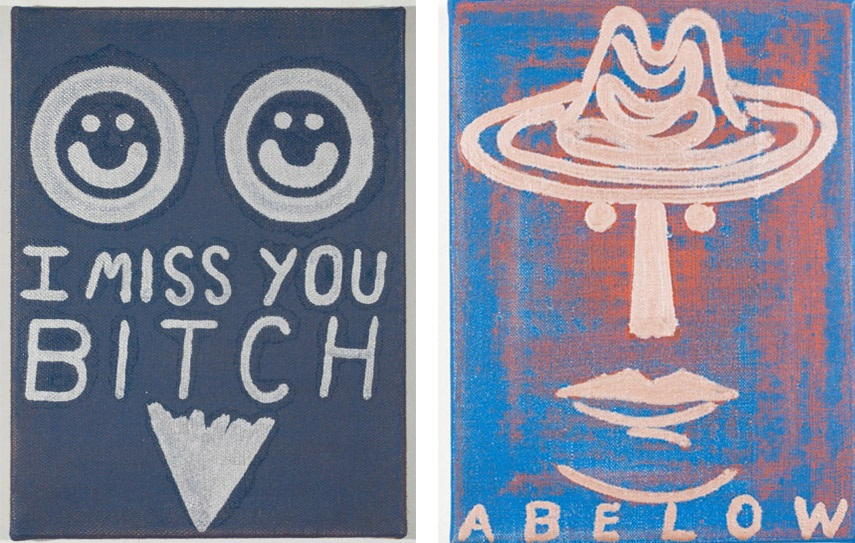 Undermining Its Own Seriousness
The self-portrait inclination doesn't find its limit in the stick man in Abelow's creation process. Humorously self-critical, Joshua Abelow mocks the very role of the artist in his doings and it can take on the wildest of shapes on paper. Some are even depicting a Satan popping out of his backside and it definitely creates an odd relationship between painting and drawing both for the artist and the viewer. Given Abelow's obvious uncanny ability to manipulate color, it could be said that his drawings are undermining the seriousness of his paintings, thus proving the point he set out to make.
Whether you see it as strange, funny, or simply something new, there's an undeniable allure that glues you to Abelow's portfolio. Doing the opposite of what most would expect, he demonstrates great skill in his painting output only to question, even mock the very purpose of it in his drawings. With a deft understanding of color and abstraction on one hand and a rigid sincerity and humorous approach on the other, Joshua Abelow makes for an unusual appearance on the contemporary art scene, one that is bound to stick with you long after you've left the gallery walls.
Joshua Abelow lives and works in New York, NY.
Featured image: Joshua Abelow – portrait, photo courtesy of the artist
All other images via jamesfuentes.com