American born interdisciplinary visual artist Judi Harvest, has been exhibiting for over forty years throughout Europe and the United States. Born in Miami, Florida, Harvest is a recipient of The Silver Knight Award in Art, and attended Barry University – graduating with a BFA honors degree in 1974 – and attended Temple University's Tyler School of Art in Rome, Italy, which ignited a lifelong love affair with Italy and the city of Venice. She attended the Art Student's League in New York and the New York Studio School. Harvest is an MFA graduate of the School Of Visual Arts in Urbino, Italy. Since 1987, she has lived and worked in Venice and New York.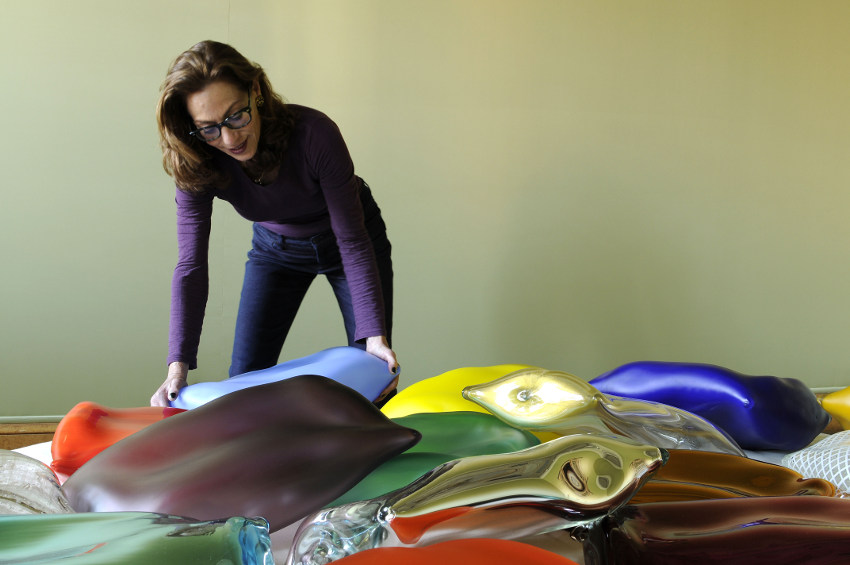 Exhibitions
Judi Harvest has had over 22 solo exhibitions and 13 groups exhibitions, 14 of which have been in Venice, including 2018 CROSS-POLLINATION: Honeybees + Murano Glass, 2017, Propagation: Bees + Seeds (part of Beauty and the Beast, an exhibition in Palazzo Tiepolo Passi), 2015's highly acclaimed Room Of Dreams (part of Dialogue of Fire). Her expansive 2013 solo exhibition DENATURED: Honeybees + Murano, for which she created 100 amber-toned Murano glass Honey Vessels, and other honeybee inspired paintings and sculptures, including building a garden for Honeybees.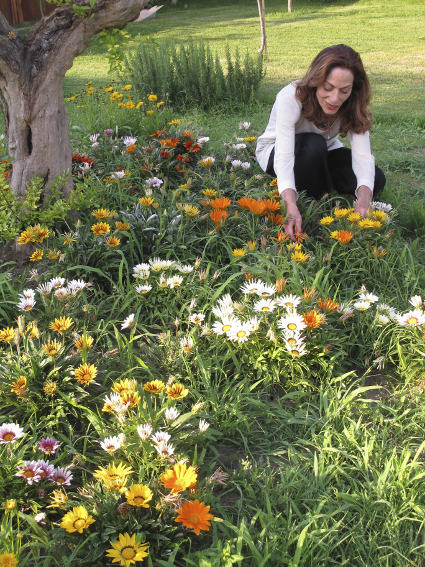 The Honeybee Series
The heart of the Honeybee series (2006 – present) and Harvest's largest project to date, is the HONEY GARDEN, a permanent installation in a 250 square meter forgotten field on the grounds of Murano Glass Master Giorgio Giuman's glass factory on the Island of Sacca Serenella. In March 2013, Harvest purchased 6 boatloads of soil, planted 30 fruit trees, and 500 different types of fragrant flowers – including lavender, jasmine, roses, sage, rosemary and wisteria – with the intention of creating a suitable environment for the bees. In April 2013, she installed 4 fully functional beehives, which have now increased (naturally) to eight healthy beehives in the Honey Garden. Honey Garden produces over 60 kilos of honey twice a year. The glass factory has seen the benefits of increased business and awareness about Murano glass and Honeybees; two colonies of beauty on the road to extinction. They have new requests to work with artists from around the world, all thanks to Judi's Honey Garden project.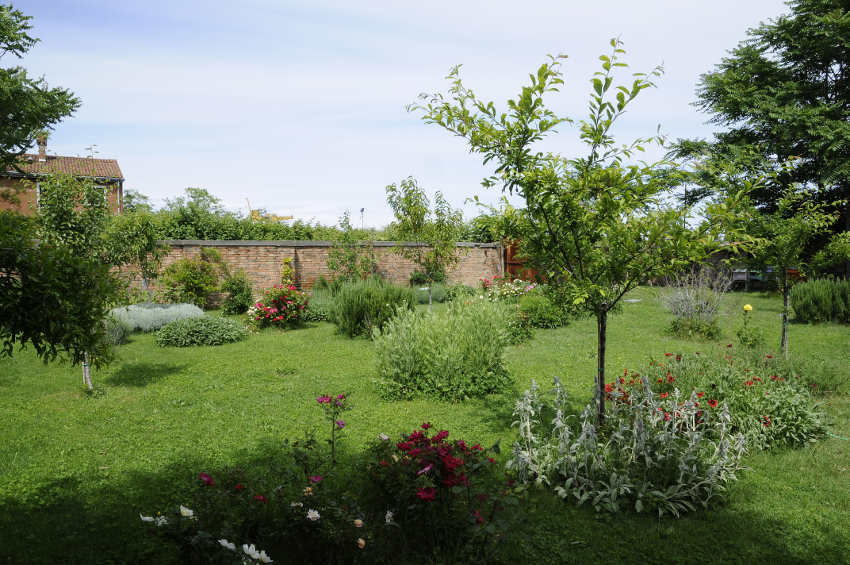 Inspiration
Nature is the one largest inspiration for Harvest's work. Dancing and movement also play an important role. Inspired by the Waggle Dance, the Honeybee's communication form, Harvest also dances around the canvas on the floor to begin a painting. Some of her teachers are Richard Pousette-Dart, Robert Beauchamp, Milton Glaser, Jannis Kounellis, Peter Agostini and Robert Storr. Barbara Rose, Art Historian, stated in Harvest's latest catalog, PROPAGATION: Bees + Seeds, 2017:
Not all artists are created equal, and not all artists are equally creative. Judi Harvest has made creativity in both art and life her goal and her achievement. Like Robert Rauschenberg, one who inspires her, she wants to act in "the gap between art and life" so that what she makes and does as an artist has a positive impact on the world.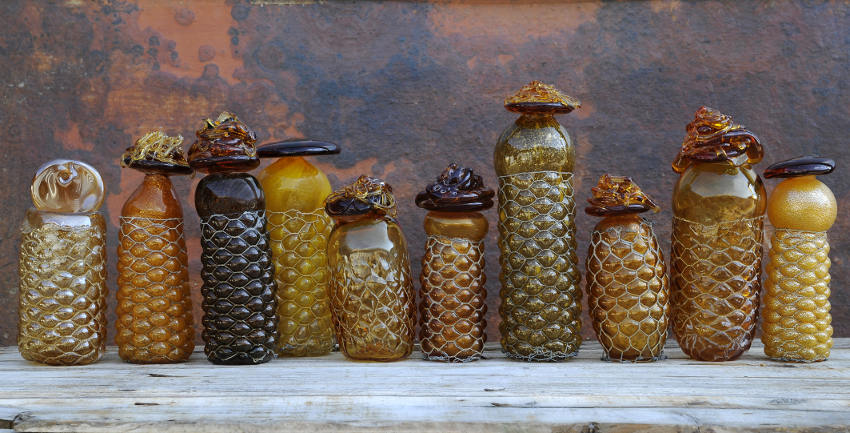 Techniques
Judi Harvest's degree is in painting and she loves to experiment with techniques. She also enjoys creating videos which document each series of work. The videos may be viewed on her website. Rhinoscimento, 2000, The Buddha Diaries, 2003, Stilled Life 2004, Venetian Satellite, 2006, Breakfast With The Bees, 2013, Sogni 2015, Waggle Dance 2017. Her paintings, such as NUPTIAL FLIGHT and POLLINATION, are oil on linen. Occasionally collage elements may be introduced, such as volcanic sand from Stromboli.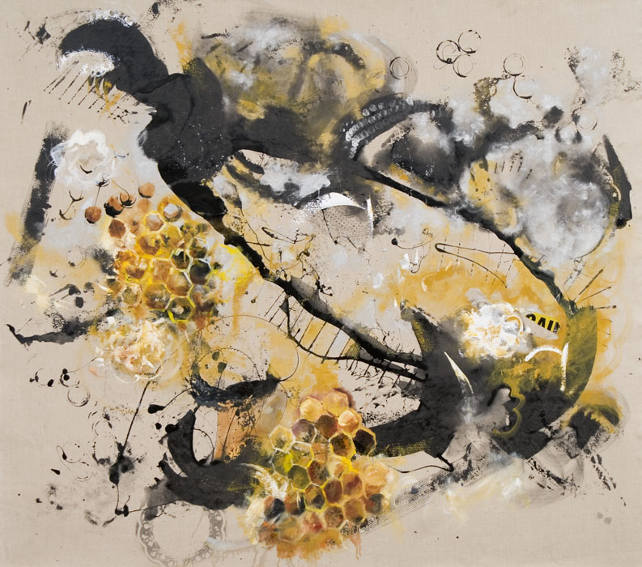 Her Honeycomb sculpture pieces, such as MONUMENTAL HIVE, are a combination of US Chicken wire, air- drying porcelain, beeswax, gold leaf and resin. Her Murano glass works are usually pure Murano glass, mixed with gold leaf. Her Honey Vessel, Double Line sculptures, featuring 100 unique Honey Vessel Murano glass sculpture, are Amber Murano glass blown into Italian Chicken wire. With glass blowing, the process is planned but the results can be a happy surprise, unknown until out of the furnace in 3 days. The consistent theme in Harvest's work is the Fragility of Life and the Search for Beauty. She often mixes common and precious materials, as in the Honey Vessels, Murano glass and chicken wire.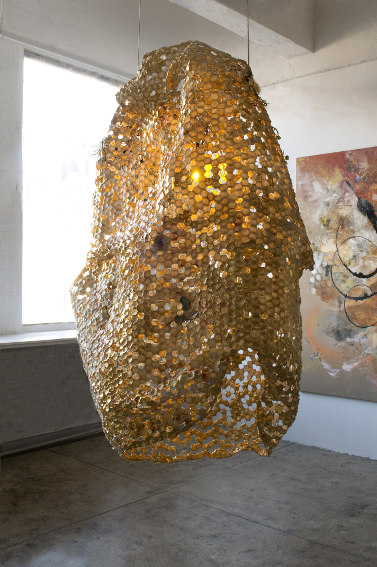 Shows and Press
With a consistent presence at renowned international art festivals, including 6 International Venice Biennale's to date, Istanbul Biennale, and The Venice Glass Week, Harvest has exhibited at some of the most respected galleries and art spaces globally – Paul Sharpe Contemporary Art, Jonathan Shorr Gallery in New York, Akademie of Fine Arts in Prague, National Academy Museum in New York, Chatauqua Institute of Arts, Bugno Art Gallery, Bockley Gallery in New York, Galerie Thomas in Munich, IVAM Institut Valencià d'Art Modern in Spain, Palazzo Tiepolo Passi in Venice, Venice Design Art Gallery, Hotel Bauer, Zeitgeist Gallery in Milan, Fondation Valmont in Barcelona, The Coral Gables Museum in Miami and the Murano Glass Museum, Venice.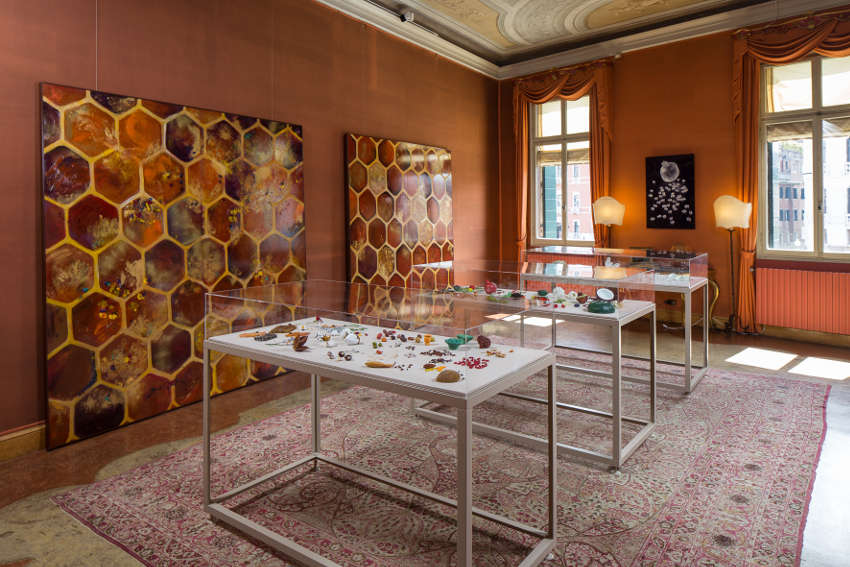 Judi Harvest has been featured in the pages of The New York Times, T Magazine, Vogue Italia, Interni, Bloomberg, Miami Herald, La Nuova, Il Gazzetino, Wall Street Magazine, Neues Glas, Art Zealous, Tablet Magazine, Grazia Casa and more. She has been the subject of various broadcast interviews and documentaries including a 2013 RAI documentary highlighting her work with endangered Honeybees.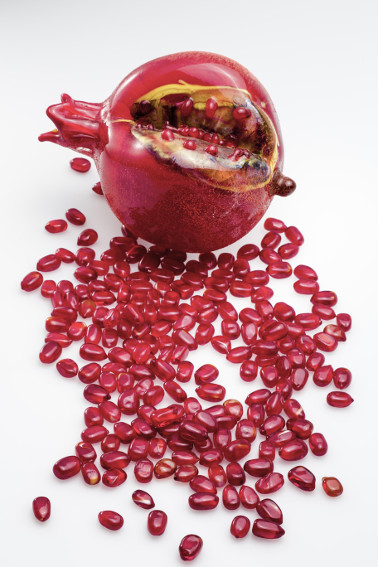 A regular guest lecturer for international conferences and symposiums – on art, the environment and the state of Venetian Glass, and honeybees – her most recent lecture titled Cross-Pollination, was during The Venice Glass Week at the Institute of Art, Science and Letters, Palazzo Franchetti, Venice in 2017. Harvest's most recent exhibition, Propagation: Bees + Seeds, opened at the 2017 Venice Biennale and is currently exhibiting across United States and Europe. She was recently commissioned for a highly anticipated project to be unveiled at the Gritti Palace Hotel during The Venice Glass Week, September 9-16, 2018.
Judi Harvest lives and works in New York City and Venice, Italy.
Featured image: Judi Harvest with Monumental Hive, 2017. Photo by Francesco Allegretto
All images courtesy of Judi Harvest Studio