The practice of Juliah Humpfer is strongly embedded in the urban experience, yet almost all of her works are reminiscent of flora and fauna. By selecting and re-modifying organic forms, the artist is eager to suggest the importance of human's connection with nature despite the various obstacles which are characteristic of the contemporary moment. The images she produces are deliberately devoid of any critical seriousness, rather they are thought as a playful and open space for the observers to inscribe their own thought, emotions, and meanings.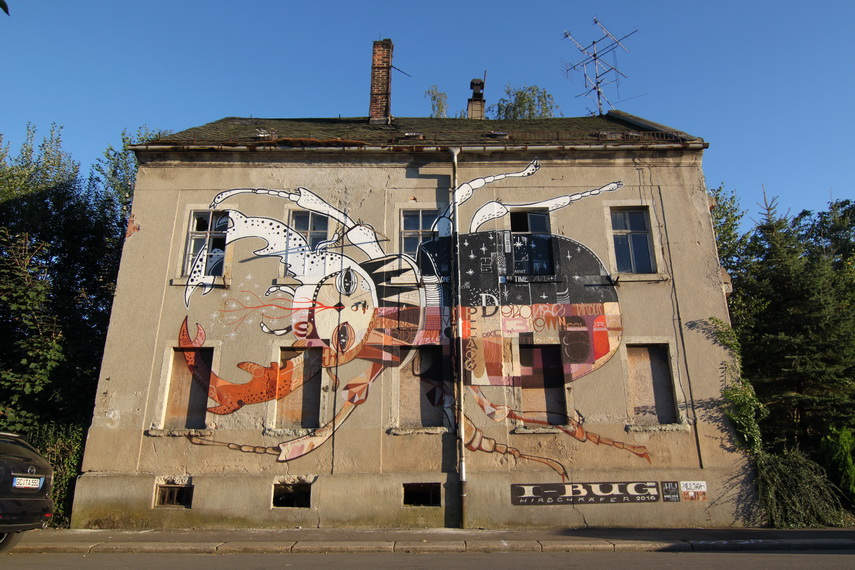 Illustration As a Main Tool in The Work of Juliah Humpfer
Juliah Humpfer is born in Stuttgart. She studied communication design and works as free Illustrator and her work became recognizable because of the special aesthetics that she has developed over the time. Precise and clear graphic works are suffocated with of distinctive patterns and structures. Humpfer has realized a large number of works for various clients from magazines, over restaurants to even famous alcoholic beverage manufacturer Jagermeister or fashion brand Tommy Hilfiger. Whether she is producing voluptuous murals for her own satisfaction or commercial work, the same principle is always applied with a necessary dose of humor.
Creatures from fairy tales and myths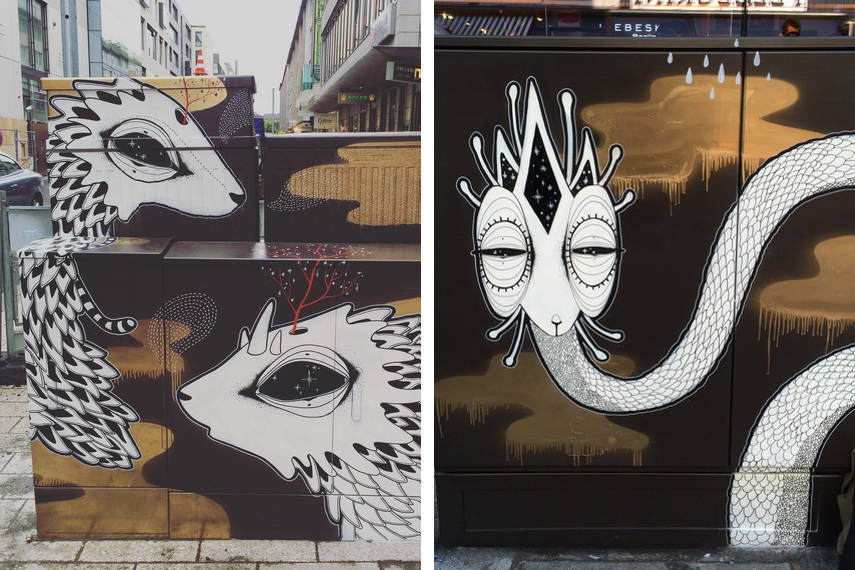 Establishing Peculiar Style
The artist often uses materials from the street art context, such as spray cans and acrylic markers in order to produce large-scale wall paintings. While preparing the sketch, she draws inspiration from literature, music, and nature and step by step build the specific compositions. Therefore, it is no wonder how easily the fantastic elements are mixed with organic forms since Humpfer is rather thorough. The peculiar structures and patterns are a foundation of her graphic style which interwoven out of both real and dreamy urban and organically lively themes. Interestingly, notable are mysterious, almost occult creatures and symbolic forms seem to be reminiscent of local folklore, especially pagan fairy tales and customs.
Fantastic and magical compositions are Humpfer's main feature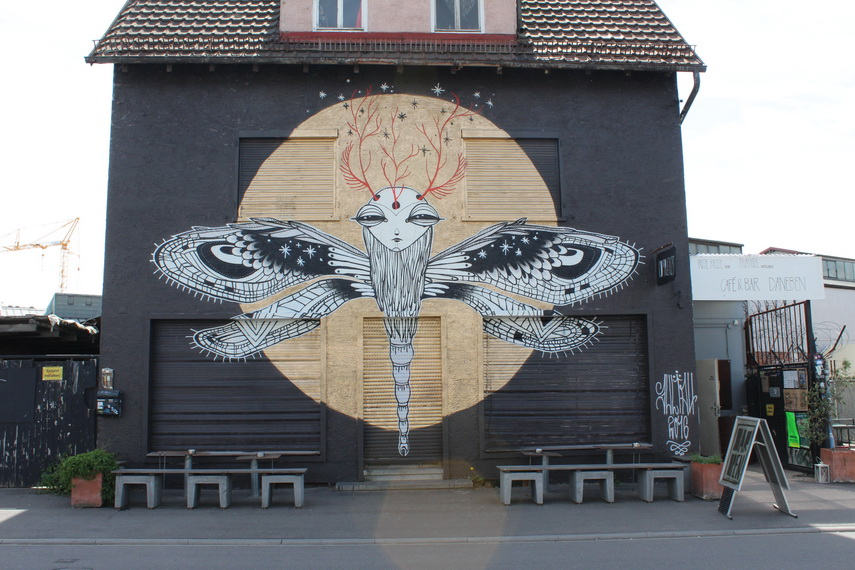 The Rising Star
Besides commercial work and public commissions, Juliah Humpfer exhibits on regular basis in her homeland from the point of the begging of her artistic career in 2010. In 2015 she presented her work for the first time in Spain with the exhibition The friendly ghosts in my garden at Fousion gallery. That was a true success and enabled her to continue pursuing her ideas further in accordance to the gallery. Although, the magical worlds of Julia Humpfer are full of quirky animals and other creatures, they suggest the artist's attempt to establish her personal mythology or rather her personal utopia. Whether such a request is concise agenda or just an unconscious act, it represents the focal destination for each artist.
Juliah Humpfer lives and works in Stuttgart.
Featured image: Juliah Humpfer behind her work – image courtesy of Fousion gallery and the artist
All other images image courtesy of Fousion gallery
| Year | Exhibition Title | Gallery/Museum | Solo/Group |
| --- | --- | --- | --- |
| 2016 | Lehrtätigkeit im Fachbereich | Illustration HTWG Konstanz | Group |
| 2016 | The Expulsion of the limbo - Popsurrealist Group Show | Fousion Gallery, Barcelona | Group |
| 2016 | Untitled | Stroke Art Fair, München | Group |
| 2016 | Untitled | ROOM ART FAIR, Madrid | Group |
| 2015 | Ghosts in my garden | Fousion Gallery,Barcelona | Solo |
| 2015 | Untitled | Stroke Art Fair, München | Group |
| 2015 | On the run | Hugo 45 Galerie, Braunschweig | Group |
| 2014 | Prismah | Stoffwechsel Galerie, Mannheim | Solo |
| 2014 | Urban Playground | Urban Art Gallery, Stuttgart | Group |
| 2014 | Juliah Humpfer | Urban Art Clash Gallery Herr Bert, Berlin | Solo |
| 2014 | Untitled | Berlin Graphis Days | Group |
| 2014 | Juliah Humpfer | Artist Residency bei Urban Art Clash, Berlin | Solo |
| 2013 | Happy in Berlin | Urban Art Clash Gallery, Berlin | Group |
| 2013 | Untitled | Stroke Art Fair, Berlin | Group |
| 2013 | Stuttgart ONE | Kernerstraße, Stuttgart | Group |
| 2013 | Kunst im Club 3 | Stuttgart | Group |
| 2013 | In Your Face 2 | Augsburg | Group |
| 2013 | Stuttgart illustriert | Galerie Gedok | Group |
| 2013 | Einmalig und Superkurz | Dritter Stock | Group |
| 2013 | Untitled | Galerie Hajek | Group |
| 2012 | Untitled | Gewinn der Kunstschlacht 8 | Group |
| 2012 | Untitled | Auszeichnung des ADC Nachwuchsawards | Group |
| 2012 | Kunst im Club 2 | Stuttgart | Group |
| 2011 | Juliah zu Gast bei MUK | Stuttgart | Solo |
| 2011 | Book release: Mit Haut und Haar. Allegorien vom Gefressen-Werden | Erschienen bei Merz Solitude | Solo |
| 2010 | Untitled | Diplom Kommunikationsdesign Merz Akademie | Solo |
| 2010 | Creature Feature | Hotel de Vil, Stuttgart | Group |