Juliette Clovis is a French artist best known for her hand cut works that focuses on female identity. She started drawing and painting very early in her childhood. Her parents were art lovers and collectors, so they transmitted to her their passion for art. She was born in 1978 in Poitiers, France and later she moved to Paris for her studies. After a first degree in law, 2 years studying history of art at L'Ecole du Louvre and a Graphic Design at L'Ecole des Gobelins, she worked for 5 years as a communication officer. In 2004, she decided to leave her job and to dedicate herself completely to her art.
In her works, Juliette Clovis focuses on female identity and the representation of women in modern society. Her artwork is made of cuttings of extreme minutia cut by the artist's hand. She draws inspiration from a combination of mythological, historic and religious references as well as other ethnic codes to produce her feminine creations. After her first very colorful works, which were close to Pop Art, the artist has evolved a graphical singular universe combining neo-classic sensitivity and a baroque language, brought to life through a unique technique that she has pioneered.
Juliette Clovis – Works 2014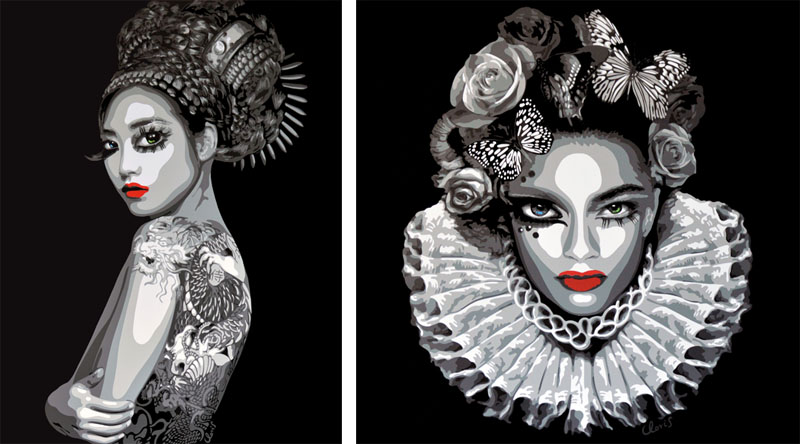 Contrary to the current French contemporary art movement, Juliette places a very particular emphasis on technical and aesthetic research. The artist seizes each piece of art like pieces of haute couture on which she will spend hundreds of hours to form her creations. And it is this same quest that drives her work this year with a new medium: porcelain.
In her most recent work, Juliette Clovis explores the topics of invasions and metamorphosis in human body. The theme of metamorphosis is ambiguous. In biology, it refers to a process of transformation within the life span of an entity. But metamorphosis equally has a psychological meaning, with changes intervening in the character and therefore the identity of the person.
Recent Works 2015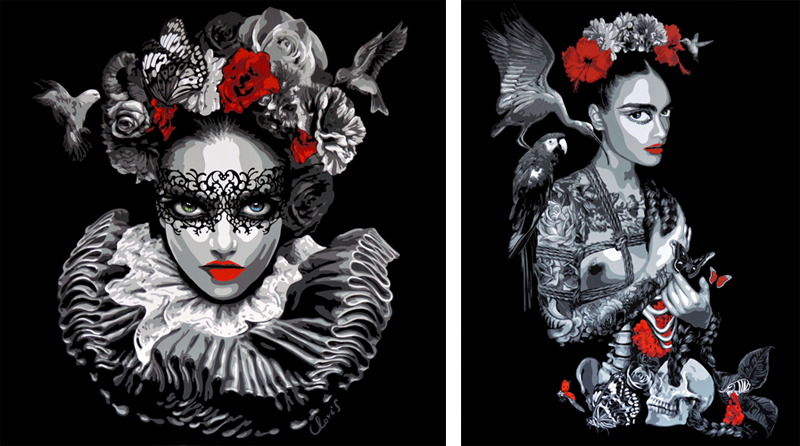 Clovis' work on female identity, which until now has represented a classic and quasi-photographic approach, is being transformed with an invasion by a multitude of new external elements. New women emerge covered in a profusion of natural elements packed with wildlife and flora. Certain pieces are completely anthropomorphic, challenging and disturbing. Take for instance the chimeras with human faces – creatures that confront us with our own humanity. These bodies and faces seem to fade away in favor of luxurious nature, and the artist explores female identity, its place and its relation with nature. The new portraits that Clovis now proposes are a veritable hybridization of style and eras, a blend of allegory, poetry and surrealism.
She participated in several exhibitions and fairs in Europe, New York and Asia and her work is now represented by about 10 French and foreign galleries. One of them is Artemisia Gallery in New York.
After 12 years living in Paris, Juliette Clovis moved to Bordeaux, France, where she currently lives and works.
All images courtesy of © Artemisia Gallery.