Juliette Losq is a British contemporary artist known for photo-realistic pieces which seem like a portal to another world.
Born in 1978 in London, Losq received her MA in 18C British and French Art from Courtauld Institute of Art in 2001, and her PhD in Fine Art from Royal Academy Schools in 2010.
Between the Urban World and the Wilderness
Juliette Losq's oil paintings and drawings, which include the intricate and intimate as well as large-scale works and installations, incorporate imagery derived from Victorian "Penny Dreadfuls", newspaper illustrations, science fiction and horror films, vintage daguerreotypes and a range of diverse interests. Juliette fuses all these influences with her own photographs taken during explorations of overgrown and forgotten places, resulting in drawings, composed of fragments from all these realities, that transport viewers to the border between the urban world and the wilderness. All in shades of grey, green, and brown, these strange and disturbing places are devoid of all human figures.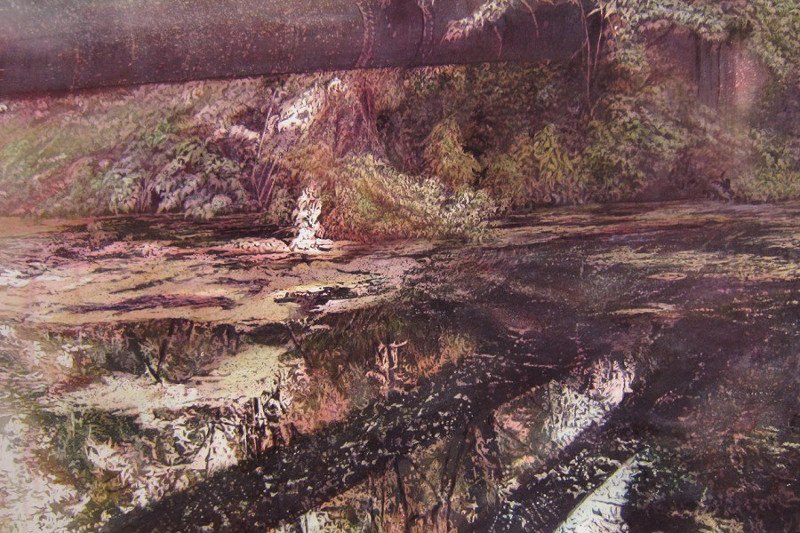 "The Clearing"
Using a traditional material of the watercolourist called resist, Losq works over the surface repetitively creating multiple painted layers which simultaneously obscure and reveal those beneath. Featuring traces of graffiti or objects abandoned as rubbish, Losq's oeuvre probes the notion of "The Clearing" – where wilderness and chaos oppose civilization and order. Losq conjures her own distinctive landscapes where man feels at his most safe yet most powerless because if he comes too close to the edge the forest may snatch him into its depths.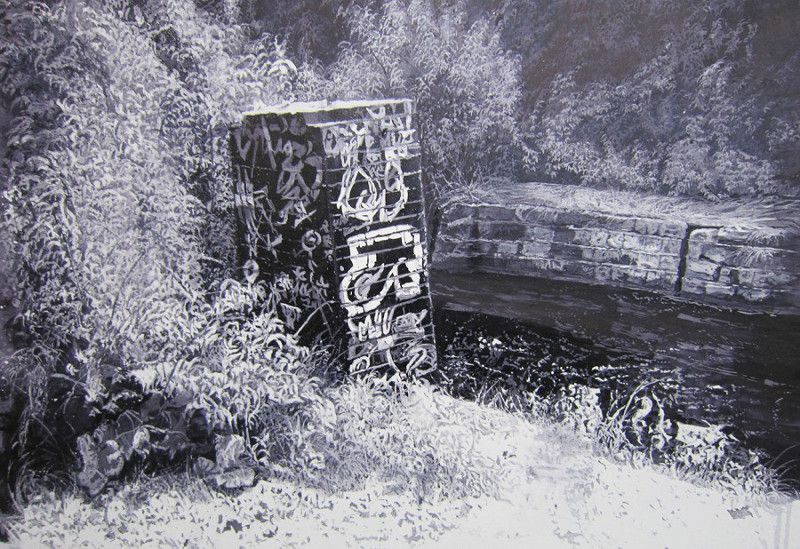 Nemora
Losq's installation works are often influenced by Rococo imagery and 18th-19th century Gothic architecture, visual styles influenced by faith, prosperity and power. In one of her recent shows entitled Nemora held at the Fine Art Society Contemporary in London, Juliette presented her newest installations in which she implements gothic objects such as Victorian grandfather clock in her installation Pendulus, or a fireplace, creating unique piece of art. Looking like old wallpaper, her large shaped, rolled and torn paper-based installations interact with the architecture of the rooms, they are displayed within in a highly theatrical way. This sudden and dramatic change in environments rebels against rule and the mundane with a wicked fantasy. The result is what Juliette calls a "nemus", a grassland or hirst dedicated to the sacrifice and worship of woodland deities. It is all part of a figment of the imagination meant to preserve a long-forgotten past.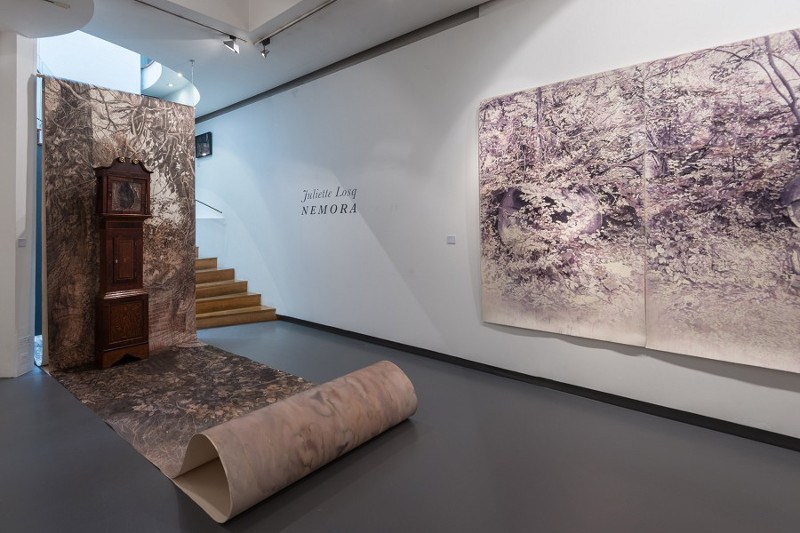 Lucaria
Juliette Losq has participated in many exhibitions in her native country, as well as internationally, in Paris, Seoul and New York, among others. Her first solo show in the United States entitled Lucaria was held at Theodore:Art in Brooklyn in 2012. It featured a drawing inspired by a type of Victorian optical toy in which different cards could be reordered to generate different scenes. All of her pieces levitate between safety and security depicting the dichotomy of the deserted spaces on the borders of our hometowns, untamed areas that bring us to the enticing and threatening brink of the unknown.
Visitors' Choice Award
Losq has been selected for numerous awards including the prestigious John Moores Painting Prize 2014 shown at the Walker Art Gallery, Liverpool, and was the winner of the Visitors' Choice award and the Jerwood Drawing Prize.
Losq's works are included in The Newhall Women's Art Collection, All Visual Arts and The Saatchi Collection.
Juliette Losq lives and works in London, UK.