Keith K. Hopewell is a multidisciplinary artist from England whose work challenges our approach to fine art mediums. The artist works in a variety of media including graffiti, sculpture, found objects, sound and film. His artworks are a very tactile experience as the artist uses gesture, repetition, performance and ritual to appeal to all the senses. By continuously trying to surpass any pre-established idea of what art is or should be he creates pieces that last and that can outlive itself in the future.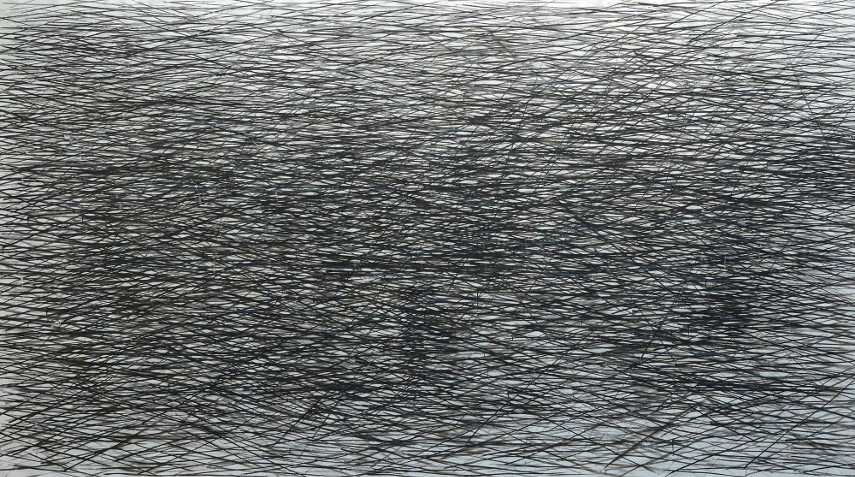 Keith K. Hopewell Biographical Information
Keith K Hopewell was born in York in 1972 and now lives and works in Hampshire and London. One of the pioneers of graffiti art scene in the UK, Keith K. Hopewell creates artworks focused on exploring the way art functions in different environments encountered in public space. His abstract meticulously executed artworks are composed of numerous small lines that brought together resembling the expansion of space in cosmos. The complex, diffuse artworks continuously shift the attention of the viewers from one spot to the other.
Keith K. Hopewell creates pieces that can outlive itself in the future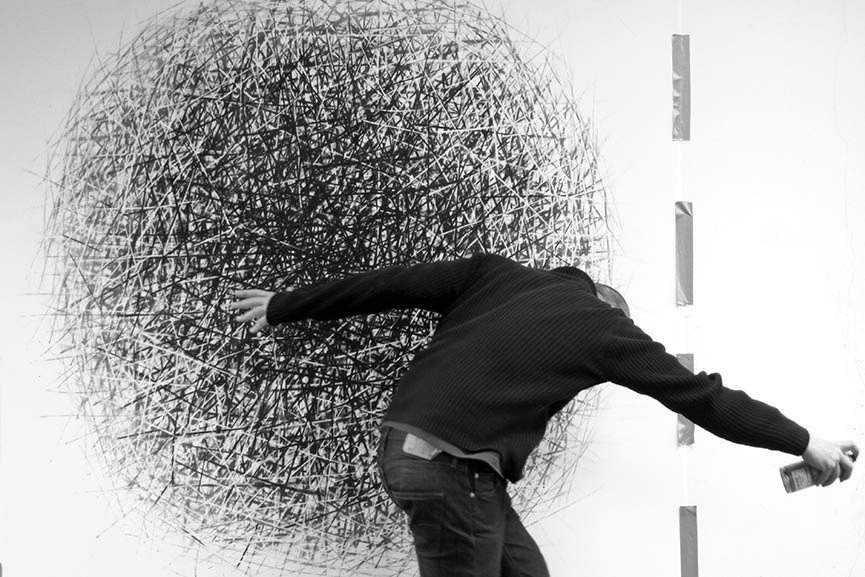 Depicting the Essence of our Will
The artist uses the same approach when creating his canvas works. Exploring the way various medias can be mixed and blended into one another or simply reduced to a code is one of the recurrent topics in the artist's works. Through the construction and deconstruction of the objects and the surfaces in his graffiti and fine art works Keith K. Hopewell allows the performative elements to become visible to the viewers. Another major theme in Keith K. Hopewell's artworks is liminality, the ambiguity or disorientation that occurs in the middle stage of rituals. The artist uses a variety of ideas to reach the purity that personifies the very essence of our will.
A Video for the Broken Systems in C Major from Chaoid Systems Album Published by VaVa Records
Myths / Myths & Structures and Chaiod Systems Music Videos
Apart from being a visual artist Keith K. Hopewell is also a music producer. He has worked with sound for years and has released several records on vinyl including Myths / Myths & Structures and Chaiod Systems. His pulsating soundtracks and industrial beats are often accompanied by monochromatic videos that show the artist at work, spinning object or undefined shapes jumping and flitting to the beat. Keith K. Hopewell's new record entitled Chaoid Systems was released in 2015. Chaoid Systems was published by VaVa Records. In 2016 his works were included in a new graffiti art book entitled Graffiti Expressions Manifestes. Ce que le street art ne dit pas alongside works made by 15 international artists. By gathering the works of an array of intricate artist the book aims to explore the graffiti culture in France and worldwide.
Keith K. Hopewell is represented by Galerie Celal from Paris, France.
The artist lives and works in Hampshire and London.
Featured image : Keith K Hopewell – Portrait
Images courtesy of the artist and Galerie Celal
| Year | Exhibition Title | Gallery / Museum | Solo/Group |
| --- | --- | --- | --- |
| 2016 | W and Beyond – Writing and Beyond | Galerie Celal, Paris | Group |
| 2015 | The Universal Zulu Nation's anniversary | House Of Vans, Waterloo, Belgum | Group |
| 2015 | Masters final: Exhibits 1, 2 and 3 | WSA, The Winchester Gallery is Winchester School of Art's, UK | Group |
| 2015 | Broken System in C Major | Hoxton Gallery, London | Solo |
| 2015 | Untitled | Witfield Fine Art, London, UK | Group |
| 2014 | Hip Hop Conference | 7E Youth Academy, London, UK | Group |
| 2014 | New Era NewHeritage | Hoxton Arches, London | Group |
| 2013-2014 | L'Avenir, A Graffuturism | White Walls gallery, San Francisco, USA | Group |
| 2013 | Space Time Utopian | Electronic Wisdom event Southampton, UK | Group |
| 2013 | Coincidentuality | WSA, The Winchester Gallery is Winchester School of Art's, UK | Group |
| 2013 | Negative Charge | East London, UK | Group |
| 2012 | Part2ism | WSA, The Winchester Gallery is Winchester School of Art's, UK | Group |
| 2012 | Synaesthesia | Phonetics | LUSH, London, UK | Group |
| 2012 | Untitled | Waltham estate, London, UK | Group |
| 2012 | New Horizons and Future Love Songs | Red Gallery, London,UK | Group |
| 2012 | Untitled | South London, UK | Group |
| 2011 | CMYK project | Shoreditch, East London, UK | Group |
| 2011 | Part2ism Retrospective | York, New York Solo | Solo |
| 2011 | Future Love Songs' | Whitecross Street, London UK | Group |
| 2009 | Entourage | Two Art Gallery, Milano | Solo |
| 2007 | Remixed Media | AMUTI, Euston | Solo |