Kelly Tunstall is a San Francisco-based artist known for her paintings of elongated, large-eyed female figures. She is a part of an artistic collective KeFe consisted of her and her life partner Ferris Plock. A prominent figure on the San Francisco art scene, Tunstall works with a range of materials that include collage, pencil, acrylic, spray paint, pen and ink, gold leaf and some secret ingredients in order to create illustrations, installations, and multimedia projects.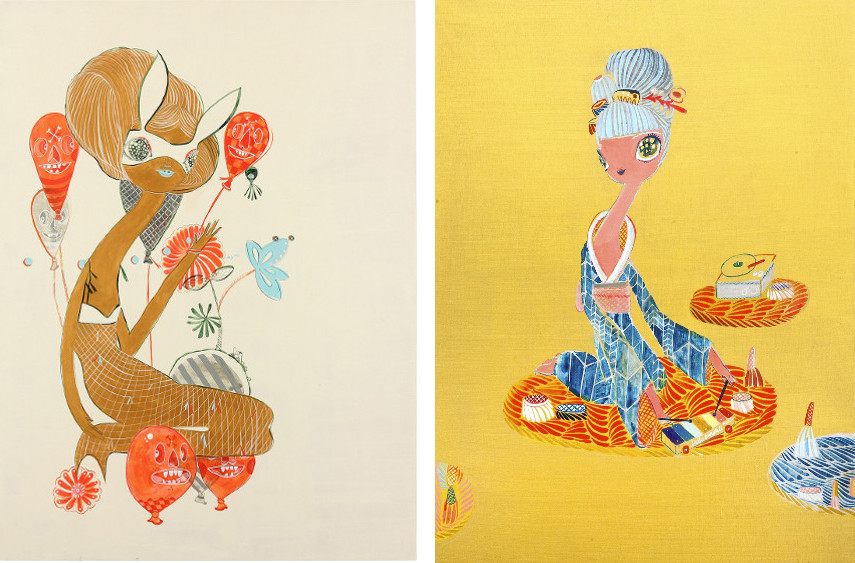 Artistic Collective KeFe
Tunstall is born in 1979, and in 2002 she received her BA from California College of Arts and Crafts. For more than a decade she works and exhibits with her partner and husband, Ferris Plock. They intertwine in their roles of painters, parents, and partners, often working together on the same canvas or preparing work for their mutual exhibition. But more importantly, they influence and complement each other artistically. Cartoonish, surreal girls, pastel hues, and simplicity in the composition are Tunstall's trademarks. One can easily tell the difference between their painting and drawing styles, but both manage to harmoniously blend and illuminate each other's artistic visions. KeFe is a moniker under which they explore their artistic and everyday communication and habits. The results are fantastic, large scale colorful pictures of wondrous creatures.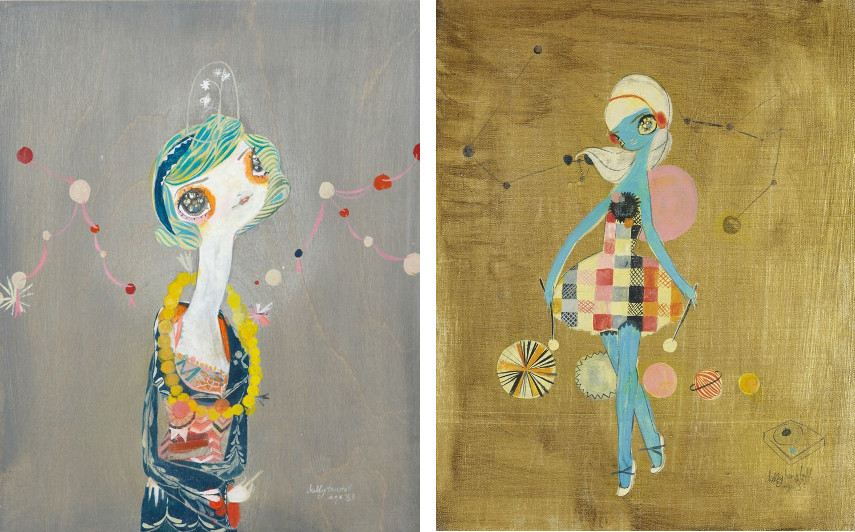 Joyous femininity
Kelly Tunstall's work belongs on the thin line between surrealist, experimental, chic drawings and more traditional approach. She has created a unique world full of mermaids, sparkle-eyed girls, quirky characters filled with grace and femininity. Her portraits indicate more complex themes under the first layer of sugary bright colors and seemingly naïve imagery of her doll-like figures. Tunstall renders a huge variety of different female characters, with a vast scale of emotions and inner stories. One can feel that behind the calmness and mild tranquility in every portrait, exits a specific female narrative of turmoils and conflicts. Yet, the sense of positive and dreamy outcome prevails; a reassurance that these cartoonish and innocent girls transformed their little mischiefs into something sweet, joyous and playful.
Cartoonish, surreal girls, pastel hues, and simplicity are Tunstall's trademark in their collaborations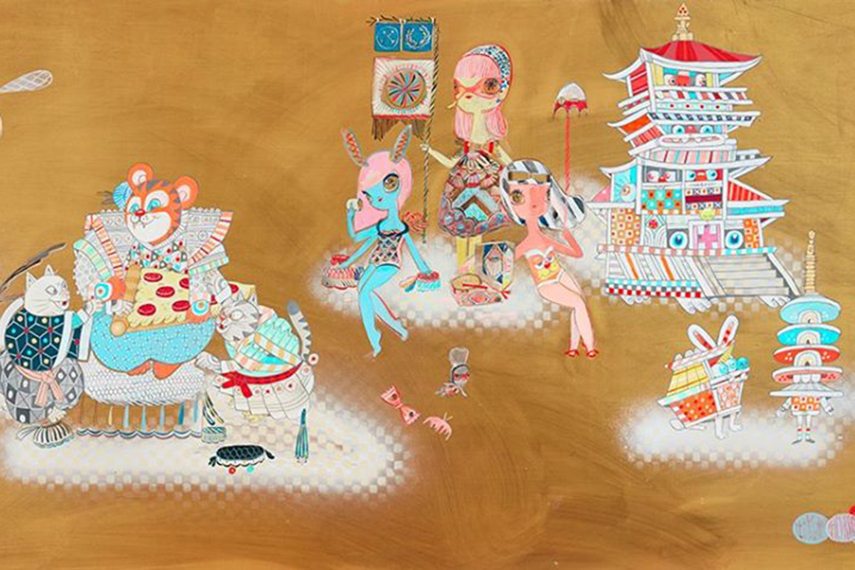 Floating worlds and conversations through paintings
As a part of KeFe duo, Tunstall have exhibited numerous times. In San Francisco she and her husband are recognized and popular artists, inspiring both for their work and their harmonious relationship that is reflected in their collaboration. Both her and Ferris Plock share a passion towards Japanese culture and tradition, and use it for inspiration. One of their exhibitions, Floating world, is named after a specific ancient Japanese art ukiyo-e, which means pictures of a floating world – in their interpretation, an uprooted, dynamical and enchanted land, where everything is possible. It is a precise metaphor for the artistic world they had created together – an idyllic space for their endless conversations through paintings. Their latest exhibition is called Closer and it shows at the Spoke Art gallery in San Francisco from 1st to 22nd April 2017.
Kelly Tunstall lives and works in San Francisco.
Featured image: Kelly Tunstall – Portrait of the artist in front of her work – Image via Refinery29.com
All images used for illustrative purposes only