California-based artist Ken Flewellyn's work is an interpretation of how cultures interact in the settings of a modern society. His oil paintings highlight the versatility of urban identity through contrasting subject matter. Flewellyn's decisions regarding perspective are carefully tailored in order to highlight the key elects of each of his pieces. Rarely do we see the face of our subject; instead, we focus on her hands or her feet, which tell stories of their own. In the background, many of the women are draped in traditional Japanese fabric, thus adopting the tranquility of the garment patterns. However, this quietude is interrupted by the rest of the piece which often shows the woman unabashedly acknowledging her Western character.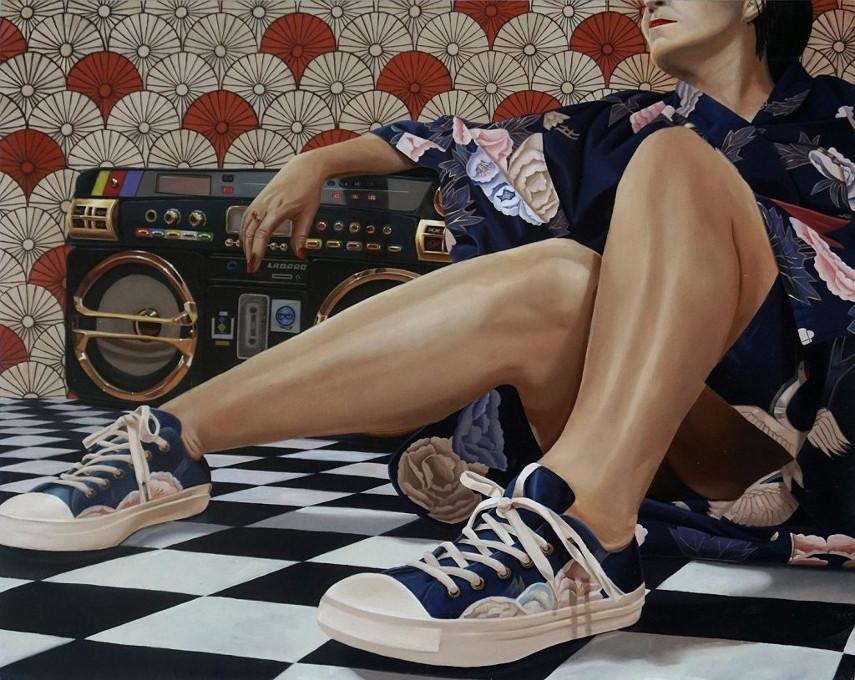 The Beauty of Contradiction
The nuances Flewellyn captures in his close-ups give us crucial insight into the contradictory aspect of a given character. A nozzle of a can of spray paint, held down by a manicured finger, is a picture of urban resistance and a display of elegance at the same time. In his art, Ken Flewellyn steps right into the middle of a culture clash, puts down the swords, and transforms it into a cheerful wedding, tilting and zooming into his subjects to give the audience a unique view of cultural identity.
This artist is represented by Thinkspace Gallery.
Ken Flewellyn lives and works in Los Angeles, California.
Featured image: Ken Flewellyn – Flash & Flare (detail) – Image courtesy of Thinkspace Gallery
All images courtesy of Thinkspace Gallery.
| Year | Exhibition Title | Gallery/Museum | Solo/Group |
| --- | --- | --- | --- |
| 2015 | 3rd Annual 12x12 Exhibition | Gauntlet Gallery, San Francisco, CA | Group |
| 2014 | Thinkspace Presents: Lax / Sfo | Hashimoto Contemporary, San Francisco, CA | Group |