Depicting the tension between personal experience and external classification, Ken Lum creates a complex body of work, searching for the right kind of expression in various media and different approaches, including performance, sculpture made of rented furniture, studio portrait photographs joined with false corporate logos, paintings of opaque language or mazes composed of mirrors inscribed with text. In each of these forms, he questions the systems that order our comprehension of the everyday world, often using manipulations to attract the attention in consumer culture. Going beyond the established conventions of portraiture, his work marks the individuals he depicts as subjects who strive to autonomy in the society that shapes their positions.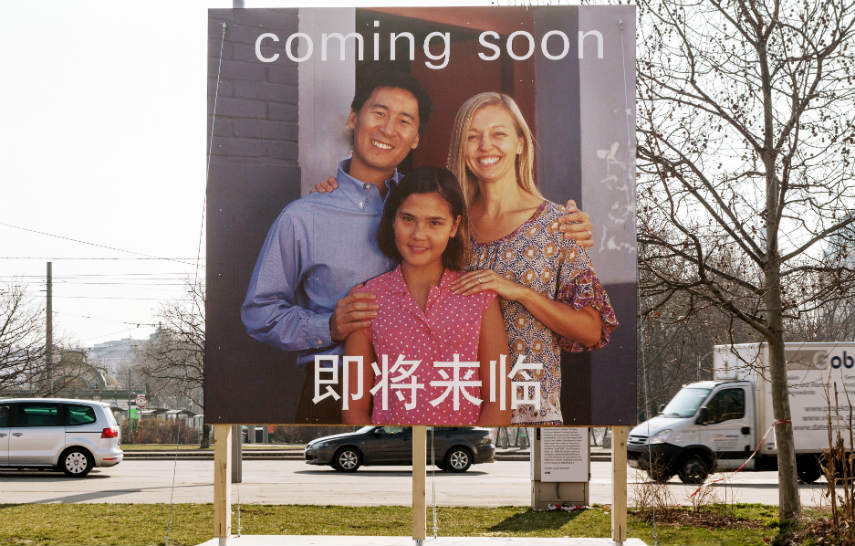 From Scientist to Prolific Artist
Born in 1956 in Vancouver, Canada, Lum gained his education at the University of Columbia where he received an MFA in 1985. Originating from China, his grandfather arrived in Canada in 1912, to work for the Pacific Railway Company. Working in a number of media including painting, sculpture, and photography, Ken's art ranges from Conceptual in orientation to the representational in character and is generally concerned with issues of identity in relation to the categories of language, portraiture, and spatial politics. Lum turned to Conceptual art after receiving his undergraduate degree in science. He believes that his lack of early formal art training enabled him to be more receptive to the influences of other Conceptual artists, such as Martha Rosler and Dan Graham. He asserts that, by the late twentieth century, concepts rather than the artist's technical skill were most important in creating a work of art. Like many artists of his generation, he uses mass-produced consumer materials, blurring the boundary between art and popular culture[1]. Rarely fabricating his own works, he instead cooperates with studio photographers and tradespeople on his projects. Using the combinations of photographic images and text, sculptural components, and ideas about language, the artist produces pieces that address contemporary life.
Ken Lum creates art concerned with issues of identity in relation to the categories of language, portraiture, and spatial politics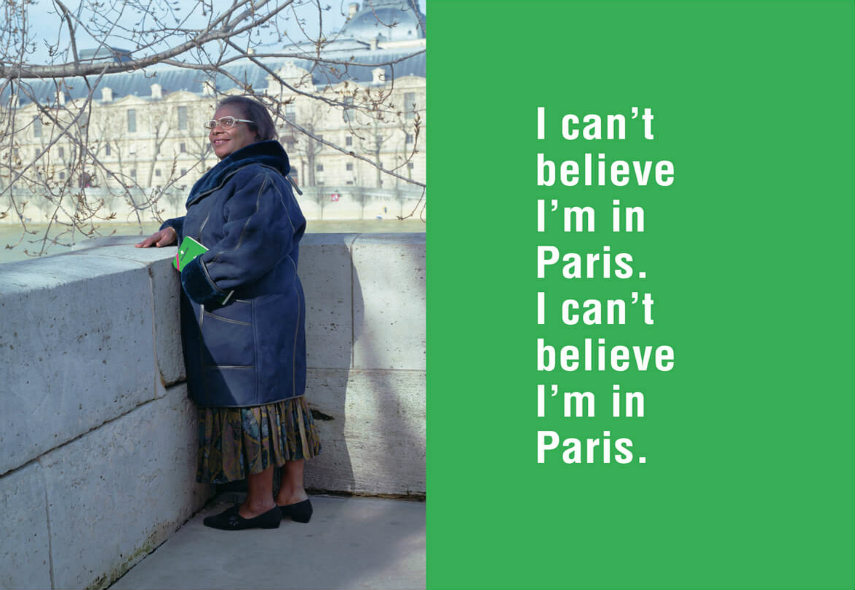 Questioning the Existence of Identity
His approach takes into consideration the individual's place in society with the aim of investigating race and class distinctions. Lum strives to encourage the viewer to ask questions about social issues and the visual world. His life experience of Chinese Canadian living in East Vancouver has provided the material for most of his works which explore the issues of class, race, and identity. "Vancouver is the source of all my reflections. It's not just a fountain of all my ideas, but it's actually constantly feeding back towards my art. I think I make the work I do because I think about this city a lot."[2] Lum's 30-year retrospective, held in Vancouver Art Gallery in 2011, included several installations using mirrors that refer to his so-called triangulation – a visitor is always projecting his or her own identity onto characters on a sign or poster. As a result, between expectations, projections and identification come to entangling. Focused on issues of identity, the artist emphasizes the element of empathy and alienation. He began his Photo-Mirror series in 1997. On the inside edge of each mirror's frame, he placed photos of random people and scenes that became framed with the viewer who looks at his own reflection in the mirror, making the series of reflections seem endless.
His 30-year retrospective, held in Vancouver Art Gallery included Photo-Mirror series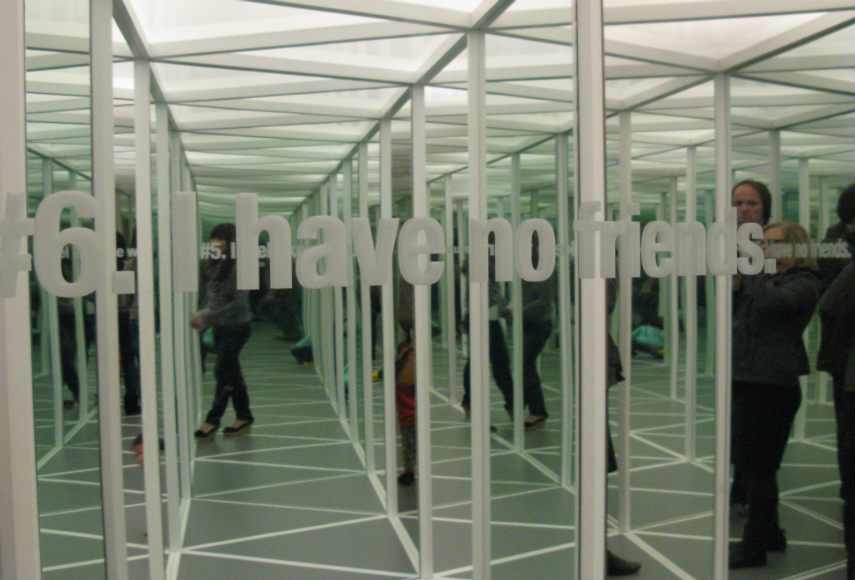 Public Projects and Teaching Positions
Lum has worked on the number of public art projects in several cities around the world. There is no Place Like Home, centrally located in Vienna in 2000, generated controversy because he comprehended the work as the reaction to the growth of the extreme right in Europe. He made several pieces in Vancouver and Toronto, and in 2016 won the commission to create a memorial to the 1986 Lake Nyos Disaster in Cameroon. Lum's work has been shown worldwide since late 1970's, including solo exhibitions at the National Gallery of Canada, Witte de With, and the Vancouver Art Gallery, which held a major retrospective in 2011. Among the prominent group exhibitions, he was a part of São Paulo Biennial (1998), Shanghai Biennale (2000), Venice Biennale (2001), Documenta 11 (2002), the Istanbul Biennial (2007), and the Gwangju Biennale (2008), Moscow Biennial (2011), and the Whitney Biennial (2014). He was a head of the graduate program in studio art at the University of British Columbia, Vancouver, where he taught from 1990 until 2006.
Ken Lum currently lives and works in Philadelphia.
References:
Anonymous. Ken Lum, Professor and Chair of Fine Arts Department, Penn Design [September 15, 2016]
Sohal, R. (2011) Calling From Canada: Ken Lum 30 Year Retrospective at Vancouver Art Gallery, Art 21 Magazine [September 15, 2016]
Featured image: Ken Lum – Artist's portrait – Image via news.upenn.edu
| Year | Exhibition Title | Gallery/Museum | Solo/Group |
| --- | --- | --- | --- |
| 2016 | Wall to Wall: Carpets by Artists | Museum of Contemporary Art Cleveland (MOCA), Cleveland | Group |
| 2016 | Ken Lum - Coming Soon | Kunsthalle wien project space karlsplatz, Vienna | Solo |
| 2016 | Ken Lum | Kunsthalle wien project space karlsplatz, Vienna | Solo |
| 2016 | Ken Lum - Coming Soon | Museumsquartier, Vienna | Solo |
| 2015 | Verortungen | Galerie Steinek, Vienna | Group |
| 2015 | Ken Lum - Coming Soon | Kunsthalle wien project space karlsplatz, Vienna | Solo |
| 2015 | Sign, sign, everywhere a sign | Justina M Barnicke Gallery, University of Toronto, Toronto, ON | Group |
| 2014 | Whitney Biennial 2014 | Whitney Biennial, New York City, NY | Group |
| 2014 | Nouvelle Génération | FRAC - Nord-Pas de Calais, Dunkerque | Group |
| 2014 | You've Really Got a Hold of Me | Oakville Galleries, Oakville, ON | Group |
| 2014 | Punctum | Bemerkungen zur Photographie - Salzburger Kunstverein, Salzburg | Group |
| 2014 | Amnua International Project-In Out Source | Art Museum of Nanjing University of the Art - AMNUA, Nanjing, Jiangsu | Group |
| 2014 | Ökonomie Der Aufmerksamkeit | Kunsthalle Wien (Museumsquartier), Vienna | Group |
| 2013 | In Deed: Certificates of Authenticity in Art | Weatherspoon Art Museum, Greensboro, NC | Group |
| 2013 | The River Between Us | Laumeier Sculpture Park, Saint Louis, MO | Group |
| 2013 | The Mini-Mall Series | Marc Jancou Contemporary, New York City, NY | Solo |
| 2013 | Continental Drift I & II | Konzeptkunst in Kanada: Die 1960er und 70er Jahre - Badischer Kunstverein, Karlsruhe  | Group |
| 2013 | El Arte del Presente | Colección Helga de Alvear - Mecenazgo al Servicio del Arte -CentroCentro Cibeles , Madrid | Group |
| 2013 | Special Collection: Acquisitions and Archives | The Morris and Helen Belkin Art Gallery,Vancouver, BC | Group |
| 2013 | In Deed | Contemporary Art Centre (CAC), Vilnius | Group |
| 2012 | Ken Lum | Peter Freeman, Inc. Paris, Paris | Solo |
| 2012 | K | CCA Wattis Institute for Contemporary Arts, San Francisco, CA | Group |
| 2012 | C.1983 | Presentation House Gallery - PHG, North Vancouver, BC | Group |
| 2012 | Ken Lum | L.A. Galerie , Lothar Albrecht, Frankfurt | Solo |
| 2012 | Common History and Its Private Stories. Geschichte und Geschichten | Sofia Art Gallery, Sofia | Group |
| 2012 | Learning Photographie | FRAC - Haute-Normandie, Sotteville-lès-Rouen | Group |
| 2012 | Where I Lived, and What I Lived For | Oakville Galleries, Oakville, ON | Group |
| 2012 | Problem Play | Koenig & Clinton, New York City, NY | Group |
| 2012 | La ligne passée | Galerie Bernard Ceysson, Luxembourg | Group |
| 2012 | The Shopkeeper Series | Marc Jancou Contemporary, New York City, NY | Solo |
| 2012 | Bearing Witness | Kelowna Art Gallery, Kelowna, BC | Group |
| 2011 | Summer Reading | Artspeak, Vancouver, BC | Group |
| 2011 | Accrochage | Galerie Grita Insam, Vienna | Group |
| 2011 | Out of Storage: Provisoire & Définitif | Marres - Centre for Contemporary Culture, Maastricht | Group |
| 2011 | Through the Looking Brain | Kunstmuseum Bonn, Bonn | Group |
| 2011 | 2000s to Present | Misa Shin Gallery, Tokyo | Solo |
| 2011 | Ken Lum | Vancouver Art Gallery, Vancouver, BC | Solo |
| 2011 | One Suitcase Per Person | 1a space, Hong Kong | Group |
| 2011 | Am Ende war das Wort | Ursula Blickle Stiftung, Kraichtal-Unteröwisheim | Group |
| 2011 | In DeedCerificates of Authenticity in Art | Fondazione Bevilacqua La Masa, Venice | Group |
| 2011 | 4th Moscow Biennale of Contemporary Art - Rewriting Worlds | Moscow Biennale of contemporary art, Moscow | Group |
| 2011 | In Deed: Certificates of Authenticity in Art | De Vleeshal, Middelburg | Group |
| 2011 | ConText – Bild und Text | L.A. Galerie – Lothar Albrecht, Frankfurt,Main  | Group |
| 2010 | Hey, We're Closed! | Hayward Gallery, London | Group |
| 2010 | Back to the Future? | Osage Soho, Hong Kong | Group |
| 2010 | Hold Still Wild Youth: The GINA Show Archive | Or Gallery, Vancouver, BC | Group |
| 2010 | 89 Km. Colección CGAC | MARCO Museo de Arte Contemporánea de Vigo, Vigo | Group |
| 2010 | Checking in with your hotspots | Surrey Art Gallery, Surrey, BC | Group |
| 2010 | Traffic: Conceptual Art in Canada c. 1965 to 1980 | UTAC - University of Toronto Art Centre ,Toronto, ON | Group |
| 2010 | Construction Sites | Kamloops Art Gallery, Kamloops, BC | Solo |
| 2009 | Proiezioni | Castello di Rivara | Group |
| 2009 | Texto: A Goup Show | Diaz Contemporary, Toronto, ON | Group |
| 2009 | Uneasy Pieces | Oakville Galleries, Oakville, ON | Group |
| 2009 | GAGARIN The Artists in their Own Words | SMAK Stedelijk Museum voor Actuele Kunst, Ghent | Group |
| 2009 | Ken Lum - works and videos | L.A. Galerie – Lothar Albrecht, Frankfurt | Solo |
| 2009 | Common History and Its Private Stories. Geschichte und Geschichten | MUSA - Museum Startgalerie Artothek, Vienna | Group |
| 2009 | Sign,Age Part Three: Fight The Power | Centro d´arte contemporane, Rivara, TO | Group |
| 2009 | Just Around the Corner | Arrow Factory, Beijing | Group |
| 2008 | Let Me Be Your Mirror | MacKenzie Art Gallery, Regina, SK | Group |
| 2008 | Art Metropole: The Top 100 | MSVU Art Gallery, Halifax, NS | Group |
| 2008 | Rorschach Shopkeepers | Galerie Grita Insam, Vienna | Solo |
| 2008 | Pleinairism | i8 Gallery, Reykjavik | Group |
| 2008 | 7th Gwangju Biennale | Gwangju Biennale, Gwangju | Group |
| 2008 | Recent Acquisitions: Persona Socialis | Surrey Art Gallery, Surrey, BC | Group |
| 2008 | Ken Lum - Guillaume Paris | Peter Freeman, Inc, Paris | Group |
| 2008 | Beautiful People | Centre d'Art la Panera, Lleida | Group |
| 2007 | The Shadow Cabinet - part II | De Appel arts centre, Amsterdam | Group |
| 2007 | 25th Anniversary | Peter Freeman, Inc, Paris | Group |
| 2007 | Beautiful People et la Blessure Secrète | Crac Alsace, Altkirch | Group |
| 2007 | REALLIFE 1979-1990 | Artists Space, New York City, NY | Group |
| 2007 | Passing Through: Iain Baxter& Photographs 1958-1983 | Art Gallery of Greater Victoria,Victoria, BC | Group |
| 2007 | 10th International İstanbul Biennial | International Istanbul Biennial, Istanbul | Group |
| 2007 | Is there a there there? | Oakville Galleries, Oakville, ON | Group |
| 2007 | Read Me! Text in Art | Armory Center for the Arts, Pasadena, CA | Group |
| 2007 | Ken Lum - Roschach: Shopkeeper Series | L.A. Galerie – Lothar Albrecht, Frankfurt | Solo |
| 2006 | Unlearn | Plug In Institute of Contemporary Art, Winnipeg, Manitoba | Group |
| 2006 | Here + Now | Elizabeth Leach Gallery, Portland, OR | Group |
| 2006 | Sound and Vision - The Montreal Museum of Fine Arts | Musée des beaux-arts de Montréal,Montreal, QC | Group |
| 2006 | Liverpool Biennial | Liverpool Biennial of Contemporary Art, Liverpool | Group |
| 2006 | Arquivar Tormentas | CGAC - Centro Galego de Arte Contemporánea, Santiago de Compostela | Group |
| 2006 | Autonomia | LUMC - Leids Universitair Medisch Centrum, Leiden | Group |
| 2005 | Emergency Biennal | Emergency Biennal, Bolzano | Group |
| 2005 | Private View 1980-2000 - Collection Pierre Huber | Musée cantonal des Beaux-Arts, Lausanne | Group |
| 2005 | Photographies | Peter Freeman, Inc, Paris | Group |
| 2005 | 80 plus 25 equals 2005 | Galerie Witteveen, Amsterdam | Group |
| 2005 | Monuments to the USA | CCA Wattis Institute for Contemporary Arts, San Francisco, CA | Group |
| 2005 | I don't know… | Galerie Grita Insam, Vienna | Solo |
| 2005 | Ken Lum | Blackwood Gallery at the University of Toronto , Mississauga, ON | Solo |
| 2005 | Ken Lum - Shopkeepers Series  | Art & Public, Geneva | Solo |
| 2005 | Neuerwerbungen der Sammlung 2005 | Neue Galerie Graz - Universalmuseum Joanneum, Graz | Group |
| 2005 | ARBEITSWELTEN | Museum in Progress, Vienna | Group |
| 2005 | Group Show | Peter Freeman, Inc, Paris | Group |
| 2004 | Baja to Vancouver | CCA Wattis Institute for Contemporary Arts, San Francisco, CA | Group |
| 2004 | NOT DONE! Het KUNSTenaarsboek | MuHKA Museum voor Hedendaagse Kunst Antwerpen,Antwerp | Group |
| 2004 | Out Of Place | Galerie Nordenhake, Berlin | Group |
| 2004 | Flirts. Arte e pubblicità | MUSEION - Museum für moderne und zeitgenössische Kunst , Bolzano | Group |
| 2004 | Support - Die Neue Galerie als Sammlung - 1950 | Heute - Neue Galerie Graz - Universalmuseum Joanneum, Graz | Group |
| 2004 | Schriftbilder Bilderschrift | von Bartha Collection, Basel | Group |
| 2004 | walk me | Architekturzentrum Wien, Vienna | Group |
| 2004 | Ken Lum Works With Photography | The Power Plant, Toronto, ON | Solo |
| 2004 | Ken Lum Works With Photography | Nickle Galleries, Calgary, AB | Solo |
| 2004 | Presentation of the collection X | MuHKA Museum voor Hedendaagse Kunst Antwerpen, Antwerp | Group |
| 2004 | Aufruhr der Gefühle, Leidenschaften in der zeitgenössischen Fotografie und Videokunst | Kunsthalle Göppingen, Göppingen | Group |
| 2004 | Aufruhr der Gefühle | Museum für Photographie Braunschweig, Braunschweig | Group |
| 2003 | L'esprit Des Lieux | FRAC - Haute-Normandie, Sotteville-lès-Rouen | Group |
| 2003 | DER REST DER WELT  | ALEXANDER OCHS GALLERIES BERLIN, BEIJING, Berlin  | Group |
| 2003 | Micropolitics. Art and Everyday Life (2001-1989) | Espai d´Art Contemporani de Castelló - EACC, Castellon de la Plana | Group |
| 2003 | TALKING PIECES - Text und Bild in der Zeitgenössischen Kunst | Museum Morsbroich,Leverkusen | Group |
| 2003 | M_ARS - Art and War | Neue Galerie Graz - Universalmuseum Joanneum, Graz | Group |
| 2003 | 4. Österreichische Triennale zur Fotografie - Sight.Seeing | Österreichische Triennale zur Fotografie, Graz | Group |
| 2003 | The Bigger Picture - Portraits from Ottawa | Ottawa Art Gallery, Ottawa, ON | Group |
| 2003 | Partners | Haus der Kunst München, Munich | Group |
| 2003 | Ken Lum Works with Photography | Art Gallery of Windsor, Windsor, Ontario | Solo |
| 2003 | Ken Lum - Miroir Miroir | Peter Freeman, Inc, Paris | Solo |
| 2003 | Social Strategies - Redefining social realism | University Galleries at Illinois State University,Normal, Il | Group |
| 2003 | Away from home  | Wexner Center for the Arts, Columbus, OH | Group |
| 2002 | l'Effet Larsen - Casino Luxembourg | Forum d'art contemporain, Luxembourg | Group |
| 2002 | Documenta 11 | Documenta, Kassel | Group |
| 2002 | Text Massage | Galeria Helga de Alvear, Madrid | Group |
| 2002 | Grand Bazar | The Living Room, Amsterdam | Group |
| 2002 | Science + Fiction. Zwischen Nanowelt und globaler Kultur | Sprengel Museum Hannover,Hannover | Group |
| 2002 | Ken Lum - Selected Works  | L.A. Galerie – Lothar Albrecht, Frankfurt | Solo |
| 2002 | Ken Lum - Works with photography | Canadian Museum of Contemporary Photography, Ottawa, ON | Solo |
| 2001 | KEN LUM - Leaving Law ........ | The Agency Gallery, London | Solo |
| 2001 | Ken Lum - I wish I had more friends (or one more sign of depression) | Center for Contemporary Art, CCA Kitakyushu, Kitakyushu | Solo |
| 2001 | Ken Lum | CAG - Vancouver Contemporary Art Gallery, Vancouver, BC | Solo |
| 2001 | Ken Lum - There is no place like home | Galerie im Taxispalais, Innsbruck | Solo |
| 2001 | Der Larsen Effekt  | OK Offenes Kulturhaus OÖ, Linz | Group |
| 2001 | Neue Welt | Frankfurter Kunstverein, Frankfurt | Group |
| 2001 | Group Show with Trans editions | Chac Mool Gallery, Los Angeles, CA | Group |
| 2000 | 7. Bienal de La Habana 2000 | La Bienal de La Habana, Havana | Group |
| 2000 | 2000 Shanghai Biennale - Spirit of Shanghai | Shanghai Biennale, Shanghai | Group |
| 2000 | Contaminated Symptoms: Photo-Based Works from the Permanent Collection | Oakville Galleries, Oakville, ON | Group |
| 2000 | Ken Lum "Shopkeeper Series" | L.A. Galerie – Lothar Albrecht, Frankfurt | Solo |
| 1999 | Ken Lum: Photo-Mirrors - The Banff Centre | Walter Phillips Gallery, Banff, AB | Solo |
| 1999 | Life Cycles | Galerie für Zeitgenössische Kunst - GfZK, Leipzig | Group |
| 1999 | In the city | FRAC - Haute-Normandie, Sotteville-lès-Rouen | Group |
| 1999 | SWEET & SOUR | Art & Public, Geneva | Group |
| 1998 | Ken Lum - Language Paintings | Catriona Jeffries Gallery, Vancouver, BC | Solo |
| 1998 | Jaingnan Project | Catriona Jeffries Gallery, Vancouver, BC | Group |
| 1998 | Cities on the Move 3 | MoMA PS1, New York City, NY | Group |
| 1998 | Recent Acquisitions to the Photo Collection | The Morris and Helen Belkin Art Gallery,Vancouver, BC | Group |
| 1998 | Cities on the move 2 | CAPC - Musée d'art contemporain, Bordeaux | Group |
| 1998 | Travel and Leisure | Paula Cooper Gallery, New York City, NY | Group |
| 1998 | 24° Bienal de São Paulo | Bienal de Sao Paulo, São Paulo | Group |
| 1997 | Cities on the move | Wiener Secession, Vienna | Group |
| 1997 | Heaven | MoMA PS1, New York City, NY | Group |
| 1997 | Une minute scénario : Le Printemps de Cahors | Musee de Cahors Henri-Martin, Cahors | Group |
| 1997 | Foto Text Text Foto | Fotomuseum Winterthur, Winterthur | Group |
| 1996 | A drift | Hessel Museum of Art & Center for Curatorial Studies Galleries at Bard College, Annandale-on-Hudson, NY | Group |
| 1995 | Ken Lum: Recent Work | Camden Arts Centre, London | Solo |
| 1995 | Untitled (Reading Room) | Margo Leavin Gallery, Los Angeles, CA | Group |
| 1995 | Album: The photographic collection of Museum Boijmans-van Beuningen Rotterdam | Museum Boijmans van Beuningen, Rotterdam | Group |
| 1994 | Die Orte der Kunst | Sprengel Museum Hannover, Hannover | Group |
| 1993 | Ken Lum - Come On, Get Up! | Neue Galerie Graz - Universalmuseum Joanneum, Graz | Solo |
| 1991 | Carnegie International | Carnegie Museum of Art, Pittsburg, PA | Group |
| 1990 | (not so) Simple Pleasures: Pleasure and Contentment in Contemporary Art | MIT List Visual Arts Center, Cambridge, MA | Group |
| 1990 | Drawings, Editions, Prototypes | Artspeak, Vancouver, BC | Solo |
| 1989 | Vis-a-Vis : aspecten van hedendaagse portretfotografie | Stedelijk Museum 's-Hertogenbosch,'s-Hertogenbosch | Group |
| 1989 | Problems with reading and rereading | Rhona Hoffman Gallery, Chicago, IL | Group |
| 1989 | D plus S | Kunstverein in Hamburg, Hamburg | Group |
| 1989 | Une histoire de collections : dons 1984-1989 | Musée d´art contemporain de Montréal,Montreal, QC | Group |
| 1988 | New York Now | Göteborgs Konsthall, Gothenburg | Group |
| 1988 | Group Exhibition | Galerie Chantal Crousel, Paris | Group |
| 1988 | Brockmann - Bourget - Ess - R Graham - Gober - Lum - Luyten | Galerie Micheline Szwajcer,Antwerp | Group |